Giants Receivers are a Threesome You Don't Want to Sleep On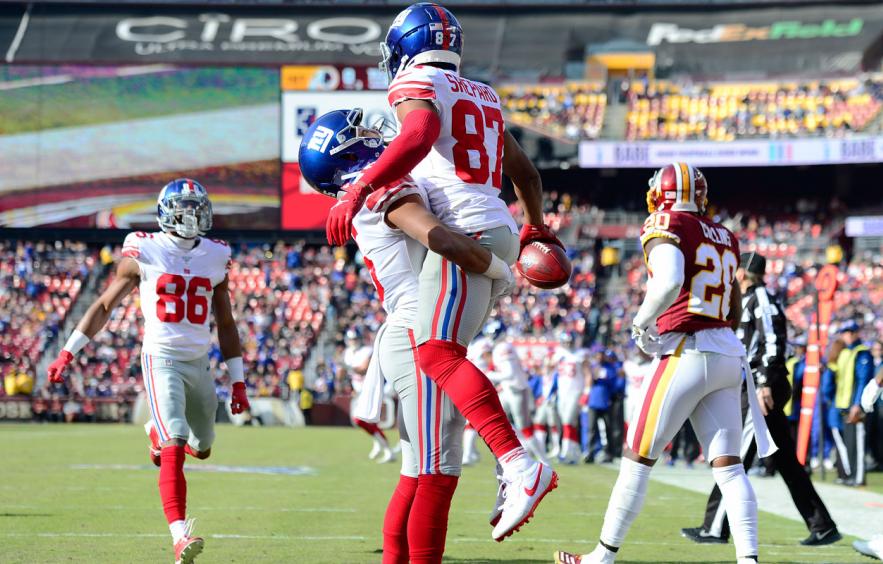 Patrick McDermott/Getty Images
We have a new era in New York Giants football. Eli Manning and his meme-able faces are out, and Daniel Jones (who looks eerily similar) is in. Jones had highs and lows in his rookie campaign—which consisted of 12 starts—including four contests with over 28 fantasy points, and also a league-high 18 fumbles.
Create or join a 2020 Yahoo Fantasy Football League for free today
In order to take that important sophomore leap, Jones has been training to emphasize ball security and put on close to 10 pounds with the intent of a stronger grip. We should see improvement across the board for Jones when he officially takes the reigns as the Giants franchise quarterback.
Lucky for him, Jones has a talented arsenal of weapons at his disposal in 2020, most of whom are being undervalued in fantasy drafts. His trio of wideouts all have double-digit round ADPs and could sneak into WR3 territory for the price of a WR4/5. Consider the ADP for each of them:
Last Season Recap
Giants

WR Stats, 2019

| Player | G | Target | Receptions | Receiving Yards | TD | Total .5-PPR Pts | .5-PPR Pts/G |
| --- | --- | --- | --- | --- | --- | --- | --- |
| Darius Slayton | 14 | 84 | 48 | 740 | 8 | 146.0 | 10.4 |
| Sterling Shepard | 10 | 83 | 57 | 576 | 3 | 111.3 | 11.1 |
| Golden Tate | 11 | 85 | 49 | 676 | 6 | 127.7 | 11.6 |
Darius Slayton gave us a surprise rookie performance as a fifth-rounder in the NFL draft. Along with palpable chemistry with Jones, his first year included two 100-yard games and three multi-touchdown contests, on his way to a 48-740-8 line, averaging over 15.4 yards per catch.
In Sterling Shepard, we had another injury-plagued season marred by multiple concussions and a broken finger. He hit the field for just 10 contests, posting a 57-576-3 line on 83 targets, which translated to WR26 in half-PPR fantasy points per game.
Similar to Shephard, Tate missed a handful of games in 2019, but he still managed WR31 numbers in half-PPR points per game in just 11 contests and was actually seventh among all wideouts in yards after catch per reception.
All three of these receivers are being overlooked heading into the 2020 season for differing reasons. Tate's age is providing his discount, Shepard has a later ADP due to injury concerns and Slayton is most likely cheaper based on his youth and inexperience. So which one of these guys will emerge as the target leader in New York? Let's attempt to find out.
Sharing is Caring
All three of these wideouts were only on the field together for six games in 2019 with Daniel Jones at the helm. Here's a look at their split stats when all were in the game and how their target distribution shook out.
I also took a look at their routes run during that same six-game time frame to see if we can get a better idea of their specific values heading into 2020.
Slot rates courtesy of PFF.
Slayton appears to be the deep-ball threat of this trio, with Shepard and Tate the team's underneath options. Tate is used primarily in the slot, to expose defenders with his tremendous YAC ability. We can also see from this data that Slayton is not their main option as his 2019 totals may initially indicate, as he saw 18 fewer targets than Shepard and seven fewer than Tate, and ran significantly fewer routes than both his teammates.
After looking at these numbers it would appear that Shepard and Tate are the better values, as you can have them 15-35 picks after Slayton and get more volume. However, we can't leave Evan Engram and Saquon Barkley out all of the fun. Engram was only on the field once with this threesome and it was in Week 5 against the Vikings.
Engram was the target leader that week with 11 balls to Slayton's five, Shepard's nine and Tate's six. While it's a super small sample, we know that he's going to be a top option for this offense this season when on the field. The tight end's presence hurts Tate the most since Engram will most likely be targeted in the slot where Tate makes the doughnuts.
While they were all never on the field at the same time in 2019, Barkley screws Tate again since his targets should come on screen passes and the back certainly will be highly involved in this offensive scheme.
What Does it Mean For 2020
As a 10th-rounder, Darius Slayton is the priciest of the three wideouts (while still really cheap). His volume may not be as safe as the others, but as the deep-threat in this offense, he doesn't require as much volume for fantasy production. Both Sterling Shepard and Golden Tate have decent floors of 60+ receptions, close to 740 yards and 4-7 touchdowns, which translates to somewhere around 140 total half-PPR points each.
While any one of the receivers in this trio can emerge this season as the Giants WR1, it is clear that all three are being undervalued and under-drafted. With an improved offensive line, a sophomore quarterback who showed a ton of upside in his first campaign and everyone healthy again, this is an offense that could break out, without having to break your draft budget.