Fantasy Football COVID-19 Manual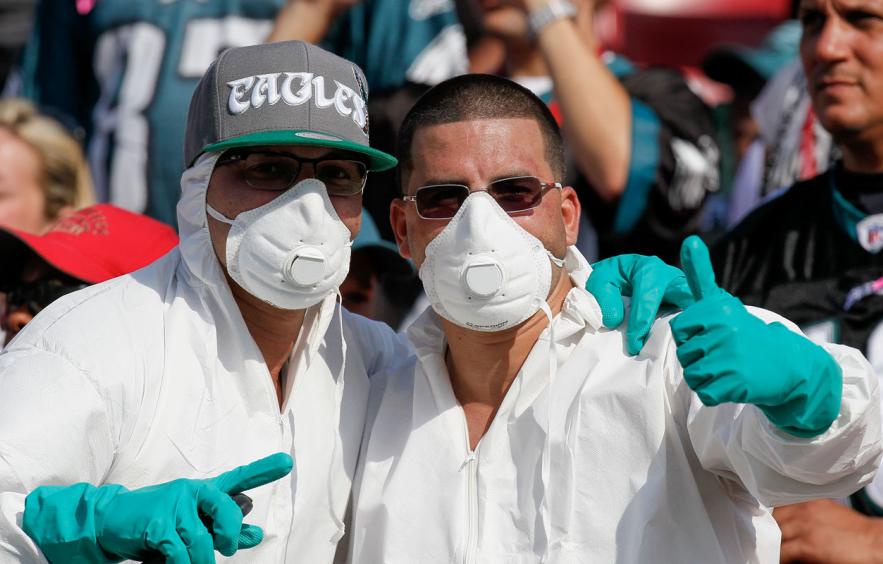 Don Juan Moore/Gety Images
Now that both the NFL and the NFLPA have agreed to the proposed changes to the CBA, we are all systems go for the 2020 football season. Yippee, right?
Well, we still have the global pandemic to contend with, and there is little doubt COVID-19 will have an impact on not only the NFL but the fantasy football season as well. Redraft and dynasty leagues need to make adjustments across the board and be willing to progressively tweak them, as this situation will be fluid along with the development of the NFL season.
---
Editor's Note: Check our FAQ page to see what happens to your 4for4 subscription if the NFL season is canceled due to COVID-19. Plus we have an NFL Reserve/COVID-19 List Tracker with players on the reserve/IR and those who have opted out that we constantly update.
---
Here's a comprehensive look at some of the possible changes fantasy commissioners need to consider, along with precautions and strategies managers playing redraft, dynasty and even best ball should think about heading into the bulk of draft season.
League Adjustments
If you commish a league or two, or are concerned about how COVID-19 will affect your season, here are some suggestions to consider, or bring up to the powers that be to try to make the most of the fantasy season in front of us.
COVID IR Spots
There will be players who test positive for the virus, there is very little doubt there. However, there's no way to know right now what those numbers will look like, whether fantasy teams may have one, two, or seven guys out at a time. Something must be done to account for those absences without penalty.
One option is to have fantasy leagues build in virus-specific IR spots to allow managers to hang onto multiple players who test positive, without having to release any to the waiver wire. This could get tricky with regular IR versus COVID, as far as keeping players on the IR longer than they are actually quarantined or out, but if hosting sites are on top of their designations, it shouldn't lead to problems. We recommend 3-5 of these COVID-19 specific spots.
Deeper Bench
Along with adding an allotted amount of IR spots, leagues should also consider either tacking on a few extra rounds during the draft or allowing for later waiver wire additions, in order to keep teams stocked with enough players. Who knows, we may end up with former XFL and CFL players on our squads by Week 8.
As mentioned above, we can only speculate what those COVID-19 numbers will look like, but as a comparison, MLB began just a few days ago and I personally have three COVID-19 positive people on my 24-person roster.
Create a What-if List
Despite productive CBA negotiations and both parties set to play football, we all know there is a chance the whole thing has the potential to be shut down at any time if there is a significant spike in positive tests for the virus.
Leagues need to work out what to do in the event of an NFL closure and how to effectively end the season, or temporarily delay it, if need be. Whether leagues decide to reward total points at the time of a shut down, go with best overall best record, or something else predetermined, details should be worked out prior to the start of the season, to ensure all teams are informed and in the know.
There is no right or wrong for all of this, but you do want to have a definitive plan for payouts and have everyone on board, before the very first snap. I know it's difficult to get all teams in a league to unanimously agree on anything, but it's imperative to have every manager give their okay. When money is involved, no one wants to be in the dark.
Some ideas to consider to try to get the most out of the season or prepare for a shortened one are:
Doubleheaders - where you're playing against more than one opponent each week.
Victory Points - Forget about W-L records, in this instance teams get one point for every winning matchup. Then the top half of the league gets another point, for a total of two possible points per week. That way teams don't get screwed if they have a few losses with a high point total.
All-Play - Instead of weekly head-head matchups, you're playing against every other team in total points. It's not the sexiest of formats, and is tough to come back from a bad start, but it could be beneficial with the potential of a short season looming.
Open Waivers
It may also be a good idea to have an open waiver system leading up to Week 1, in order to accommodate for all the player movement due to the virus. Managers will have to adjust their squads on the fly and having to use FAAB or wait until the season begins could be troublesome.
Lineup Changes
Since rosters across the NFL may be pretty barren, you may want to consider tweaking fantasy roster requirements to make the most of this season. Perhaps adding another flex could be helpful, or even eliminating specific RB or WR parameters and going with multiple flexes instead could be something beneficial to the managers in your leagues.
Draft Adjustments
While most drafts are done online these days, there is definitely something about a live draft that can't be replicated. I am in one league that is always conducted in person, at a bar, and it's a perpetual good time. Walking that sticker up to the draft board preparing for ridicule or praise is an adrenaline rush unique to fantasy sports.
Sadly, this deadly virus may strip leagues of the joy of in-person drafting, however, the time we have all been quarantined has also brought video conferencing to the forefront.
Not only can we conduct drafts normally done in the same room with a Zoom platform or the like, but leagues that are normally just straight-up online can now add to the experience by using a video service. Smack-talking during the draft is as much a part of the fantasy season as anything, and being able to have a visual on everyone is one positive thing to come out of this whole mess.
Of course, you can always still run a live, in-person draft if your league is comprised of family or if everyone distances and wears masks, but the lack of high-fives, fist bumps and overall debauchery does not seem worth it.
We also recommend starting your draft as late as possible, date-wise to account for those players on the reserve/COVID-19 list.
Strategy Adjustments
This is where most of the anxiety around COVID-19 seems to fall, and for good reason. With money and pride on the line, drafting during this pandemic has created its share of question marks and concerns.
While I am no more qualified than anyone to speak on this virus and where we are headed, I can at least offer some fantasy football advice on how we think it will play out this season, in order to try and get ahead of whatever will happen.
Look at Early Season Scheduling
If the positive testing gets out of control, there is always the chance the league shuts down completely. Some best ball sites are already putting out information in the event the season is not played in full, such as this disclaimer from Underdog Fantasy.
You might want to look at the early-season schedule if you're planning on playing contests at @UnderdogFantasy pic.twitter.com/Bx6ihaE4TT

— TJ Hernandez (@TJHernandez) July 19, 2020
As TJ Hernandez suggests in the above tweet, looking at early-season strength of schedule via our Hot Spots Tool, is one way to get out in front of a potential shut down. Starting out with a higher points total could help not only in best-ball situations but in redraft leagues that decide to award the highest point-haver at the time of cancellation.
Checking out each site's policies if we experience a shut down is also advisable, so there are no surprises when it comes to your investments.
Handcuff your Handcuffs
Grabbing a backup for your RB1 and possibly your second running back is always a good idea, but in 2020, drafting multiple options can end up being more advantageous than ever. We know players will be sidelined with COVID-19 on top of the regular assortment of unavoidable injuries, and with that benching will be at least a two-week absence for self-quarantine. Instead of scrambling with the rest of your league to grab players off the waiver wire, taking the time to plan ahead may end up being extremely beneficial. This also goes for your wideouts, tight ends, and even quarterbacks, in deeper leagues.
Should You Avoid Rookies?
There has been plenty of chatter on social media about limiting exposure to rookies across the board due to the lack of real preseason action, and a shortened amount of time to acclimate to the NFL. I think this notion has become a bit exaggerated as the pandemic plows on, and you can actually take advantage of people shying away from first-year guys.
Yes, training camps are not going on in their usual full-scale fashion and there will be no preseason on-field action, but it's not like teams have not been meeting virtually for a while, going over their various playbooks and offensive schemes. There will be eight days of strength/conditioning walk-throughs, four days of shells/helmets only, and a maximum of 14 days in pads starting on August 17. Plus, we've all seen assorted videos of quarterbacks throwing to their receivers, other teams' receivers and randoms, along with gym workouts, cone drills and other running back-oriented exercises.
To put it simply, these guys have been training both mentally and physically for months now and should be ready to step onto the football field like it's their job. Because it is.
There's also the argument that with COVID-19 most likely ravaging rosters, the newbies may be called upon sooner than during a normal season, and could see higher volume than originally projected. I'm certainly not saying to go out there and reach for the fresh meat, but grabbing rookies at their ADP, or even scooping up a few who have fallen could possibly pay off.
Pay Even More Attention on Sundays
NFL teams usually have until 4 p.m. EST the day prior to a game to move a practice squad player onto the roster, but with the possibility of players testing positive for COVID-19 up until game day, the league and NFLPA have extended the window for practice squad activations up to 90 minutes before kickoff. So those managers who are not able to be around on Sunday mornings, will be at a disadvantage.
Bottom Line
We're all in this crazy pandemic thing together and hopefully, we'll all get through it together, as well. By thinking a bit ahead and taking some precautions, both at the commissioner level and as a fantasy manager, 2020 can still be a fun and profitable one.
Be sure to address COVID-19 IR spots and a deeper bench.
Payouts should be well defined in the event of a league shut down.
Plan for Zoom drafts or the like, and make the best of pandemic drafting.
Check scheduling via 4for4's Hot Spot Tool.
Handcuff, and then handcuff some more.
Check back periodically on this article as it will be updated as things progress.