Betting on The First Defensive Player Drafted and Related Props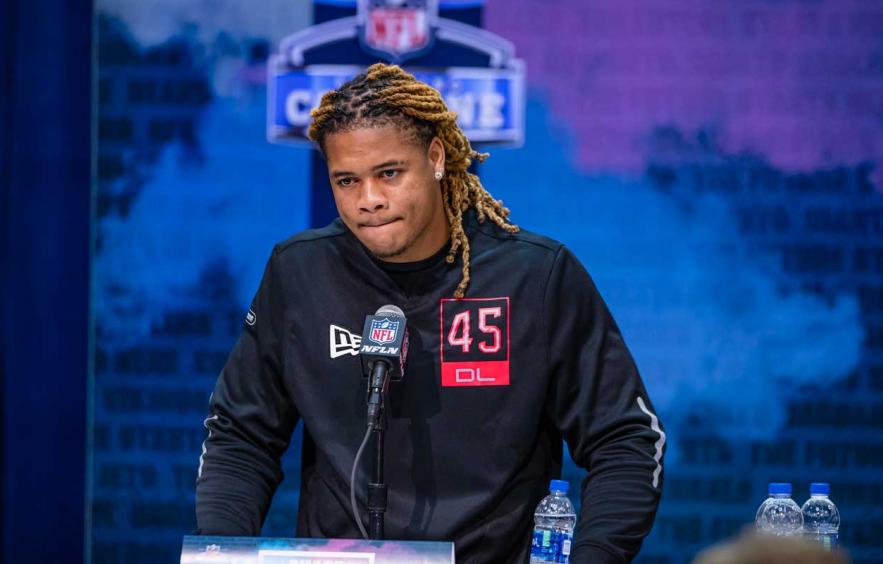 Michael Hickey/Getty Images
I'm excited to set sail on my 4for4 maiden voyage! I feel like I need to christen the proverbial boat, like Judge Smails in Caddyshack, but it'd be a shame to waste a bottle of champagne right now. I hope that our 4for4 team can be a bit of a distraction and a sense of normalcy during this crazy time in all our lives.
Up until the season kicks off, Connor Allen (@ConnorAllenNFL) and I will be bringing you a variety of preseason betting content, ranging from player props, season win totals, and playoff odds. Once the season starts, Connor and I will be back with our Move The Line podcast, hosted here at 4for4, and I'll be writing about my favorite NFL totals for each week's games. For now, I'm going to focus on the upcoming NFL Draft, honing in on market inefficiencies that I spot as draft day approaches.
---
---
Is Chase Young (-2000) a Lock To Be The First Defensive Player Drafted?
The post-combine whispers get louder and louder once we get to April, but one thing that's varied little from January mock drafts to the mocks you see today is Chase Young's status as the premier defensive prospect in the draft, and the presumptive No. 2 overall selection. Young, a -2000 favorite to be the first defensive player drafted, has done nothing to diminish his star over the past few months. He's a fit for any defensive scheme, and I've heard him referred to as "Von Miller with run-stuffing skills" which is strong praise. He's the best defensive player in this draft, and in a vacuum, he should be the first defensive player selected. But that's not how drafts work.
There's been a buzz of late surrounding Alabama QB Tua Tagovailoa due to the increased optimism around his health. Over the past two seasons, the highly-touted southpaw has dealt with two severe ankle injuries, and a dislocated hip. But glowing medical reports, along with video clips of his recent workouts, have Tua's arrow pointing up as draft day nears. We're living in a complex moment, where teams can't check on Tagovailoa's status with their medical staff, and that certainly complicates things. However, this draft features numerous quarterback-thirsty teams sitting inside the top-10. It's not difficult to envision Miami or the L.A. Chargers trading up, or perhaps even Washington keeping the pick and selecting him when they're on the clock. Remove Tua's durability question marks, and we're likely debating Joe Burrow versus Tua for the number one overall selection.
In a scenario where Burrow and Tua are selected first and second to start the draft, things get really interesting. The Detroit Lions currently hold the third pick in the draft, and the internet is full of mock drafts where the Lions address their need in the secondary and select Chase Young's Ohio State teammate, CB Jeffrey Okudah. But what will Detroit do if both Ohio State products are on the board?
---
Want in on the action? Get a sign-up bonus up to $1,000 with DraftKings!
---
We've seen a shift in roster construction philosophy over the past few years, where teams are putting a higher value on pass coverage versus pressure, something Pro Football Focus highlighted at length last week. The Cleveland Browns were presented with a similar scenario in the 2018 Draft. With highly-touted DE prospect Bradley Chubb still on the board, the Browns selected another Ohio State cornerback, Denzel Ward fourth overall, though no one would argue that Ward was a better raw prospect than Chubb was at the time.
Let's not forget, cornerback is a glaring need for this Lions' roster. They traded their top defensive playmaker, CB Darius Slay, to the Eagles when it became apparent a contract extension wasn't likely. They added safety help in former Patriot Duron Harmon, which is a plus, but the addition of former Falcons' CB Desmond Trufant is a net-negative considering the loss of Slay.
The DraftKings Sportsbook offers a ton of ways to speculate on the upcoming NFL Draft. From a betting standpoint, there's not a lot upside in laying the juice with Chase Young at -2000 to be the first defensive player off of the board. I was surprised to see the value that can be had in the scenario I laid out above, and you can approach it from several different ways.
Betting the Exact Outcome of the First 3 Overall Picks
Given the range of outcomes for Chase Young's landing spot, there are some related props that are worth considering. The best value on the board is the Exact Outcome of the First 3 Overall Picks prop bet. A Burrow-Tua-Okudah start, regardless of team, is available at +1100 (meaning 11 to 1). This scenario would also make Okudah the first defensive player drafted (+600), a companion bet that's a must considering the number. This would also leave Chase Young available for the New York Giants who select fourth, and Young to the Giants is +1400. Even Giants' GM Dave Gettleman can't mess that one up.
Pick Summary
| Prop | Pick | Odds | Suggested Units | Limit (Bet Down To) | |
| --- | --- | --- | --- | --- | --- |
| First Defensive Player Drafted | Jeffrey Okudah | +600 | 1.0 | +350 | Bet Now! |
| Exact Outcome of the First 3 Overall Picks | Burrow-Tagovailoa-Okudah | +1100 | 0.5 | +800 | Bet Now! |
| Team to Draft Chase Young* | NY Giants | +1400 | 0.5 | +1000 | Bet Now! |
*NOTE: The DraftKings Sportsbook offers you two ways to bet on Chase Young to the Giants but with, surprisingly, different odds, showing the value of betting Young to the Giants.
Under the PLAYER DRAFT SPECIALS- Team To Draft Player, you can find Young at +1400.
Under the DRAFT PROPS - Teams 1st Pick section, Young to the Giants is listed at +1100.
Year after year we see mock drafts blown up early by draft day trades, and more times than not, that's because one team moves up to secure a quarterback. I believe that'll happen again this season, and the subsequent dominos that'll fall because of it will create value in the market that's worth exploiting.
Note: All advice in this article is based on odds available on the date of publishing.