3 NFL Draft Props to Bet: Player Draft Position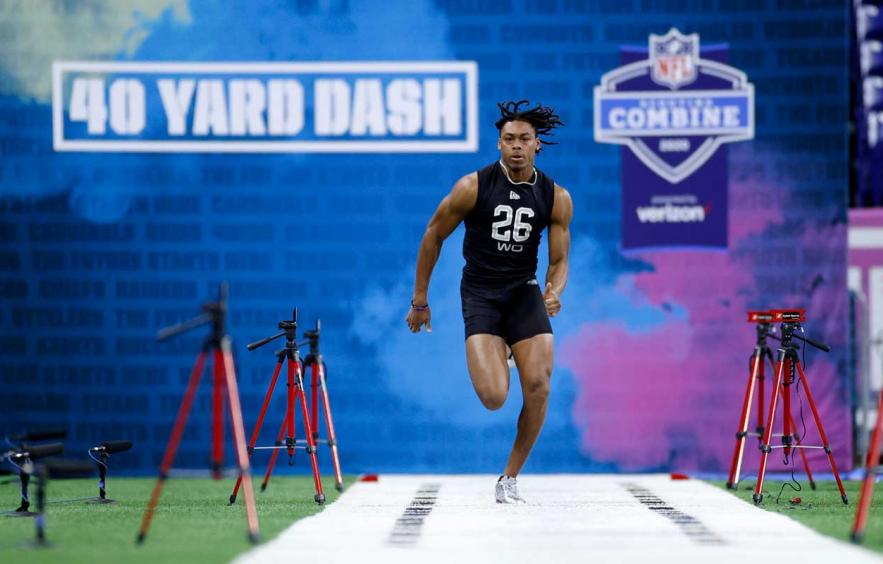 Joe Robbins/Getty Images
On DraftKings Sportsbook you can bet on these week's NFL Draft including the over-under on where a prospect might go. The following will discuss three of the best numbers to attack this week.
---
---
Justin Jefferson

Draft Position: Under 20.5 (-110)

The more news circulates, the more it seems like Jefferson is a shoo-in to be a top-20 selection in this year's draft. The Eagles are said to be smitten with him and their odds have moved from -125 all the way up to -200 to select a receiver with their first pick. At other sportsbooks' Jefferson is as low as +150 to be an Eagle, the lowest odds on any team drafting any player from pick 10 on. The top three guys in the draft are said to be moving up draft boards, with teams even moving up to go get them. That will push Jefferson up the board as well as the consensus fourth-best receiver in the class. There are plenty of wide receiver hungry teams behind the Eagles as well to jump them if Jefferson even makes it to 21. The line movement and the news correlate to Jefferson going earlier and while you have to pay a premium, it is worth doing.
Kenneth Murray Draft Position: Over 21.5 (-134)
Murray's over correlates to Jefferson's prop as his line jumped from 23.5 earlier in the month to 21.5 upon rumblings the Eagles may select a linebacker. However, the Eagles are +400 to select a linebacker and that pick is not a good stop-gap for his line. Murray was a two-down linebacker who while athletic struggled with run fits and doesn't have many pass coverage reps on his film. Recent reports suggest there are more questions than answers to his game. If we look at the teams a few picks ahead of the Eagles in the Jaguars, Raiders, Dolphins and Cowboys, none have a glaring need at linebacker and are unlikely to look in that direction. The Cowboys ownership came out and said linebacker is not a need for this team, Vic Talfur said the Raiders aren't in on Murray, the Jaguars have Myles Jack, and the Dolphins are almost sure to build their offense around the young QB. Take over on Murray is good value.
---
Want in on the action? Get a sign-up bonus up to $1,000 with DraftKings!
---
Xavier McKinney Draft Position: Over 24.5 (-110)
There have been rumblings lately that no safety will go in Round 1. While I think McKinney does end up hearing his name called on day one of the draft, the last seven picks seem more likely than the 17-24 range. Per NFL mock draft database his most mocked position across the industry is 31st overall. Teams a few picks before his number seem unlikely to take him. The Eagles appear to be locked on a receiver, the Patriots and Vikings have excellent safeties, and the Saints have Marcus Williams who they are happy with. The Eagles are +800, the Patriots are +1000, the Saints are +1600, and the Vikings are +3300 to take a safety with their first pick. At a devalued position, with no teams jumping out with safety needs picking in the early 20s, and even money odds, taking the over on McKinney is the smart bet.
Pick Summary
| Prop | Pick | Odds | Units | Limit | |
| --- | --- | --- | --- | --- | --- |
| Justin Jefferson Draft Position | Under 20.5 | -110 | 1.5 | -170 | Bet Now! |
| Kenneth Murray Draft Position | Over 21.5 | -134 | 1.3 | -150 | Bet Now! |
| Xavier McKinney Draft Position | Over 24.5 | -110 | 0.6 | -120 | Bet Now! |
Note: All advice in this article is based on odds available on the date of publishing.