The Top DFS Running Back and Defense Stacks: Week 11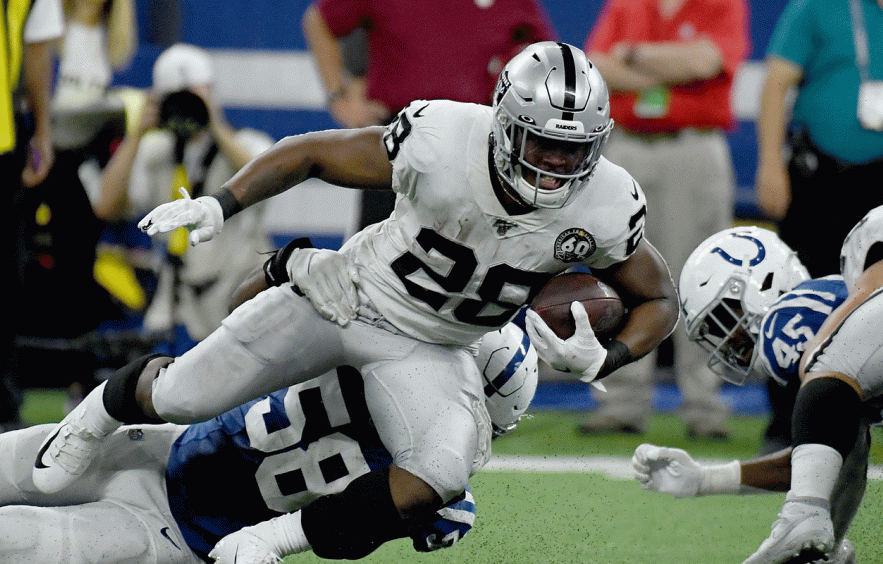 Getty Images
Below are the Week 11 running back-defense stacks on FanDuel and DraftKings. I'll examine where we might be able to get a solid defensive performance and volume-driven running production, including at least one RB-defense stack that will have minimal usage.
One should not base their weekly DFS lineup composition on the RB-DEF stack, as the correlation isn't nearly as strong as the QB-WR1 combo, for example. But considering RB1s—and only RB1s—get a decent bump in production when their team's defense scores at least 15 fantasy points, it's worthwhile to see where this stack might offer upside and differentiation for those who play large-field DFS tournaments. Running backs and defenses from the same team often face positive circumstances together.
It's these conditions that lead to fantasy points. Sometimes a lot of fantasy points—the kind that swing DFS tournaments.
Last week's stacks were highlighted by the cheapest option, Aaron Jones and the Green Bay defense, who combined for 36 fantasy points. Saquon Barkley, in his worst performance as a pro, combined for 10 points with the Giants defense, and the Ravens defense and Mark Ingram teamed up for 35 points.
Josh Jacobs

/

Raiders

Combined percentage of FanDuel salary: 21.6%

Combined percentage of DraftKings salary: 20.4%

This combination, slightly friendlier price-wise on DraftKings, is the latest in the (worthwhile) trend of stacking runners, defenses, and pretty much every other position against the worst team in football, the Bengals. Or maybe the Tankals. It's hard to say.

This stack, featuring the third-highest projected ceiling of the week on both FanDuel and DraftKings, is anchored by Josh Jacobs ($8,000 FD/$6,900 DK), who has at least 16 touches in each of his past six contests. Positive game script has been good to the rookie, as you might expect: Jacobs has seen an average of 22 carries in five Raiders wins. Oakland is at home this week, favored by 10.5 points, with Week 11's highest implied total. Meanwhile, Bengals opponents are decimating the Cincy defense on the ground, running the ball on 52.6% of offensive plays against the Bengals. That's the highest rate in the league, by far. It'd be an upset if Jacobs doesn't crack 20 touches here. Among teams that have only played nine games through Week 10, the Bengals have allowed the second-most rushing yardage. Behold the power of game script.

I mentioned last week in this space that Bengals QB Ryan Finley was pretty bad in college games where his team saw negative, pass-heavy script. That continued last week agains the Ravens; Finley completed 53% of his passes for a measly 167 yards and an interception. Now he's on the road as a massive underdog. Oakland's defense isn't good, but that doesn't matter here. Any defense should be able to take advantage of an inaccurate rookie quarterback playing behind an offensive line allowing a sack on around 8% of the team's passing plays. The Jets, Dolphins, and Giants are the only teams allowing more schedule-adjusted points to defenses than the Bengals. This might be the only time you're ever going to want to pay up for Oakland's defense ($5,000 FD/$3,300 DK).
Adrian Peterson

/Redskins

Combined percentage of FanDuel salary: 17.1%

Combined percentage of DraftKings salary: 14.6%

This is our high variance RB-defense stack for Week 11, which is another way of saying this combo could be ideal for large-field tournaments. It'll either tank spectacularly or post a fat number with a high volume running back and a defense playing Adam Gase's nightmare of an offense.

Washington's coaching staff is more committed to the run than anyone this side of Mike Zimmer: Adrian Peterson ($6,300 FD/$4,500 DK)has seen 20, 15, and 18 rushing attempts in the past three games—all Washington losses. Game script doesn't matter all that much for Peterson; Washington will establish the run if it kills them. And it will. But who cares. Let's go with it. Washington is somehow a one-point home favorite here against a New York defense seeing rushes on 41% of the plays against them this season. It's not a huge rate, but it's enough to believe Peterson could eclipse 20 totes in an ugly game with a 38.5 point over/under. Sure, Darius Guice should be back for this contest. That doesn't put me off Peterson, the clear favorite to inherit early-round workload. In fact, Guice's return should send Peterson's DFS usage plummeting, making him a viable tourney play with almost no ownership.

And there's this: Peterson has rushed for nearly 500 rushing yards this season and has one touchdown. The regression should be beautiful. It could come in this game unless Washington cedes game script to the Jets in a big way.

Washington's defense ($4,000 FD/$2,800 DK) is cheap enough on both sites this week: 14 defenses are priced higher on FanDuel, and 15 defenses are pricier on DraftKings. Hence, this stack is a bottom-barrel price point on DK. Only the Titans have given up more sacks than the Jets (they have the second-highest sack rate in the league). The kicker, and the upside for a Washington defense that will be at home in front of hundreds of fans, have committed 19 turnovers in nine games. The analytics say that's a lot. Sam Darnold—who is really bad when he's bad—has thrown at least one pick in four of his six 2019 starts. Does Washington's defense have much of a floor here? No, it does not. Thankfully, we don't care about a floor. Washington's defense has the seventh-highest projected ceiling of the week.
Devin Singletary

/

Bills

Combined percentage of FanDuel salary: 19.1%

Combined percentage of DraftKings salary: 19.6%

Here's your cheap(ish) RB-defense stack for Week 11—one that might not be deployed by too many DFS players after the Dolphins offense has appeared halfway functional in recent weeks. This stack has the week's fifth-highest projected ceiling, per 4for4.

But the last time we saw the Bills win, in a game where they had game script on their side from the outset, Devin Singletary ($6,500 FD/$6,000 DK) saw 20 carries and three catches against Washington. Singletary turned that into 140 total yards and a score. The rookie runner only saw 11 touches last week against Cleveland thanks to the Bills being forced into comeback mode. I don't think there's much chance of Buffalo being forced to phase out Singletary in Week 11 against Miami: the Bills are 5.5 point road favorites with a 22.75 point implied total. Not only are the Dolphins one of three teams that have seen more than 30 carries per game against them, but they're being gashed when teams hand off the pigskin to the sweet, sweet tune of 4.6 yards per carry. The Bills clearly want Singletary to be the guy—the primary ball carrier in an offense that wants to be conservative—and they'll likely get another chance to show as much in Week 11. Miami is being roasted by running backs for 29.7 adjusted fantasy points.

Buffalo's defense ($5,000 FD/$3,800 DK), which has the highest projected ceiling for Week 11, goes against a Miami offense that hasn't been nearly as friendly to enemy defenses of late, but still represents a target. The Colts in Week 10 managed nine fantasy points against the Dolphins despite neutral or positive script throughout for the Fish (I know, they're mammals). Ryan Fitzpatrick has played reasonably well over the past month, but still has at least one interception in three of his past four, completing barely 60% of his passes in 2019. Against a Buffalo secondary allowing the fifth-lowest completion rate through 10 weeks, the Bills defense is a good candidate for collecting multiple turnovers unless game script goes sideways.