N'Keal Harry: More Than Just A Receiver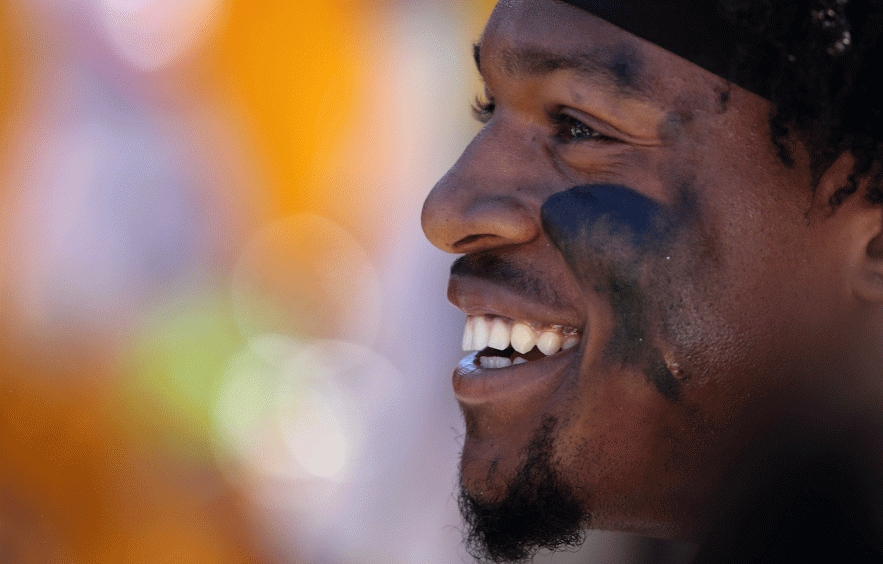 Christian Peterson/Getty Images
NFL passing offenses are in a constant state of change. The ability to mask a route concept and scheme open a receiver is one of the most coveted skills in the league. It's the dynamism that excites us on a weekly basis. The 'who' typically remains the same. Our favorite wide receivers retain that status due to their seemingly consistent production. The 'how' keeps us on the edge of our seats. A quick screen pass, weaving through traffic, straight to daylight. The back-shoulder fade route as the receiver blows past the defender. Enhancing a player's athletic traits through play calling makes a good player an elite one. But, for rookie receivers, we still need to know the 'how'. Once they're drafted, we can project scheme. Their collegiate production gives us insight into what they can do on the field and that's what we need to know.
Simply put: Tell me how he wins.
The fantasy community highly covets dual-threat running backs. Rushers that can produce on the ground and through the air. Same desire exists for receivers. Outside receivers can benefit from greater target depths. Those that operate from the slot benefit from high-percentage passes. Versatility keeps a player on the field elevating their chance to score for our fantasy team. There are few that match N'Keal Harry in this regard.
His tangible metrics speak for themselves. 6'2", 228 lbs. 4.53 40-yard dash. Two 1000-yard seasons as both a sophomore and junior. Drafted 32nd overall by the Super Bowl champions. The dots to connect for him to get on the field are linear.
But what keeps him there?
Players like Julian Edelman, Rob Gronkowski, and even Rex Burkhead have already provided the blueprint. If 'The Patriot Way' is to do your job, then doing multiple jobs is in the subtext. It's here where the Arizona State prospect can ascend in one of the best offenses in the league. So, let's take a full look at New England's latest weapon and how he could be used in the 2019 season.
How Harry Stacks Up
First-round wide receivers tend to get the brunt of our skepticism on draft day. So many variables to account for in projecting their future. Place on the depth chart, scheme fit, quarterback talent, time to establish rapport. While it all matters, until they take the field as a professional we only have their collegiate production to use as a guide. The Pac-12 prospect shines with the best of them.
First-round receivers from 2018 and 2019.

| Name | Yards Per Reception | Yards Per Target | Market Share | Yards | Peak Differential |
| --- | --- | --- | --- | --- | --- |
| N'Keal Harry | 14.9 | 9.5 | 31.50% | 1088 | 104 |
| Marquise Brown | 17.6 | 12.9 | 33.30% | 1318 | 57.3 |
| D.J. Moore | 12.9 | 7.6 | 44.90% | 1033 | 414 |
| Calvin Ridley | 15.3 | 11.1 | 31.40% | 967 | -187.3 |
'Hollywood' Brown clearly stands out over the past two drafts, but Harry's market share and yards per reception put him in good company across his first-round peers. He also stands out within his own program. 'Peak Differential' calculates the difference between a prospect's final year and the college's top receiver over 3 seasons prior to their breakout. D.J. Moore sits atop the mountain, but N'Keal was still able to vastly outproduce the talent coming from Arizona State over the years prior. Couple this with his athletic traits and we get a glimpse into what the Patriots saw in the 32nd overall pick. Three of his games were charted to visualize his strengths and weaknesses. They were:
09/01/2018 vs. University of Texas-San Antonio
11/17/2018 at Oregon
11/24/2018 at Arizona
How Harry Fits in New England
Harry's size and speed give him leverage over most of his competition. That includes players on the opposite side of the ball and on his own team. He's similar in stature to Josh Gordon and Demaryius Thomas, who's largest on the team and, unfortunately, the least likely to have a significant role in 2019. But the Patriots have their ways. Josh Gordon was used on slant routes during the playoffs.
Gordon's size, speed, and release technique gave him instant inside leverage for the first down. Harry was used in a similar manner.
Technique and size become insurmountable for players of Harry's build. Just put the ball in his hands and watch the magic happen. Burst and speed (along with size) become critical assets as N'Keal walks into one of the most important roles for the New England offense. Gronkowski and Gordon accounted for 33.3% of third-down conversions in 2018. Their absence creates a sense of urgency for N'Keal to establish a connection with Tom Brady both early and often. However, he needs some time to develop at his craft.
Harry's lack of agility and ability to separate is something of a liability. In each game charted, press coverage seemed to rattle the Arizona State prospect. Unable to shake defenders. Being knocked off routes. Oregon laid out the blueprint for stymying the NFL rookie. He was still able to post a 7-105-0 line against Oregon, but Arizona kept him mostly in check throughout a competitive match.
Herm Edwards was still able to get the best out of Harry by using his athleticism, not technique, to gain the much-needed separation to win. Rookie pains will likely be an issue for N'Keal as he matches up against the best of New England's defensive players in camp preparing for the 2019 season. Any news on his development will likely shape our expectations as preseason approaches.
How Harry Wins with Speed
Gordon again. A simple drag route across the coverage allowing Flash to beat defenders on his own terms. Easy pickup for Gordon and Brady.
Again, the parallels between the two highlight how New England thinks the rookie can be used on the field.
The parallels shouldn't be a surprise. Low aDOT routes (e.g. Hitch, Drive, Screen) comprised over 54% of the charted sample. In short, Arizona State wanted the ball in his hands. His 73 receptions in 2018 were nearly 30 more than the next receiver, but the types of routes indicated the team's offensive inclinations. Let the playmaking ability take over once the pass was completed. If defenders wouldn't respect his speed before the pass, it seemed easier to let the talent speak for itself.
The pursuit corner at the top of the screen appears to have the right angle but has clearly misjudged Harry's speed. In a single play, he was able to outpace the defensive help from the opposite side of the field while gliding past the immediate resistance from the cornerback and safety. Similar play design will present itself as a win-win situation for both the rookie and New England as they begin another Super Bowl campaign in 2019.
More Than Just A Receiver
Bill Belichick has a soft spot for special teams. Harry can do that.
New England has an affinity for trick plays and players that can execute in this role. Harry can do that through the air and ground.
The Patriots have built a dynasty on extending a player past their primary talent. Highlighting their full potential at low financial risk. Harry falls right into this category. The Patriots already understand his skills as a wide receiver. The NFL draft community understands his skills as a wide receiver. Even the dynasty community understood this as he's maintained an early first-round rookie ADP prior to the NFL draft. It's just that New England was able to look past the surface talent and see their full range of outcomes. As fantasy gamers, we have to take this into account as prepare for our drafts.
Flexible, Versatile...A Patriot
The full summary from the charted sampled is provided below.
Alignment data from the sample.

| Left | Left (Slot) | Right (Slot) | Right |
| --- | --- | --- | --- |
| 50.0% | 9.2% | 6.6% | 34.2% |
Routes run from the sample.

| Route Type | Percentage Run |
| --- | --- |
| Out | 15.3% |
| Flat | 13.9% |
| Hitch | 12.5% |
| Drive | 9.7% |
| Post | 8.3% |
| Quick Out | 8.3% |
| Corner | 6.9% |
| Curl | 6.9% |
| Slant | 5.6% |
| Climb | 4.2% |
| Fade | 2.8% |
| Double Move | 2.8% |
| Screen | 1.4% |
| Dig | 1.4% |
New England has 14.4 vacated targets per game entering the 2019 season. That's the sixth-most in the league with respect to target potential available to Harry as he enters his rookie season. Gordon saw 41.1% of his targets from the left side of the field lined up as the X receiver. N'Keal logged an approximate 31.6% snap rate as the X receiver from this side of the field within the charted sample. It's a role that can be filled almost immediately, provided that the rookie can establish a connection with one of the greatest quarterbacks to play the game. He'll struggle in camp and we'll remain skeptical of the pick throughout the summer, but any Patriot will hold our collective attention.
Harry also brings a necessary dimension to the vertical passing game. Despite the displays of cardio workouts, Chris Hogan's 28.8% deep-route target share accounted for nearly half of his yards in 2018. It also provided a tactical advantage for underneath routes run by Edelman. In these situations, Harry's additional 20 lbs will help as he becomes a lead blocker further extending the play.
The possibilities are endless.
Given the most recent departures, Harry finds himself in the middle of a perfect storm. The reigning Super Bowl champions still looking to continue their dominance. A wide receiver corps with middling, aging talent. An offensive scheme that thrives on maximizing primary and secondary talents. The rest of the AFC East already dreaded their yearly matchups against New England. They now have to account for another player catching passes from Brady.
…or could it be the other way around?