FanBall Week 7 AAF Breakdown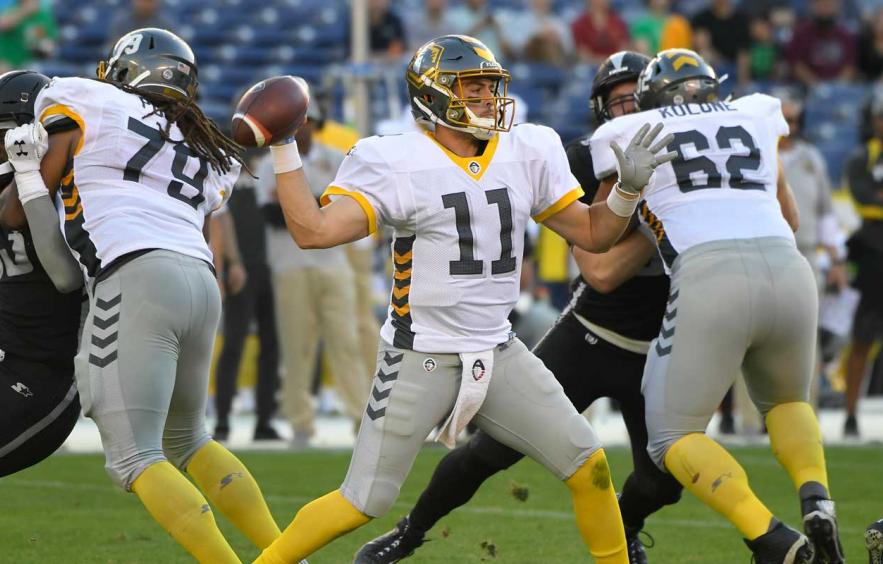 John McCoy/Getty Images
Note: All stat lines reference the previous week's game, unless otherwise noted. If there is no injury news about a team, the team has not released injury reports to the public/beat writers so be sure to check back for updates as injury news continues to be released closer to lock!
Jump to Season Long Touch and Target Shares
Orlando Apollos (-8.5) vs Atlanta Legends; O/U 42
Apollos Running Game
Last week, D'Ernest Johnson (9 car, 43 yds, 4.8 yds/car) was the clear workhorse back as it was the first time the Apollos were in a negative game script all season and we saw it affect backfield-mate De'Veon Smith (9 car, 39 yds, 4.3 yds/car) the most. Johnson logged a commanding 50% of snaps with eight of them coming on third down. Smith only logged 33% of snaps and although he ran the ball the same amount of times as Johnson, Smith's lack of passing game involvement was his ultimate demise. Against a Legends team this week that was brought back to Earth by the Commanders last week, both backs will be in play again with Smith garnering the lower ownership of the two as the inherent risk that comes with rostering him is much, much higher.
Apollos Passing Game
If there were ever a phrase to sum up the Apollos passing game this week, I'd have to borrow a line from a man they called Smizz, and as he would say "PLAY ALL THE DUDES". Garrett Gilbert (23/48, 268 yds,2 TD, 1 INT, 1 2PT) had what could be considered a 30th percentile performance for him last week. The Legends have the worst secondary overall with their highest DB graded out for a 64.8 on the season. Last week, Jalin Marshall (6 rec, 11 tgts, 98 yds, 1 TD), Charles Johnson (4 rec, 11 tgts, 1 TD), and Rannell Hall (4 rec, 8 tgts, 24 yds) were the stars of the show and that should continue this week. We never want to project blowouts, but it should be noted that this game could get out of hand very quickly. With the season coming to an end in a few weeks and these players needing to get more tape on themselves for the NFL scouts, they might just run them out there all game. The risk is small, but the payout will be huge for guessing right on these receivers.
Legends Running Game
Last week, we saw the Apollos defense give up an unusually high 4.71 yds/car to the Hotshots and while that is something positive to look at from the Legends point of view, if the Legends are going to run the ball they're going to have to actually stay in the game. Last week as they got blown out by the Commanders, lead back Tarean Folston (4 car, 13 yds, 3.3 yds/car) only logged 45% of snaps leading to four carries for thirteen yards but he caught all five of his targets. Folston's goal-line usage is the only thing that would merit rostering him, as it's led to him scoring three times over the last two weeks.
Legends Passing Game
With the Legends expected to be trailing in this game, game script should favor rostering these receivers, but the Apollos have an amazing secondary all around and you'd be hoping for a broken play more times than not. Despite the matchup, the receiver to target on the Legends is Seantavious Jones (6 rec, 9 tgts, 38 yds), who is fifth in the league in air yards. Rostering him doesn't come without risk, as he'll be going up against the top-graded CB in the league in Keith Reaser. RB Brandon Radcliff caught six of his targets as well, but he'll need a broken play or to slip into the end zone to really be worth a roster spot.
Pat's Thoughts
At $5,300 there's a lot of merit to looking at someone like D'Ernest Johnson, but on the Apollos side I'll be looking more to target Gilbert ($6,800) and sprinkling in shares of their receiving corps in the order of Johnson ($7,700), Marshall ($6,100), and Hall ($4,800). The running backs should get "blowout" run if the game gets out of hand, but I'm leaning more towards rostering what I believe WILL get them to the blowout first.
On the Legends side, I'm not really attracted to anything here but if you think the Legends have a shot at staying in this one I can see there being merit to Tarean Folston ($5,600) and Seantavious Jones ($5,600). Outside of that, the Legends are extremely thin.
Salt Lake Stallions vs San Antonio Commanders (-5.5); O/U 40.5
Stallions Running Game
Last week we saw the Stallions turn to workhorse back Joel Bouagnon more than usual as he logged 58% of snaps with the next back coming in at a lowly 10%. Bouagnon carried the rock 19 times for 60 yards. The Stallions scored more passing touchdowns than usual last week, as they spent a lot of time in 12 and 11 personnel trying to pick at the Express's biggest weakness. Against a Commanders secondary that allowed 4.79 yards per pass last week to the Legends, we should expect the Stallions to gameplan to use Bouagnon more in the red zone and the goal line leading to a score.
Stallions Passing Game
QB Josh Woodrum played a great game last week completing 24 of 37 passes for 243 yards, two touchdowns, two 2PT conversions, and one interception. Both of the touchdowns went to tight ends last week as Nick Truesdell (5 rec, 5 tgts, 67 yds, 1 TD) and Anthony Denham (4 rec, 5 tgts, 1 TD) made use of their increased workload last week. It remains to be seen if their involvement will continue going forward or if this was matchup dependent. Stud slot receiver De'Mornay Pierson-El (5 rec, 6 tgts, 38 yds) will draw the easiest matchup this week out of this receiving corps, facing off with Zack Sanchez who PFF grades out to a lowly 52.5.
Commanders Running Game
Kenneth Farrow once again led the backfield, logging 53% of snaps leading to nine carries for 35 yards, a touchdown and one 2PT conversion. His lack of efficiency makes him a tough choice for a roster spot, but that's immediately mitigated by his red-zone usage—last week he logged six carries in the red zone with all six of them coming at the goal line. Against a Stallions front seven that only gave up 2.72 yds/car last week, we'll be banking on a score from Farrow to pay off his salary. Outside of Farrow, Trey Williams continues to be wildly efficient in his time on the field. Outside of finding out that his workload has increased though, Williams won't exactly be fantasy relevant due to his lack of involvement near the goal line.
Commanders Passing Game
Logan Woodside played one of his best games last week against the Legends, completing 17 of 23 passes for 164 yards, two touchdowns and one 2PT conversion. Surprisingly, TE Cam Clear (5 rec, 5 tgts, 45 yds) had his coming out party last week, albeit without a touchdown. Air yard god Mekale McKay (3 rec, 6 tgts, 1 TD, 1 2PT) should be on everyone's radar this week as he draws a juicy matchup against Henre Toliver who PFF grades out to a 55 while also allowing an absolutely insane 75% catch rate on the season.
Pat's Thoughts
Josh Woodrum ($5,600) being priced $100 cheaper than Woodside is a huge plus for me just because of the savings with the need to continue rostering high-priced players like Trent Richardson. Rostering the tight ends in Denham ($3,300) and Truesdell ($5,100) may be a bit chasey but they'll be low owned and seem to have a consistent share of targets Salt Lake. My favorite play from this game is once again De'Mornay Pierson-El ($5,800) as his matchup is just too juicy to ignore.
Woodside ($5,700) had a great game last week and is priced at a point allowing for a ton of upside, but there are better spots I'll be targeting. That being said, I'll be looking towards McKay ($6,400) once again as it really seems like him and Woodside have the chemistry finally going.
San Diego Fleet vs Arizona Hotshots (-3.5); O/U 40
Fleet Running Game
The Fleet running game is a lot like being in your mid-20s struggling just to get by. You're stuck thinking about how easy things were before and how great everything was. Now you're constantly reminiscing of better times because you're stuck in a rut and you don't know how you're gonna get out. The backfield duo of Ja'Quan Gardner (8 car, 19 yds, 2.4 yds/car) and Terrell Watson (8 car, 28 yds, 4.9 yds/car, 1 TD) have been lackluster to say the least, even against a susceptible Iron run defense last week. They will have their hands full this week going up against a Hotshots offense that could put the Fleet in a negative game script in a hurry.
Fleet Passing Game
Mike Bercovici (17/34, 311 yds, 9.1 yds/att, 3 TD, 2 INT, 1 2PT) is finally playing like the QB the Fleet drafted and although he had a somewhat inefficient performance last week, we should look to him again this week as the Fleet will have to throw to stay in this game. The Hotshots are attackable through the air and their DBs are hardly intimidating so we'll be looking to attack the usual suspects in Dontez Ford (3 rec, 4 tgts, 182 yds) and Nelson Spruce (3 rec, 8 tgts, 23 yds) this week.
Hotshots Running Game
Jhurell Pressley (13 car, 57 yds, 4.4 yds/car, 1 TD) had a nice bounce-back game last week from a fantasy perspective, but if he didn't fall into the end zone twice we'd be talking about how one of the most touted players this season once again dropped a dud. Leading the backfield playing 48% of snaps, he still managed to only log one and two more carries than Tim Cook (11 car, 71 yds, 6.5 yds/car) and Justin Stockton (12 car, 37 yds, 3.1 yds/car), respectively. Against a stout front seven from the Fleet that's allowed fewer than three yards per carry over the last two weeks, it will be hard to bank on Pressley having another touchdown-heavy performance to warrant a roster spot.
Hotshots Passing Game
John Wolford had a decent showing last week, completing 16 of his 27 passes for one touchdown and one 2PT conversion but it was hardly something to write home about. This week he'll have a chance to improve that showing going against the Fleet's not so impressive secondary led by former receiver turned CB midseason, Kameron Kelly. Last week Richard Mullaney (6 rec, 7 tgts, 73 yds) gave an impressive performance while Rashad Ross (5 rec, 10 tgts) turned in what could now be considered a floor game for himself. Pressley wasn't as involved as we'd hoped in the passing game, only catching one of his two targets for nine yards.
Pat's Thoughts
If this game lives up to the hype, this should absolutely trump the total that Vegas gives them. There are so many pieces in this game that I want and it starts with Bercovici ($6,000), Ford ($6,700), and Spruce ($5,400). Trailing or leading, I expect Martz to let Berc chuck the ball as no lead will be comfortable knowing that Rashad Ross is on the other side.
Running it back, Wolford ($5,900) may be a bit too pricey for me but I don't mind rostering Mullaney ($4,400) or Ross ($7,100) as one-offs.
Birmingham Iron (-3) vs Memphis Express; O/U 36.5
Iron Running Game
Trent Richardson (16 car, 46 yds, 1 TD) scored again and water is still wet. Especially in Southern California where it hailed here on the first day of spring, but that's a story for another day. Richardson had surprisingly one of his more productive days, upping his efficiency to 2.9 yds/car. Outside of Richardson if injured starter Keith Price sits this week, Luis Perez (4 car, 28 yds, 7.0 yds/car) should be good for a couple of scrambles. Outside of that, it would be outright stupid to roster a back on the Iron outside of Richardson.
Iron Passing Game
Last week I was pretty disappointed that Keith Price not only got hurt but by his performance up until that point. If he sits this week, we'll get another helping of Luis Perez who came in relief and played his best game of the season completing 27 of 49 passes for 359 yards, three touchdowns, one 2PT conversion, and two interceptions. We can expect another performance like this again this week as he'll go up against a weak Express secondary that got dominated by the Stallions through the air last week.
The receiving corps was led by none other than Quinton Patton (8 rec, 15 tgts, 53 yds), L'Damian Washington (4 rec, 10 tgts, 128 yds, 2 TD, 1 2PT), and Trent Richardson (7 rec, 12 tgts, 44 yds, 1 TD). There's a huge disparity in the targets for these receivers and the others on the team, so it should be noted that Perez is probably most comfortable with this three and will continue to hit them until it's no longer an option.
Express Running Game
The Memphis Express are nothing to write home about but what else is to be expected when Mike Singletary is your head coach? The backfield will be led by Zac Stacy (11 car, 31 yds, 2.8 yds/car) who is just about as inefficient as Trent Richardson without the touchdown security blanket. With Stacy, you'll be praying he scores a touchdown in order to meet value but with Johnny Football on the sidelines waiting to come in who knows what could happen with this offense. Outside of last week, the Iron have been getting crushed on the ground giving up five yds/car in the two games prior. If Manziel gets thrown into this game, his mobility should create enough spacing for Stacy to have a great game.
Express Passing Game
The Express made headlines this past weekend by signing Johnny Manziel to their roster and although he won't start, he will be on the bench and will be ready to sub into the game if need be. Until then, we'll plan as if Manziel isn't playing. Zach Mettenberger got injured on a horrific sack last week at the beginning of the game so Brandon Silvers (23/47, 242 yds, 6.5 yds/att, 1 TD) had to come in as relief and he didn't do as bad as you'd expect. I guess some would call it an upgrade. Reece Horn (8 rec, 10 tgts, 129 yds) was finally able to have the game I've been chasing for weeks and Daniel Williams (7 rec, 11 tgts, 70 yds) made a clear run at being the WR2 on this team. Outside of these two, it will be hard to target anyone, especially if there is a chance we see Manziel in the game. There have been weeks in the AAF where the backup QB ended up being one of the best plays on the board, so rostering Manziel here has a bit of an edge for those who like to get a little frisky.
Pat's Thoughts
On the Iron side, the only piece I'll be targeting personally in my core is once again, Trent Richardson ($7,800). I don't think I'll be rostering Perez, but once again I'll be sprinkling in one-offs of Quinton Patton ($5,600) and L'Damian Washington ($5,700) as their target share last week with Perez was just too large to ignore.
From the Express, my favorite play is Johnny Manziel ($5,300)—if he comes in early you'll get the lowest-owned QB in a league that he should dominate just based on talent alone. Outside of that, Reece Horn ($5,900) once again will find his way into my lineups.
---
AAF Target Leaders, Weeks 1–6
Click headers to sort
AAF RB Touch Leaders, Weeks 1–6
Click headers to sort