Streaming Defenses: Week 1 Fantasy Football Targets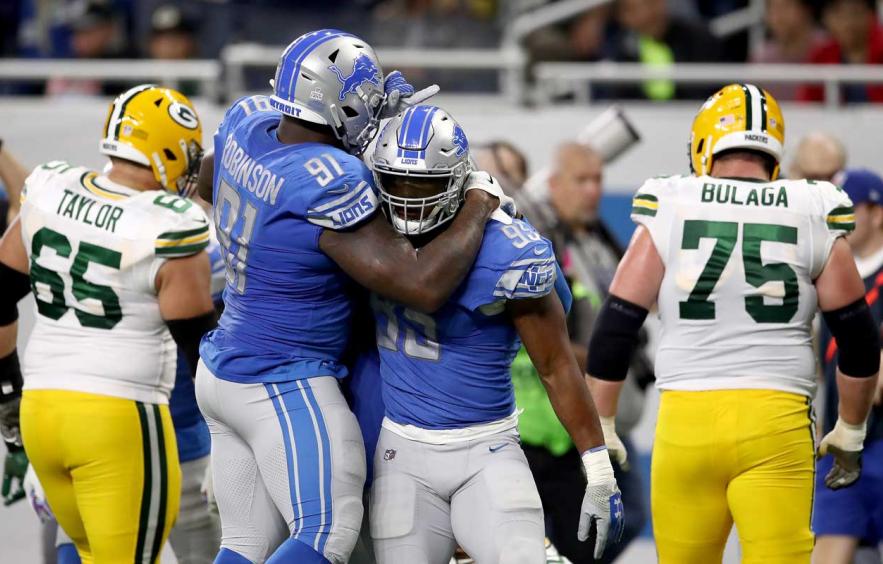 When it comes to drafting a defense, I don't start the run. I'd rather wait until the end of the draft and play the defense with the great matchup. This practice is commonly known as streaming defenses. Every week, you target a mediocre defense with a great matchup against a weak QB or offensive line.
We have been writing this streaming feature for nine years—offering readers several defenses who are available on the waiver wire each week—and have averaged DST7 numbers from 2009 to 2017. Generating top-10 DST numbers off the waiver wire allows fantasy owners to basically ignore the position on draft day, instead focusing on more important areas.
Generally, defenses have to be available on the waiver wire in at least 40% of Yahoo fantasy leagues to be eligible as a streaming option. This ensures we are talking about defenses that are readily available.
Last season, our top defensive streaming options averaged nearly 10 fantasy points per game.
I use 4for4's schedule-adjusted fantasy points allowed (aFPA) tool as the basis of my research, as well as other factors like turnover and pressure rates, implied team totals and the spread. I also like to target any defenses with a matchup against a below-average or rookie QB. For any decisions, consult the rankings as a means of any tie-breaker. Week 1 is finally here, so let's look at the suggestions for the first week of the season.
Top Streaming Picks
Detroit
Lions

vs. New York

Jets

On Monday Night Football, the Lions are getting a favorable matchup at home. If you look at our Defensive Hot Spots tool, you'll see the Lions have the green light.

Ezekiel Ansah turned in a dominant 2017 season, registering 12 sacks and generating a near 12 percent pressure rate. Right off the bat, he has a decent matchup, lining up over Kelvin Beachum and James Carpenter. Kerry Hyder is returning to the fold after missing all of 2017. I'm hoping they can get pressure from A'Shawn Robinson. The Lions ability to produce pressure gives them strong upside to generate multiple sacks.

As a rookie, Jarrad Davis struggled with missed tackles but was able to contribute two sacks. To help produce pressure from the second level, Detroit brought in Devon Kennard, who should line up on the edge for nickel packages. Kennard has notched 9.5 sacks over the last four seasons.

Darius Slay proved his abilities to generate turnovers, recording eight INTs last season. He was thrown at nearly seven times per game, generating an INT every 13 targets.

The Jets open the season ranked seventh in aFPA to opposing defenses and it's been declared that rookie Sam Darnold will get his first start. New York an implied total of 18.75 points, and with the Lions favored by 6.5, I like Detroit's chances of coming away with some sacks and turnovers. Detroit's defense is readily available in 70 percent of leagues.
Tennessee
Titans

@ Miami

Dolphins

Taking another trip down the Defensive Hot Spots tool, I come across the Tennessee Titans. Although it's a road matchup, the Titans are a slight favorite against Miami, who has an implied total of just 21.5.

The Dolphins, as a pass blocking unit, was average in pass protection last season and will face capable pass rushers. On the interior, Jurrel Casey is under-rated and always a threat to get to the QB. Miami upgraded their guard position but their left tackle could need help to contain Brian Orakpo. Casey could find himself matched up with Daniel Kilgore, who allowed 24 total QB pressures from the center position.

The edge rushers—Brian Orakpo and Derrick Morgan—could be a problem for Miami. Morgan is still recovering from a knee injury, so Harold Landry could get the nod in Week 1. In 30 pass rush snaps, he's recorded a sack and three total QB pressures. Last season, Orakpo generated a near 13 percent pressure rate, on his way to nine sacks. Wesley Woodyard chipped in five sacks of his own in 2017.

Kevin Byard generated an INT every 6 targets in 2017, resulting in eight total. Byard is a big-play safety, who's capable of playing in the box and in centerfield. Adoree Jackson didn't produce a single INT on his 106 targets but deflected 17 passes.

The Dolphins allowed 42 sacks to their QB and Ryan Tannehill has four seasons of 12 or more INTs, so the Titans defense is capable of producing turnovers here. Miami lost one of their primary weapons, Jarvis Landry, to the Browns. We'll see how Ryan Tannehill shakes off the rust for a Dolphins team who opens the season ranked 29th in aFPA to opposing defenses. Tennessee's defense is available in 83 percent of leagues.
Green Bay
Packers

vs. Chicago

Bears

Sunday Night Football features an NFC North rivalry between the Packers and Bears with the Packers at home as an eight-point favorite.

I really like Kenny Clark and Muhammad Wilkerson on the defensive line. The Bears offensive line last season allowed a 16 percent QB pressure rate and just over 2.5 sacks per game with an additional five QB hits. Clark produced a nine percent pressure rate, which is quite high for an interior linemen. Wilkerson has struggled to generate pressure since his 12.5 sack season in 2015, generating a 7.7 percent pressure rate over the last two seasons. Let's hope a change of scenery will do him some good.

Nick Perry and Clay Matthews are the pass rush threats at the LB position. Both Perry and Matthews produced pressure rates above 10 percent in 2017. Matthews has the favorable matchup, lining up on Bobby Massie's side of the offense. Massie was responsible for five sacks and 38 total QB pressures last season.

The Packers traded away their INT leader to Cleveland, however, Josh Jackson has turned in a solid preseason and is looking like a DB who can make an impact this season.

Last season, the Bears had 22 total giveaways, so they are prone to handing the ball over to the other team. The Bears open as a bottom-10 offense in aFPA to opposing defenses, as well. Mitchell Trubisky's accuracy under pressure was under 45 percent, so if he's under the slightest bit of duress, he's prone to sacks and turnovers. The Bears current implied total is at 19.75, so the Packer defense is shaping up to be a preferable streaming option and are available in 74 percent of leagues.
Deep-League Streaming Pick
Cleveland
Browns

vs.

Steelers

The Browns defense looked legit against the Eagles in Week 3 of the preseason. The Steelers have a potent offense but the Browns defense has the players to be a surprise unit.

Myles Garrett is healthy, as is Emmanuel Ogbah. Larry Ogunjobi is set to take a gigantic leap in his second year. In just 300 pass rush snaps as a rookie, Garrett was able to produce seven sacks and a 12.3 percent pressure rate. They also acquired Anthony Zettel off waivers in hopes of improving the pass rush.

The Browns have Jamie Collins and rookie Genard Avery. Avery is produced a 21.7 percent pressure rate on 23 rush snaps during the preseason.

The secondary, thanks to the defensive line, should have more opportunities to generate turnovers. The more pressure, the quicker the QB has to release the ball. Denzel Ward is going to shadow top receivers, so he should see plenty of targets thrown his way.

Ben Roethlisberger's completion percentage was down five points on the road last season, and in 2016, he threw 9 TDs to 8 INTs and had a completion percentage under 60 percent away from home. The Browns are flying under the radar and are practically free, available in 98 percent of leagues.

Update 09/05/2018: Le'Veon Bell has yet to report to practice and no one knows if or when he's showing up. Mike Tomlin is preparing as if they won't have him available. James Conner would get the start, and as capable as he is, he's not Bell. This would give the Browns a boost in their matchup.
Defense to Bench
Houston
Texans

@ New England

Patriots

I'm using any of the above options over the Texans defense in Week 1. This game has the highest over/under of the week and New England has an implied total of 28.75. Tom Brady has one of the quickest releases in the league and gets sacked at a very low rate. He rarely turns the ball over, so if the Texans allow 30 points, but can't generate sacks or turnovers, you're headed for a 0—or even negative points—in Week 1.

Photo by Gregory Shamus/Getty Images.