Introducing the 4for4 DFS Subscription, Led by Chris Raybon You asked for more DFS offerings, and we listened. Since even before the Seahawks blew Super Bowl XLIX, we've been working on our plan to roll out more DFS content and tools. It has been our number one focus this offseason. So without further ado, I'd like to announce the official launch of 4for4's DFS Subscription!

Long-time and Seasonal, Premium Subscribers, Don't Worry!
Everything you've come to expect and love from your 4for4 subscription will remain unchanged, as will the price. (In fact, the price even went down this season after someone convinced me adding 95 cents to the price was tacky.) The usual Premium subscription will still be available and will still have access to the FanDuel, DraftKings and DraftDay Value Reports and FanDuel and DraftKings Cash Game breakdown articles released each Thursday.
Serious DFS players, We're Looking at You
We are adding loads of weekly content geared specifically towards helping you take your DFS game to the next level:
The Lineup Generator - Select a pool of up to 50 players & generate up to 50 optimal lineups
Weekly FanDuel Cash Game-Specific Breakdown - Chris Raybon
Weekly FanDuel GPP-Specific Breakdown - Chris Raybon
Weekly DraftKings Cash Game-Specific Breakdown - Chris Raybon
Weekly DraftKings GPP-Specific Breakdown - Chris Raybon
Weekly Fantasy Aces Cash/GPP Breakdown - Chris Raybon
Weekly FantasyFued Cash/GPP Breakdown - Nick Raducanu (ProjectRoto)
Weekly DFS Theory - Jonathan Bales
2, 3 & 4 Man Stack Value Reports
Exclusive Weekly Floor & Ceiling Projections - Chris Raybon
Weekly Ownership Outlook - Chris Raybon
Optimal Lineup Walkthrough - Kevin Zatloukal
Downloadable CSV Projections With Pricing Data
Non-Skill Position Injuries/Schemes/Matchups to Exploit - Mike Woellert
Top Stacks of the Week - Joey Holka
DFS MVP Podcast - Chris Raybon & TJ Hernandez
The Lineup Generator
We've been working hard to bring you our very own Lineup Generator tool. It works with the Value Reports and the award-winning projections you already love, allowing you to select a pool of players at each position and generate the top 50 projected lineups from your selected player pool. The Lineup Generator is already awesome AND we'll be adding EVEN MORE cool features throughout the season! It currently works with FanDuel, DraftKings, DraftDay, FantasyAces and FantasyFeud, with more sites coming soon.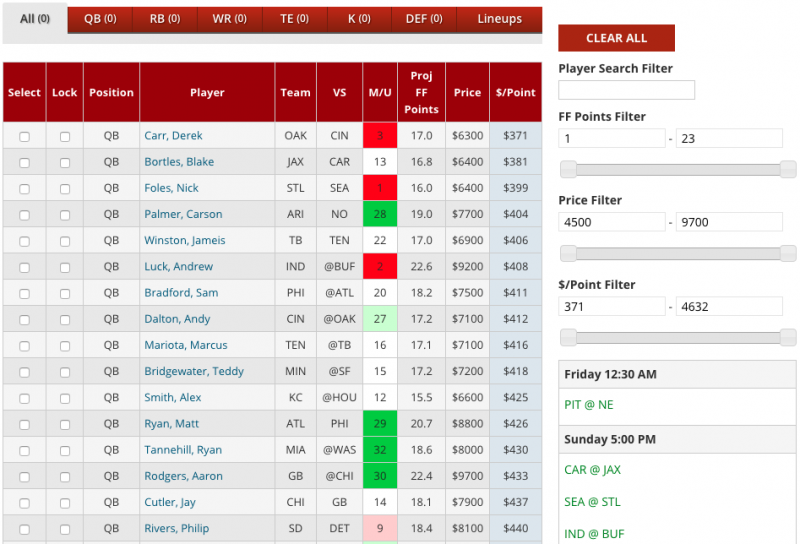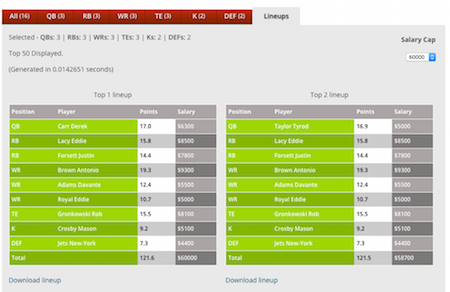 Why Did We Decide to Create a Separate DFS Subscription Package?
We have partnered with various DFS sites since as early as 2011 (FanDuel) and pioneered the Value Reports that same season. From the beginning, we saw the potential of DFS, and in the past year we've all watched FanDuel and DraftKings become household names. We knew we needed to increase our DFS offerings, but had two main concerns:
We didn't want to half-ass it.
We didn't want to divert resources from our Premium redraft package and short-change our core redraft subscribers who have been with us for years and make up the majority of our subscriber base.
The Solution? The DFS Package.
The DFS package will cost $79 for the entire NFL season (current Premium subscribers get a discount equal to the price of a Premium subscription). This works out to less than $5 per week, or approximately what you lose every time you take one of John Paulsen's head-to-head matches on FanDuel.
By creating a separate package, we were able to hire Chris Raybon in a full-time capacity to focus soley on providing you with the best Daily Fantasy Football resources available anywhere, paired of course with the most accurate rankings available (h/t John Paulsen).
You should remember Chris from his DFS work here last season. He is one of, if not the leading mind in daily fantasy football, and the decision to bring him on in a bigger capacity was a no brainer. If you haven't already, check out his Daily Fantasy Playbook. It's a great DFS starting point.
Most importantly, by creating a separate DFS package, we wont have to pull resources out of our Premium seasonal offerings. John Paulsen will still be devoting 100% of his efforts to rankings and seasonal content, and DFS revenue will fund new DFS development. Our award-winning projections will continue to drive the Value Reports and Lineup Generator.
Bottom Line
Our season-long players WILL NOT BE FORGOTTEN! Meanwhile, our DFS players will have so much more available to them for less than $5 per week.
I'm extremely excited about what the future has in store, and I hope you are too. Oh, and I wouldn't be able to look myself in the mirror tomorrow morning if I didn't ask you guys to at least consider supporting what we do and SIGN UP NOW.