4for4 Staff Draftmaster Recap - 12 Team Standard League Over the course of the past week, the 4for4 staff took part in our second staff league draft this month. This time it was a standard 12-team draftmaster league with many of the same rules as our PPR league from a few weeks ago.
We drafted based on an ESPN standard lineup of 1 QB, 2 RB, 2 WR, 1 (TE, WR or RB) flex, 1 TE, 1 K and 1 defense. The players we drafted are what we get for the season. It is hands off with no transaction, and the computers at MyFantasyLeague.com pick out our best lineup each week for points.
The participants in this draft were were: Chris Kucharski (Scout), John Paulsen (Senior Editor), Dale Lolley (Scout, Steelers beat writer), Josh Moore (Owner/Editor), Jonathan Bales (Daily Fantasy Expert), Scot Berggren (Scout), Bob Harris (Scout, FSWA HOFer), Scott Pagel (Scout, reigning champ), Andy Rioux (Scout), Jordan Heck (Scout), Brandon Niles (Scout) and Matt De Lima (Scout).
If you read the details of our PPR draft, you know that RBs went fast and furious early. That was the case once again in the standard format. This time, 13 of the first 14 selections of the draft were running backs, with the only exception being WR Calvin Johnson. He went early to Jordan Heck at 1.03, who decided to switch things up a bit.
Much like the PPR draft, the top-six consensus WRs (Johnson, Julio Jones, Dez Bryant, AJ Green, Demaryius Thomas and Brandon Marshall) were gone by the mid-to-late second round. This time, all owners took at least one RB in the first two rounds, compared to last time when two owners didn't take a RB. Six owners went RB-RB, five went RB-WR and one went RB-TE with, of course, Jimmy Graham.
The QBs didn't start disappearing until the third round. Aaron Rodgers was first off the board at 3.04 to Andy Rioux (compared to 3.8 in our PPR league). And, Drew Brees went a few picks later at 3.07 to Scot Breggren, followed by Peyton Manning at 4.01 to Chris Kucharski. Cam Newton lasted until 5.02 when Brandon Niles took him, and Tom Brady went to me at 6.08.
The real QB run again came in the middle rounds beginning at 8.02 with Colin Keapernick to John Paulson, 8.03 was Robert Griffin III to Dale Lolley, 8.04 Russell Wilson to Josh Moore, 8.05 Matt Stafford to Jonathan Bales, 8.07 Andrew Luck to Bob Harris and then 8.10 Tony Romo to Jordan Heck.
The news about Rob Gronkowski seemed to get a little better, and as a result he went about a round earlier to Jordan at 4.10 - compared to 5.8 in the PPR draft.
Rounds 4, 5 and 6 seemed to be the place to get value at wide receiver. Six receivers came off the board in the fourth and fifth rounds while five went in round six.
The mid-third and early-fourth was the place to target high upside RBs like Le'Veon Bell, Eddie Lacy and Lamar Miller. But the news on two of those three guys has turned negative over the last week. Bell looks like he'll miss 6-8 weeks with a Lisfranc injury, and Miller is "neck-and-neck" with Daniel Thomas in Miami in that RB race. Bell will obviously slide a ton in drafts and is no longer draftable as a starter. Meanwhile, Lacy's performance in preseason should bump up his value a bit.
If you're playing in a standard league, check out our draft below, including PC Drafter final results as well as our finished rosters.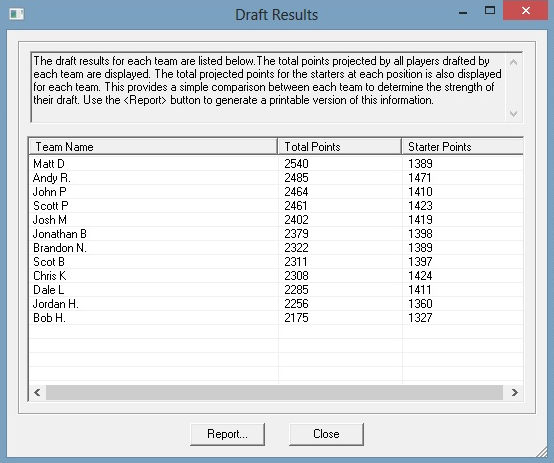 Draft Results

                                             
Rnd  Pck  League Team         Player Name              Pos    Team     ADP
===============================================================================
1    1    Matt D              Peterson, Adrian           RB    MIN  Rd:01/Pk:01
1    2    Brandon N.          Martin, Doug               RB    TB   Rd:01/Pk:02
1    3    Jordan H.           Johnson, Calvin            WR    DET  Rd:01/Pk:06
1    4    Andy R.             Foster, Arian              RB    HOU  Rd:01/Pk:03
1    5    Scott P             Charles, Jamaal            RB    KC   Rd:01/Pk:05
1    6    Bob H.              Richardson, Trent          RB    CLE  Rd:01/Pk:09
1    7    Scot B              Rice, Ray                  RB    BAL  Rd:01/Pk:07
1    8    Jonathan B          Spiller, C.J.              RB    BUF  Rd:01/Pk:04
1    9    Josh M              Morris, Alfred             RB    WAS  Rd:02/Pk:01
1    10   Dale L              McCoy, LeSean              RB    PHI  Rd:01/Pk:10
1    11   John P              Lynch, Marshawn            RB    SEA  Rd:01/Pk:08
1    12   Chris K             Jackson, Steven            RB    ATL  Rd:02/Pk:10
2    1    Chris K             Forte, Matt                RB    CHI  Rd:02/Pk:02
2    2    John P              Ridley, Stevan             RB    NE   Rd:02/Pk:12
2    3    Dale L              Jones, Julio               WR    ATL  Rd:02/Pk:07
2    4    Josh M              Graham, Jimmy              TE    NO   Rd:02/Pk:06
2    5    Jonathan B          Bryant, Dez                WR    DAL  Rd:01/Pk:12
2    6    Scot B              Thomas, Demaryius          WR    DEN  Rd:02/Pk:08
2    7    Bob H.              Green, A.J.                WR    CIN  Rd:01/Pk:11
2    8    Scott P             Johnson, Chris             RB    TEN  Rd:02/Pk:04
2    9    Andy R.             Marshall, Brandon          WR    CHI  Rd:02/Pk:05
2    10   Jordan H.           Jones-Drew, Maurice        RB    JAX  Rd:02/Pk:11
2    11   Brandon N.          Fitzgerald, Larry          WR    ARI  Rd:03/Pk:01
2    12   Matt D              Murray, DeMarco            RB    DAL  Rd:03/Pk:07
3    1    Matt D              Bush, Reggie               RB    DET  Rd:03/Pk:05
3    2    Brandon N.          Gore, Frank                RB    SF   Rd:03/Pk:12
3    3    Jordan H.           Johnson, Andre             WR    HOU  Rd:03/Pk:06
3    4    Andy R.             Rodgers, Aaron             QB    GB   Rd:02/Pk:03
3    5    Scott P             Miller, Lamar              RB    MIA  Rd:03/Pk:10
3    6    Bob H.              Bell, LeVeon               RB    PIT  Rd:04/Pk:07
3    7    Scot B              Brees, Drew                QB    NO   Rd:02/Pk:09
3    8    Jonathan B          Wilson, David              RB    NYG  Rd:03/Pk:11
3    9    Josh M              Jackson, Vincent           WR    TB   Rd:04/Pk:04
3    10   Dale L              Cruz, Victor               WR    NYG  Rd:03/Pk:09
3    11   John P              Sproles, Darren            RB    NO   Rd:04/Pk:05
3    12   Chris K             White, Roddy               WR    ATL  Rd:03/Pk:02
4    1    Chris K             Manning, Peyton            QB    DEN  Rd:03/Pk:03
4    2    John P              Davis, Vernon              TE    SF   Rd:05/Pk:04
4    3    Dale L              Lacy, Eddie                RB    GB   Rd:05/Pk:12
4    4    Josh M              McFadden, Darren           RB    OAK  Rd:03/Pk:08
4    5    Jonathan B          Colston, Marques           WR    NO   Rd:04/Pk:06
4    6    Scot B              Amendola, Danny            WR    NE   Rd:04/Pk:08
4    7    Bob H.              Bowe, Dwayne               WR    KC   Rd:04/Pk:03
4    8    Scott P             Cobb, Randall              WR    GB   Rd:03/Pk:04
4    9    Andy R.             Ivory, Chris               RB    NYJ  Rd:06/Pk:07
4    10   Jordan H.           Gronkowski, Rob            TE    NE   Rd:04/Pk:01
4    11   Brandon N.          Wayne, Reggie              WR    IND  Rd:05/Pk:06
4    12   Matt D              Nicks, Hakeem              WR    NYG  Rd:04/Pk:12
5    1    Matt D              Nelson, Jordy              WR    GB   Rd:04/Pk:09
5    2    Brandon N.          Newton, Cam                QB    CAR  Rd:04/Pk:02
5    3    Jordan H.           Mathews, Ryan              RB    SD   Rd:05/Pk:08
5    4    Andy R.             Smith, Torrey              WR    BAL  Rd:05/Pk:01
5    5    Scott P             Brown, Antonio             WR    PIT  Rd:05/Pk:10
5    6    Bob H.              Jones, James               WR    GB   Rd:07/Pk:04
5    7    Scot B              Mendenhall, Rashard        RB    ARI  Rd:06/Pk:11
5    8    Jonathan B          Garcon, Pierre             WR    WAS  Rd:05/Pk:05
5    9    Josh M              Ball, Montee               RB    DEN  Rd:04/Pk:10
5    10   Dale L              Witten, Jason              TE    DAL  Rd:05/Pk:07
5    11   John P              Smith, Steve-L             WR    CAR  Rd:06/Pk:08
5    12   Chris K             Gonzalez, Tony             TE    ATL  Rd:06/Pk:01
6    1    Chris K             Welker, Wes                WR    DEN  Rd:05/Pk:03
6    2    John P              Shorts, Cecil              WR    JAX  Rd:06/Pk:09
6    3    Dale L              Ryan, Matt                 QB    ATL  Rd:05/Pk:02
6    4    Josh M              Vereen, Shane              RB    NE   Rd:06/Pk:04
6    5    Jonathan B          Bernard, Giovani           RB    CIN  Rd:06/Pk:10
6    6    Scot B              Austin, Tavon              WR    STL  Rd:07/Pk:01
6    7    Bob H.              Rudolph, Kyle              TE    MIN  Rd:08/Pk:03
6    8    Scott P             Brady, Tom                 QB    NE   Rd:04/Pk:11
6    9    Andy R.             Richardson, Daryl          RB    STL  Rd:07/Pk:06
6    10   Jordan H.           Green-Ellis, BenJarvus     RB    CIN  Rd:08/Pk:04
6    11   Brandon N.          Jackson, DeSean            WR    PHI  Rd:06/Pk:03
6    12   Matt D              Wallace, Mike              WR    MIA  Rd:05/Pk:11
7    1    Matt D              Decker, Eric               WR    DEN  Rd:05/Pk:09
7    2    Brandon N.          Bradshaw, Ahmad            RB    IND  Rd:06/Pk:02
7    3    Jordan H.           Johnson, Steve             WR    BUF  Rd:07/Pk:02
7    4    Andy R.             Jennings, Greg             WR    MIN  Rd:07/Pk:12
7    5    Scott P             Hilton, T.Y.               WR    IND  Rd:07/Pk:08
7    6    Bob H.              Ingram, Mark               RB    NO   Rd:08/Pk:01
7    7    Scot B              Williams, Mike             WR    TB   Rd:07/Pk:05
7    8    Jonathan B          Gordon, Josh               WR    CLE  Rd:08/Pk:05
7    9    Josh M              Moore, Lance               WR    NO   Rd:08/Pk:08
7    10   Dale L              Stewart, Jonathan          RB    CAR  Rd:10/Pk:03
7    11   John P              Boldin, Anquan             WR    SF   Rd:07/Pk:07
7    12   Chris K             Austin, Miles              WR    DAL  Rd:07/Pk:11
8    1    Chris K             Brown, Andre               RB    NYG  Rd:07/Pk:09
8    2    John P              Kaepernick, Colin          QB    SF   Rd:06/Pk:12
8    3    Dale L              Griffin-III, Robert        QB    WAS  Rd:07/Pk:03
8    4    Josh M              Wilson, Russell            QB    SEA  Rd:08/Pk:06
8    5    Jonathan B          Stafford, Matthew          QB    DET  Rd:06/Pk:05
8    6    Scot B              Finley, Jermichael         TE    GB   Rd:08/Pk:09
8    7    Bob H.              Luck, Andrew               QB    IND  Rd:06/Pk:06
8    8    Scott P             Olsen, Greg                TE    CAR  Rd:08/Pk:07
8    9    Andy R.             Williams, DeAngelo         RB    CAR  Rd:08/Pk:12
8    10   Jordan H.           Romo, Tony                 QB    DAL  Rd:08/Pk:02
8    11   Brandon N.          Sanders, Emmanuel          WR    PIT  Rd:09/Pk:06
8    12   Matt D              Hillman, Ronnie            RB    DEN  Rd:11/Pk:01
9    1    Matt D              Blackmon, Justin           WR    JAX  Rd:10/Pk:04
9    2    Brandon N.          Thomas, Pierre             RB    NO   Rd:13/Pk:06
9    3    Jordan H.           Cook, Jared                TE    STL  Rd:08/Pk:11
9    4    Andy R.             Givens, Chris              WR    STL  Rd:09/Pk:07
9    5    Scott P             Manning, Eli               QB    NYG  Rd:09/Pk:10
9    6    Bob H.              Brown, Vincent             WR    SD   Rd:10/Pk:07
9    7    Scot B              Pierce, Bernard            RB    BAL  Rd:10/Pk:09
9    8    Jonathan B          Brown, Bryce               RB    PHI  Rd:09/Pk:02
9    9    Josh M              Britt, Kenny               WR    TEN  Rd:07/Pk:10
9    10   Dale L              Ballard, Vick              RB    IND  Rd:10/Pk:10
9    11   John P              Floyd, Michael             WR    ARI  Rd:09/Pk:01
9    12   Chris K             Rice, Sidney               WR    SEA  Rd:09/Pk:04
10   1    Chris K             Williams, Ryan             RB    ARI  Rd:13/Pk:06
10   2    John P              Tate, Golden               WR    SEA  Rd:09/Pk:11
10   3    Dale L              Tate, Ben                  RB    HOU  Rd:09/Pk:03
10   4    Josh M              Cameron, Jordan            TE    CLE  Rd:13/Pk:06
10   5    Jonathan B          Moore, Denarius            WR    OAK  Rd:09/Pk:08
10   6    Scot B              Broyles, Ryan              WR    DET  Rd:11/Pk:04
10   7    Bob H.              Greene, Shonn              RB    TEN  Rd:13/Pk:06
10   8    Scott P             Daniels, Owen              TE    HOU  Rd:09/Pk:09
10   9    Andy R.             Seahawks, Seattle          D     SEA  Rd:08/Pk:06
10   10   Jordan H.           Leshoure, Mikel            RB    DET  Rd:11/Pk:05
10   11   Brandon N.          Myers, Brandon             TE    NYG  Rd:09/Pk:12
10   12   Matt D              Sudfeld, Zach              TE    NE   Rd:13/Pk:06
11   1    Matt D              Gates, Antonio             TE    SD   Rd:08/Pk:10
11   2    Brandon N.          Jackson, Fred              RB    BUF  Rd:12/Pk:05
11   3    Jordan H.           Hopkins, DeAndre           WR    HOU  Rd:09/Pk:05
11   4    Andy R.             Bennett, Martellus         TE    CHI  Rd:10/Pk:11
11   5    Scott P             Randle, Rueben             WR    NYG  Rd:11/Pk:02
11   6    Bob H.              Eifert, Tyler              TE    CIN  Rd:13/Pk:06
11   7    Scot B              Bears, Chicago             D     CHI  Rd:10/Pk:02
11   8    Jonathan B          Jeffery, Alshon            WR    CHI  Rd:10/Pk:05
11   9    Josh M              Thompkins, Kenbrell        WR    NE   Rd:13/Pk:06
11   10   Dale L              49ers, San-Francisco       D     SF   Rd:09/Pk:04
11   11   John P              Woodhead, Danny            RB    SD   Rd:12/Pk:03
11   12   Chris K             Texans, Houston            D     HOU  Rd:10/Pk:11
12   1    Chris K             Pead, Isaiah               RB    STL  Rd:12/Pk:08
12   2    John P              Vick, Michael              QB    PHI  Rd:12/Pk:09
12   3    Dale L              Floyd, Malcom              WR    SD   Rd:11/Pk:12
12   4    Josh M              Dobson, Aaron              WR    NE   Rd:10/Pk:08
12   5    Jonathan B          Housler, Rob               TE    ARI  Rd:13/Pk:06
12   6    Scot B              Bell, Joique               RB    DET  Rd:13/Pk:06
12   7    Bob H.              Stacy, Zac                 RB    STL  Rd:13/Pk:06
12   8    Scott P             Rodgers, Jacquizz          RB    ATL  Rd:13/Pk:02
12   9    Andy R.             Davis, Fred                TE    WAS  Rd:12/Pk:06
12   10   Jordan H.           Dalton, Andy               QB    CIN  Rd:12/Pk:01
12   11   Brandon N.          James, LaMichael           RB    SF   Rd:11/Pk:11
12   12   Matt D              Roethlisberger, Ben        QB    PIT  Rd:13/Pk:06
13   1    Matt D              Palmer, Carson             QB    ARI  Rd:13/Pk:06
13   2    Brandon N.          Broncos, Denver            D     DEN  Rd:10/Pk:07
13   3    Jordan H.           Bush, Michael              RB    CHI  Rd:13/Pk:06
13   4    Andy R.             Cutler, Jay                QB    CHI  Rd:11/Pk:08
13   5    Scott P             Gostkowski, Stephen        K     NE   Rd:12/Pk:12
13   6    Bob H.              Bradford, Sam              QB    STL  Rd:13/Pk:06
13   7    Scot B              Freeman, Josh              QB    TB   Rd:13/Pk:06
13   8    Jonathan B          Fleener, Coby              TE    IND  Rd:12/Pk:10
13   9    Josh M              Michael, Christine         RB    SEA  Rd:13/Pk:06
13   10   Dale L              Pettigrew, Brandon         TE    DET  Rd:11/Pk:10
13   11   John P              Allen, Dwayne              TE    IND  Rd:13/Pk:06
13   12   Chris K             Gresham, Jermaine          TE    CIN  Rd:10/Pk:06
14   1    Chris K             Flacco, Joe                QB    BAL  Rd:13/Pk:06
14   2    John P              Wright, Kendall            WR    TEN  Rd:12/Pk:02
14   3    Dale L              Holmes, Santonio           WR    NYJ  Rd:13/Pk:06
14   4    Josh M              Bengals, Cincinnati        D     CIN  Rd:11/Pk:12
14   5    Jonathan B          Manuel, E.J.               QB    BUF  Rd:13/Pk:06
14   6    Scot B              Dickson, Ed                TE    BAL  Rd:13/Pk:06
14   7    Bob H.              Little, Greg               WR    CLE  Rd:11/Pk:09
14   8    Scott P             Hartline, Brian            WR    MIA  Rd:11/Pk:03
14   9    Andy R.             Redman, Isaac              RB    PIT  Rd:13/Pk:06
14   10   Jordan H.           Rams, St.-Louis            D     STL  Rd:12/Pk:10
14   11   Brandon N.          Rivers, Philip             QB    SD   Rd:13/Pk:06
14   12   Matt D              Weeden, Brandon            QB    CLE  Rd:13/Pk:06
15   1    Matt D              Patriots, New-England      D     NE   Rd:11/Pk:07
15   2    Brandon N.          Miller, Heath              TE    PIT  Rd:13/Pk:06
15   3    Jordan H.           Patterson, Cordarrelle     WR    MIN  Rd:10/Pk:12
15   4    Andy R.             Bryant, Matt               K     ATL  Rd:13/Pk:06
15   5    Scott P             Steelers, Pittsburgh       D     PIT  Rd:12/Pk:03
15   6    Bob H.              Cardinals, Arizona         D     ARI  Rd:13/Pk:06
15   7    Scot B              Walsh, Blair               K     MIN  Rd:13/Pk:06
15   8    Jonathan B          Ravens, Baltimore          D     BAL  Rd:11/Pk:03
15   9    Josh M              Dawson, Phil               K     SF   Rd:13/Pk:06
15   10   Dale L              Prater, Matt               K     DEN  Rd:13/Pk:06
15   11   John P              Packers, Green-Bay         D     GB   Rd:12/Pk:06
15   12   Chris K             Sanu, Mohamed              WR    CIN  Rd:13/Pk:06
16   1    Chris K             Janikowski, Sebastian      K     OAK  Rd:13/Pk:06
16   2    John P              Brown, Josh                K     NYG  Rd:13/Pk:06
16   3    Dale L              LaFell, Brandon            WR    CAR  Rd:13/Pk:06
16   4    Josh M              Schaub, Matt               QB    HOU  Rd:12/Pk:11
16   5    Jonathan B          Bailey, Dan                K     DAL  Rd:13/Pk:06
16   6    Scot B              Powell, Bilal              RB    NYJ  Rd:13/Pk:06
16   7    Bob H.              Zuerlein, Greg             K     STL  Rd:13/Pk:06
16   8    Scott P             Helu, Roy                  RB    WAS  Rd:13/Pk:06
16   9    Andy R.             Streater, Rod              WR    OAK  Rd:13/Pk:06
16   10   Jordan H.           Akers, David               K     DET  Rd:13/Pk:06
16   11   Brandon N.          Sturgis, Caleb             K     MIA  Rd:13/Pk:06
16   12   Matt D              Tucker, Justin             K     BAL  Rd:13/Pk:06

                                                                     
                                             
Team Owner: Matt D
Team Name: Matt D

Pos   Player Name                   Team    Bye    Points    ADP Rank  
===============================================================================
D     Patriots, New-England         NE      10     120       Rd:11/Pk:0
K     Tucker, Justin                BAL     8      119       Rd:13/Pk:0
QB    Roethlisberger, Ben           PIT     5      254       Rd:13/Pk:0
QB    Palmer, Carson                ARI     9      242       Rd:13/Pk:0
QB    Weeden, Brandon               CLE     10     201       Rd:13/Pk:0
RB    Peterson, Adrian              MIN     5      298       Rd:01/Pk:0
RB    Murray, DeMarco               DAL     11     190       Rd:03/Pk:0
RB    Bush, Reggie                  DET     9      171       Rd:03/Pk:0
RB    Hillman, Ronnie               DEN     9      97        Rd:11/Pk:0
TE    Gates, Antonio                SD      8      90        Rd:08/Pk:1
TE    Sudfeld, Zach                 NE      10     48        Rd:13/Pk:0
WR    Nicks, Hakeem                 NYG     9      164       Rd:04/Pk:1
WR    Nelson, Jordy                 GB      4      154       Rd:04/Pk:0
WR    Decker, Eric                  DEN     9      149       Rd:05/Pk:0
WR    Wallace, Mike                 MIA     6      147       Rd:05/Pk:1
WR    Blackmon, Justin              JAX     9      96        Rd:10/Pk:0
===============================================================================
Total Player Points:2540                                     



Team Owner: Brandon N.
Team Name: Brandon N.

Pos   Player Name                   Team    Bye    Points    ADP Rank  
===============================================================================
D     Broncos, Denver               DEN     9      122       Rd:10/Pk:0
K     Sturgis, Caleb                MIA     6      95        Rd:13/Pk:0
QB    Newton, Cam                   CAR     4      325       Rd:04/Pk:0
QB    Rivers, Philip                SD      8      214       Rd:13/Pk:0
RB    Martin, Doug                  TB      5      231       Rd:01/Pk:0
RB    Gore, Frank                   SF      9      190       Rd:03/Pk:1
RB    Bradshaw, Ahmad               IND     8      141       Rd:06/Pk:0
RB    Thomas, Pierre                NO      7      128       Rd:13/Pk:0
RB    Jackson, Fred                 BUF     12     87        Rd:12/Pk:0
RB    James, LaMichael              SF      9      33        Rd:11/Pk:1
TE    Myers, Brandon                NYG     9      87        Rd:09/Pk:1
TE    Miller, Heath                 PIT     5      61        Rd:13/Pk:0
WR    Fitzgerald, Larry             ARI     9      185       Rd:03/Pk:0
WR    Wayne, Reggie                 IND     8      154       Rd:05/Pk:0
WR    Jackson, DeSean               PHI     12     148       Rd:06/Pk:0
WR    Sanders, Emmanuel             PIT     5      121       Rd:09/Pk:0
===============================================================================
Total Player Points:2322                                     



Team Owner: Jordan H.
Team Name: Jordan H.

Pos   Player Name                   Team    Bye    Points    ADP Rank  
===============================================================================
D     Rams, St.-Louis               STL     11     117       Rd:12/Pk:1
K     Akers, David                  DET     9      111       Rd:13/Pk:0
QB    Romo, Tony                    DAL     11     284       Rd:08/Pk:0
QB    Dalton, Andy                  CIN     12     246       Rd:12/Pk:0
RB    Jones-Drew, Maurice           JAX     9      196       Rd:02/Pk:1
RB    Mathews, Ryan                 SD      8      140       Rd:05/Pk:0
RB    Green-Ellis, BenJarvus        CIN     12     105       Rd:08/Pk:0
RB    Bush, Michael                 CHI     8      69        Rd:13/Pk:0
RB    Leshoure, Mikel               DET     9      62        Rd:11/Pk:0
TE    Gronkowski, Rob               NE      10     125       Rd:04/Pk:0
TE    Cook, Jared                   STL     11     101       Rd:08/Pk:1
WR    Johnson, Calvin               DET     9      213       Rd:01/Pk:0
WR    Johnson, Andre                HOU     8      174       Rd:03/Pk:0
WR    Johnson, Steve                BUF     12     135       Rd:07/Pk:0
WR    Hopkins, DeAndre              HOU     8      109       Rd:09/Pk:0
WR    Patterson, Cordarrelle        MIN     5      69        Rd:10/Pk:1
===============================================================================
Total Player Points:2256                                     



Team Owner: Andy R.
Team Name: Andy R.

Pos   Player Name                   Team    Bye    Points    ADP Rank  
===============================================================================
D     Seahawks, Seattle             SEA     12     126       Rd:08/Pk:0
K     Bryant, Matt                  ATL     6      128       Rd:13/Pk:0
QB    Rodgers, Aaron                GB      4      361       Rd:02/Pk:0
QB    Cutler, Jay                   CHI     8      240       Rd:11/Pk:0
RB    Foster, Arian                 HOU     8      230       Rd:01/Pk:0
RB    Ivory, Chris                  NYJ     10     174       Rd:06/Pk:0
RB    Richardson, Daryl             STL     11     146       Rd:07/Pk:0
RB    Williams, DeAngelo            CAR     4      134       Rd:08/Pk:1
RB    Redman, Isaac                 PIT     5      54        Rd:13/Pk:0
TE    Bennett, Martellus            CHI     8      90        Rd:10/Pk:1
TE    Davis, Fred                   WAS     5      90        Rd:12/Pk:0
WR    Marshall, Brandon             CHI     8      200       Rd:02/Pk:0
WR    Smith, Torrey                 BAL     8      162       Rd:05/Pk:0
WR    Jennings, Greg                MIN     5      141       Rd:07/Pk:1
WR    Givens, Chris                 STL     11     120       Rd:09/Pk:0
WR    Streater, Rod                 OAK     7      89        Rd:13/Pk:0
===============================================================================
Total Player Points:2485                                     



Team Owner: Scott P
Team Name: Scott P

Pos   Player Name                   Team    Bye    Points    ADP Rank  
===============================================================================
D     Steelers, Pittsburgh          PIT     5      117       Rd:12/Pk:0
K     Gostkowski, Stephen           NE      10     133       Rd:12/Pk:1
QB    Brady, Tom                    NE      10     308       Rd:04/Pk:1
QB    Manning, Eli                  NYG     9      267       Rd:09/Pk:1
RB    Charles, Jamaal               KC      10     229       Rd:01/Pk:0
RB    Johnson, Chris                TEN     8      202       Rd:02/Pk:0
RB    Miller, Lamar                 MIA     6      172       Rd:03/Pk:1
RB    Rodgers, Jacquizz             ATL     6      83        Rd:13/Pk:0
RB    Helu, Roy                     WAS     5      68        Rd:13/Pk:0
TE    Olsen, Greg                   CAR     4      107       Rd:08/Pk:0
TE    Daniels, Owen                 HOU     8      102       Rd:09/Pk:0
WR    Cobb, Randall                 GB      4      165       Rd:03/Pk:0
WR    Brown, Antonio                PIT     5      162       Rd:05/Pk:1
WR    Hilton, T.Y.                  IND     8      144       Rd:07/Pk:0
WR    Randle, Rueben                NYG     9      107       Rd:11/Pk:0
WR    Hartline, Brian               MIA     6      95        Rd:11/Pk:0
===============================================================================
Total Player Points:2461                                     



Team Owner: Bob H.
Team Name: Bob H.

Pos   Player Name                   Team    Bye    Points    ADP Rank  
===============================================================================
D     Cardinals, Arizona            ARI     9      87        Rd:13/Pk:0
K     Zuerlein, Greg                STL     11     106       Rd:13/Pk:0
QB    Luck, Andrew                  IND     8      286       Rd:06/Pk:0
QB    Bradford, Sam                 STL     11     233       Rd:13/Pk:0
RB    Richardson, Trent             CLE     10     211       Rd:01/Pk:0
RB    Bell, LeVeon                  PIT     5      173       Rd:04/Pk:0
RB    Ingram, Mark                  NO      7      107       Rd:08/Pk:0
RB    Greene, Shonn                 TEN     8      48        Rd:13/Pk:0
RB    Stacy, Zac                    STL     11     25        Rd:13/Pk:0
TE    Rudolph, Kyle                 MIN     5      105       Rd:08/Pk:0
TE    Eifert, Tyler                 CIN     12     64        Rd:13/Pk:0
WR    Green, A.J.                   CIN     12     193       Rd:01/Pk:1
WR    Bowe, Dwayne                  KC      10     166       Rd:04/Pk:0
WR    Jones, James                  GB      4      154       Rd:07/Pk:0
WR    Brown, Vincent                SD      8      127       Rd:10/Pk:0
WR    Little, Greg                  CLE     10     90        Rd:11/Pk:0
===============================================================================
Total Player Points:2175                                     



Team Owner: Scot B
Team Name: Scot B

Pos   Player Name                   Team    Bye    Points    ADP Rank  
===============================================================================
D     Bears, Chicago                CHI     8      125       Rd:10/Pk:0
K     Walsh, Blair                  MIN     5      121       Rd:13/Pk:0
QB    Brees, Drew                   NO      7      350       Rd:02/Pk:0
QB    Freeman, Josh                 TB      5      244       Rd:13/Pk:0
RB    Rice, Ray                     BAL     8      211       Rd:01/Pk:0
RB    Mendenhall, Rashard           ARI     9      144       Rd:06/Pk:1
RB    Pierce, Bernard               BAL     8      107       Rd:10/Pk:0
RB    Bell, Joique                  DET     9      65        Rd:13/Pk:0
RB    Powell, Bilal                 NYJ     10     65        Rd:13/Pk:0
TE    Finley, Jermichael            GB      4      105       Rd:08/Pk:0
TE    Dickson, Ed                   BAL     8      67        Rd:13/Pk:0
WR    Thomas, Demaryius             DEN     9      191       Rd:02/Pk:0
WR    Amendola, Danny               NE      10     150       Rd:04/Pk:0
WR    Williams, Mike                TB      5      150       Rd:07/Pk:0
WR    Austin, Tavon                 STL     11     116       Rd:07/Pk:0
WR    Broyles, Ryan                 DET     9      100       Rd:11/Pk:0
===============================================================================
Total Player Points:2311                                     



Team Owner: Jonathan B
Team Name: Jonathan B

Pos   Player Name                   Team    Bye    Points    ADP Rank  
===============================================================================
D     Ravens, Baltimore             BAL     8      121       Rd:11/Pk:0
K     Bailey, Dan                   DAL     11     120       Rd:13/Pk:0
QB    Stafford, Matthew             DET     9      302       Rd:06/Pk:0
QB    Manuel, E.J.                  BUF     12     183       Rd:13/Pk:0
RB    Spiller, C.J.                 BUF     12     233       Rd:01/Pk:0
RB    Wilson, David                 NYG     9      174       Rd:03/Pk:1
RB    Bernard, Giovani              CIN     12     145       Rd:06/Pk:1
RB    Brown, Bryce                  PHI     12     76        Rd:09/Pk:0
TE    Housler, Rob                  ARI     9      86        Rd:13/Pk:0
TE    Fleener, Coby                 IND     8      71        Rd:12/Pk:1
WR    Bryant, Dez                   DAL     11     199       Rd:01/Pk:1
WR    Colston, Marques              NO      7      163       Rd:04/Pk:0
WR    Garcon, Pierre                WAS     5      151       Rd:05/Pk:0
WR    Gordon, Josh                  CLE     10     141       Rd:08/Pk:0
WR    Moore, Denarius               OAK     7      109       Rd:09/Pk:0
WR    Jeffery, Alshon               CHI     8      105       Rd:10/Pk:0
===============================================================================
Total Player Points:2379                                     



Team Owner: Josh M
Team Name: Josh M

Pos   Player Name                   Team    Bye    Points    ADP Rank  
===============================================================================
D     Bengals, Cincinnati           CIN     12     119       Rd:11/Pk:1
K     Dawson, Phil                  SF      9      120       Rd:13/Pk:0
QB    Wilson, Russell               SEA     12     296       Rd:08/Pk:0
QB    Schaub, Matt                  HOU     8      238       Rd:12/Pk:1
RB    Morris, Alfred                WAS     5      229       Rd:02/Pk:0
RB    McFadden, Darren              OAK     7      163       Rd:03/Pk:0
RB    Vereen, Shane                 NE      10     150       Rd:06/Pk:0
RB    Ball, Montee                  DEN     9      144       Rd:04/Pk:1
RB    Michael, Christine            SEA     12     46        Rd:13/Pk:0
TE    Graham, Jimmy                 NO      7      180       Rd:02/Pk:0
TE    Cameron, Jordan               CLE     10     91        Rd:13/Pk:0
WR    Jackson, Vincent              TB      5      172       Rd:04/Pk:0
WR    Moore, Lance                  NO      7      140       Rd:08/Pk:0
WR    Britt, Kenny                  TEN     8      133       Rd:07/Pk:1
WR    Dobson, Aaron                 NE      10     98        Rd:10/Pk:0
WR    Thompkins, Kenbrell           NE      10     83        Rd:13/Pk:0
===============================================================================
Total Player Points:2402                                     



Team Owner: Dale L
Team Name: Dale L

Pos   Player Name                   Team    Bye    Points    ADP Rank  
===============================================================================
D     49ers, San-Francisco          SF      9      125       Rd:09/Pk:0
K     Prater, Matt                  DEN     9      122       Rd:13/Pk:0
QB    Ryan, Matt                    ATL     6      301       Rd:05/Pk:0
QB    Griffin-III, Robert           WAS     5      298       Rd:07/Pk:0
RB    McCoy, LeSean                 PHI     12     219       Rd:01/Pk:1
RB    Lacy, Eddie                   GB      4      159       Rd:05/Pk:1
RB    Tate, Ben                     HOU     8      106       Rd:09/Pk:0
RB    Stewart, Jonathan             CAR     4      80        Rd:10/Pk:0
RB    Ballard, Vick                 IND     8      59        Rd:10/Pk:1
TE    Witten, Jason                 DAL     11     131       Rd:05/Pk:0
TE    Pettigrew, Brandon            DET     9      86        Rd:11/Pk:1
WR    Jones, Julio                  ATL     6      189       Rd:02/Pk:0
WR    Cruz, Victor                  NYG     9      165       Rd:03/Pk:0
WR    Floyd, Malcom                 SD      8      103       Rd:11/Pk:1
WR    LaFell, Brandon               CAR     4      94        Rd:13/Pk:0
WR    Holmes, Santonio              NYJ     10     48        Rd:13/Pk:0
===============================================================================
Total Player Points:2285                                     



Team Owner: John P
Team Name: John P

Pos   Player Name                   Team    Bye    Points    ADP Rank  
===============================================================================
D     Packers, Green-Bay            GB      4      116       Rd:12/Pk:0
K     Brown, Josh                   NYG     9      123       Rd:13/Pk:0
QB    Kaepernick, Colin             SF      9      306       Rd:06/Pk:1
QB    Vick, Michael                 PHI     12     242       Rd:12/Pk:0
RB    Lynch, Marshawn               SEA     12     230       Rd:01/Pk:0
RB    Ridley, Stevan                NE      10     205       Rd:02/Pk:1
RB    Sproles, Darren               NO      7      166       Rd:04/Pk:0
RB    Woodhead, Danny               SD      8      84        Rd:12/Pk:0
TE    Davis, Vernon                 SF      9      129       Rd:05/Pk:0
TE    Allen, Dwayne                 IND     8      73        Rd:13/Pk:0
WR    Smith, Steve-L                CAR     4      151       Rd:06/Pk:0
WR    Shorts, Cecil                 JAX     9      150       Rd:06/Pk:0
WR    Boldin, Anquan                SF      9      145       Rd:07/Pk:0
WR    Tate, Golden                  SEA     12     123       Rd:09/Pk:1
WR    Floyd, Michael                ARI     9      122       Rd:09/Pk:0
WR    Wright, Kendall               TEN     8      99        Rd:12/Pk:0
===============================================================================
Total Player Points:2464                                     



Team Owner: Chris K
Team Name: Chris K

Pos   Player Name                   Team    Bye    Points    ADP Rank  
===============================================================================
D     Texans, Houston               HOU     8      122       Rd:10/Pk:1
K     Janikowski, Sebastian         OAK     7      117       Rd:13/Pk:0
QB    Manning, Peyton               DEN     9      327       Rd:03/Pk:0
QB    Flacco, Joe                   BAL     8      230       Rd:13/Pk:0
RB    Forte, Matt                   CHI     8      212       Rd:02/Pk:0
RB    Jackson, Steven               ATL     6      207       Rd:02/Pk:1
RB    Brown, Andre                  NYG     9      137       Rd:07/Pk:0
RB    Pead, Isaiah                  STL     11     74        Rd:12/Pk:0
RB    Williams, Ryan                ARI     9      46        Rd:13/Pk:0
TE    Gonzalez, Tony                ATL     6      124       Rd:06/Pk:0
TE    Gresham, Jermaine             CIN     12     65        Rd:10/Pk:0
WR    White, Roddy                  ATL     6      168       Rd:03/Pk:0
WR    Welker, Wes                   DEN     9      147       Rd:05/Pk:0
WR    Austin, Miles                 DAL     11     142       Rd:07/Pk:1
WR    Rice, Sidney                  SEA     12     112       Rd:09/Pk:0
WR    Sanu, Mohamed                 CIN     12     78        Rd:13/Pk:0
===============================================================================
Total Player Points:2308