FanDuel Bankroll Builder: The Regular Season Ends With an 89% ROI Week 4: http://www.4for4.com/fantasy-football/2015/w5/fanduel-bankroll-builder-t...
Week 6: http://www.4for4.com/fantasy-football/2015/w7/fanduel-bankroll-builder-w...
Week 10: http://www.4for4.com/fantasy-football/2015/w11/fanduel-bankroll-builder-...
Week 14: http://www.4for4.com/fantasy-football/2015/w15/fanduel-bankroll-builder-...
Week 17: http://www.4for4.com/fantasy-football/2015/w18/fanduel-bankroll-builder-...
Week 18: http://www.4for4.com/fantasy-football/2015/w19/fanduel-bankroll-builder-...
Welcome to 4for4's FanDuel Bankroll Builder series. Many thanks to FanDuel and Josh Moore, who have staked me a $1,000 bankroll on FanDuel which I began playing with in Week 4. Throughout the season, I'll document all my gains, losses, and shower cries along the way. More importantly, I'll walk you through my thought process as far as bankroll management, game selection, player exposure, and my main cash game lineup(s) in hopes that we'll both learn valuable lessons from my successes and failures.
Editor's Note: 4for4's DFS Subscription is now only $19! 4for4 will be providing DFS subscribers with content throughout the entire NFL Playoffs, including Yahoo! content.
Week 15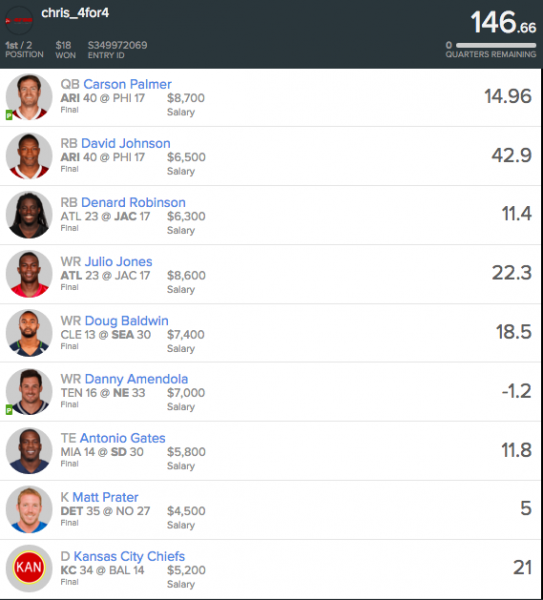 Week 15 was tilting, as I made some last minute adjustments to the lineup I wrote up in the Week 15 Cash Game Breakdown, which cost me a bunch of points. I essentially swapped out Russell Wilson, Michael Floyd, and Greg Olsen for Carson Palmer, Danny Amendola, and Antonio Gates. Amendola caught a pass, fumbled, and got injured, leaving me with an ugly -1.2 in an otherwise decent lineup. 
Week 15 serves as a reminder of why playing all 50/50s or double ups is riskier than playing the majority of your action in head-to-heads. I put my usual 80% of cash game money in play in head-to-heads, and turned a small profit in head-to-heads. However, I just missed the cutoff in double ups, which could have produced a disastrous week had I allocated all of my money in pay to double ups (although I would have probably made the cut-off in 50/50s). I didn't connect on many GPPs this week, and that combined with failing to reach the cut-off in double ups left me without a Week 15 profit overall as the bankroll dropped to $1,730.
Week 16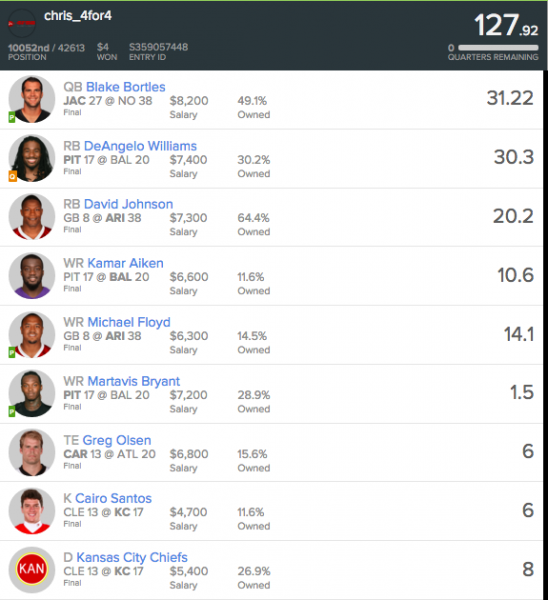 I rebounded nicely in Week 16, making back the money I lost the prior week and then some. The main factor in my success was having more exposure than most to DeAngelo Williams in cash games. I thought Williams was neck-and-neck with David Johnson as the top cash game play (he was averaging 120 yards and 1 TD per game -- LeVeon Bell numbers), but Williams was only owned roughly half as much as Johnson. Behind Williams' strong game, I went 83-29 in head-to-heads and finished in roughly the 77th percentile in double ups.
Week 17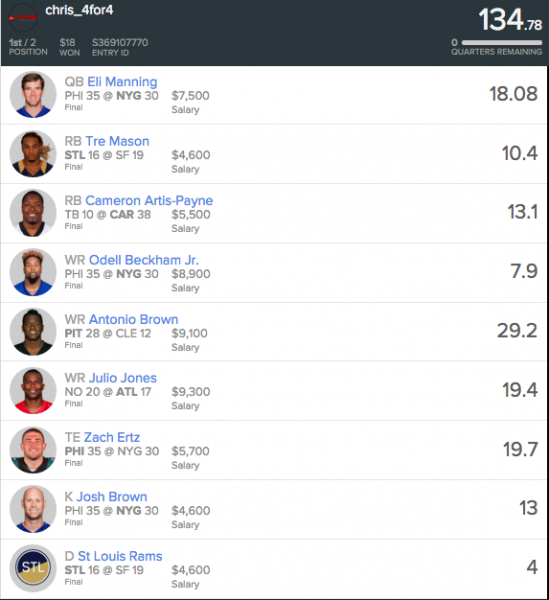 In Week 17, I played a lot more conservatively in terms of money in play. I put only 10% in play and split that evenly between cash games and GPPs, and I played no double ups, only head-to-heads.
In retrospect, I should have played more cash games, as I went 59-4 in head-to-heads, which is where most of my Week 17 profit came from. In GPPs, I was a few dollars from breaking even. Still, the strong head-to-head showing allowed me another profitable week, and the bankroll is at its highest point yet.
YTD Results
|   | Entry Fees | Winnings | Net |
| --- | --- | --- | --- |
| H2H | 1653 | 2164.1 | +511.1 |
| Other Cash Games (Double Up, 50/50, etc.) | 450 | 614 | +164 |
| GPP | 541 | 750 | +209 |
| Total | 2644 | 3528.1 | +884.1 |
Week 15 Start

Week 17 Finish

*The ending balance slightly differs from the beginning balance plus net profit due to the deposit bonus being gradually released.
Most Popular
There is no data to display.