FanDuel Hindsight Week 15: I See Your Top-Rated Defense and Raise You Antonio Brown Welcome to FanDuel Hindsight, where we'll recap the previous week on FanDuel, focusing on the Sunday Million tournament. We'll use the benefit of hindsight to see what lessons can be learned about the Sunday Million winner's low-owned, difference-making plays, then check in on how the most popular plays of the week fared.
Editor's Note: 4for4 has an ALL-NEW DFS SUBSCRIPTION! It includes our revolutionary Lineup Generator, Stack Value Reports, Ceiling & Floor Projections, GPP-Specific Articles, Ownership Outlooks, DFS Theory Articles, Lineup Construction Articles, a Downloadable .csv with Projections and Salary Data, and much more! DETAILS HERE! Previous subscribers don't worry, you'll get the same DFS content you got last season, but we think you'll want to UPGRADE to our DFS subscription because it takes our DFS content to the next level!
FanDuel user dank18 capitalized on fireworks in the Broncos-Steelers game to take down the Week 15 Sunday Million.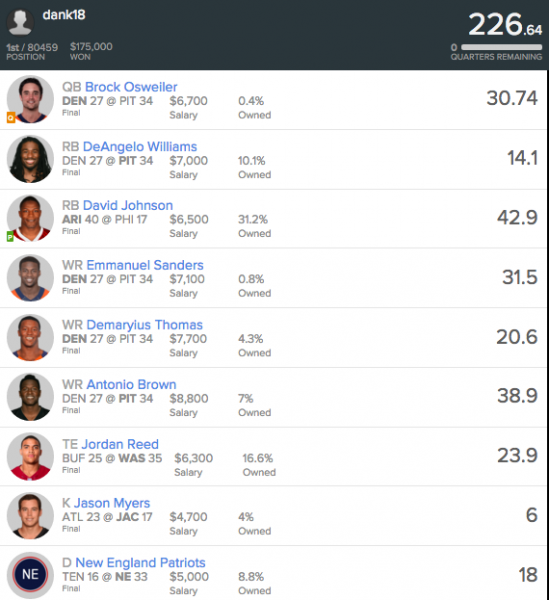 In using three Broncos and two Steelers, Dank18 successfully used a tactic I've pointed out many times this season: pairing up multiple opposing players from the same game. When one team in a game scores a ton of points, it puts pressure on the opposing offense to keep up and tends to quicken the pace of the game, which creates a synergy where many of the skill players involved benefit. Steelers-Broncos was no different, as Denver scored three touchdowns in the first 19 minutes of the game, and both teams ended up running over 70 offensive plays each.
A related tactic dank18 used was another I've discussed many times in this space: not being afraid to combine a slightly negatively correlated pairing from the same team, such as RB-WR. Dank18 obviously thought Broncos-Steelers had shootout potential, and in turn rostered both Antonio Brown and DeAngelo Williams, the Steelers' two primary offensive weapons. Although Williams scored only a pedestrian 14.1 points, the combined efforts of Brown and Williams netted 53 points; more than three points per $1,000 of their combined salary.
Let's dive deeper into dank18's difference-making plays.
Why He Was Low-Owned: Osweiler had not been producing TDs, with only five in five appearences. He had struggled in his last game versus the Raiders' weak pass defense.
Hindsight Bias: The Steelers were a bottom-five defense in terms of passing yards allowed. With Pittsburgh's potent offense, the Broncos would likely have to be more aggresive in order to score more than usual and keep pace.
Why He was Low-Owned: Brown was facing a Broncos defense ranked first in WR aFPA that had allowed two TDs to WRs all year.
Hindsight Bias: Brown is arguably the most unguardable WR in the league, rendering him matchup-proof with huge upside every time he takes the field.
Why He Was Low-Owned: Sanders had devolved into a low-volume deep threat with Osweiler at the helm, and had caught five of 14 targets for only 26 yards in his last two games combined.
Hindsight Bias: Sanders' price had been dropping and this was a #RevengeGame for him. He had shown upside with Osweiler in Week 12, posting a 6-113 line.
Why He Was Low-Owned: Thomas had three TDs all year and had not cleared 100 yards since Week 8.
Hindsight Bias: Thomas' price had been coming down, and with 88 catches on the season, he was bound for some upwards regression on his three TDs coming into the game.
Why They Were Low-Owned: As I pointed out in my Tournament Ownership Outlook column, the Seattle Seahawks were owned so highly that other deserving defenses went under-owned.
Hindsight Bias: The Seahawks were owned highly because they were two-touchdown favorites at home, but the Patriots were favored by two TDs at home, and the Titans ranked 29th in DEF aFPA.
How Did the Most Highly Owned Plays of the Week Fare?
QB Russell Wilson 22.3% Owned, 26.56 Points
Wilson continued his streak of lights-out play, racking up three more TDs and 295 total yards.
RB David Johnson 31.2% Owned, 42.9 Points
Johnson went H.A.M. against an Eagles defense that had been getting gashed by RBs over the past month. He converted two short TD runs and also tacked on a 47-yard scamper, finishing with 229 total yards and three TDs.
Robinson didn't disappoint volume-wise, playing all 62 offensive snaps for Jacksonville. He caught eight passes for 46 yards, which is excellent production in the passing game. However, he only managed 28 scoreless yards on 14 carries, which ultimately prevented him from being a difference-maker.
WR Julio Jones 26.8% Owned, 22.3 Points
Coming into the game with the best on-paper matchup of all the stud WRs, Jones predictably got loose against the Jaguars, piling up nine catches for 118 yards and a TD.
WR Doug Baldwin 33.9% Owned, 18.5 Points
Baldwin continued his historic run of multi-TD games, but only caught four passes for 45 yards on the day, which somewhat capped his usefulness in GPPs, especially when Sammy Watkins was also popular, $200 cheaper, and scored seven more points than Baldwin.
WR Jeremy Maclin 18.3% Owned, 14.5 Points
Maclin was able to get into the end zone, but ended up with only 50 yards on seven catches, which amounted to a modest 14.5 points. Most of Maclin's biggest games this year have come when the opponent has been able to score a lot of points on Kansas City's defense, which was not the case in Baltimore.
TE Jordan Reed 16.6% Owned, 6.7 Points
Reed continued to be in sync with a suddenly emerging Kirk Cousins, catching all seven of his targets for 84 yards and two TDs.
D Seattle Seahawks 32.4% Owned, 9 Points
The Seahawks defense played well, holding the Browns to 13 points and notching three sacks and an interception. However, the Seattle defense (and special teams) failed to reach the end zone, which resulted in a mediocre day that did not live up to the Seahawks' cost or ownership level.