Twinspires Kentucky Derby Promo Gets You $200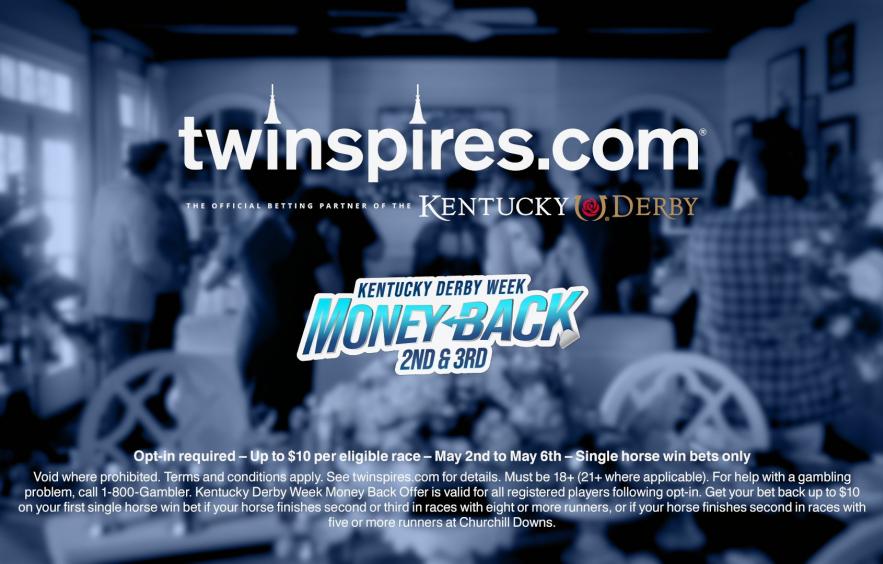 The most exciting race of the year takes place tonight at 6:57 p.m. ET, and the Twinspires sportsbook has a great welcome offer for all new Twinspires users; use our Twinspires Promo Code for a $200 Sign-Up Bonus!
---
Click here to sign up for your Twinspires bonus today!
---
TwinSpires Promo Code Offer
TwinSpires Promo Code is a great way to get discounts on horse race betting. As the official online betting site of the Kentucky Derby, TwinSpires offers an easy-to-use platform where you can bet on races from around the world. A TwinSpires Promo Code can be obtained from various sources, including the company's website and social media pages.
These codes typically provide a percentage-off or a dollar amount discount on your bets. To use the promo code, simply enter it into the designated field when making your wagers. It's important to note that these codes have expiration dates and may have additional terms and conditions, so be sure to read the fine print before using them. TwinSpires has a reputation for being a safe and secure platform for online horse race betting, and with the additional savings from a promo code, it's a great way to increase your chances of winning big.
How to Claim the Twinspires Sportsbook Promo Code
Claiming the Twinspires Sportsbook promo code is a simple and straightforward process. First, visit the Twinspires website and create an account by following the easy instructions. Once you have completed the registration process, navigate to the promotions section of the website. Look for the promo code that you want to claim and click on the "Claim Now" button. Enter the promo code in the designated field and your account will be credited with the specified bonus amount. It is essential to note that promo codes have expiration dates, so make sure to redeem them before they expire.
Additionally, make sure to read and understand the terms and conditions of the Twinpires Sportsbook promo code before you claim it, as each offer usually comes with specific requirements such as minimum odds, wagering requirements, and time limits for redeeming the bonus. By following these steps, you can quickly and easily claim your Twinpires Sportsbook promo code and enjoy the benefits it offers.
The 2023 Kentucky Derby Field
The field and odds for tonight's race are as follows;
Hit Show (30-1)
Verifying (15-1)
Two Phil's (12-1)
Confidence Game (20-1)
Tapit Trice (5-1)
Kingsbarns (12-1)
Reincarnate (50-1)
Mage (15-1)
Skinner (20-1)
Practical Move (10-1) (Withdrew due to illness)
Disarm (30-1)
Jace's Road (50-1)
Sun Thunder (50-1)
Angel of Empire (8-1)
Forte (3-1)
Raise Cain (50-1)
Derma Sotogake (JPN) (10-1)
Rocket Can (30-1)
Lord Miles (30-1)
Continuar (JPN) (50-1)
Cyclone Mischief (30-1)
Mandarin Hero (JPN) (20-1)
King Russell (50-1)
Those looking to stake a wager have their eyes on favorites, including Forte (3-1), Tapit Trice (5-1), and Angel of Empire (8-1). Longshots to bet include Continuar, Raise Cain, and Sun Thunder, all at 50-1 odds to win. It should be a competitive event as one of the biggest sporting events kicks off the race for the Triple Crown. Get ready for the greatest two minutes in sports.
For a full breakdown of the entire race, check out our Kentucky Derby breakdown.
---
Click here to sign up for your Twinspires bonus today!
---
Twinspires Sportsbook Promo Code FAQs
If you're looking to use Twinspires Sportsbook Promo Code, you might have some questions about how it works. One common question is whether the promo code can be used for all sports or just certain ones. The good news is that it can generally be used for a variety of sports, including football, basketball, baseball, and more. Another common question is whether there are any restrictions on the value of the promo code. In most cases, there will be a maximum value that you can receive as part of the offer. Additionally, you might be curious about how to actually use the promo code.
This will depend on the specific offer and the platform you're using, but typically you'll need to enter the code during the sign-up process or when making a deposit. Finally, you might be wondering whether there are any expiration dates or other restrictions on when you can use the promo code. Be sure to read the terms and conditions carefully so you don't miss out on any benefits!
What is the minimum age to sign up for Twinspires Sportsbook?
The minimum age to sign up for Twinspires Sportsbook is 21 years old. This is in accordance with state laws and regulations surrounding online sports betting and gambling. It is important to note that age verification will be required during the registration process, and any false information provided could result in legal consequences. Twinspires Sportsbook takes responsible gaming seriously and encourages customers to set betting limits and practice safe and controlled gambling habits.
Underage gambling is illegal and can lead to addiction and financial harm, which is why Twinspires enforces strict age verification measures. It is important for all users of the platform to comply with these regulations to ensure safe and enjoyable sports betting experiences.
What can I bet on with Twinspires in May 2023?
In May 2023, Twinspires will offer a variety of betting options for horse racing enthusiasts. Customers will be able to bet on daily races across the United States and internationally. The Kentucky Derby and Preakness Stakes, two of the biggest horse races in the world, will both take place in May, and bettors will be able to place wagers on these events at Twinspires. In addition to the standard win, place, and show bets, Twinspires will offer exotic bets such as exactas, trifectas, and superfectas.
Bettors can also participate in Twinspires' handicapping contests and tournaments for the chance to win big prizes. Twinspires' mobile app and website will provide customers with up-to-date odds, expert analysis, and live streaming of races, all at their fingertips. Whether a seasoned horse racing bettor or a newcomer to the sport, Twinspires will have something for everyone to bet on in May 2023.
21+. Know When To Stop Before You Start. Gambling problem? Call 1-800-GAMBLER