FanDuel Sports Betting in New York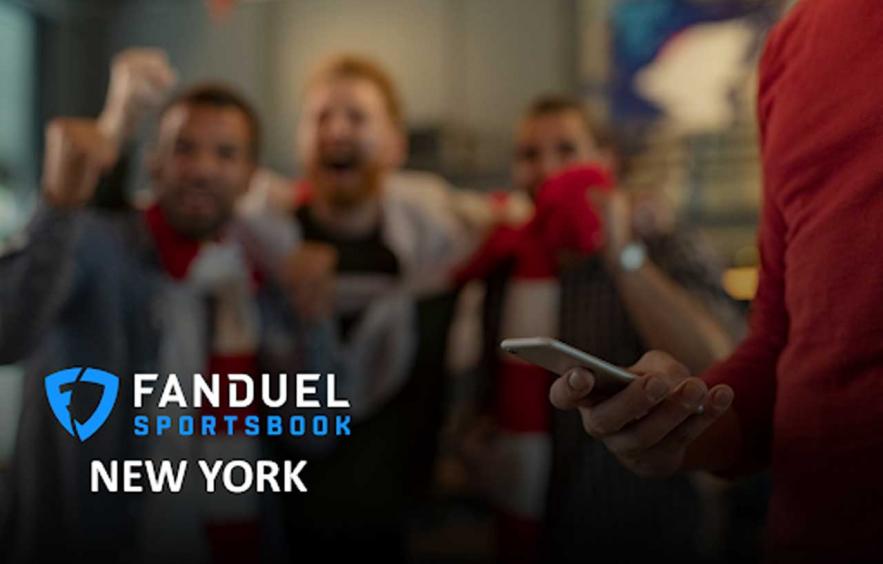 One of the earliest mobile sportsbooks to launch in New York is FanDuel Sportsbook. There will be a multitude of new sign-up offers coupled with the launch on January 8th at 9:00 AM EST.
See all of the launch details here along with the top FanDuel Promotions. Keep reading to see why FanDuel Sportsbook is a great place to start as you begin your sports betting journey in New York.
Current FanDuel Sportsbook Offers in New York
FanDuel Mobile Sportsbook Launch Information
While retail FanDuel Sportsbook locations have been live since 2019, FanDuel is among the first sportsbook operators to launch mobile sports betting in New York. Starting on January 6th, 2022, the pre-launch window for registration is open. With a pre-launch registration, users are eligible for $100 in site credit that can be used toward a bet. On Saturday, January 8th at 9 AM EST, FanDuel will officially launch their mobile app and open sports wagering for customers located in New York.
To go along with the launch, there are a flurry of promotions for new customers. The largest of which Is focused on a risk-free bet up to $1,000. In addition, bettors can capitalize on 30-to-1 odds on the College Football National Championship—Bet $5, Win $150 on either team to win their matchup.
FanDuel Pros and Cons for New York Players
Pros
Wide Availability: If you live in a state where sports betting is legal, it's very likely you live in a state where FanDuel is already operating, either via its online or mobile platform or through a brick-and-mortar retail sportsbook.
Fantasy Sports Crossover: FanDuel was already one of the United States' two largest daily fantasy sports operators, meaning bettors who also enjoy both can play both while using the same account.
Competitive Odds: The odds offered on FanDuel are often some of the better ones in the business from a bettor's perspective. This is particularly true on more widely-bet markets and bigger games, and especially on wagers on total goals or points scored.
Generous Beginner Promos: FanDuel offers a risk-free bet of up to $1,000. In other words, if you make a $1,000 risk-free bet and it loses, $1,000 will be returned to your account. You must make additional wagers equivalent to $1,000 before you can withdraw those funds, however. But if you're planning on being a regular bettor—even if you're playing relatively small amounts of money—you'd be foolish not to take advantage of this offer, whether you bet $1,000 with your first wager or a smaller amount.
Cons
Odds Format: While most users will be plenty happy to use the standard American odds (+100) format, FanDuel is one of a few sportsbooks that does not allow users to change their odds to a decimal (2.00) or fractional (1-1) formats. Some bettors find decimal odds, in particular, to be more user-friendly because they can make it easier to compare and compute implied probabilities.
FanDuel Betting Markets
FanDuel allows bettors to wager on 18 different sports contested across the planet. Here's a full rundown of the markets available to FanDuel Sportsbook users, listed alphabetically by sport:
Australian Rules Football, including the AFL
Baseball, including MLB
Basketball, including the NBA, WNBA and NCAA men's and women's games
Boxing
Cricket, including the IPL and ICC Cricket World Cup
Cycling
Darts
Football, including the NFL and NCAA
Golf, including the PGA Tour
Ice Hockey, including the NHL
Mixed Martial Arts, including UFC
Motorsports, including Formula 1 and NASCAR
Rugby League
Rugby Union, including Rugby World Cup
Snooker
Soccer, including the English Premier League, MLS and FIFA World Cup
Table Tennis
Tennis, including Australian Open, French Open, Wimbledon and U.S. Open
Additionally, FanDuel operates a separate horse racing platform in addition to its sportsbook platform.
Frequently Asked Questions
What is FanDuel's biggest Sportsbook bonus?
New bettors can receive a risk-free bet worth $1,000 on their first wager after signing up for FanDuel. If the wager loses, users will be credited $1,000 to their sportsbook account to use for additional betting.
Is it easy to withdraw funds with FanDuel?
Yes, depending on the amount of money you are trying to withdraw. FanDuel limits customers to $1,000 in withdrawals per 24 hours. Withdrawal requests are typically approved within 24 hours and processed to user accounts within 72 hours.
Who can place bets on FanDuel?
Anyone age 21 or over can place bets with FanDuel, provided they are located in one of the states where FanDuel operates its website and mobile app, or a retail location. Bettors do not have to be residents of those states, but merely have to be located within state borders when placing their wagers.
Do you actually win money on FanDuel?
Yes, FanDuel bets are payable in real currency that can be paid out in cash at a retail location or digitally to your banking account, Venmo account or PayPal account. There are some exceptions regarding promotions, where users are credited funds to their account to be used on future wagers. Those funds must be used on additional bets before users can make withdrawals.
How can I withdraw funds on FanDuel?
Click on your account icon to open your account tab, then click "withdraw funds" from the options presented. Once prompted, select the amount and method of withdrawal.
How does FanDuel pay out?
FanDuel pays funds credited directly to your bank, Venmo or PayPal account. Users who need cash can also visit a retail location to make a cash withdrawal.