How The 6 NFC Coaching Changes Impact IDP Leagues in 2023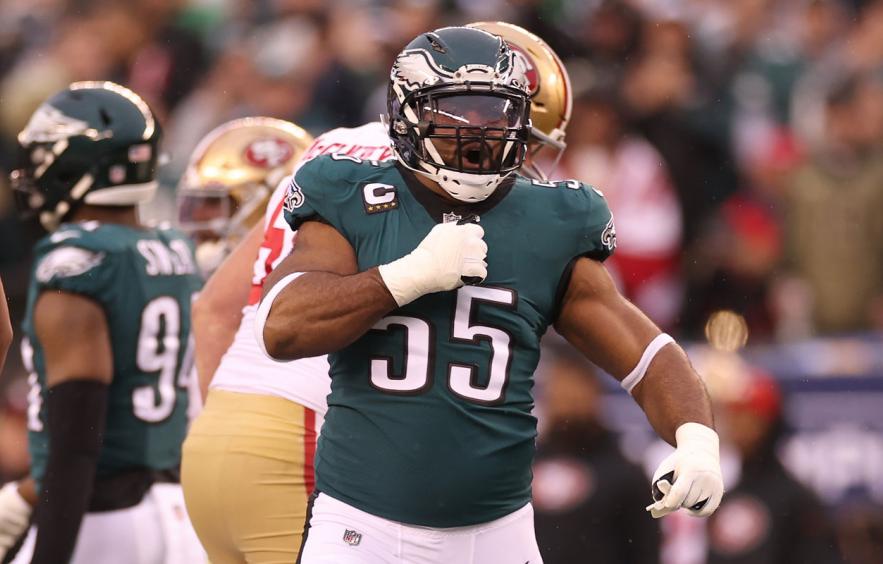 Tim Nwachukwu/Getty Images
The fury of free-agent activity has simmered to a slow boil, so we can now get a sense of how the NFC's defensive coaching changes will impact leagues heading into the 2023 season. There was quite the turnover, especially at defensive coordinator, as the NFL continues to adapt to pass-heavy offensive philosophies. However, there also seems to be a focus on stopping the run, as there was a lot of free-agent movement on the defensive side of the ball.
We'll take a look at these changes, how they'll impact IDP leagues, and who to target.
---
Click here to keep up with all of the 2023 IDP news!
---
Arizona
Cardinals
The Cardinals are undergoing reconstruction and have brought on Eagles' DC Jonathan Gannon and his LB coach Nick Rallis. It's a shame they can't bring the players along with them. As a unit in 2022, Arizona ranked 27th in total defense. Will Rallis and Gannon be able to turn this defense around?
Defensive Philosophy
Gannon and Sallis are methodical in their approach. They're not overly aggressive and rely on their four-man front to get the QB. They aren't blitz heavy but they get a lot of pressure. However, the Cardinals are void of any true talent up front.
They'll continue to use four-man fronts, which they deployed nearly 60% of the time, but will use odd fronts, as they were well above the league average with that deployment. Although this is just one snap of an entire season, this is how I envision Arizona's defense to look. Alignments might change, but the foundation will be there:
Defensive Line/EDGE
This unit doesn't excite me at all as it's currently constructed. If the Eagles use a primary 43 look, I might have some interest in Cameron Thomas or Myjai Sanders in deeper leagues, but this is void of any Brandon Graham or Javon Hargrave types.
Thomas appeared on 237 snaps, including 155 pass-rush snaps. He finished with a promising 12.2% pressure rate and 20% win rate, so Sallis and Gannon can do some molding here, as the absence of JJ Watt should open up some volume and path to snaps.
Linebackers
This will primarily be a 2-LB unit, as Gannon deployed 3-LB packages just six times last season. However, they deployed a single LB 25% of the time, which was well above the league average. I hate the landing spot for Kyzir White unless they plan on transitioning Isaiah Simmons to a full-time slot corner. White's saving grace is that Gannon and Rallis are familiar with him.
Isaiah Simmons has been the 'overhang' linebacker. He's not a true DB, but an LB/S hybrid. Simmons was barely a full-time player at 80% of the snaps as his usage was all over the place in 2022.
Isaiah Simmons 2022 Snap Alignment

| Alignment | Snaps |
| --- | --- |
| Slot Corner | 409 |
| Box | 297 |
| D-Line/Edge | 110 |
| Deep Safety | 53 |
| Outside Corner | 28 |
Zaven Collins wore the dot and called the plays on defense, but his tackle production was inconsistent on a week-to-week basis and produced a 9.8% tackle rate, which is inefficient for a full-time linebacker.
They haven't really addressed the linebacker position in free agency, and it's not a true position of need, so I envision both Collins and Simmons as off-ball LBs in 2023.
Defensive Back
Roles are defined in a Gannon/Sallis secondary. They'll deploy two outside corners, and a nickel/slot corner. They were rarely in a base package.
It's tough to repeat the production at the safety position, but Jalen Thompson came close. Budda Baker's box snaps increased from 2021 to 2022 and hit the 100-plus tackle mark once again. In this defense, Thompson and Baker will be interchangeable, as they both can play deep and near the LOS. I don't mind Marco Wilson at the CB spot. He was targeted 87 times and produced a 15% play-on-ball rate, resulting in three INTs and 10 defended passes.
IDP Targets
The only IDPs I want from this defense are Baker and Thompson. Simmons and Collins are too inefficient for full-time players. I'm sure we'll hear great news and reports out of camp and how they're developing and making plays, but I'm turning my attention elsewhere at LB. Cameron Thomas is a sneaky DL breakout in deeper leagues. I'm targeting Marco Wilson in CB-required leagues.
Carolina
Panthers
After the nightmare that was Matt Rhule, the Panthers built a decent coaching staff with Frank Reich and the addition of former Denver DC, Ejiro Evero. Phil Snow was fired along with Rhule during the middle of the season.
Defensive Philosophy
Evero coached the 11th-ranked defense and relied on a strong secondary and pass defense in Denver. They didn't blitz often but were able to get pressure up front thanks to Dre'Mont Jones. Evero believes in odd fronts and the use of nickel and dime packages. You won't see 3-LB packages very often and he goes single-LB more than league average and will bring on the extra DB.
Defensive Line/EDGE
Brian Burns remains the alpha of the defensive line and Evero will have a fun time deploying him on most of his packages. Burns produced a career-high 12.5 sacks and generated a 13% pressure rate and 19% win rate. He wasn't beating blocks consistently, but he didn't give up on the play and his pursuit of the QB. Yetur Gross-Matos played the second-most snaps among the linemen and his production matched his name: Gross. YGM generated a horrible 5.6% pressure rate and 10% win rate. He couldn't beat his blocks or get pressure.
Derrick Brown was decent in generating pressure but ended up unlucky. He recorded 10 QB hits, but just one sack. Brown is more of a run-thumper and received a high grade from PFF (80.6) for his efforts.
Linebackers
Luckily for the Panthers, Shaq Thompson restructured his contract and remains with Carolina on a two-year deal. He's been a steady presence in the middle of the defense. While not Luke Kuechly-like, he still provides veteran leadership.
Frankie Luvu's role alternated between off-ball LB and edge rusher. Luvu saw 302 snaps on the edge and 549 as a traditional LB. However, in Evero's defense, there's only one true full-time LB and I see Thompson as his Josey Jewell. Evero deployed single-LB packages nearly 30% of the time.
Defensive Backs
The strength of Evero's defense lies with the secondary. Unfortunately, he can't bring Pat Surtain with him, but he can coach up Jaycee Horn. After missing most of his rookie year, Horn had a solid sophomore campaign. He was targeted 47 times and had a play-on-ball rate of 21%, resulting in three INTs and seven defended passes.
The addition of Vonn Bell gives him a rangy playmaker, however, he could play the deep role which will allow Jeremy Chinn to play his familiar box role.
IDP Targets
Brian Burns has appeared on more than 75% of the snaps in three-straight seasons and is coming off a career-high in sacks.
Target Shaq Thompson, Jeremy Chinn, Jaycee Horn (CB-required), and Derrick Brown (DT-required).
Minnesota
Vikings
Ed Donatell's tenure was a cup of coffee and he's out. That's what happens when you coach your team to the 30th-ranked defense. The Vikings did well in bringing on Brian Flores as their new DC, even if it could be for just one season.
Defensive Philosophy
Flores did a good job in turning around the Dolphins' defense before being unceremoniously shown the door after the 2021 season. Flores spent 2022 under Mike Tomlin. He'll bring an aggressive attitude and he expects the same from his players. He will bring multiple fronts and won't rely on a 43 or 34. I'm hoping they run more 43 and guys like Danielle Hunter get the DE tag back.
Defensive Line/EDGE
I'm intrigued by what Flores is going to be able to get out of Danielle Hunter and Za'Darius Smith. I also like the depth addition of Marcus Davenport; someone who's looking for a change of scenery. Smith and Hunter combined for 156 pressures/27 QB hits/20.5 sacks last year. I don't need any real change to their roles, so as long as they put in close to a full season, Flores should get double-digit sacks out of these guys. You can expect some odd fronts (one or three DLs).
Linebackers
Flores can't be happy about losing Eric Kendricks as a cap casualty. He's been a presence in the middle and they'll look to Jordan Hicks to shore up the middle. Brian Asamoah appears to be in line for an increase in volume as the LB2 opposite Hicks. You can look to Miami's LB deployment as a basis. They were typically a 2-LB system and deployed single-LB packages above the norm. I'm expecting the defensive line to plug gaps, to allow the LBs to make tackles. I'm projecting Hicks to be the full-time LB in Flores's defense.
Defensive Backs
You'll see more man coverage out of Brian Flores' DBs. Andrew Booth could be making the change to the outside and Byron Murphy has the other outside spot. Lewis Cine should be ready for the 2023 season after missing his rookie year, so I see him as the deep safety while Harrison plays more on the line of scrimmage and takes on a box role.
IDP Targets
Danielle Hunter and Za'Darius Smith's value will lie in their positional designations. I still like them in big-play formats. Jordan Hicks is the LB I'm targeting, but Brian Asamoah could be an LB4 in deeper leagues if he does see more than 75% of the snaps. At DB, it's Harrison Smith.
New Orleans
Saints
Dennis Allen is the defensive mind here, but they've lost both Kris Richard and Ryan Nielsen. Enter Joe Woods, former DC of the Cleveland Browns.
Defensive Philosophy
After enduring the Joe Woods defense here in Cleveland over the last few years, it's now a bend-don't-break defense and rotates linebackers depending on the situation. They also focused on the secondary to cover up the defense. Woods uses a four-man front to get pressure with little blitzing.
Defensive Line/EDGE
The bulk of the work in terms of generating pressure is going to fall on Cameron Jordan, but how much more can he handle? He'll be entering his age-34 season and is coming off the lowest usage of his career (74%). Not only that, he generated 37 total pressures; the lowest since his rookie year (25). Carl Granderson should get a shot to start opposite Jordan this season. Granderson produced a 22% win rate and I'm very interested in what could be a breakout season in 2023. He's quick off the snap with speedy hands:
Linebackers
Joe Woods was working with a MASH unit at the linebacker position in 2022. He lost Anthony Walker early, but it seemed that every LB who stepped up got hurt. By the end of the year, guys like Tony Fields and Jordan Kunaszyk were seeing snaps. Demario Davis, like Cameron Jordan, just turned 34 and appears to have lost a step. Pete Werner flashed upside and managed to produce a 13.4% tackle rate. Injuries limited him to 597 snaps. There's a lot to like and Flores will be able to develop his tackling and build on his coverage abilities.
Woods rotated his LB a lot. I don't see a significant rotation happening, but I could see limiting Demario's snaps. Davis has been the play-caller and has appeared in over 1,000 defensive snaps in three straight seasons and hasn't missed a game in his career. Woods deployed a healthy combination of 4-2-5 (four linemen/two LB) and 4-3-4 (three LB). I would expect Davis and Werner to get the bulk of the snaps.
Defensive Backs
I'm not expecting a true box safety out of a Joe Woods defense, as he typically deploys a two-high shell. Cleveland deployed one deep safety just 33% of the time last year. Tyrann Mathieu was the Saints' line of scrimmage safety (72% of his snaps on LOS), and not coincidentally, he amassed a career-high in tackles (91). Marcus Maye was the deep safety.
IDP Targets
I'd try and sell Cam Jordan in dynasty, although that window might have closed. I'd target Jordan more as a DL2/3 this season. Demario Davis doesn't have the ceiling he once had, but should have the volume. I'm comfortable with him as an LB3. I'm also hoping Werner has a full-time role and that Woods abandons a rotation. I'm going with Werner as my LB2 and probably avoiding the DBs.
Philadelphia
Eagles
When you're a Super Bowl contender, your cupboards get raided like a teenage boy looking for food. The Eagles lost both their defensive minds to the Cardinals, so Nick Sirianni has brought on Sean Desai to lead the defense.
Defensive Philosophy
Sean Desai was the DC in Chicago in 2021 and led them to a middling finish, but was able to extract some juice from Robert Quinn and Trevis Gipson and enjoyed a fine year. Desai is under the Vic Fangio tree and he inherits a defense that led the league in sacks. Desai will probably call the plays but might keep intact some of the defensive principles under Sirianni. You'll see more disguises before the snap to limit big plays. The Eagles will probably be a big-play defense, focused on turnovers. Some of the key pieces, however, won't be returning.
This might be the alignment we see the most of out of a Sean Desai defense:
Defensive Line/EDGE
You won't see a lot of blitzing from a Sean Desai defense. The Eagles blitzed 24% of the time, whereas Seattle's defense blitzed just 14% of the time with Desai as the assistant head coach last year. Desai is going to rely on the front four to get pressure. With Javon Hargrave headed to San Francisco, Jordan Davis will have to fill those shoes and step up big in his second year. The Eagles will return Brandon Graham, Haason Reddick, and Josh Sweat.
Linebackers
I'm expecting a huge second-year leap from Nakobe Dean, as are the Eagles. They allowed TJ Edwards and Kyzir White to walk in free agency. Dean played just 34 regular season snaps and nine in the playoffs. Desai typically deployed 2-LB packages and used single-LB above league average. I'm projecting Dean as the three-down LB and should wear the dot. I would expect to see a lot of big-dime personnel.
Defensive Backs
Desai is going to deploy six DBs, but who will be those DBs? Darius Slay and James Bradberry will be the mainstays on the outside. Desai is going to adopt a two-high shell, so I don't see a true box safety emerging here.
IDP Targets
Target Brandon Graham, Josh Sweat, Jordan Davis, Haason Reddick, and Nakobe Dean.

San Francisco
49ers
I can't wait to see what DeMeco Ryan does as a head coach, but with that in mind, what are the 49ers going to do on defense? There are solid pieces in each area, so Steve Wilks has some talent to work with.
Defensive Philosophy
Steve Wilks did a good job with the Panthers, considering the dumpster fire he inherited mid-season. He uses simple schemes to put his players in position to make plays and focuses on the turnover ratio. Wilks is familiar with the 49ers' defense and I'm not expecting wholesale changes from last season.
Defensive Line/EDGE
The 49ers will continue to use a 43 as their base and foundation. Even though Javon Kinlaw has the draft capital, Javon Hargrave is an upgrade. It also helps to have the reigning defensive player of the year, Nick Bosa. Drake Jackson battled inconsistency in his rookie year and didn't register a sack after Week 6.
Linebackers
The 49ers arguably have the best LB duo in the league with Fred Warner and Dre Greenlaw. Greenlaw was relatively healthy all year and appeared in 849 snaps (89%) and was graded as their fifth-best defensive player. Warner was graded as their second-best player and contributed in every aspect. He was also graded as their second-best defender in coverage.
I would expect LB deployment to remain the same with very little single-LB and heavy two/three LB usage. However, there isn't an LB3 on this roster I'd consider in IDP.
Defensive Backs
We'll see how the defensive backs align, especially with Jimmie Ward joining forces with his DC in Houston. Ward was their primary slot corner. Talanoa Hufanga played nearly 30% of his snaps in the box, but when you have an LB duo of Warner/Greenlaw, not much needs covering up. I'd imagine Hufanga could get the Jimmie Ward role.
IDP Targets
Target Javon Hargrave, Nick Bosa, Fred Warner, Dre Greenlaw, and Talanoa Hufanga.