How The 4 AFC Coaching Changes Impact IDP Leagues in 2023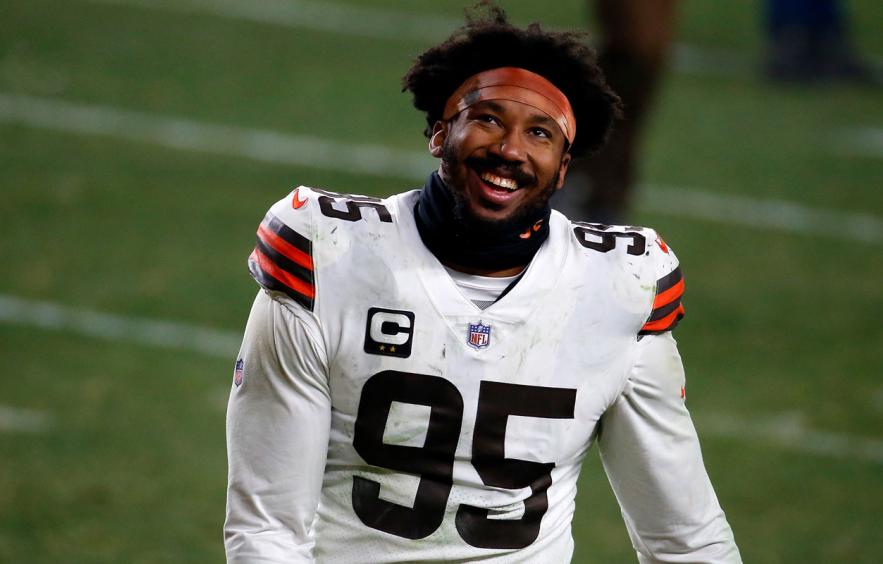 Justin K. Aller/Getty Images
The fury of free agent activity has simmered to a slow boil, so we can now get a sense of how the AFC's defensive coaching changes will impact leagues heading into the 2023 season. Just four teams in the AFC ended up making changes at DC. However, there seems to be a focus on stopping the run, as there was a lot of free-agent movement on the defensive side of the ball.
We'll take a look at these changes, how they'll impact IDP leagues, and who to target.
---
Click here to keep up with all of the 2023 IDP news!
---
Cleveland
Browns
After a tumultuous season defensively, the Browns decided to part ways with Joe Woods, who had served as DC under Kevin Stefanski since 2020. Although their efficiency improved during the second half of the season, it wasn't enough to save his job. After coordinating an Eagles defense that won the Super Bowl in 2017, and serving as a defensive consultant with the Titans last season, Jim Schwartz joins the Browns as their new DC.
Defensive Philosophy
Schwartz has a clear plan on how he wants to build his defenses. He wants to be stout up front and play man coverage, which the Browns certainly have the depth and pieces in the secondary to do. Under Woods, the Browns were primarily a zone coverage scheme, but Schwartz will probably change that. Under Schwartz, the Eagles ran zone 35% of the time and played cover-1 (man with a deep safety). Schwartz also preaches, "see ball, get ball" and wants to generate turnovers.
You could see Schwartz's influence on the Titans' defense this past year, as Jeffrey Simmons was on his way to career numbers, but appeared in 15 games.
Defensive Line/EDGE
With the exception of Myles Garrett, Schwartz will implement a consistent rotation at the defensive line. I see Jim Schwartz using a similar approach to how the Buffalo Bills rotate their linemen. Cleveland brought in Obgonnia Okoronkwo as a rotational piece and pass-rusher, and they'll continue to develop Alex Wright. Garrett should flourish in Schwartz's wide-9 scheme.
Dalvin Tomlinson will help shore up the interior that got gashed last season. Schwartz will also help coach up and develop Perrion Winfrey.
Linebackers
This unit spent more time on IR than on the field. The defense got worse when Anthony Walker went down. Jeremiah Owusu-Koramoah seemed to regress in his second year after a promising rookie year. Jacob Phillips suffered another season-ending injury, and the Browns tried to plug the hole by trading for Falcons' LB Deion Jones. Sione Takitaki showed the most promise before an injury ended his season and it's unclear whether he'll be ready for the 2023 season.
Nothing seemed to work and I honestly have no idea what to expect from this group in 2023. I'm hoping JOK can bounce back, and it seems the players want Walker back. They haven't really addressed the position during free agency, so maybe Andrew Berry and Schwartz can extract production from this group.
Defensive Backs
This is probably the strength of the defense. Greg Newsome had a solid rookie year but has yet to record an INT in his first two seasons. He's defended 15 passes over his 124 targets. He could move to nickel corner, however. Rookie Martin Emerson came out of nowhere and was the team's best rookie. Emerson had a play-on-ball rate of 17%, resulting in 15 defended passes.
Concussions are becoming a concern for Denzel Ward. Ward still managed a POB rate of nearly 31%, leading to three INTs and 15 defended passes.
The Browns released John Johnson and replaced him with Juan Thornhill. Thornhill is expected to inject some winning culture into the whole room. Grant Delpit will be back and should fill the box role, but Schwartz will probably use a true slot corner.
IDP Targets
Myles Garrett, Dalvin Tomlinson (DT-required), JOK, Grant Delpit
Denver
Broncos
The Broncos had a top-10 defense in 2022, so it made sense to fire Ejiro Evero in his first season in control of the defense. Thanks, Russel Wilson and Nathaniel Hackett. They may live to regret the decision. They brought in Sean Payton to fix the offense, but now the defense may suffer with Vance Joseph.
Defensive Philosophy
Vance Joseph has a better name than defense. He coached the 27th-ranked defense in Arizona with more of a 43 scheme, spending more time in even front and nickel packages. The most used deployment was a single LB with six DBs (if you count Simmons as a DB). He'll be flexible up front but uses traditional LBs more often.
Although just one snapshot, this is what a Vance Joseph defense should look like:
Defensive Line/EDGE
The Broncos lost one of their key contributors, Dre'Mont Jones, to free agency, so that's not a great start. They were able to add Zach Allen, someone Joseph has familiarity with. They're expecting DJ Jones to pick up Dre'Mont Jones' production, but that's not who DJ is. If they do run more flexible and even fronts, I'm interested to see how they use Baron Browning. Browning generated a 13.4% pressure rate last season.
Linebackers
Denver doesn't possess an 'overhang' LB like Arizona had in Isaiah Simmons. They do have two decent off-ball LBs in Alex Singleton and Josey Jewell, so I can see them being on the field for the majority of the snaps. Singleton came to Denver from Philly and he was even more efficient, recording a 21% tackle rate over 772 snaps. So, even if Singleton sees just 75% of the snaps, he's capable of being an LB1.
Under Joseph, the Cardinals deployed 2-LBs on over 75% of the snaps, a trend I see continuing.
Defensive Backs
I can envision Justin Simmons being Joseph's Budda Baker. Joseph should have a dedicated slot corner in his defense and I can see K'Waun Williams filling that role.
Pat Surtain emerged as one of the top cover corners and was graded second among cornerbacks according to PFF.
IDP Targets
Alex Singleton, Josey Jewell, Justin Simmons, Pat Surtain (CB-required)
Houston
Texans
The Texans brought Demeco Ryans home. Lovie Smith's defenses were outdated. Matt Burke might have the DC role, but I do think Ryans is going to have his fingerprints all over this defense.
Defensive Philosophy
Ryans is going to use his experiences as an LB and the principles he used with the 49ers. It was the best defense in the NFL, however, he's lacking a few key pieces from that puzzle. Lovie used 3-LBs and asked his linebackers to cover slot receivers, which had disastrous results. The 49ers used their 3-LB packages a bit more wisely. Ryans expects his players to be reliable and he will deploy four-man fronts.
Defensive Line/EDGE
Ryans is going to earn his stripes as a coach with this unit. After a promising sophomore year, Jonathan Greenard appeared in just eight games and had just 1.5 sacks over those games. Ryans will probably look at him as a piece of moldable clay and continue to develop him alongside veteran, Jerry Hughes.
Maliek Collins and Sheldon Rankins are stout up front.
Linebackers
Christian Kirksey and Christian Harris are not Fred Warner and Dre Greenlaw. Even their backups leave a lot to be desired. Kirskey was relatively healthy all season and played in 97% of the snaps and wore the dot on defense. Harris ended up with a full-time role just before the mid-point of the season. From Week 6 on, there were only two games where he had fewer than 85% of the snaps. I'm excited at how Ryans is going to use and coach up Harris.
Defensive Backs
Jalen Pitre won a lot of fantasy championships last season for his owners. I'm expecting Ryans to use him in the way he used Talanoa Hufanga, and he has to be salivating at his rookie numbers. These are numbers, however, I'm not expecting to see duplicated. Pitre had five INTs, a likely unsustainable number. I can see 100-plus tackles in this defense, however, he needs to clean up his tackling, as he missed 36 tackles last season. He had just six games of one or fewer misses. However, Pitre wasn't a true box safety.
Jalen Pitre 2022 Pre-Snap Alignment

| Alignment | Snaps |
| --- | --- |
| Deep Safety | 621 |
| Box | 288 |
| Slot Corner | 95 |
| DLine/Edge | 73 |
| Outside Corner | 11 |
Just over 60% of his snaps were deep.
It will be interesting to see if Ryans uses Jimmie Ward the same way he did in San Francisco.
IDP Targets
Jonathan Greenard, Christian Kirksey, Christian Harris, Jalen Pitre

Miami
Dolphins
Josh Boyer lasted one season as DC in Miami and it was average at best. Boyer was decent under Brian Flores, but it felt as if the Dolphins had no real identity. The Dolphins backed up the Brinks truck and brought in Vic Fangio.
Defensive Philosophy
Fangio has a specific philosophy—limit big plays with zone coverage and get pressure with his front four. He won't blitz often as his defenses never were a top-10 blitz defense. He will force teams to run and confuse offenses with a lot of movement pre-snap. Fangio will probably use a 34 for his base.
Defensive Line/EDGE
Fangio's defense will probably be good news for Christian Wilkins and Zach Seiler. He asks his linemen to be aggressive with their assignment but not out of control. I'm very curious to see how Fangio is going to deploy Bradley Chubb and Jaelin Phillips and they are going to be essential to his defense in getting pressure on the QB.
Linebackers
The addition of David Long to this group will help. Inside linebacker is a core piece of a Fangio defense. Jerome Baker saw improvement in run defense this past season and is quick in coverage. He saw his pass-rush snaps decrease to 112 which led to a 54% decrease in total pressures. He could see a reduced role on defense because he's a blitzing ILB. David Long fits better with his attacking nature. Long had an average depth of tackle of less than a yard (0.9). We have yet to see what Channing Tindall brings.
Jerome Baker was an inefficient tackler and posted the worst tackling grade (55.4) of his career, according to PFF, leading to a 9.8% tackle rate.
Defensive Backs
Fangio deploys a two-high shell safety philosophy, so that brings Brandon Jones's value down, as Fangio doesn't use a box safety and plays alignment. This aligns with his 'create turnover' principle. I don't see a change in Jevon Holland's role and deployment. There will be rotation and movement post-snap. He'll utilize a lot of left/right alignment, as opposed to deep/box safety.
Holland does a lot of good things and is a playmaker. He's produced four INTs and 17 defended passes in his first two seasons and has a POB rate of 38%.
IDP Targets
Bradley Chubb and Jaelin Phillips will probably retain their LB designation, but they'll have value in formats and leagues where they have DL/DE, Edge, or where you can change their value to their true position. I have no interest in Jerome Baker, so David Long is the target here. I'm not bailing on Channing Tindall in dynasty. In redraft, Tindall could be one of those late pre-season/early-season waiver targets.