SharpClarke's Week 11 Betting Recap: Are the Vikings a Contender?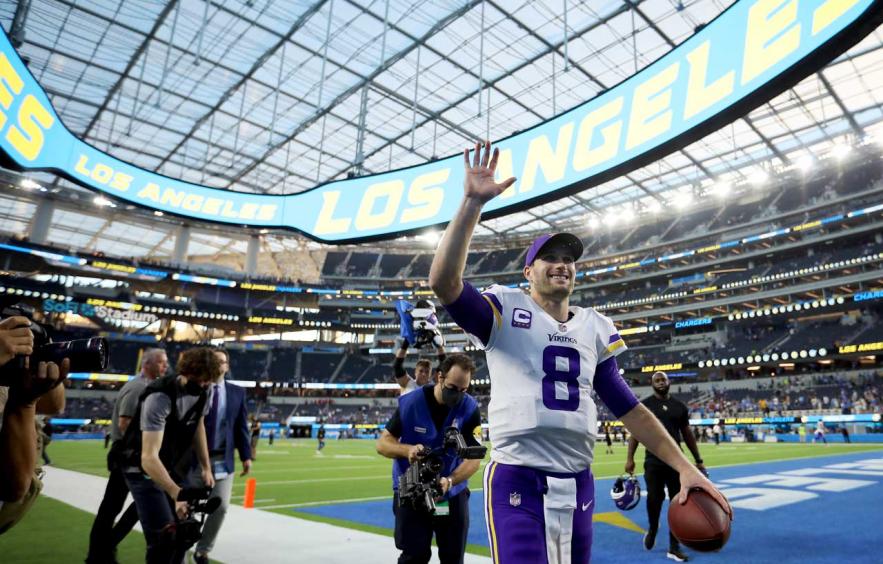 Photo by Katelyn Mulcahy/Getty Images
Week 11 was my best week of the season, making it three winning weeks in a row of good results. But, perhaps, more importantly, it was a week of results that firmly validated my analytical system. I post my team ratings derived from measuring effectiveness weekly and receive plenty of criticism for some off-market opinions. Those have included being too low on the Giants, too high on the 49ers, too high on the Lions, and too low on the Vikings. In all, only one game featured a team I had lower rated winning outright, and that was the Raiders' overtime win over the Broncos. The Vikings in particular validated my low rating, so let's evaluate whether they are true contenders at 8-2 following an embarrassing loss, and what we can expect from them down the stretch.
DAL 40, MIN 3
Effectiveness Ratings
DAL: 6.39
MIN: 5.07
Effective Result: DAL by 15.84
After staking out a big position on the Cowboys in this game, including an alternate spread at DAL -9, this game went exactly as planned. I argued that the spread should have hit DAL -3 and I was shocked it stayed around -1.5. I also had Minnesota ranked 15th in my weekly team ratings despite their 8-1 record. So watching the Cowboys beat down the Vikings was very satisfying. However, it's most important when things go your way not to become overconfident with confirmation bias. I could easily walk away from this game with the takeaway that I was clearly right and should continue to fade the Vikings until the market catches up. But that's not how to win long term.
Objectively, this was a very good game for Dallas. But several things went their way that turned a couple of mismatches into a blowout. The sack-fumble on the opening drive got things going for Dallas and Christian Darrisaw suffered a concussion early in the game, weakening the Vikings' offensive line. On their next offensive drive, the Vikings settled for a field goal despite having 2nd-and-2 on the Dallas 6-yard line. That ended up being their only points. Before the half, they converted a miracle catch to set up a long field goal. This one was a particularly stark illustration of how variance works on these types of plays, following the miracle catch by Justin Jefferson last week. The touchdown that really finished the Vikings off came on a running back wheel route on 3rd-and-14. It was an excellent call and perfect execution, but it's not typically what you want to rely on. Overall, the Cowboys went 12-for-17 on third down and the Vikings went 1 for 11. The Cowboys deserved to win obviously, but they likely won't win by 37 points if the teams play again tomorrow.
This was also a perfect matchup for Dallas on both sides of the ball, as I discussed in my matchup spotlight. We would expect the best from Dallas here and the worst from Minnesota. That's what we got. But without going overboard, this game did confirm that the Vikings have serious problems if they view themselves as Super Bowl contenders. They have now faced only three clear playoff-caliber teams all season (the Dolphins without Tua Tagovailoa would likely not compete). They got blown out by both the Eagles and the Cowboys and executed a miracle comeback against the Bills. In the playoffs, they won't get to face inferior teams. If they allow offenses to take what's there, the way they did in this game, they will get scored on by playoff teams. And offensively, if they cannot negate a good pass rush or succeed consistently with a player outside of Jefferson, they will struggle.
Based on what I've seen so far, the Vikings do not have what it takes to make a serious playoff run. Of course, the NFL is a high-variance sport. But I would be looking elsewhere in the NFC for any futures bets.

Week 11 Betting Recap
As noted above, I marked my third consecutive winning week with a dominant 7-4 for +8.77 Units. But numbers do not tell the whole story. It's important to evaluate the quality of the bets; not just the results. When breaking down the specific bets, the week went even better than the numbers would indicate. I had my biggest position of the season on DAL -1.5 and DAL -9, and they won 40-3. I had TEN.+3.5 and on the Moneyline, who won comfortably as underdogs in Green Bay. The Lions (+4), Colts (+7), Chargers (+5.5), and under 41.5 in BAL/CAR were also no-sweat wins. I even hit a middle on the Falcons-Bears game with CHI +3.5 and ATL -2.5.
As for my losses: The Jets had my bet locked up (NYJ +3.5) in an ugly 3-3 game in which neither team could get in the end zone. I benefitted from some missed Patriots' field goals to be in that spot late, but the game had "Pats by 3" written all over it, before a last-second punt return touchdown pushed the Patriots to the cover. If the ref had called the block-in-the-back, that would have been a win. The Ravens also had multiple opportunities late to cover BAL -12.5 and managed to fail every time. They even had what looked like a first-and-goal from the 4-yard line, up 10 points, called back on a penalty. They ultimately punted somehow.
I got too aggressive betting on the Texans and Bengals, though. This is the second time the Bengals' offense has proven me wrong without Ja'Marr Chase. Color me impressed, and I am adjusting accordingly. The Texans' bet might have been interesting if they had not opened the game with a pick-six, but even outside of that, the Commanders dominated.
Overall, I am very encouraged that my system is working and will continue to press in Week 12 as we hopefully string together another winning week.
For all my bets and analysis, you can join the 4for4 Discord via a 4for4 betting subscription (10% off with code SharpClarke) and follow @SharpClarkeNFL on Twitter for alerts. This sheet from Dan Rivera tracks all my betting picks (and those from the rest of the betting staff) on the year. Just click on the tab with my name on it for the results.
---
This article is intended for entertainment purposes and adult users only. Call 1-800-GAMBLER if you have a gambling problem.