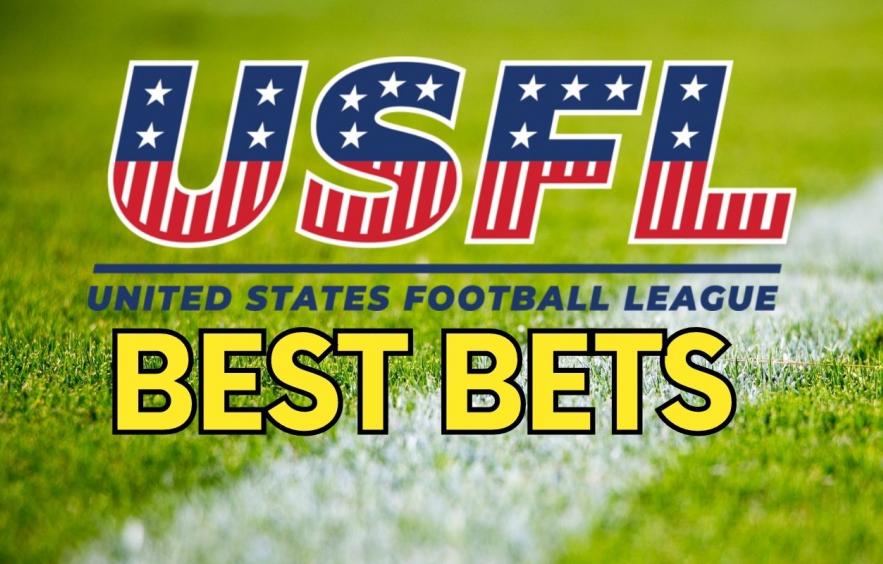 4for4 Illustrations
It is USFL betting season at 4for4 and with that comes a new weekly article covering one of the football leagues trying to vie for your eyeballs as we wait for the NFL to return. This week's article is a free preview. If you like it, subscribe to our betting package to read it going forward starting next week.
Another product your eyeballs should be locked on during the USFL season is Run The Sims. 4for4 has partnered with Run The Sims and is offering 10% off their USFL products with the coupon code 4FOR4. 4for4 partnering with Run The Sims is the best partnership since Jordan Ta'amu with a pass-first offense.
Each week I will write about lines, over/under, player props, and more of what I am betting. For more talk about USFL, check out 4for4's Discord, and stay tuned to our YouTube channel where we will have a weekly USFL show hosted by John Daigle and Justin Freeman of Run The Sims.
USFL Week 1 Best Bets
Lines accurate at time of publication.
New Jersey Generals at Birmingham Stallions Under 43.5 Points (-115, BetMGM)
While neither team is the betting favorite to win the 2022 USFL championship, both offenses have enough firepower to be interesting. It comes down to quarterback play. Unfortunately, both teams are lacking at the position. Luis Perez joined the Generals a few weeks ago after expected starting quarterback Ben Holmes was lost for the season. Perez has been mediocre in his time playing, compiling an 8-to-7 touchdown-to-interception ratio in the AAF and XFL.
Alex McGough will sling the rock for Birmingham. He was a prolific passer at Florida International University but not good enough to stick with the Seattle Seahawks after being drafted by them in the seventh round in 2018. His wide receivers have upside but are fighting uphill battles. Victor Bolden is 5-foot-9, weighing under 180 pounds. Emanuel Hall suffered a torn Achilles in 2020 and is looking to show why he was on the NFL's radar coming out of Missouri. Osirus Mitchell topped out at 505 receiving yards his redshirt senior season at Mississippi State and could only secure a spot with the Dallas Cowboys' practice squad.
Both teams also project to have one featured running back to start the season. If Darius Victor (NJ) Tony Brooks-James (BIR) can establish the running game early in Week 1, it could be a recipe for a low-scoring game with less-than-ideal talent under center.
Most other books are at 42.5 points, which is also worth betting, especially if they move off -110 and closer to plus odds.
Risk: 1.15 units on BetMGM to win 1 unit.
Philadelphia Stars Moneyline (+130, DraftKings)
For at least one week, the Stars have an advantage over the majority of the other USFL teams. Head coach Bart Andrus drafted/signed multiple players from the Generals' Spring League team he coached and won a league championship with. That list includes quarterback Bryan Scott, their top two running backs and wide receivers, three offensive linemen, one defensive lineman, one safety, and one linebacker. The quick turnaround to install offenses and defenses is going to cause some ugly football beyond the level of talent in the league, but the Stars have a chance to get both sides of the ball tuned up sooner. Add in playing against a defense that will probably offer little in terms of exotic looks and getting Philly at plus money looks great.
Risk: 1 unit on DraftKings to win 1.30 units.

Tampa Bay Bandits -3.5 vs. Pittsburgh Maulers (-115, BetMGM)
The Bandits are coached by Todd Haley and have arguably the best quarterback in the USFL in Jordan Ta'amu. Haley has been credited with squeezing some extra juice out of Ben Roethlisberger while he was the Steelers' offensive coordinator from 2012-17. Roethlisberger averaged 300+ passing yards twice under Haley and only one other time without him.
The Bandits only have two running backs on the roster, leading me to believe this will be a pass-heavy offense. Ta'amu also has the ability to take off and run, averaging over 40 rushing yards per game in the XFL. Ta'amu and numerous receivers have spent time on NFL rosters and have more "pro" experience than the Maulers.
Maulers signal-caller Kyle Lauletta is on the right end of the good/bad spectrum in the USFL, but his offensive weapons are lackluster, at best. Their best player might be running back Madre London. Lucky for him, head coach Kirby Wilson has been a running backs coach the majority of his coaching career, including all of his NFL stops (1997-2021).
One team will be passing while the other looks to rely on the running game.
Risk: 1.15 units on BetMGM to win 1 (-4.5 on FanDuel at +100, if you dig it.)
---
This article is intended for entertainment purposes and adult users only. Call 1-800-GAMBLER if you have a gambling problem.