How 3 NFC Coaching Changes Impact IDP Leagues in 2022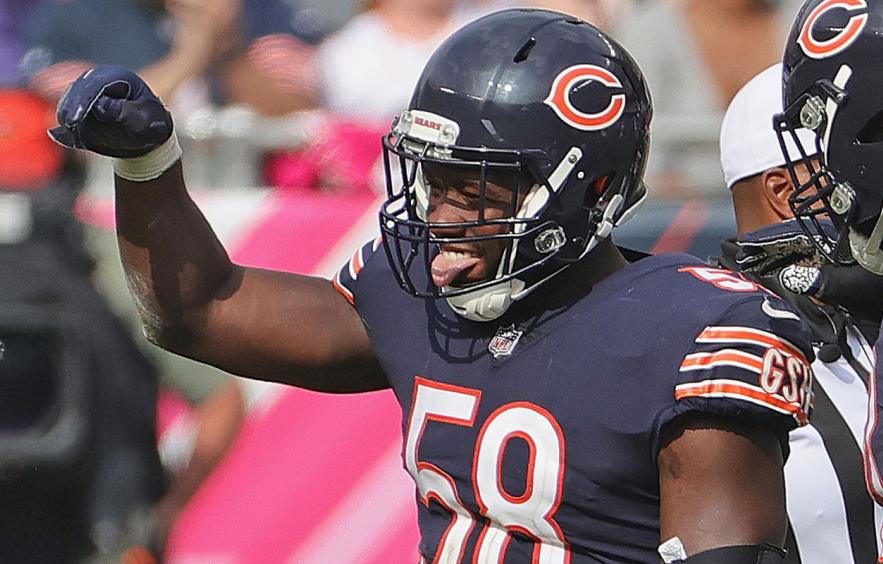 Jonathan Daniel/Getty Images
Along with player movement, we had a plethora of coaching changes that can have an impact on IDP leagues heading into the 2022 season. A scheme change can impact a player's alignment and deployment on the field, resulting in a potential change in positional designation on your preferred fantasy platform.
---
More 2022 IDP: Free Agent Landing Spots | AFC Coaching Changes and IDP Impact
---
There weren't as many changes in the NFC as in the AFC, but we'll still take a look at the implications of these changes and how to attack them in your IDP league heading into the season.
Chicago
Bears
The Bears have been a middling defense for a few seasons with a few solid players sprinkled throughout. Sean Desai had been with the Bears since 2013 but only held the coordinator title for one year - 2021. They didn't generate pressure but converted their pressures when they got to the QB. Matt Eberflus was poached from Indy to be Chicago's head coach, and so, he brought Alan Williams along with him.
Defensive Line/EDGE
The Bears may be trying to get younger, as that's my only explanation for them trading Khalil Mack to the Chargers. Robert Quinn will be a holdover on the edge and Eberflus/Williams are familiar with Al-Quadin Muhammad. Although Muhammad produced a pressure rate of less than 10%, he was third on the Colts in pressures and recorded six sacks. He still has some big shoes to fill with Mack's absence.
Trevis Gipson will look to build on a break-out 2021 season. He generated an 11.8% pressure rate and seven sacks. Beyond those three, the DL position is a bit underwhelming.
Linebacker
Roquan Smith is an elite LB1 in IDP and that won't change no matter the coach or scheme. As of now, Nicholas Morrow is slotted in as the LB2 opposite, but that could change post-draft if Chicago decides to address the linebacker position.
Defensive Back
Adrian Amos recorded a career-high 93 tackles, resulting in an 8.9% tackle rate. Jaylon Johnson saw the field for 933 snaps and was targeted 72 times. The second-year corner recorded 'meh' numbers. At this point, he's looking like a CB-streamer.
Defensive Philosophy
I could see the Bears running a more conservative approach and running less odd/multiple fronts. You'll probably see more four-man fronts and someone like Muhammad moving inside on certain packages. You'll also see the Bears running more LBs alongside Roquan. In 2021, the Colts had three linebackers on the field 22% of the time, so figure whoever wins the LB2 job, to see significant snaps. I'm only targeting the outside CBs in CB-required leagues.
IDP Targets
Roquan Smith, Chicago LB2, Trevis Gipson, Al-Quadin Muhammad, Robert Quinn (big-play scoring formats; leagues he has DL/EDGE), Adrian Amos
Minnesota
Vikings
Mike Zimmer had been acting as both head coach and defensive coordinator since 2014. Zimmer produced solid defenses, but over the last few seasons, he's been figured out and just never made any adjustments and was set in his old ways. It didn't help Danielle Hunter had been dealing with injuries, but the fact remains. Ed Donatell was hired as DC to coach the defense alongside a newly hired head coach, Kevin O'Connell.
Defensive Line/EDGE
The pass rush wasn't the issue. Without Danielle Hunter for 10 games, the Vikings were second in total sacks (51). The pressures were spread around evenly, with DJ Wonnum leading the way. Hunter appeared in 241 pass-rush snaps and generated an elite 12.9% pressure rate. Armon Watts enjoyed a fine season from the interior - producing an 8% pressure rate which led to six QB hits and five sacks. Watts should see a slight bump in snaps with Michael Pierce out of the picture.
Dalvin Tomlinson's first season in Minnesota was solid and should maintain his current role. Patrick Jones could get an extended look in his second season. He saw just 99 total defensive snaps as a rookie.
The big addition to the line is Za'Darius Smith. Smith dealt with a back injury that caused him to miss 16 games and saw limited time in the playoffs. The Vikings are banking on a healthy Smith and that his 2019 wasn't an anomaly and that he is an elite pass-rusher. I think he's borderline elite. Over the last three seasons, he's generated a 13.2% pressure rate and 34.5 sacks. If healthy, Smith and Hunter may be the best edge-rushing duo in the league.
Linebacker
Eric Kendricks, much like Chris Pratt's character in the latest Jurassic Park movies, has been the alpha of the group. Kendricks has recorded 100-plus tackles over six consecutive seasons. I'm not expecting Anthony Barr back - especially since Za'Darius Smith took his number. Jordan Hicks should be Kendricks's running mate for most of the season. He brings a pass rush presence, as well.
Defensive Back
Harrison Smith has been a consistent DB-scorer and there's no reason to think he'll see his role diminish with a new staff. Cameron Dantzler was limited to 13 games and was averaging around 53 snaps per game. Kris Boyd looks to be in line for more snaps opposite Dantzler on the outside if he wins the CB2 job.
Defensive Philosophy
Donatell will run multiple fronts with a base 34, but I expect to see variety. I do think with the current depth at LB, they'll run Kendricks and Hicks inside. You won't see those three-LB sets, especially with the scheme change. I think Hicks could see anywhere between 900-950 snaps. The current staff likes his skillset. I think the beneficiaries are the safeties, but I'm not a fan of anyone outside Harrison Smith. He's going to be the multi-faceted safety who plays all over. Donatell should play three-safeties more often if they run one-ILB, but I see Smith being the box safety.
IDP Targets
Danielle Hunter, Dalvin Tomlinson (DT-required), Armon Watts, Eric Kendricks, Jordan Hicks, Za'Darius Smith, Kris Boyd (CB-required if he wins CB2 job), Harrison Smith

New York
Giants
Patrick Graham had been the defensive coordinator over the last few seasons with mixed results. He's been in that meaty part of the curve - not showing off, not falling behind. However, he now finds himself as DC for the Las Vegas Raiders.
Wink Martindale didn't find himself without a job for too long after being fired by Baltimore. We'll find out if his 2021 was a bad season or a sign of things to come.
Defensive Line/EDGE
I'm definitely intrigued by Azeez Ojulari in Wink's scheme. As a rookie, he was third in total pressures and generated a 17% win rate. He recorded an impressive eight sacks, and in a normal season, that would be enough to warrant defensive rookie of the year. Leonard Williams should provide assistance to Ojulari by occupying blockers, as he's still a threat to get to the QB.
Dexter Lawrence should still be a space occupier and run-stuffer. Lawrence recorded 55 tackles and five tackles for loss in 2021.
The defensive line behind those guys, however, leaves a bit to be desired. It would not surprise me to see the Giants continue to address the position.
Linebacker
The Giants missed Blake Martinez and had to roll with Tae Crowder as the play-caller for the 2021 season. The Giants allowed nearly 2,200 yards on the ground with a 4.5-yard per carry average. Martinez is set to return this season, so Crowder should go back to a reserve role.
Much like the defensive line, the linebacker position needs an influx of talent.
Defensive Back
The Giants lost Logan Ryan and Jabrill Peppers, while Xavier McKinney and Julian Love remain. Not great, Bob!!
McKinney finished as the DB22 in most scoring formats and was a serviceable DB2.
After dealing with injuries in Tennessee, Adoree Jackson came over to the Big Apple. Although he appeared in 13 games, he recorded 62 tackles and eight defended passes and was a full-time player.
James Bradberry has a play on ball rate of 26.2% over his first two seasons with the Giants. His tackle numbers keep his scoring low.
Defensive Philosophy
Wink runs a variety of fronts and we can take how he deployed his defense as a blueprint for how he'll run his defense with the Giants. I would expect a majority of one-LB sets and packages, so Martinez should resume his role as the defensive signal-caller. Wink will also send the blitz a bit more.
Wink favors man-to-man coverage and concepts, so I'd expect to see fewer three-safety sets than what Graham deployed in 2021. It's probably a good thing, considering the depth at the safety position Martindale inherits. I think McKinney will see a bit more time in the box alongside Martinez.
IDP Targets
Blake Martinez, Xavier McKinney, James Bradberry (CB-required leagues), Adoree Jackson (CB-required leagues), Azeez Ojulari (big-play scoring; leagues where he has DL/EDGE), Dexter Lawrence (DT-required)