Fantasy Football Weather Report: Week 4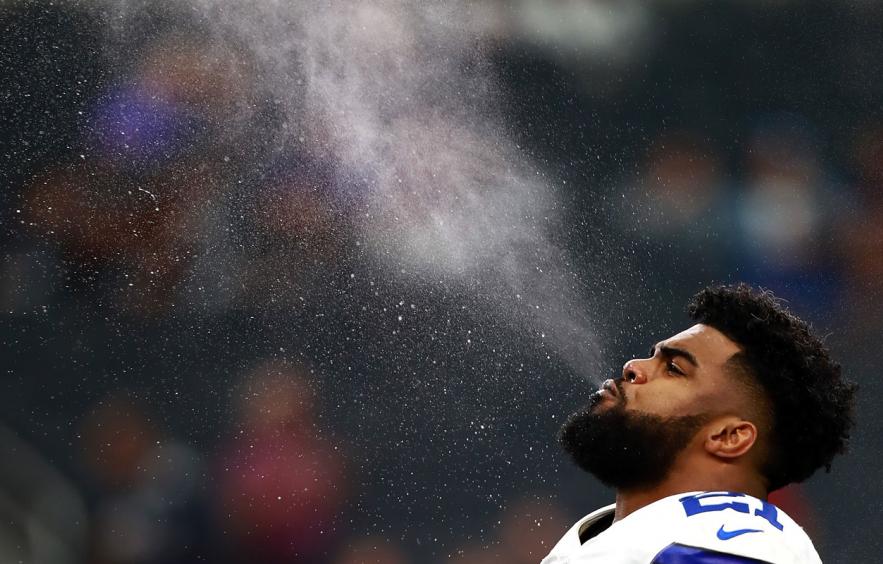 Tom Pennington/Getty Images
I'm typically researching/writing during every island game so you won't see me tweeting through the action. Last night was especially difficult getting this piece together since Cincinnati was the host for TNF. I had commented on the notion that Jaguars' games had been wild rides to start the season and my cautious optimism wasn't ready to give my team the W beforehand. Boy was I on tilt through that game. But, enough of that. Let's look ahead to the rest of the Week 4 slate and if the weather will have any impact on the games. The Bengals are going to the Super Bowl.
Week 3 Recap
The WAS/BUF game was my biggest concern prior to kickoff. Windspeeds were projected to be up to 20 mph which, combined with a short stadium, put Josh Allen's day up in the air (no pun intended). I noted the variability in Buffalo's passing game in similar situations and weather obs on the day showed air currents ranging from 16 to 22 mph. It ultimately didn't matter.
Josh Allen

Passing Metrics, Weeks 1-2 & 3

| Metric | Week 3 | Weeks 1-2 |
| --- | --- | --- |
| Neutral Pass Rate | 65.7% | 69.1% |
| Deep-ball Rate | 18.6% | 21.4% |
| Red-zone Pass Rate | 53.3% | 57.1% |
Passing metrics were close to the previous two weeks and Allen had a +13.6% CPOE. Analytically, you couldn't ask for a better result. But still, I wanted to see the game since I don't get the game in my area and I had to cover two others. Allen looked even better on film.
Let's light this Monday candle. Three throws from Josh Allen in the win over Washington.



*The Sanders TD - a good design, but Allen getting to the Plan B

*Y-Iso, reading cues and good placement

*Bucket shots under pressure pic.twitter.com/HNHd1Ck0FC

— Mark Schofield🍂 (@MarkSchofield) September 27, 2021
Take a second and follow Mark Schofield. Just an incredible football mind and has a knack for creating easily digestible and entertaining videos. Check out the entire video I linked but skip to 1:57 for our purposes here. On the vert to Emmanuel Sanders, you can clearly see the goalpost flags whipping to Allen's right. And he throws across his body to the left! This freakin' guy.
I'm glad I didn't sound too much of an alarm. Regardless, I'll need to see worse conditions to worry about Buffalo's passing game in the future. Let's move on to Week 4.
Games to Monitor
| Game | Temperature | Chance of Precipitation | Max Precip Rate (in/hr) | Wind |
| --- | --- | --- | --- | --- |
| Lions at Bears | 73 | 75% | 0.03 | 8 mph W |
| Steelers at Packers | 66 | 57% | 0.02 | 7 mph N |
| Texans at Bills | 69 | 73% | 0.01 | 9 mph SSW |
BLUF: No concern. Precipitation rates don't even creep past visible levels. At best, we won't see anything. The worst-case scenario would be slips on the field or dropped balls. Like Jared Goff's fumble in the rain in Week 2. The only minor possible concern would be slightly degraded field conditions should the rain come prior to the game. But I'll get into that with each breakdown.
Also, the Patriots' game popped up on the radar with a 42.0% chance of rain. I'm not including it for now since the maximum rainfall is 0.01" per hour. I can't even call that a drizzle. If it gets worse, I'll include it later.
10/3 Update: The maximum precip rate for Foxborough is expected to be 0.03 inches per hour. No concern for now. I'll double-check prior to kickoff later tonight.

Games Impacted by Rain
Detroit Lions (19.5-implied points) at Chicago Bears (22)
Light rain is expected to start Saturday night and continue throughout Sunday. Rainfall isn't expected to exceed 0.02 inches per hour but the field will be uncovered throughout the night. Soldier Field's playing surface has been the same Kentucky Bluegrass since 1988. It doesn't give me much confidence regarding drainage, but here's what I found on the field's construction:
"On top of the liner is an interconnecting series of 2-inch, slitted tubes, spaced 10 feet apart, that are used to drain the field."
I'm not sure if the same pipes have been in place for three-plus decades but at least there's a system in place. The grounds and ref crew will meet Saturday night to determine if the field needs to be covered anyway. Again, worst case, players may need to switch out their spikes to compensate for the degraded field.
10/3 Update: Rain has essentially been removed from the forecast with just 0.01 inches per hour projected for the first hour of the game. No issues with the field have been reported so I'm not concerned about this game at all from a weather perspective.
Pittsburgh Steelers (19.5) at Green Bay Packers (26)
Showers aren't projected to start until early Sunday morning. Maximum rainfall will be 0.01 inches per hour. So, unlike the Chicago game, I'm not as worried about the rain prior to the game. Plus, I've already noted the drainage system at Lambeau Field already in place for snow games. If the precip rates hold, we shouldn't have to worry about the rain at all.
10/3 Update: Precip rates are still in the same range as they were a few days ago. No change on expectations here.
Houston Texans (14.75) at Buffalo Bills (31.75)
Like the Steelers' game, rain isn't expected until the early morning. Even still, rainfall won't exceed 0.03 inches per hour. Additionally, when I double-checked the forecast, the precip rate had already dropped to 0.01 inches per hour for the entire game. Apparently, there are legitimate structural and electrical concerns surrounding Highmark Stadium but the playing field is turf which naturally wicks the water away. This game should be clear from a weather perspective.
10/3 Update: Forecast shows 0.15 inches per hour at 2 PM EST but the rest of the game shows a rate of 0.02-0.03. The high rate is a concern, but tough to say if it'll hold for long or even happen at all. I've talked with Dr. Michael Ventrice (meteorologist out of Boston) and he indicated storms like that are tough to predict so there's room in forecast models for changes in timing and intensity. The low rates for the majority of the game aren't a concern. Mixing in an unpredictable variable like this doesn't change my stance.