4for4 Betting Recap: Week 18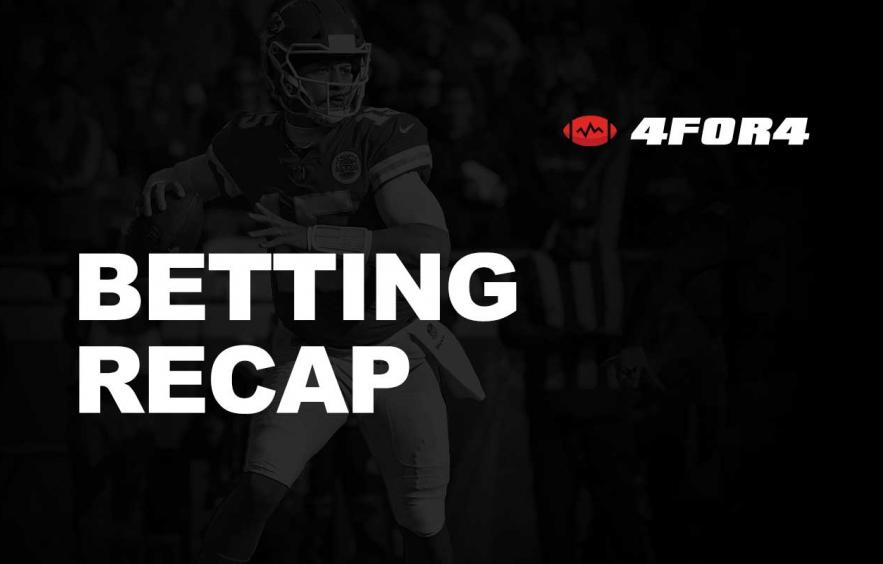 4for4 Illustrations
Welcome to the 4for4 football betting recap. My name is Dan Rivera and I am in charge of tracking bets from Connor Allen, Ryan Noonan, Sam Hoppen, Greg Smith, Anthony Stalter, TJ Calkins and Dalton Kates. Each week, I track their bets and provide feedback after the Monday Night Football game ends. If you have not found it, I track them all here in this 4for4 Tracker. Make sure you switch to the right person and sport.
When you look at anyone in the 2021 NFL, you will see some yellow blocks. There are two points you need to know:
You will see a weekly tracker; this just lets you look at anyone on any given week. This is what I like to call the micro tracker.
The big yellow box has most of the plays broken down by position, prop type, totals, spreads, etc. The total units won or lost will differ from this deep dive version because certain plays didn't fit into the deep dive. For example, Ryan Noonan bet the Patriots to make the playoffs. It doesn't fit into any of the weekly bets during the NFL season.
Why do I do this? When tracking NFL bets, 99% of all bets anyone makes are working juice (meaning you have to lay more money down than you would win). This tracker is far superior compared to other trackers. Other trackers don't have bets broken down by type, it is just simply a tracker. To me, that isn't helpful. I want the data (picks) to tell a story so I can help whoever is making the picks win more. With the juice, you are better off avoiding losers than you are winning. My goal is to help anyone I track to avoid losers or have them attack successful areas. When you look at the deep dive table, be careful if one area looks good or bad. The sample size is key to that deep dive table and a small sample can get very skewed in one direction.
Ninety-nine percent of all plays tracked are to win one unit or 0.5 units. You will get maybe one, max two plays from any one bet to win more than one unit.
This is the final week of NFL recapping for me. All picks will be continued to be tracked throughout the year. If you're not active on our Discord, you're missing out on golf and NBA picks as the 4for4 team continues its hot run! Make sure you switch to right tab; NBA picks are updated and golf picks are updated weekly after the golf tournament is complete.
Skewed Stats Alert: Connor, Ryan and Sam all hit a 37-1 bet in Week 8, skewing their props up for the year. The weekly and year-to-date records will include it but the analysis was removed since it carried so much of them that week. All three of them risked 0.25 units to win 9.25 units. The prop was Elijah Mitchell to lead the league in rushing yards for Sunday games only.
Ryan Noonan
Week 18: 6-4, 60.00%, 2.48 units
YTD: 180-155-2 53.41%, 28.86 units
Futures: 15-3-1, 78.95%, 16.61 units
Dan's Analysis: Ryan ended the year pretty poorly. He did have a winning week in Week 18 to help bring him up a little, though. His futures did very well and boosted his overall numbers.
Ryan's best category was individual team totals bets, as he finished 26-17 (60.47%) for the year. His next best category was WR props at 48-38 (55.81%), followed by RB props at 44-36 (55%). The fact Ryan finished RB props at 55% is fantastic after a disastrous start in September.

Connor Allen
Week 18: 8-1, 88.89%, 7.00 units
YTD: 162-131-1, 55.10%, 40.41 units
Futures: 7-16-1, 29.17%, -0.42 units
Dan's Analysis: Connor owes Dak Prescott and the Cowboys a massive thank you. Most of the year, Connor's futures were bad and looked like they would bring his total units down. A bet on the Cowboys to lead the league in total points scored changed everything. Over the past three weeks, Dallas scored 50+ points in a game twice, to overtake the Bucs by nine points for the top spot heading into Week 18, a lead they held onto.
Not to be overshadowed by his futures bets, but Connor was one pick away from a props sweep this week. His lone loss was Zay Jones under 3.5 receptions. He had three receptions in the first quarter but this pick was doomed after that.
Connor once again this year got hot in December/January, finishing the last five weeks up over 12 units. Last year, he finished the last four weeks up over 20 units, but I had a really tough time believing he would duplicate that type of streak again this year, or ever again.
Sam Hoppen
Week 18: 1-0, 100%, 1.00 units
YTD: 42-37, 53.16%, 11.89 units
Futures: 1-2, 33.33%, -1.32 units
Dan's Analysis: Sam was a low volume better the entire year. It took me a long time to gauge how he was doing because of that. Sam's best category was betting running backs, finishing the year at 12-9.
Greg Smith
Week 18: 5-4, 55.56%, 0.16 units
YTD: 73-66-1, 52.14%, 3.86 units
Dan's Analysis: Greg's units and profits don't match. Assuming you bet an average of -110 line, the break-even point is 52.38%. Greg had some losers but a lot of those were only half unit plays.
The good news for Greg is he finished 40-28 against the spread (ATS) for 58.82%. That is more than good enough for profit at a standard of -110. Greg's weakness was betting totals—21-22 (48.84%). My guess is next year he does less work with totals or he re-tools his approach.
Dalton Kates
Week 18: 0.15 units
YTD: 32.42 units
Dan's Analysis: Dalton is the Weekend Specialist at 4for4 and actually the one who tipped everyone off to the Elijah Mitchell most rushing yards Sunday only bet from Week 8. If you look at his name on the tracker, you will notice a lot of long shots, an area he has done well this year. If you didn't read his Week 10 article, Dalton has hit some specials already but he wasn't "technically" giving out 4for4 picks yet so you will be seeing me reiterate each week his tracked record versus actual record is going to be different in the tracker. Using his Week 10 article, Dalton started at 16.8 units just betting specials only.
What you don't see from Dalton is a win-loss record. Since Dalton is working with a lot of long shots, a win-loss record is a bad way to measure him because so many long shots are losers and one winner completely changes a week and YTD record when looking at units. Lastly, Dalton is doing some regular weekly props along with long shots.
The final week of the year didn't allow Dalton many opportunities for weekend specials. With so much playing time uncertainty, books were slow getting this market up.
Dalton finishes his first year at 4for4 with a nice profit! I expect Dalton to find more winners next year as he got started late this year. He didn't start doing specials props until Week 9 of the regular season.
Anthony Stalter
Week 18: 1-2, 33.33%, -1.25 units
YTD: 25-29-1, 45.45%, -5.74 units
TJ Calkins
Week 18: 1-1. 50%, -0.10 units
YTD: 21-26, 44.68%, -7.60 units
Dan's Analysis: Both Anthony and TJ suffer from small sample sizes. I just wanted them in the article as the entire 4for4 crew for NFL is being tracked by me. The record will speak for both because deep-diving them wouldn't yield much analysis.