Damien Harris: New England's RB Hammer in 2021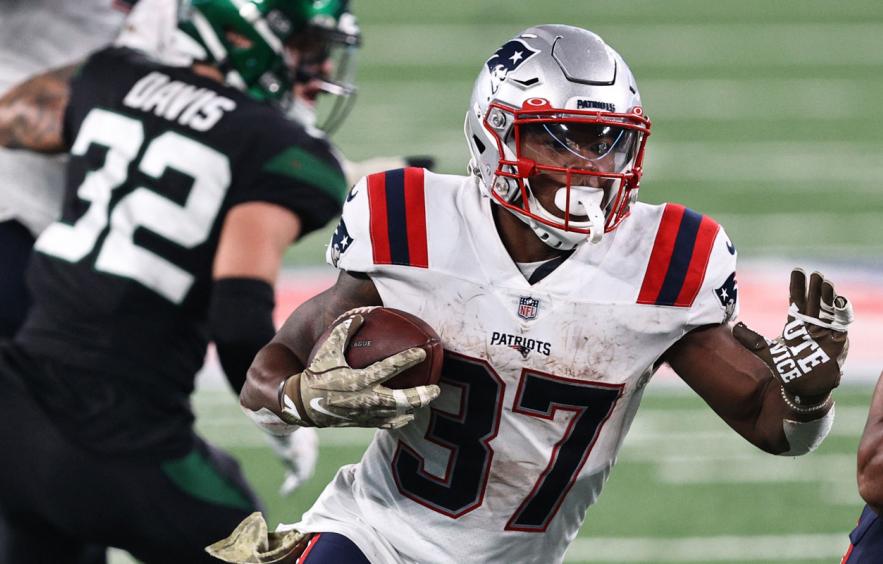 Elsa/Getty Images
Ever since I can remember, drafting Patriots running backs has been an adventure unlike any other.
Whether you're the league-mate holding all the right players, the one being burnt by an early pick suddenly forgotten by Bill Belichick, or pinpointing a flash in the pan like Jonas Gray, we have all endured the highs and lows of rostering running backs from the Patriots backfield.
---
Editor's Note: Read more player profiles from the rest of the 4for4 staff!
---
Last season, second-year player Damien Harris led all Patriots running backs in touches (142), while three other running backs drew 80+ touches on the season.
With one of these running backs now departed for Houston (Rex Burkhead) and another on the bubble this offseason (Sony Michel), things could open up for Harris to command a hefty workload for the Patriots in 2021. Currently going as the top back in fantasy drafts, let's take a look at what Harris could bring to fantasy managers this upcoming season.
The Difference a Year Makes
In 2020, the Patriots spent the majority of their season trying to figure out what life would look like without Tom Brady. They signed Cam Newton to a one-year deal in the offseason and began focusing much of what they do around his strengths.
Where this was most noticeable was in the rushing attack.
Last season, the Patriots ran on 51.3% of their plays, second only to the Baltimore Ravens (55.0%). This was a significant change from what we were used to seeing when the Patriots were being led by Brady/Belichick. The Patriots' highest rush rate from 2015-2019 never exceeded 45.1%. They rushed on just 40.6% of their plays in 2019 during their final year with Brady.
At the center of this rushing attack was Newton, who tied with Harris for the team-high in rush attempts (137), but led the way in touchdowns by a wide margin (12). On a per-game basis, however, Harris led all Patriots backs with 13.7 rush attempts.
Extrapolated over a 16 game season, Harris was on pace for 219.2 carries, which would have been good for the ninth-most among all running backs in 2020. His 69.1 rushing yards per game put him on pace for 1,105.6 rushing yards, which would have been good for the fourth-most rushing yards, putting him just ahead of Aaron Jones (1,104).
Harris's 2020 Review
After missing the majority of his rookie season in 2019, Harris by all accounts was the lead back for the Patriots in 2020.
Despite only finding the end zone twice, Harris ranked 12th among all running backs in yards per carry (5.0) and was the RB32 in with 8.9 half-PPR per game (minimum eight games).
Of the 10 games he appeared in, Harris posted five top-24 performances and averaged 12.0 PPG in those games. He managed to rush for 100+ yards in three of those games, tied for the sixth most 100-yard games of any running back in 2020. Harris ranked 31st among running backs in red zone carries (21), but was 45th in carries inside the five-yard line (3). Newton led all Patriots in rush attempts inside the five with 22.

The Fantasy Outlook for 2021
Whether you want to admit it or not, positive regression is indeed a real thing, and Harris could benefit from it in 2021.



Of the running backs who saw 20+ carries in the red zone last season, none saw fewer carries inside the five-yard line than Harris. The average number of carries inside the five-yard line for this group was 11.3. Even if Newton remains the starter this season, it's difficult to imagine a scenario in which Harris is a lead running back who is at the bottom of the league in carries near the goal for a second consecutive year. Jones being named the starter only increases Harris's chances at a bigger workload in this valuable area of the field.
A simple boost in touchdowns this season, combined with the efficiency we saw from Harris in 2020, could make him a bargain in fantasy leagues.
Bottom Line
When it comes to his 2020 season, Harris showed plenty of promise in the 10 games he appeared in - pacing for 219/1,105/3 rushing.
In half-PPR scoring, Harris was on a 16-game pace for 142.4 points (RB28)
The possibility of less backfield competition in 2021 will give Harris an opportunity to improve on his 2020 totals.
An increase to his workload inside the five-yard line could create an easier path to fantasy points
With an Underdog ADP of 86.1 (RB31), Harris could be in line to smash ADP if his per-game totals from last season are any indication.