2022 Sentry Tournament of Champions Preview
Photo by Mike Ehrmann/Getty Images
Happy New Year! Welcome to PGA Tour golf here at 4for4! It is an exciting time to be a part of and help lead golf content at this exceptional website. Since starting golf back in June, we have come a long way in six short months, and the great news is things will be getting even better as 2022 rolls along. Some of it will remain a surprise for the time being, but I am excited to announce numerous additions to the weekly tournament schedule including DFS content, more comprehensive previews, a "First Round Leader" model and many other data splits to analyze with the goal of helping you make smarter selections whether for fantasy or betting purposes. As for these tournament previews, the objective is to make them the most thorough and complete examination of the upcoming event that can be found anywhere. Along with adding more pertinent information and data to help guide your personal research, there will also be a greater focus on letting the actual golfers tell the story of each individual course. Thus, each week, there will be an exhaustive "player quote" section that should help paint a picture of the style and different attributes of each golf course.
As per usual since 1999, the Tour kicks off the new year with the Sentry Tournament of Champions, which has been held at the Plantation Course at the Kapalua Resort near Lahaina on the island of Maui. It is a unique, no-cut, "loaded with talent", small-field event, played on a low-scoring par 73 course that has expansive fairways, numerous elevation changes, and gusty coastal breezes. Once the site of a large pineapple plantation, this course is so unique that on the first tee you can see whales breaching in the distance, and on the 18th tee can smack a 450+ yard drive. After a wind-blown 2019 where the winning score by Justin Thomas was only 14-under par, last year's event, won by Harris English, saw a more common finishing number of 25-under.
The field for this event is solely comprised of the 40 different PGA Tour winners from last year. It kicks off the "Hawaii Swing" (which concludes with next week's Sony Open) and is meant as a paradise of escape from the cold winter enveloping most of America by providing Tour victors with a rewarding experience at the Kapalua Resort. Thus, this field is loaded with many of the world's best golfers. Past champions over the past seven years have included the names of Justin Thomas (twice), Xander Schauffele, Dustin Johnson (twice), Jordan Spieth and Patrick Reed. All of the top-ranked players in the world who qualified will participate this week with the exception of Rory McIlroy.
---
Jump To: Final Model | Betting Picks | DFS Strategy & Picks
Editor's Note: This is a free preview of our Betting Package. Sign up for full access to our premium betting content and tools.
---
Official Scorecard
Plantation at Kapalua Course Facts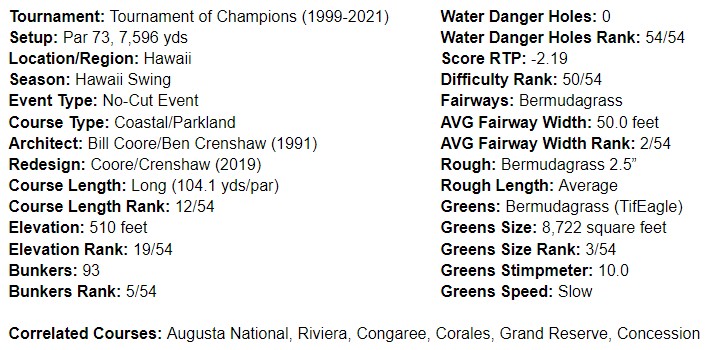 Past Winners/Odds
2021: Harris English (-25) +3500
2020: Justin Thomas (-14) +550
2019: Xander Schauffele (-23) +2200
2018: Dustin Johnson (-24) +750
2017: Justin Thomas (-22) +2200
2016: Jordan Spieth (-30) +500
2015: Patrick Reed (-21) +2200
2014: Zach Johnson (-19) +1400
Sentry Tournament of Champions Winning Trends
10 of the last 12 winners were aged 33 or younger.
11 of the last 12 winners were ranked in the top 29 in the Official World Golf Rankings.
11 of the last 12 winners had at least three previous career wins on Tour.
14 of the last 15 winners have previously won on Tour with a 19-under or lower score.
The last 12 winners played in at least one previous Tournament of Champions.
9 of the last 12 winners finished 11th or better in a previous Tournament of Champions.
12 of the last 13 winners played in a competitive tournament in the December prior to their win.
The last 11 winners were born in the United States.
9 of the last 10 winners have finished seventh or better in the following year's tournament.
5 of the last 6 winners finished fourth or better in the following year's tournament.
Past Player Quotes
*Quotes courtesy of ASAP Sports Transcriptions.
On the Course in General
Xander Schauffele: I don't know, it's just an awesome place to start. Typically, you know you've won a tournament the previous year, obviously, I snuck in this year. So, I don't know what it is, it just kind of fits my eye. Usually, it's a little windier, you got to sort of do all things in your game correctly and it's just like, to me, it's just a lot of fun to play because you're on these massive hills and a ton of wind and kind of weird breaking putts, so it's just kind of fun.
Patrick Reed: I think the thing is you have all these awkward lies, heavy winds, huge elevation changes, so you have to be creative. You can't just step up there and make a driving range swing because you never really have a flat lie besides off the tee boxes. So that being said, it just kind of gets me more engaged and allows me to see certain shots and allows me to play a certain type of golf shot rather than just sit there and try to play swing. So for me, it brings the creativity out and we kind of go out and see shots, hit shots. Any time I can come out, set up with wide fairways, large greens, and be able to just kind of shape the golf ball and do whatever I want with it and be creative, it kind of fits into my wheelhouse. The golf course fits my eye really well. A lot of the holes, seems like I can work it right-to-left.
Brooks Koepka: There's so many awkward little lies, ball above your feet, below your feet, and then downhill and then you're hitting up the hill. Things like that you just don't find anywhere besides maybe here and Augusta or at least that I've played.
Dustin Johnson: The first time you play it, maybe it's a big golf course, the greens are really slopey and when you're playing practice rounds, the pins are always in some funny spots. But the more you play this golf course, the more you get used to it, the more you kind of know how to get yourself around it. Because sometimes it's one of those courses where you really got to be on the right side of the pin, whether you're on the green or off the green, if you're on the right side you know you can still make pars. But there's a lot of opportunities for birdie. You got two holes that are somewhat drivable, four par-5s that you can reach. So it just all depends really. This is a good golf course to be a little rusty on.
On the Fairways and Off the Tee
Harris English: I know guys have different strategies, but I'm hitting driver a lot this week. I would say more so than a normal golf course. I mean, these fairways are wide, you can be as aggressive as you want to, but it's still about putting the ball in the fairway. You start putting the ball in the rough, start missing greens, it's tough to get up-and-down because these greens are pretty gnarly Bermuda grass around the greens and they're pretty tough to lag putt out here.
Brooks Koepka: It's very nice just to be able to get up there and just rip it off the tee, knowing you got a hundred yards of fairway.
On the Wind
Jon Rahm: You know, it's always dependent on the wind. That golf course is 100% dependent on how windy it is and where the wind is coming from.
Justin Thomas: The wind just makes it a lot harder to putt. And yesterday was pretty calm. It was about as easy as you could get this golf course. Then Thursday, it was, you know, a normal Kapalua wind, ten to 15. It's a course where you can just get so hot. You can realistically, 11 can be a tough hole, and 17 is a tough hole. But other than that, you've got a wedge in your hand or you're looking at a lot of birdie holes and potentially eagle holes.
Dustin Johnson: The wind is always blowing here and you really got to use the wind to help your ball get close to the hole or stop the ball or however you want to do it... I mean it's all about controlling the ball and hitting it solid. When the wind's blowing this hard, you hit solid shots you can control it.
On Putting and the Speed of the Bermuda Greens
Jordan Spieth: Whether it's a short putt or long, you just really got to hit it. But for the most part, if you're hitting anything from really five feet out into the grain uphill, it is just tough to hit hard enough. Especially in the last group because they get a little spiked up and they're even slower.
Brooks Koepka: The best putters are going to win. They're so grainy and it's kind of like, it reminds me a little bit of Augusta on the greens. You can have six feet and it might break a foot, foot and a half. And it's all about speed on these greens. That's kind of what it reminds me of a little bit. Just a little bit slower.
Dustin Johnson: The greens are rolling pretty good, they're a little slow, you can be a lot more aggressive. But I'm kind of with them though, I didn't see that many under the first time I came here either. A big key with these greens with them being grainy and that is putting a good roll on it. I feel like I'm doing that. Just trusting the lines you got to hit them on. The greens are tricky to read. I had a few putts today that really–good birdie putts where I thought I had a good read on it and just the ball went opposite of what I thought, it's just going to happen out here. So for me, I just got to stay patient and try not to get too frustrated.
On the Advantage of Having Previous Course Experience
Steve Stricker: Yeah, you have to learn here. It takes a while to learn here. It's a little bit different than what we are typically used to. There's big undulating greens, a lot of slope in the fairways. But I think the biggest challenge is the greens and the wind once you get on the greens. The wind can blow and make putting very difficult, and even the roll out in the greens that we typically have, which we are not seeing as much here. So it's a challenge to hit some of these shots, and you expect that ball to roll out or release a lot, and it's not now. So that's a little different, too, and something to get used to. But it's a course where a lot of local knowledge helps you out a lot and the more times you play here, the better off you are.
Key Course Stats Compared to the Tour Average
*Green = easier
*Red = more difficult
Course Overview
Built on the slopes of the West Maui Mountains, the Plantation Course at Kapalua is a unique Par 73 coastal parkland layout that measures out at 7,596 yards. It is the 10th-longest course in the Tour rotation and sits on a spacious 316-acre tract of land. From the breathtaking views overlooking Honokahua Bay to the 500 feet of elevation difference between its highest and lowest points, the course is a spectacularly scenic place to host a highly competitive event comprised of 40 of the world's best golfers.
Due to a number of factors, Plantation has the well-deserved reputation of being one of the lower-scoring courses on Tour relative to par. Since beginning on Tour in 1999, the winning score is typically in the low-to-mid 20s under par. Over the past five years, it has ranked as the fourth-easiest course on Tour. Last year, Harris English cruised to a 25-under par victory. While there are plenty of birdies to be made and eagle opportunities, the course still offers plenty of potential challenges including coastal winds, uneven lies, 93 bunkers (fourth-most on Tour) and expansive tiered greens.
Designed by Ben Crenshaw and Bill Coore in 1991, the course received a minor restructure in 2019 that was meant to restore the layout to its original condition. One of the main goals was to increase the firmness of both the fairways and the greens. The thought was that the course would play a bit more challenging moving forward. That notion was somewhat put to rest at last year's event as the course scoring average dropped to its lowest average in a decade at 69.3.
As the only par 73 course on the PGA Tour, Plantation is composed of three par-3s, four par-5s and 11 par-4s. Not only are the par-4s and par-5s among the easiest on Tour, but they are also among the shortest at an average of only 450 yards per hole. In total, the course features eight par-4s that play under 425 yards, making a strong wedge game a key area for success. Being able to take advantage of the par-5s will also be a key target point at Kapalua. Three of them measure at 550 yards or shorter, and the enormous 677-yard 18th hole plays straight downhill. Because of this, an eagle is in play on these holes for every golfer in the field.
While there are zero holes that bring any type of water danger into play, there are 93 bunkers (fifth-most on Tour) that litter the course. But even more challenging to golfers this week is the ability to manage three factors that could cause trouble—elevation changes, massive greens and the strength of the wind. Kapalua Resort's Plantation Course was built on the slopes of the West Maui Mountains. The mountainous terrain creates large undulations throughout the course as golfers progress up and down the elevation changes throughout their round. In fact, the course has the largest amount of elevation changes on Tour. Patrick Reed remarked that all the awkward lies, blind shots and elevation changes force players to be more engaged and creative in their shot-making throughout the week.
The mammoth Bermuda greens at Plantation average 8,700 square feet. Combining the size of the greens with the typical gusty winds makes the course one of the toughest on Tour for proximity to the hole. This, in turn, increases the number of three-putts and bogeys.
However, the main defense the course offers is in the form of the prevailing east-by-northeast coastal winds which can make certain holes much more difficult. Certain players who have more experience in windy conditions, especially those who can control their ball flight will have a definite advantage. As you can see by the weather data below from the past three years, these are not light and variable breezes.
Past Weather Conditions
2021
2020
2019
Strokes Gained Category Analysis
With the second widest average fairways on Tour (50 feet) and numerous downhill sloping holes, players will be teeing it up on a course that allows the sixth most driving distance yards. Combine that with driving accuracy at 75.2% and you have a golfer's dream scenario off the tee. With fairways so spacious and no real danger, players are free to bomb away, which definitely favors the longer hitters. That being said, even shorter hitters will get extra distance here thanks to the sloping fairways as the likes of Jordan Spieth, Patrick Reed and Harris English have won here in past years.
Overall, players are hitting the greens in regulation at Kapalua at a clip that is 7% higher than the Tour average. On the rare occasion the fairway was missed off the tee, players are still hitting the green an astounding 66% of the time from either the rough or fairway bunkers. The Tour average from a missed fairway is only 51%. This confirms two facts we already know: The 2.5" Bermuda rough is not a threat, and the greens are so massive that even poor approach shots have a chance to find their surface. And with the greens firmer than in years past combined with coastal winds, and the large undulating greens, there is a premium on precise approach play in the form of proximity to the hole. And when analyzing the data, it is clear hitting the ball close to the pin is very difficult at this course. Players on average leave the approach shot almost seven feet further from the hole than on the typical Tour course.
While sand saves are 5% more difficult at Kapalua, historically, other shots from around the green (30 yards or less) are among the easiest and least frequent on Tour. The main facet of the short game that definitely will be tested is putting on these challenging Bermuda greens. Using the Key Course Stats Average sheet, we can see many areas of the putting game make these greens some of the more difficult ones on Tour. While putts inside of five feet are easier, every distance beyond that only increases in difficulty. One-putt % is one of the lowest on Tour, and on the flip side, three-putt % is one of the highest at 3.72%. Some reasons the lag putting is so demanding is that the Bermuda grain and different slopes make putts very tough to read. With the stimpmeter measuring at a slow "10", players also have to factor in the wind to the force of their putting stroke.
The greens are still quite new as the TifEagle Bermuda turf was laid in 2019 with fewer severe contours and slopes. One final important note to mention based on the greens being fairly new is that putting at last year's event was the easiest it has been in the last 10 years. If that trend continues we could see another winning score in the 25-under or lower range again.
Top 10 Most Important Stats
*In order of importance.
SG: APP
BoB Gained
SG: Putting (Bermuda)
Par 4 Scoring
Par 5 Scoring
Driving Distance
Proximity <125 yds
3-Putt Avoid
Course History
Proximity >200 yds
Unique Tournament Splits
SG: Long/Easy Scoring Courses
SG: Easy Driving Accuracy + Easy GIR Courses
SG: No-Cut Events
SG: Coastal Courses
SG: All-Bermuda Grass Courses
Kapalua Weather Forecast (January 6-9)
After analyzing the tournament forecast, my jaw is still touching the floor. I heard reports that the threat of winds was non-existent. But to see no gusts, and every day under 10 MPH is shocking for the location and past tournament weather history. If this holds we could legitimately see scores approaching 30-under par, which would only increase the importance of each of the scoring stats.
Player Selection
The goal in this section each week will be to discuss the specific qualities we are looking for regarding the players that should finish high on the leaderboard at each tournament. This week's Tournament of Champions is very straightforward. First off, high-percentage trends in golf matter. As can be seen in the Trends section above, there is a decent-sized group this week that has proven quite predictive over the years. A major theme in the trends is past playing history at Kapalua. As many PGA veterans have commented, experience matters at this course. No first-time player has won here since 2008. After going through each of the trends and disqualifying those who don't fit the mold we are left with eight players standing—Collin Morikawa, Harris English, Brooks Koepka, Bryson DeChambeau, Jordan Spieth, Xander Schauffele, Justin Thomas and Patrick Reed. Do with that what you will, but I put some stock into it. Another angle is that past champions have also had great success in the years following their victory with numerous players winning multiple times and many more finishing in the top five. This means Harris English, last year's winner, is firmly in play.
Another intangible factor for me this week is motivation. Granted, I have no idea who has been grinding away practicing over the past month and who hasn't picked up a club (pay attention to the pre-tournament pressers to gain insight). I definitely want to put my money on players who are treating this event like a business trip, though, and not as a beach excursion to watch the whales and shake off some rust. Thus, I am probably going to lean towards golfers who have that "grind it out" type of reputation, i.e., the Patrick Reeds, Patrick Cantlays, and Bryson DeChambeaus of the world. The good news for those who haven't played a lick is that the wide fairways, huge greens and minimal rough make it the perfect course to ease back into play. As Dustin Johnson said a couple of years ago, "This is a good golf course to be a little rusty on."
This event also always has the possibility of turning into a putting contest. I do want golfers who have experience in handling these massive Bermuda greens and who succeed at three-putt avoidance. And players will have to go on some birdie streaks with the flat-stick to win here.
Experience and success in the wind and preferably having a low apex ball flight are also potentially vital this week. Controlling ball flight is always crucial on a coastal course, and some like Patrick Reed, Justin Thomas and Jordan Spieth are experts in that area. With almost everyone having a good chance to hit the green, it will be the quality of the approach shot that will most likely define the result on each hole. Thus, SG: Approach is the most important stat this week. In my opinion, a player's ability to manage approach flight and land the ball on the proper quadrant of these undulating greens so it can feed toward the hole will be the foremost factor in determining the winner.
The data also says that Driving Distance matters and is favored. As is having a quality approach game with wedges (125 yards and closer) along with long irons and fairway woods. As you can see in the chart below, there are 48% more shots in the 50-100 yard range, and 30% more shots from over 200 yards at Kapalua. Finally, in "birdie-fest" type contests, being able to consistently score birdies, as well as an eagle, on the par-5 holes will be essential to victory.
Kapalua Approach Shot Distribution
Sentry Tournament of Champions Final Model
In each preview article and on the Discord channel, I will present my final model, which will give a detailed player ranking of the most important stats and splits for the week. My modeling is built around the PGA's Strokes Gained data, which is divided into SG: Off the Tee (OTT), SG: Approach (APP), SG: Around the Green (ARG) and SG: Putting (P). Learn more about Strokes Gained and why it can be so useful in analyzing the past and predicting future performance. Many of the individual splits will be posted on my Twitter feed, with the final model exclusively published here for subscribers. We are working on giving subscribers the ability to edit the model with their own weights. If anyone ever has any questions or ideas to make the golf product better, please reach out.
Each week, the model will have certain splits that are constant like SG: OTT and others that are somewhat unique to that specific golf course or tournament. The unique splits will typically depend on course location, course size, course difficulty, the strength of the playing field, type of tournament, and grass type. Along with the SG categories, below are some brief explanations for the other constant splits in the weekly model.
Adjusted Tee-to-Green Last Six Months - This split simply combines SG: OTT, SG: APP and SG: ARG into one basic stat. It is adjusted according to the strength of the playing field for each tournament. It is very useful in determining which players are striking the ball the best over that time period because it eliminates the noise that putting can often bring.
Strokes Gained Hole Breakdown Last 36 Rounds - This split takes each of the different yardage ranges for all 18 holes on the specific course for that week. Each yardage range is weighted to the exact amount to be used for the tournament along with the corresponding player SG data from that range. So for example, here at Kapalua, there are three par-5s between 500-550 yards. If Collin Morikawa excels from that yardage range his ranking will be higher.
Course History - Utilizing previous course history for modeling purposes is somewhat of a controversial topic. Some claim it has no effect on future performance. I am in the opposite boat, and will definitely use it, but only to an extent. Also, some courses are more predictive than others. So the amount of weight I place on it in my modeling usually varies from week to week.
Scoring Model - This split incorporates the most important scoring statistics for that particular tournament with the goal of determining each player's potential ceiling (whether for betting or DFS purposes). Stats include Birdie or Better % (BoB), birdie opportunities inside 15 feet, Par-5 Scoring, Overall Proximity to the hole and SG: Putting from 10-20 feet.
Safety Model - This split incorporates the most important "safe" statistics for that particular tournament with the goal of determining each player's baseline floor. Stats include made cut %, Bogeys Avoided, Fairways Gained, Good Drive %, 3-putt Avoidance, SG: Putting from 0-10 feet and Scrambling.
Core 4 - This split takes the four most important stats (according to my data-based opinion) for the course that week and weighs them into one metric.
Before we get to the final model, here's one last piece of advice. Never blindly follow anyone's model or predictions. Learn how to do your own research and get to know the players and their tendencies as much as possible. Have the confidence to make your own adjustments. While I am touting certain players in the "Betting Selection" section, my main goal is to educate and present as much actionable data as possible to help guide you in your own betting process.
Outright Betting Selections
*Lines accurate at time of publication.
Justin Thomas +1100
(1u) DraftKings
Slightly edging out both Xander Schauffele and Jon Rahm for the top spot in the model for this week's tournament is Justin Thomas. Since his odds opened at +1100, they have already dropped to +800. With four top-three finishes here over the past five years, including two victories, Thomas clearly loves this course. He has also proven to be an excellent player when coming off a break of 4+ weeks. In the nine events he has played since 2016 in that scenario, he has gained an average of 5.3 strokes on his first event back. He ranks second in the field in my SG: APP split, first in "No-Cut" events, third on "All-Bermuda" courses, and is third in Tee-to-Green over the last six months. His excellent iron play and "proximity to the hole" ability on this course should help neutralize his putting weakness. With legendary caddie Jim "Bones" Mackay on his bag, this could be the start of a very special year for "JT".
Collin Morikawa +1200
(1u) DraftKings
With numerous family members living in Maui, the newly engaged Collin Morikawa returns home to his roots this week. He is now the No. 2 ranked player in the world, and is a serious threat to win every single tournament. His elite ball-striking plays on any course, and like Thomas, his pinpoint accuracy on approach shots usually makes up for any shortfalls with the flat-stick. Ranking fifth in the Scoring model, he is also the second-best player in the field on coastal courses since 2018.
Xander Schauffele +1400
(1u) DraftKings
Ranking second in the overall model, Xander Schauffele's gold-medal winning performance in the Tokyo Olympics allowed him to enter this field of "Champions". Having gone three full years since he last won a PGA Tour event here at this same course, he will definitely view this event as a springboard to a momentous year. Always a top performer at "No-Cut" events, he ranks second in the field in that area since 2018, gaining 1.2 strokes per round on the field. He followed up his 2019 victory here with a runner-up finish in 2020. Last year, he managed a fifth-place finish even though he was still feeling the effects of COVID-19. He ranks third in the "Hole Breakdown" split, fourth in the "Core 4" and is the fifth-best player on Bermuda grass.
Jordan Spieth +2000
(0.8u) DraftKings
Questions always seem to surround the state of the "Golden Child's" game. After rebounding in 2021 and having one of the better eight-month stretches of his career, Jordan Spieth finished the year in a mini-slump, losing 7.6 strokes combined in his last four events. On top of that, he played miserably, finishing at the bottom of last month's Hero Open. With a newborn child at home, one has to wonder how much time he has spent practicing over the last couple of months. Nonetheless, he probably has the highest ceiling of anyone in the field. He also has three top-three finishes on this course, including a tournament-record score of 30-under par back in 2016. He tends to thrive on courses like this that do not penalize wayward tee shots, have non-penal rough and require a precise approach on wedge shots. With a course that requires some creativity with all the uneven lies, he is a play at this price due to course fit alone.
Cameron Smith +2200
(0.8u) DraftKings
Cameron Smith was not on my initial radar to start the week. But after running the model and seeing him rank fourth overall, I had to get a share. Though current form does not carry as much weight with the break over the past six weeks or so, an argument can be made that Smith has been one of the best players on Tour since August. He has six top-15 finishes and four top-nine results in that time period. He has been on fire with his irons, gaining an average of 3.9 strokes on approach in his last five events. Smith is one of the best putters in the field and thrives on "Easy Driving" courses such as the one here at Kapalua, where the negative effects of his typical wayward tee shots won't limit his potential. He also ranks third in the "Core 4, is fifth in "No-Cut" events and leads the entire field in BoB% over the past 36 rounds.
Patrick Reed +3300
Patrick Reed definitely did not pop in the model, finishing 20th overall. He is what I call a "reputation" selection. At +3300, though? Sign me up. Obviously, his form, even before his sickness in August, has been very poor. In his two recent quality appearances, however, at the Bermuda Open and the Hero Open, he finished second and third, respectively. Similar to Kapalua, both are coastal courses. He also has the reputation of being a grinder and always working on some part of his game. His course history is also impressive with four top-six finishes dating back to 2015. Similar to Spieth, his creativity and ability to play such a natural course as this definitely plays in his favor.
Tony Finau +3300
In a 39-player field, this is another great price for one of the most talented and streaky golfers on the planet. For whatever reasons, Tony Finau has struggled to be a consistent factor on Tour. Kapalua presents an opportunity as a wide-open, long course where his power and ball-striking abilities will allow him the chance to shine. Without the threat of missing a cut to hinder him mentally, he has the scoring mentality to stay in it until the end if he can catch fire with the putter.
Finishing Positions
Top 5
Top 10
Top 20
Erik van Rooyen +170 (0.8u) FanDuel
Tournament Matchups
Collin Morikawa +102 over Bryson DeChambeau (1u) FanDuel
Cameron Smith -120 over Hideki Matsuyama (1.2u) DraftKings
DraftKings DFS Strategy
We are starting the year with a very unique golf tournament as this is a "no-cut" event with only 39 golfers in the field. There are only a few similar tournaments throughout the year with such few competitors including events like the Tour Championship and the Hero Open. That being said, there is definitely a strategy that has proven to be successful on the DFS streets related to tournaments such as this, and that is a "Stars and Scrubs" approach. With so many of the best players in the world in the field, this tournament produces a top-tier winner on most occasions. The words "upside" and "ceiling" are two of the words you will hear all the time related to these types of small-field, "no-cut" tournaments. With all golfers guaranteed to play four rounds, we want as many players with win equity in our lineups as possible. This might be as many as two or three players in the top salary tier. We then fill out the rest of our lineup with value plays that also have the upside to finish in the top 10. We also want aggressive players who have a tendency to go on birdie streaks. Cheaper options like Max Homa and Cameron Davis are two names that immediately come to mind.
The other common strategy is a more balanced approach with maybe one top-tier golfer and five others in the mid-range. For this event, that is definitely a viable strategy as the value tier does not have that many appealing options.
Because of the high variance of this event, and the fact we have no idea which players have stayed sharp and which have gained 10 pounds and not even touched a golf club, it is very wise to scale back on the amount and types of contests you are playing. I would definitely stick to single-entry and 3-max type contests. With only 39 golfers to choose from, leaving money on the table is a smart option to ensure you don't have a duplicate lineup.
Finally, with no weather concerns and all 39 golfers teeing it off within the same three-hour window, there is no time or weather-wave advantage to be had.
Player Selection
Each week this section will contain three main categories. They are my "Core" plays, my "Price Range" plays, and my "Biggest Fades". For those of you new to some of that DFS verbiage, a core play is a golfer I will be including in the majority of my lineups. They will always be among the handful of my overall top plays for the week. A typical core contains anywhere between 2-4 golfers. After you establish your "pool" of players (the group of players you choose from to build your lineups with at different ownership percentages) for the week, you then surround that core by mixing and matching your other players from varying price ranges. A "fade" is a player you are choosing to either be underweight on compared to the field or not play at all. In the player picks below, unless otherwise specified, the numbers next to each of the categories or metrics is the player's ranking in this field out of 39 total golfers over the past six months. The "Core 4" most important stats for the event will always be included among the stats chosen. For this week, "DD" is Driving Distance and "CH" is Course History. Own % is referring to the estimated amount each player will be owned in the typical DraftKings contest.
Core Plays
Xander Schauffele
Price: $9,500
Own: 27%
Model: 2
SG: APP: 7
SG: P: 6
DD: 8
Scoring: 18
CH: 2
Recent Form: 20
DraftKings Pts Gained: 21
Schauffele is a world-class performer at only the seventh-highest price. He's a great value who thrives in no-cut events, has no real weaknesses, loves this course and conforms to all eight of the "winner" trends.
Cameron Smith
Price: $8,300
Own: 22%
Model: 4
SG: APP: 9
SG: P: 8
DD: 22
Scoring: 6
CH: 17
Recent Form: 6
DraftKings Pts Gained: 9
Smith is the best overall value on the board. He shows up with his best effort every week. His biggest weakness, OTT, is nullified here. Has recorded 4+ SG in 12 of last 17 events.
Upper-Tier Plays
Justin Thomas
Price: $10,600
Own: 28%
Model: 1
SG: APP: 3
SG: P: 34
DD: 6
Scoring: 7
CH: 1
Recent Form: 7
DraftKings Pts Gained: 4
King of No-Cut events, he's ultra-motivated and has a legendary caddie on his bag. He has the best course history at Kapalua, loves Bermuda grass courses and fits all eight winner trends.
Collin Morikawa
Price: $10,800
Own: 20%
Model: 5
SG: APP: 3
SG: P: 31
DD: 32
Scoring: 5
CH: 9
Recent Form: 26
DraftKings Pts Gained: 34
A horrendous FedEx Cup playoff stretch skewed much of Morikawa's recent form data, but he has 7+ SG in eight of his last 12 events, including seven top-eight finishes. He's the best approach player in the world and is coming home to his Hawaiian roots. He also fits all eight winner trends.
Mid-Range Plays
Jordan Spieth
Price: $8,900
Own: 21%
Model: 11
SG: APP: 35
SG: P: 25
DD: 20
Scoring: 19
CH: 3
Recent Form: 17
DraftKings Pts Gained: 10
Spieth brings tremendous upside, and is an excellent value on his win equity alone. The course plays to his creativity and shot-making strengths. He has three top-three finishes here.
Patrick Reed
Price: $7,900
Own: 24%
Model: 20
SG: APP: 37
SG: P: 9
DD: 35
Scoring: 35
CH: 5
Recent Form: 32
DraftKings Pts Gained: 33
Siding with reputation, motivation and course history over recent form data makes Patrick Reed a solid play. He's great on coastal courses and is an excellent Bermuda putter.
Marc Leishman
Price: $7,500
Own: 25%
Model: 17
SG: APP: 23
SG: P: 5
DD: 16
Scoring: 26
CH: 8
Recent Form: 13
DraftKings Pts Gained: 11
Leishman's game rebounded in 2021 with five top-five finishes. His iron play is trending up. He's the best Bermuda putter in the field and mistakes with the driver won't hurt him here. He has two top-seven finishes at this course.
Value Plays
Max Homa
Price: $6,700
Own: 20%
Model: 25
SG: APP: 19
SG: P: 26
DD: 21
Scoring: 27
CH: 19
Recent Form: 30
DraftKings Pts Gained: 32
Coming off of two Tour wins in 2021, Homa is one of the streakiest, high-upside players on Tour, and is the definition of a boom-or-bust player. He's also an excellent scorer on par-5s.
Erik van Rooyen
Price: $6,100
Own: 6%
Model: 22
SG: APP: 13
SG: P: 15
DD: 18
Scoring: 17
CH: 39
Recent Form: 28
DraftKings Pts Gained: 23
One of the most mispriced players on the board, which brings awesome value to fit Stars and Scrubs builds. He always plays well in these strong-field no-cut events.
Cameron Davis
Price: $6,200
Own: 9%
Model: 32
SG: APP: 30
SG: P: 37
DD: 11
Scoring: 33
CH: 39
Recent Form: 35
DraftKings Pts Gained: 28
Here at Kapalua, Davis has complete freedom to bomb away OTT. He's a very streaky birdie-maker who can do damage on the par-5s, and plays best on longer, easy-scoring courses such as he will see this week.
Biggest Fades
Jon Rahm
Price: $11,000
Own: 22%
Model: 3
SG: APP: 11
SG: P: 30
DD: 3
Scoring: 3
CH: 4
Recent Form: 1
DraftKings Pts Gained: 3
Rahm is always a dangerous fade. He hasn't played nor practiced much in a couple of months, and Bermuda is his weakest putting and playing grass surface. Without a ton of quality value at the bottom, I would rather save money and start my lineups with Thomas or Schauffele.
Hideki Matsuyama
Price: $8,700
Own: 13%
Model: 18
SG: APP: 4
SG: P: 39
DD: 17
Scoring: 16
CH: 13
Recent Form: 21
DraftKings Pts Gained: 22
Matsuyama is the worst Bermuda putter in the field. He lost 11 strokes here last year, including 10 on the greens.
For the most up-to-date picks, or if you have any questions or comments, check out my Twitter and subscribe to our Discord. This sheet from Dan Rivera tracks all my betting picks (and those from the rest of the betting staff) on the year. Just click on the tab with my name on it for the results.
---
This article is intended for entertainment purposes and adult users only. Call 1-800-GAMBLER if you have a gambling problem.