2021 U.S. Open: Round 2 Matchups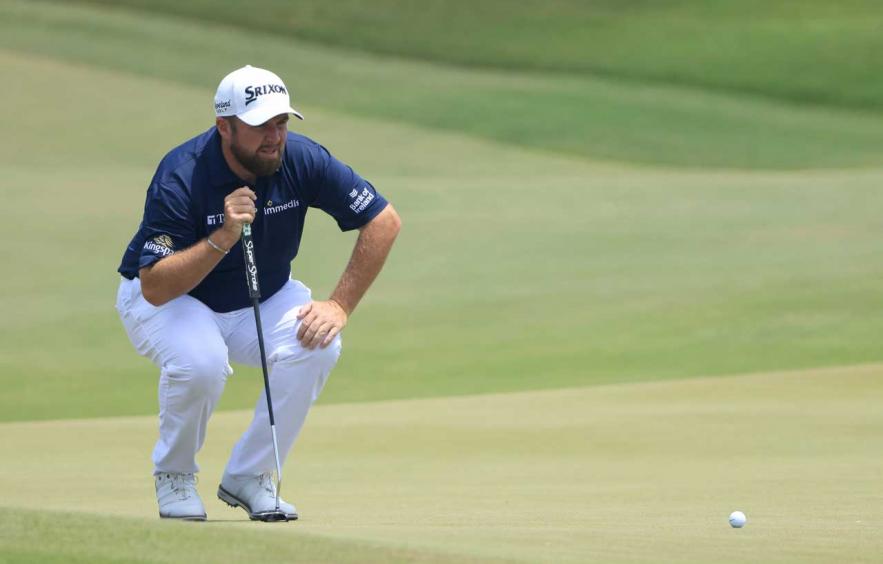 Sam Greenwood/Getty Images
As Thursday night came to a close at the 2021 U.S. Open, Russell Henley and Louis Oosthuizen shared the lead at 4-under par. A total of 36 golfers, including Oosthuizen, were still on the course when play was suspended due to darkness on Thursday evening. They will resume play early on Friday morning and then move right into their second round. After being delayed for 90 minutes by a thick fog, light winds and soft greens led to good scoring conditions. Last year's U.S. Open runner-up, Matthew Wolff, made his return to golf after a two-month hiatus and had perhaps the wildest round in U.S. Open history, finishing at 1-under par.
There have been more than 15,000 U.S. Open rounds played the last 40 years.

Only 1 has had 8+ birdies and multiple double bogeys or worse: Matthew Wolff today.

— Justin Ray (@JustinRayGolf) June 17, 2021
A couple of pre-tournament favorites flirted with the lead in the morning wave, as Brooks Koepka and Xander Schauffele had strong rounds, both finishing the day at 2-under. As the afternoon stretched into evening, perennial major contender, Louis Oosthuizen continued to climb the leaderboard and had just teed off on the 17th hole before play was suspended. Other notables performing well on Thursday included Masters champion Hideki Matsuyama and tournament favorite, Jon Rahm, both of whom are two shots back of the leaders. As we head into the second round, conditions should be similar to the first, with the course getting more difficult as the day progresses, and yielding few birdies. Let's take a look at the numbers for some of the second-round matchups that we should be able to take advantage of.
---
Starting next week, my final model, along with other analysis and betting selections will only be available at 4for4. You can use the coupon PGASPLITS to receive 25% off the yearly betting subscription. This deal will end on the Sunday of the U.S. Open, June 20th.
---
Matchup Betting Analysis
When I analyze both head-to-head and 3-ball matchups for betting selections between rounds, there are specific signals I'm looking for in both the pre-tournament and previous round data. For this piece, I am going to focus on 3-ball matchups because the odds are better, and I believe they are more profitable in the long run. The first step in my process before even looking at any data is what I call the "Eye Test". I will analyze each group and pick out the players who I believe have mismatches, and who "out-class" their opponents. For this, I will often refer back to my pre-tournament model to check each player's ranking. Once I have that list, I will break it down even further by digging into the data.
In my opinion, the most important stat to analyze is how a player performed in Strokes Gained (SG): Ball Striking (BS) for the previous round. Ball-Striking combines a player's performance both off-the-tee and their approach shots towards the greens. It shows how "well" they hit the ball. We want to select players who have a high SG: BS for the previous round. The reason for this is because ball-striking is the most predictive and repeatable skill a golfer has. Another related signal to look for is how a player performed in SG: P (Putting). Putting can be very volatile from round to round. Even the best putters will often struggle. Thus, if a player performed well in SG: BS but poorly in SG: P, those are the players we want to target for our betting matchups because the odds are good that their putting struggles won't last. This becomes an even better matchup to bet on if the player who putted poorly in the previous round is usually a good putter. A final piece of data I will analyze is how a player usually performs for that specific round of the tournament. This might not seem like it should matter, but golf is a game of routine and patterns. Over the last year, for example, Matt Fitzpatrick averages 2.6 SG (23 rounds) per each second round he plays. Every other round he averages 0.7 SG (56 rounds). For each of my betting selections below, I will include the chart I use to analyze all the data mentioned above.
Betting Selections
*Betting lines accurate at the time of publication.
Si Woo Kim +140 DraftKings (1.5u) over Bernd Wiesberger and Kevin Na
As you can see from the chart, Si Woo Kim gained 3.39 strokes ball-striking in the first round but also had a negative putting performance. He is a slightly above-average putter, which tells me the chances are good that his putting will improve in round two. You might be looking at Wiesberger's numbers and see that his BS-P (ball-striking minus putting) difference is even greater than Kim's. This takes us back to the "Eye Test". Overall, Kim is a better player and has a much better skill-set for this golf course than Wiesberger as the Pre-Tourney ranking shows. Another item to consider when making selections is a player's motivation level. The third player in the group, Kevin Na, is typically a very good player. But he has been struggling mightily as of late and has a history of withdrawing from tournaments. He will need a very strong round just to make the cut. I don't see the motivation level being there for him on a course like Torrey Pines that does not fit his style of play.
Shane Lowry -103 Points Bet (1.5u) over Francesco Molinari and Henrik Stenson
Francesco Molinari had the putting day of his life in round one. He is usually horrible on Poa grass but gained 3.7 strokes. Lowry is not a quality putter either, but his ball-striking was superb, as are his second-round scoring averages. The last column in the chart shows how often a player gains strokes during that round. Molinari and Stenson have both had their struggles with consistency in the second round of tournaments.
Ryan Palmer +165 FanDuel (1u) over Ian Poulter and Jimmy Walker
Ryan Palmer had a good ball-striking day on Thursday gaining shots on both approach and off-the-tee. He happened to have his worst day on the greens in almost a year. Palmer has great course history at Torrey Pines, and I believe he will turn it around with the flat stick in round two.
Xander Schauffele -106 DraftKings (1u) over Phil Mickelson and Max Homa
Xander Schauffele looked like a man on a mission in round one. He was very good off-the-tee and with his irons. He tends to be one of the best putters in the game, so I will bank on his short game returning tomorrow. Mickelson is an easy fade coming off his PGA Championship win at Kiawah last month, and his numbers bore that out. Homa missed a number of short putts and should play better in round two, but Schauffele looks ready to win his first major and should keep it going tomorrow.
Billy Horschel +155 FanDuel (0.5u) over Matt Kuchar and Kevin Kisner

All three players in this group have struggled in the weeks leading up to the U.S. Open, and each finished their first round over par. Billy Horschel, however, gained 2.3 strokes with his approach shots and was also positive off-the-tee. Typically a much better putter than he showed on Thursday, I will take him at very good odds over Matt Kuchar and Kevin Kisner.
Round 2 Head-to-Head Matchups
Will Zalatoris over Justin Spieth +125 DraftKings (.25u)
Charl Schwartzel over Christiann Bezuidenhout +120 DraftKings (.25u)
Tony Finau over Daniel Berger -110 DraftKings (.5u)
Rory McIlroy over Justin Rose -119 DraftKings (.5u)
For the most up-to-date picks check out my Twitter and subscribe to our Discord. This sheet from Dan Rivera tracks all my betting picks (and those from the rest of the betting staff) on the year. Just click on the tab with my name on it for the results.
---
This article is intended for entertainment purposes and adult users only. Call 1-800-GAMBLER if you have a gambling problem.