2021 NCAA Tournament Final Four Bets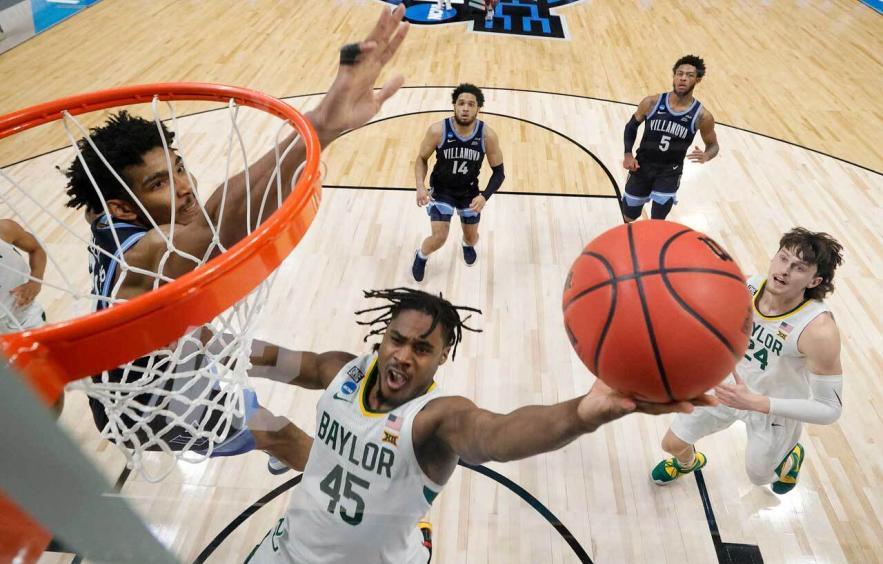 Andy Lyons/Getty Images
Even though there are only three games left in the college basketball season, there's plenty of time to make money. For the final slate of games, I have teamed up with Matt Gajewski to share both of our favorite bets for the Final Four and the 2021 NCAA Tournament Championship. This article will focus on the Final Four. Matt had some strong opinions on two sides for the Final Four while I mostly stuck to player props. Let's dive in...
2021 NCAA Tournament: Final Four Bets
Baylor (1) vs. Houston (2)
Baylor -5 (-110 at FanDuel)
Kicking off the Final Four, the No. 2 Houston Cougars face off against the No. 1 seed Baylor Bears on Saturday evening. Houston faced a favorable path to the Final Four with wins over four teams seeded 10th or lower in Cleveland State, Rutgers, Syracuse and Oregon State. Meanwhile, Baylor defeated far superior talent on their run to the Final Four, including wins over Hartford, Wisconsin, Villanova and Arkansas. Heading into this contest, Baylor remains a five-point favorite over Houston in a game with a 134.5-point total.
At first glance, handicapping this game presents an interesting challenge. Houston ranks fifth and third, respectively, in offensive and defensive efficiency this season. On the other side, Baylor ranks second on offense and 22nd on defense. However, Baylor faced far superior competition in the Big 12 and tournament to date. On top of Houston's winnable path to the Final Four, their toughest non-conference opponent was Texas Tech. Within the AAC, Houston also dropped games to Wichita State, Tulsa and East Carolina.
Baylor also presents a stylistic challenge for Houston. Baylor averages 71.4 possessions per game, preferring to play at an above-average pace. Meanwhile, Houston attempts to slow down their games by averaging 67.4 possessions. Baylor also possesses the top three-point shooting percentage in the country (41.4%). This includes Jared Butler, MaCio Teague, Davion Mitchell, Adam Flagler and Matthew Mayer, who all shoot at least 40% from beyond the arc.
Again, the biggest key heading into this matchup is the level of competition. Baylor forces the sixth-most turnovers, but Houston ranks 332nd in offensive turnovers. Houston ranks sixth in total rebounds per game, but they play in a soft rebounding conference and haven't faced a team in the top 170 in rebounding so far this tournament. Baylor already rolled the best competition in the country, while Houston required a last-second comeback over Rutgers and nearly blew their game against Oregon State. Laying the points with the Bears remains the safest move in betting markets.
Risk: 1.1 units on Baylor -5 on FanDuel to win 1 unit.
Davion Mitchell Over 4.5 assists (+100 at FanDuel)
This number came in a little on the light side and is only priced at even. Davion Mitchell is averaging 4.75 assists per game in the tournament, despite a blowout win over Hartford and only playing 29 minutes against Arkansas. Even if we look at the season as a whole, he's gone over this number 57% of the time and averaged 5.32 assists. Even in a tough matchup against Houston, expect Baylor to score plenty.
Risk: 1 unit on Davion Mitchell over 4.5 assists on FanDuel to win 1 unit.
Justin Gorham Over 7.5 Rebounds (+118 at FanDuel)
Justin Gorham has 10 rebounds in each of the past two games and has gone over this number more than half the time this season. Excluding the nine games he played 22-or-fewer minutes, his hit rate moves up to 16-of-21 games (76%). If we continue to shrink the sample, Gorham notched 7+ rebounds in 7-of-8 games when he played 34+ minutes. He also averaged 8.66 rebounds per game on the entire season. Assuming he avoids foul trouble, we can expect him to play at least 22 minutes, and potentially 34+ minutes.
Risk: 1 unit on Justin Gorgham over 7.5 rebounds on FanDuel to win 1.18 units.
---
March Madness Sportsbook Promos
BetMGM: Bet $1 on any team, win $100 if they hit a 3-pointer
PointsBet: Bet $20 on any team, win $150 if they score 16 points or if they hit a 3-pointer
FanDuel: Bet $5 on any team, win $150 if they win
William Hill: Get a $2,021 risk-free bet for March Madness
DraftKings: Bet $1, win $100 on any team to win
BetRivers: Get $250 in free bets on the tournament
Unibet: Get a $1,000 risk-free bet, plus $40 in free bets
---
Gonzaga (1) vs. UCLA (11)
Gonzaga -14 (-116 at FanDuel)
Similar to the Baylor situation, the second game of the Final Four presents two very different teams. UCLA opened the tournament as a play-in No. 11 seed, before running through Michigan State, BYU, Abilene Christian, Alabama and Michigan on their way to the Final Four. Meanwhile, Gonzaga opened as the NCAA Tournament's top overall team, defeating Norfolk State, Oklahoma, Creighton and USC for the privilege to face UCLA. Currently, Gonzaga sits as a 14-point favorite over UCLA in a game with a 145.5-point total.
Unlike Houston in the previous matchup, UCLA defeated some of the top competition in the country to find themselves among the Final Four. However, these victories didn't come without positive variance. Outside of their matchup against Abilene Christian, UCLA actually finished with a worse shooting percentage than all of their other opponents in the tournament. Specifically, Alabama and Michigan posted some of their worst shooting numbers of the season against UCLA. Alabama shoots 35.2% from three and 70.8% from the free throw line, but only hit 25% of their threes and 44% of their free throws against UCLA. That game still required overtime. Similarly, a Michigan team that typically shoots 48.2% from the field only hit 39.2% of their shots. That game still came down to the final possession.
On the other hand, Gonzaga continues to roll every opponent. Out of 30 games played, Gonzaga won 29 by double-digit points. The Bulldogs rank first in offensive efficiency and 10th in defensive efficiency. Meanwhile, UCLA's interior and three-point defense both rank outside the top 150. Gonzaga's team make-up also exploits all of UCLA's defensive weaknesses, with Drew Timme dominating the paint and Corey Kispert shooting 46% from three.
With variance already working in UCLA's favor, Gonzaga's consistency should overwhelm the Bruins here. While 14 points may seem like a lot to lay, Gonzaga has already defeated 25 opponents by at least 14 points this season.
Risk: 1.16 units on Gonzaga -14 on FanDuel to win 1 unit.
Joel Ayayi Over 6.5 Rebounds -(113 at DraftKings)
Joel Ayayi has averaged slightly over seven rebounds per game this season and 7.75 during the tournament. He's gone over seven rebounds in 3-of-4 tournament games and in five of the last six games overall. The Zags also have a significant advantage in terms of defensive rebounding, ranking 18th, while UCLA is 87th in offensive rebounding.
Risk: 1.13 units on Joel Ayayi over 6.5 rebounds on DraftKings to win 1 unit.
For the most up-to-date picks subscribe to our Discord. This sheet from Dan Rivera tracks all our betting picks (and those from the rest of the betting staff) on the year. Just click on the tab with our names for the results.
*All lines accurate at the time of publication.
---
This article is intended for entertainment purposes and adult users only. Call 1-800-GAMBLER if you have a gambling problem.