IDP Waiver Wire Pickups For Week 6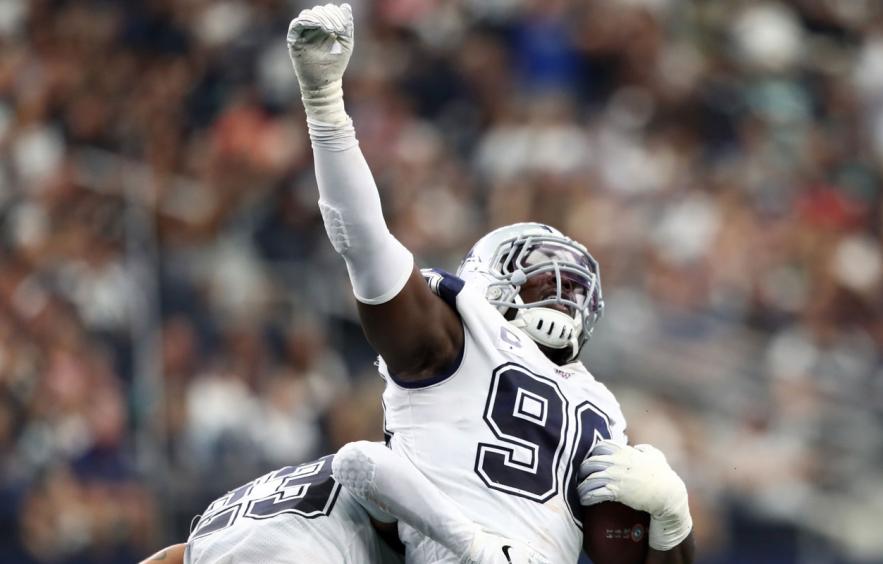 Ronald Martinez/Getty Images
Another bout of COVID hit the NFL this week - this time, it impacted Denver and New England, and their game was postponed.
We'll have some injury situations to monitor throughout the week - Myles Jack, Benardrick McKinney, and Micah Kiser to name a few. As always, be prepared to hit your wire when any news breaks regarding positive COVID tests. Reference my past IDP waiver wire articles here, as those names will still apply if they're available.
As we look ahead to Week 6, here are the IDPs I'm suggesting to target on your waiver wire this week. The theme of the week for linebackers will be one-hit wonders.
Linebacker
Foyesade Oluokun, LB, Atlanta
Falcons
I think the theme of the week for linebackers on your waiver wire will be one-hit wonders. Oluokun is more Black Crowes than Chumbawumba - but without the bickering brothers threatening a break-up. Oluokun, I believe, will have your Soul Singin' as opposed to being a Thorn In Your Pride. Since returning the rotation in Week 4, Oluokun has been on the field for 97% of the snaps and produced a season-high 14 tackles in Week 5 - resulting in an elite 22.2% tackle rate. As long as he remains healthy, it appears a breakout season is upon us, as he's producing an 18.1% tackle rate, which has led to 34 tackles and a 3:1 solo-to-assist ratio.
Dakota Allen, LB, Jacksonville
Jaguars
Now, barring the health of Myles Jack, Allen could go either way. If Jack returns this week, Allen might as well be Dexys Midnight Runners, and Week 5 was his "Come On Eileen". If Jack misses this week, Allen will be like Young MC and get his second hit of the year. Yes, Young MC had another song after "Busta Move". Allen was more than capable of filling in from an IDP standpoint, but the Jaguars' defense missed Jack's presence, allowing big plays underneath. However, Allen, stepped up when he could. One play that stood out was a screen to Brandin Cooks where he shed a block and got the tackle for a loss. He also had a few nice shoestring tackles on David Johnson which tripped him up. In all, Allen finished with seven tackles and a 12.1% tackle rate. You'll want to monitor Jack's health all week, however, if you miss on Allen, I wouldn't "drink a whiskey drink" over missing out.
Bobby Okereke, LB, Indianapolis
Colts
Bobby Okereke has been more The Grateful Dead. He's had a steady following and longevity which has increased thanks to loyal tapers and music traders. Okereke has quietly supplanted Anthony Walker and has appeared in at least 80% of the snaps over the last few weeks before Darius Leonard's injury. We got to see Okereke's abilities on display in Week 5 against Cleveland. Okereke looked like a corner and was in about as good a position to have two INTs - Jarvis Landry and Austin Hooper just made better plays. Okereke did manage to get an INT off Baker and finished with 10 tackles and a 13.7% tackle rate. In the 2020 season, Okereke has a 10.7% tackle rate and looks to be an LB3/4.
Tyrell Adams, LB, Houston
Texans
Benardrick McKinney missed Week 5 due to a shoulder injury. I thought there would be more of a rotation alongside Zach Cunningham, but it was Adams who dominated the snaps. He ended up appearing in 89% of the snaps, and when Cunnigham was off the field, wore the dot. He was around the ball and did his best to limit yardage after the catch in coverage. He and Eric Murray had a solid tackle on Laviska Shenault to prevent a potential score. Adams finished with 13 tackles, resulting in a 19.4% tackle rate and a fumble recovery. Adams can play. We'll have to check in on McKinney's status throughout the week, however, word out of Houston is that McKinney's shoulder injury is worse than expected, so Adams may not be the "Spirit In The Sky".
I will say this, Adams might be a better dynasty pickup. McKinney has a big contract and Houston may not want to pay both him and Zach Cunningham. Merely speculation, but something to consider.
Update 10/14/2020: McKinney was placed on IR. Adams is a great pickup, as it appears McKinney is out for the rest of the season.
Defensive Line
Demarcus Lawrence, DE, Dallas
Cowboys
It appears Lawrence is getting his footing under him. After generating just two pressures in his first two weeks, he's generating a 21.4% QB pressure rate over his last three games, resulting in 15 pressures. Lawrence used his quickness off the snap to get past Andrew Thomas for the sack on Daniel Jones, which led to a fumble returned for a TD. He bullied Andrew Thomas all game and almost had a multi-sack game. After seeing around 41% of the snaps over the last three weeks, Lawrence had a 69% snap rate in Week 5. If someone dropped him, now's the time to get him, especially since Everson Griffen seems to be struggling. It was great to see him active, using his hands, and getting to the QB.
Haason Reddick, EDGE/LB, Arizona
Cardinals
Chandler Jones is out for the year, so who's going to step up in his absence? Reddick's value will come in leagues where he has EDGE or DL designation. Reddick has been deployed on the edge for 81% of his snaps and he plays a role similar to Kyle Van Noy in Miami. He's been deployed on 75 pass-rush snaps and is generating a 14.7% pressure rate - where he's converted two for sacks. I still don't think Arizona knows what to do with Isaiah Simmons and just may not like what they see in his limited snaps. Reddick should see an uptick in snaps and used in different packages with Jones out for the foreseeable future.
Carl Lawson, DE, Cincinnati
Bengals
Lawson is averaging 41 snaps per game this season, and over the last two games, he's been utilized on over 60% of the defensive snaps, taking over Carlos Dunlap's starting role. Lawson received the most snaps among the Bengals' ends (40), however, Carlos Dunlap still got on the field for 28 snaps, so I don't think he's going anywhere either. Lawson is definitely the more productive rusher at this point. Since being held in check by Cleveland, he's recorded 2.5 sacks and generated a 12.6% pressure rate. Even though he didn't produce a sack in Week 5, he produced a 20% pressure rate against a very good Baltimore offensive line.
Ifeadi Odenigbo, DE, Minnesota
Vikings
Odenigbo is another rusher who's productive, but it's just not showing up in the boxscore - yet. Yannick Nagakoue is starting to get comfortable in the defense and is starting to draw attention. Odenigbo recorded his first sack of the season, but his play has stood out, even though it hasn't translated to the stat-sheet. He's been deployed on 153 pass rash snaps - which is half-way to 2019's total - and is generating an 11.1% pressure rate. Among his 17 pressures, there have been five QB hits. On a few occasions, he's been just a step from recording sacks. He's got a mean bull rush and can bully opposing offensive linemen. With Danielle Hunter's season in question, Odenigbo is needed on the field.
Defensive Back
Chuck Clark, S, Baltimore
Ravens
Clark has been a serviceable DB this season and has been on the field for 100% of the snaps as Baltimore's play-caller. He's been active around the ball and at the line of scrimmage. He almost had a sack which led to an INT by Marcus Peters - though A.J. Green didn't do him any favors. He's on pace for more pass rush snaps than in 2019 and is generating an 18.4% pressure rate - resulting in two sacks. 71% of his snaps are up on the line, which puts him in prime position to make tackles alongside Patrick Queen. Coming off a nine tackle effort in Week 5, Clark is recording a 10.7% tackle rate and is on pace for 110 tackles.
Carlton Davis, CB, Tampa Bay
Buccaneers
Teams continue to throw at Davis, and he continues to make plays. Davis has been thrown at 27 times - including 11 targets in Week 5. He's recorded 21 tackles and is making a play on the ball 33% of the time he's thrown at - resulting in three picks and six defended passes. If he's going to draw elite receivers, he'll be in play as a weekly starter. In DB general leagues, he's a DB3 and has graduated from streamer in CB-required leagues.
Brian Poole, CB, New York
Jets
I wrote up Pierre Desir last week, and I'm targeting another Jets' CB this week. Poole is another target magnet in New York's secondary - 27 through five games. Although he's not making big plays, he's recording tackles - one tackle per target - resulting in 27 tackles and 26 solos. Poole is making a play on the ball 18% of the time, leading to an INT and four defended passes. If I'm in a CB-required league that's a tackle-heavy format, I would target him this week.
Marlon Humphrey, CB, Baltimore
Ravens
Humphrey has been Baltimore's primary slot receiver, however, they're finding creative ways to use him. Humphrey has spent 23% of his defensive snaps used wide and in the box, which has led to 1.5 sacks and 28 tackles, resulting in an 8.2% tackle rate. Humphrey's also seeing high target volume this season. He's been targeted 39 times already. Although he's making a play on the ball just 13% of the time, he's still filling up the stat-sheet with tackles. Through five games, he's producing 0.21 points per snap and is the DB3 in overall scoring.