TJ's #Taek: Week 1 NFL DFS Recap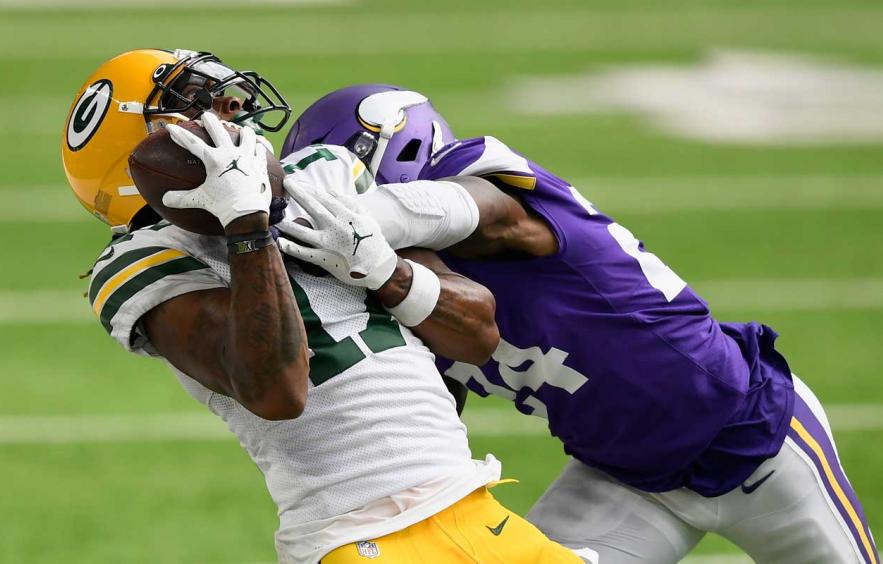 Hannah Foslien/Getty Images
Week 1's winning lineups from the biggest contests on FanDuel and DraftKings can be used to tease out lineup-building strategies and offer clues on how you could have landed on a similar team. Reviewing your hits and misses each week is imperative if you want to be a profitable DFS player but examining winning lineups is also a useful exercise in cultivating a winning approach.
DraftKings Week 1 Millionaire Winning Lineup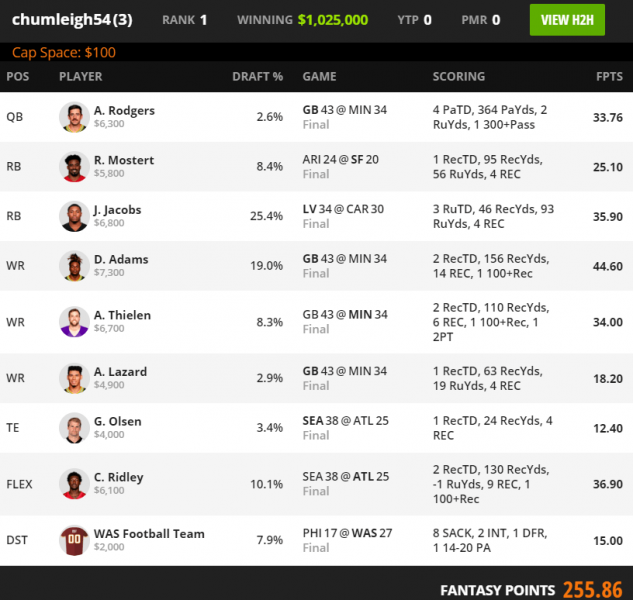 The first week of football is always full of surprises but there were extra blind spots this week with the abbreviated offseason and no preseason games. DFS players who leaned into that uncertainty stood to profit, and that was apparent in the wining Millionaire lineup. Chumleigh54 constructed a lineup with an average ownership of just 9.8%, rostering six players who were in fewer than 10% of lineups.
Last season, just three Millionaire winners constructed a team with average ownership below 10%—of the four winning lineups with the lowest average ownership, three came in the first month of the season. It takes a few weeks for the public to catch up to the reality of each season and that should be amplified in 2020. Until there are four-to-five weeks of data points, GPP players should favor more contrarian builds for the next few weeks.
What Were the Indicators for the Low-Owned Plays?
The Packers-Vikings contest was expected to be a low-scoring game but the glaring indicator to target these passing attacks was Davante Adams. He was the top wide receiver value on 4for4 going into the week against a Minnesota secondary that opened the season ranked 29th in schedule-adjusted fantasy points allowed to the position. Adams proved to be a popular play, as expected, but a natural decision to offset his popularity was to pair him with his quarterback, who was projected for sub-5% ownership.
From a tournament strategy perspective, we know that pairing a quarterback with a single receiver usually isn't enough to take down a large-field GPP. Going into the season, Allen Lazard was the favorite to be the number two target behind Adams, and Pat James pointed out that Adam Thielen was a great tournament play—running it back with Thielen in a Packers stack was the optimal play.
Raheem Mostert was criminally under-owned in this spot. Game flow didn't go as planned but San Francisco was favored by a touchdown against a bad Arizona defense. With few value plays at running back besides Boston Scott and Antonio Gibson—fading both was huge in tournaments—Mostert should have been a popular play. Most lineups in Week 1 paid up at running back and down at receiver, making the combo of Adams and Mostert with a receiver in the flex—instead of a third running back—a sure way to construct a unique roster.
The Seahawks-Falcons game was one of the most popular of the week and with two relatively concentrated offenses, it was tough to find a way to be unique with either roster. Greg Olsen was one of the few players who didn't draw heavy consideration from the public so pairing him with Calvin Ridley as a secondary correlation play was a savvy move.
FanDuel Week 1 Sunday Million Winning Lineup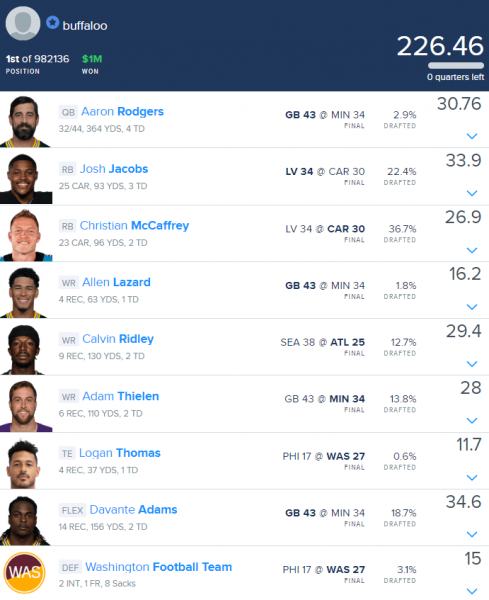 There isn't much to say about this fantastic lineup constructed by buffaloo that wasn't said in the DraftKings portion. The major difference between the two lineups was at tight end—on FanDuel, Logan Thomas was on the winning roster. Like on DraftKings, though, paying down for a contrarian tight end was sure to lead to a unique lineup in a week where paying up at the position was extremely popular. Tight ends typically need neutral or positive game script to be successful, so pairing Thomas with his defense was a sharp play as a secondary correlation after the quarterback stack.
Speaking of the Washington defense, it was one that gained steam going into Sunday and ended up relatively popular on DraftKings. Washington wasn't quite as affordable on FanDuel, which explains the discrepancy between ownership percentages.
Note that buffaloo opted for a wide receiver in his flex spot, a strategy that won just five Sunday Millions in 2019.
TJ's Final #Taek
One of my major takeaways from the offseason was how successful tournament players were approaching stacking and correlation—they were loading up as much as possible. Targeting a quarterback with a pass-catcher or two is an elementary concept in DFS at this point. Last season, only three Millionaire winners and one Sunday Million winner used a single two-player stack with no other correlation plays in their lineups. That heavy stacking strategy showed up among Week 1 winners.
Stacks in Winning Lineups in Major Week 1 GPPs

| Contest | Primary Stack | Secondary Stack | Third Stack |
| --- | --- | --- | --- |
| DraftKings Millionaire | QB/WR/WR/Opp. WR | WR/Opp. TE | |
| FanDuel Sunday Million | QB/WR/WR/Opp. WR | RB/Opp. RB | TE/DEF |
| Yahoo Baller | QB/WR/Opp. WR | RB/Opp. WR | |
The "run it back" strategy is one that all tournament players should at least consider and finding another game to build correlation with is encouraged. The latter point is especially prevalent on FanDuel. While DraftKings' full-PPR scoring and yardage bonuses allow high-volume players to climb fantasy leaderboards, FanDuel's scoring favors positive game flow from top to bottom. Week 1's Sunday Million winner had just one player that wasn't correlated to another player on the roster in some way.