Why You Should Fire Up Blake Jarwin in 2020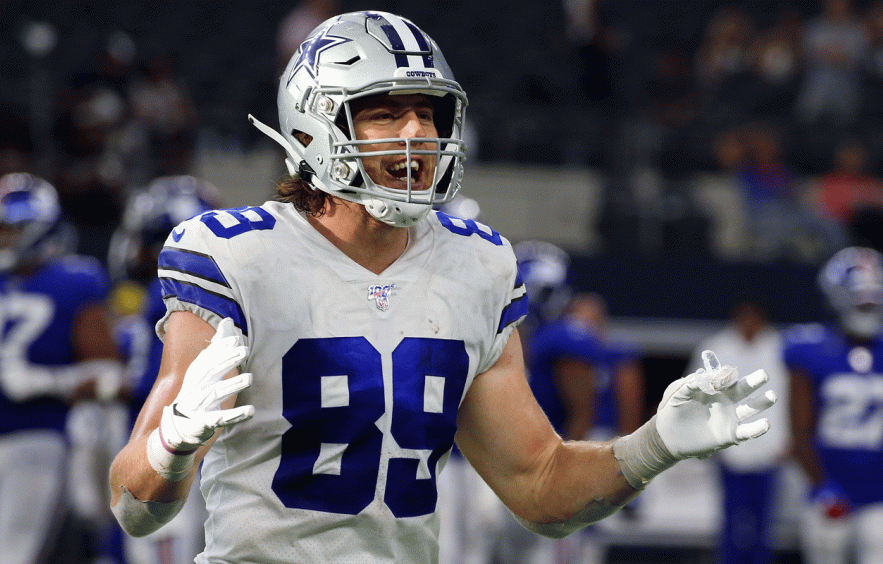 Richard Rodriguez/Getty Images
It may not have been the splashiest of free agency moves, but the Dallas Cowboys signed Blake Jarwin to a three-year extension that can be as much as $25 million with $9.25 million guaranteed.
What does mean for the Jarwin's fantasy value for the (hopefully) upcoming 2020 season?
How Free Agency Departures Impact the
Cowboys
Inking such a deal with Jarwin meant that Dallas was moving on at the tight end position, and that Jason Witten was free to find a new home for 2020. Witten was the resident tight end for the Cowboys for 16 of the past 17 seasons, and in that time frame racked up 12,977 receiving yards and 72 touchdowns. He was TE12 or better in half-PPR scoring in five of the last six seasons and was also among the top 12 tight ends in total targets each season in that same time frame.
While Witten was doing a pretty awful job in the broadcast booth in 2018, Jarwin caught 27 passes for 307 yards and three touchdowns, all of which came in the Cowboys regular season-ender against the Giants.
Last season, with the 37-year old Witten back on the field, Jarwin still played in all 16 games and started seven, mostly when Dallas opened with two-tight end sets. He posted 365 yards and three scores on 31 receptions.
We can't leave Randall Cobb out of this equation either, as his exit also affects Jarwin's potential in 2020. Cobb signed a three-year deal with the Texans in an attempt to replace DeAndre Hopkins—good luck with that Houston, but I digress. Cobb was tied for third among the Dallas offense in targets with Witten last season after both Amari Cooper and Michael Gallup.
Between Witten and Cobb, that's a whopping 166 targets from the Cowboys 2019 team up for grabs.
How Mike McCarthy Impacts
Blake Jarwin
Mike McCarthy was brought in to better this Dallas offense now and will have to do so with mostly who he already has on the roster, as there is no time for a full-on rebuild. When at their peak, McCarthy offenses had a tight end featured prominently.
In 2011, his best offensive season with the Packers, the team went 15-1 and tight end Jermichael Finley saw 92 targets which he turned into 767 yards and eight touchdowns. Finley's career with Green Bay (2008-2013) was during some of the best offensive performances from the Packers in the modern era and they've struggled to find another solid player at the position since.
Finley typically lined up away from the line, more in the slot, similar to how Jarwin has been used. The Dallas tight end isn't the greatest run blocker, but he can break tackles, get downfield and make big plays. McCarthy loves a playmaker and he may very well have found his next one in Jarwin.
What to Expect from
Blake Jarwin

in 2020

With the starting role clearly his next season, Jarwin should certainly see an increased workload from anything we've seen in his career thus far. Over the past two years, he's caught 58 of 77 targets for 672 yards and six scores.

Since both Witten and Cobb will be wearing different uniforms, we can expect Jarwin to absorb a fair amount of the 166 vacated targets—estimating that somewhere in the neighborhood of 80 targets for 600+ yards and six touchdowns is a realistic expectation for his output in 2020. That would put him within the top 12 tight ends for fantasy purposes.

ADP has Jarwin coming off boards as TE20 somewhere in the 15th round, which has slowly risen throughout the summer. John Paulsen has the 25-year old as TE14 in his rankings and he could be a screaming deal for those who want to wait at the tight end position and still snag a starter.