Projected Three-Down Linebackers For IDP Leagues In 2020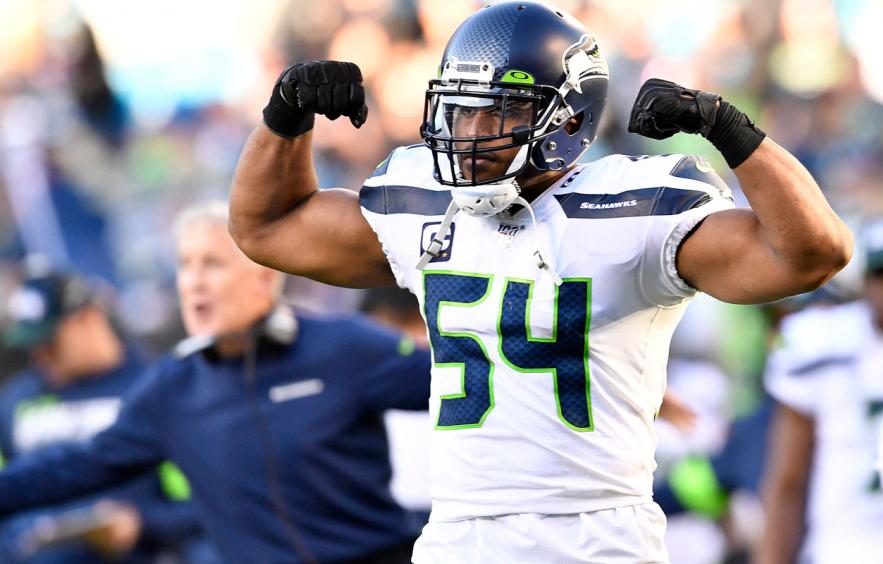 Grant Halverson/Getty Images
We're heading into the meat of fantasy draft season. Training camps, although they won't look like anything we've seen, are set to open, but there won't be any preseason games, which will make it tricky to know who really has a leg up on position battles. Thanks to COVID, no preseason games or detailed reporting during training camps.
Create or join a 2020 Yahoo Fantasy Football League for free today
This will be updated throughout the rest of the preseason as information is presented, but this is my look at the projected three-down linebackers for the 2020 season.
Projected Three-Down Linebackers, 2020

| Player | Team | 2019 Snaps | 2019 Team Snaps | 2019 Snap Rate | 2020 Playcaller |
| --- | --- | --- | --- | --- | --- |
| De'Vondre Campbell | ARI | 924 | 1,041 | 88.76% | |
| Jordan Hicks | ARI | 1,133 | 1,133 | 100.00% | x |
| Isaiah Simmons | ARI | - | - | 0.00% | |
| Chandler Jones | ARI | 1,069 | 1,133 | 94.35% | |
| Deion Jones | ATL | 949 | 1,041 | 91.16% | x |
| Foyesade Olukuon | ATL | 311 | 1,041 | 29.88% | |
| Patrick Queen | BAL | - | 981 | 0.00% | |
| LJ Fort | BAL | 254 | 981 | 25.89% | |
| Tremaine Edmunds | BUF | 981 | 1,036 | 94.69% | x |
| Matt Milano | BUF | 894 | 1,036 | 86.29% | |
| Tahir Whitehead | CAR | 941 | 1,046 | 90.00% | |
| Shaq Thompson | CAR | 962 | 1,104 | 87.14% | x |
| Roquan Smith | CHI | 719 | 1,073 | 67.01% | |
| Danny Trevathan | CHI | 559 | 1,073 | 52.10% | x |
| Germaine Pratt | CIN | 436 | 1,071 | 40.71% | |
| Josh Bynes | CIN | 393 | 981 | 40.01% | x |
| BJ Goodson | CLE | | | | x |
| Sione Takitaki | CLE | 105 | 1,070 | 9.81% | x |
| Leighton Vander Esch | DAL | 510 | 1,063 | 48.00% | |
| Jaylon Smith | DAL | 991 | 1,074 | 92.30% | x |
| Todd Davis | DEN | 900 | 1,059 | 84.99% | x |
| AJ Johnson | DEN | 731 | 1,059 | 69.03% | |
| Jahlani Tavai | DET | 597 | 1,143 | 52.23% | x |
| Jamie Collins | DET | 813 | 1,008 | 80.65% | |
| Christian Kirksey | GB | 112 | 1,070 | 10.47% | x |
| Za'Darius Smith | GB | 872 | 1,070 | 81.49% | |
| Zach Cunningham | HOU | 942 | 1,077 | 87.47% | |
| Benardrick McKinney | HOU | 846 | 1,077 | 78.55% | x |
| Darius Leonard | IND | 828 | 1,034 | 80.08% | x |
| Myles Jack | JAX | 613 | 1,051 | 58.33% | |
| Joe Schobert | JAX | 1,059 | 1,070 | 98.97% | x |
| Willie Gay | KC | - | - | 0.00% | |
| Drue Tranquill | LAC | 380 | 972 | 39.09% | x |
| Micah Kiser | LAR | - | 972 | 0.00% | |
| Cory Littleton | LAV | 1,039 | 1,108 | 93.77% | |
| Nick Kwiatkoski | LAV | 512 | 1,035 | 49.49% | x |
| Jerome Baker | MIA | 1,079 | 1,118 | 96.51% | x |
| Eric Kendricks | MIN | 947 | 1,093 | 86.64% | |
| Anthony Barr | MIN | 929 | 1,093 | 85.00% | x |
| Ja'Whaun Bentley | NEP | 275 | 1,008 | 27.28% | x |
| Demario Davis | NO | 984 | 1,061 | 92.74% | x |
| Nigel Bradham | NO | 717 | 1,020 | 70.29% | |
| Blake Martinez | NYG | 1,024 | 1,040 | 98.46% | x |
| Avery Williamson | NYJ | - | 1,106 | 0.00% | x |
| Blake Cashman | NYJ | 427 | 1,106 | 38.61% | |
| Nate Gerry | PHI | 620 | 1,020 | 60.78% | x |
| Devin Bush | PIT | 889 | 1,084 | 82.01% | x |
| T.J. Watt | PIT | 935 | 1,084 | 86.25% | |
| Vince Williams | PIT | 396 | 1,084 | 36.53% | |
| Bobby Wagner | SEA | 1,054 | 1,072 | 98.32% | x |
| Jordyn Brooks | SEA | - | - | - | |
| Fred Warner | SF | 985 | 1,029 | 95.72% | x |
| Kwon Alexander | SF | 357 | 1,029 | 34.69% | |
| Lavonte David | TB | 1,124 | 1,130 | 99.47% | x |
| Devin White | TB | 826 | 1,130 | 73.10% | |
| Jayon Brown | TEN | 830 | 1,109 | 74.84% | x |
| Rashaan Evans | TEN | 951 | 1,109 | 85.75% | |
| Thomas Davis | WAS | 805 | 972 | 82.82% | |
Atlanta
Falcons
Deion Jones is set as the play-caller for the defense. Jones appeared in all 16 games and hit the 110 tackle mark - resulting in an 11.5% tackle rate - which is a dip from his 2017. He added a few defended passes and pitched in eight tackles for loss. Who's going to play alongside Jones now that De'Vondre Campbell is gone? I wrote up Foyesade Olukuon last season as a potential break-out, but didn't see Campbell having an impact. I do believe Olukuon should have the first crack, but is only worth adding in the later rounds in deeper formats. Jones is an LB1.
Green Dot: Deion Jones
Arizona
Cardinals
The Cardinals added the aforementioned Campbell from the Falcons as an additional playmaker alongside Jordan Hicks. In the 2020 NFL draft, Isaiah Simmons fell to their nest and they scooped him up with the quickness. With these moves, I do think Hicks is going to regress slightly. Hicks blew his career-high of 91 tackles out of the water in 2020 with 150 - including 93 solos and 11 TFLs. Hicks produced a 13.2% tackle rate and I still view him as an LB1. Campbell should dip into some of Jordan's tackle opportunities and is an LB3 after recording 129 tackles. Arizona plans on using Simmons as an ILB and should see significant snaps. Chandler Jones is their rush 'backer and plays in over 90% of the snaps. If you're in a league that rewards a bit more for sacks and big plays, Jones is in play as an LB2.
Green Dot: Jordan Hicks
Baltimore
Ravens
The Ravens are going young at linebacker this season. Gone is Patrick Onwuasor and in town, Patrick Queen and Malik Harrison. They also have LJ Fort and Chris Board, but Jim Harbaugh has already tabbed Queen as their every-down linebacker and Harrison is going to see significant playing time. Rookies are going to have an even more difficult learning curve this season, but Queen is a candidate to an LB2 this season.
Green Dot: Reading some of the tea leaves, I think LJ Fort might be the three-down guy - or at least get the majority of snaps alongside Patrick Queen. I think Chuck Clark calls the plays, much like he did last season.
Buffalo
Bills
The Bills have a solid duo at linebacker for IDP leagues. Tremaine Edmunds has consecutive seasons of 115+ tackles, although he saw a slight dip from his rookie year. He still recorded an 11.% tackle rate, while defending nine passes and recording 10 TFLs. I expect his production to return to his rookie year levels. Milano is an LB3/4 after recording 101 tackles last season. His 86% snap rate puts him on the IDP radar this season.
Green Dot: Tremaine Edmunds
Carolina
Panthers
Shaq Thompson finally enjoyed his IDP breakout season in 2019. He ended up in 87% of the snaps and notched his first 100 tackle season thanks to an 11.3% tackle rate. With Luke Kuechly's retirement, he's solidified as their top linebacker. Before the draft, Carolina signed former Lions/Raiders linebacker, Tahir Whitehead. Whitehead's IDP value remained intact after they passed on Isaiah Simmons in the first round. Whitehead carries value as an LB3 as he's produced four straight seasons 100 or more tackles. This might be one of his last IDP-relevant seasons in redraft leagues.
Green Dot: Shaq Thompson
Chicago
Bears
Roquan Smith is going to get all the attention from IDP drafters and with good reason. He's a really good player. Smith battled some injuries and appeared in 12 games and 719 defensive snaps. He still managed to hit the 100- tackle mark and produced an elite 14% tackle rate. He's going to be drafted among the top-12 linebackers. However, Danny Trevathan is going overlooked. Injury caused him to miss seven games. Over nine contests, he recorded a 12.5% tackle rate, which is encouraging for his 2020 prospects. Nick Kwiatkoski is in Vegas, so Trevathan is a solid LB3.
Green Dot: It wouldn't surprise me if Roquan called the plays, but I think the Bears stick with consistency and keep Trevathan as the playcaller.
Cincinnati
Bengals
Germaine Pratt appears to have solidified a three-down role with the departures of guys like Preston Brown and Nick Vigil. From an IDP-standpoint, he produced. He picked up more snaps down the last few weeks of the season, and over 436 defensive snaps produced a 17.4% tackle rate - resulting in 76 tackles. With more usage, I anticipate his rate will come down, but the volume will create opportunity for him. You can find out why I'm on high on him here. As far as the other three-down guy, this is where the COVID really hurts. No preseason or detailed training camps will have us guessing until the season begins. As of now, I think Logan Wilson's coverage abilities will help keep him on the field over Josh Bynes, who is more of a run stuffer. I'd target Wilson toward the end of redrafts.
Update 08/31/2020: Josh Bynes has been talked up over camp and appears to be in line to wear the dot this season. I stil like Logan Wilson long-term, but 2020 could see Pratt and Bynes as the three-down guys. Last season, Shawn Williams wore the dot, so it's possible that continuity continues.
Green Dot: I think Josh Bynes ends up calling the plays in Week 1. We'll see how long that lasts.
Cleveland
Browns
I think Mack Wilson is set as their main LB. He filled in when Christian Kirksey was lost for the year, and while he was inefficient fantasy-wise, he was on the field for nearly 90% of the snaps - as Kirksey appeared in just two games. Again, thanks to COVID snapping away preseason, we'll be guessing at the linebacker opposite Wilson. I do think it ends up being Sione Takitaki - although this current Browns regime isn't married to him (or Wilson for that matter). This group brought in BJ Goodson for some veteran leadership, but he's proven to be just a two-down specialist against the run. The Browns will be running 4-2-5/4-1-6 packages - so I'm targeting Takitaki as an LB3.
Update 08/29/2020: Mack Wilson will be missing significant time. Sione Takitaki has taken over his role and appears to have a three-down role nailed down. Jacob Phillips and BJ Goodson should also see the field, but in two LB sets, I see it as Takitaki and Phillips.
Green Dot: BJ Goodson was spotted wearing it in a scimmage.
Dallas
Cowboys
This one is simple - Jaylon Smith and Leighton Vander Esch. Jaylon took advantage of LVE's absences and has removed his injury concerns over his knee - over 1,900 snaps in his last two seasons. LVE appears to be tabbed as the new MIKE, with Smith shifting outside. We'll see if playcalling duties shift helmets. Smith produced an elite 14.1% tackle rate and added nine defended passes. A neck injury caused LVE to miss seven games. If you extrapolate his stats over a 16-game season, LVE was likely on his way to 130 tackles - producing a 14.1% tackle rate over 510 defensive snaps. This one of the few LB duos you can pair together on your squad and start weekly.
Green Dot: Jaylon Smith
Denver
Broncos
Todd Davis has the most boring name, but produces at an elite level. He's a target in tackle-heavy formats, as he's more one-dimensional since he doesn't provide too many big plays. Even missing two games, Davis recorded 0.24 points per snap and 134 tackles. AJ Johnson appears set to take on a three-down role opposite Davis. Johnson didn't appear in the first three games, but once he got on the field, he never looked back. There was only one game where Johnson didn't appear in at least 80% of the snaps. Johnson is on the verge of a 100-tackle breakout season in 2020 - so target him as a high upside LB3.
Update 08/29/2020: Even though Todd Davis suffered a calf injury, I'm keeping him in the chart - he won't be missing the season. Davis could miss a game or two, so it appears AJ Johnson and Josey Jewell will be Denver's three-down LBs.
Green Dot: We'll see how long Todd Davis's injury keeps him out for - he should call the plays for the majority of the season. If Davis misses, I think it's AJ Johnson.
Detroit
Lions
I'm not a fan of this group as a whole, outside of Jahlani Tavai. Jarrad Davis wasn't offered an extension, in fact, his fifth-year tender wasn't exercised, so I think that tells you where the Lions stand on him. Tavai played better overall and appears set to be the play-caller for the defense. He's the only LB I'm targeting from this group.
Green Dot: This one is tough to project.
Green Bay
Packers
It's not safe by any means, but target Christian Kirksey and move on. The only other name to keep on your radar will be Oren Burks. Kirksey signed a modest two-year contract over the offseason and will replace Blake Martinez as the feature linebacker - The Pack will continue to run 1-2 linebacker sets. I like that he's reunited with Mike Pettine, who I think will put him in position to produce and be successful. Kirksey has 115-tackle upside in this defense and is a value in drafts right now because of his injury history.
Update 08/11/2020: I want to put some respect on Za'Darius Smith's name. Smith played in over 80% of the snaps and generated over 100 total QB pressures - converting 13.5 into sacks and producing a 17.7% QB pressure rate. He was a menace around the line of scrimmage with 17 TFLs, as well. Even in tackle-heavy scoring, he finished as LB50. If your scoring bumps up QB hits and tackles for loss, he gets a bigger boost.
Green Dot: Christian Kirksey
Houston
Texans
Zach Cunningham was a tackle machine in college and finally showed his prowess in 2019, recording 142 and a 15.1% tackle rate. He's locked in as an LB1 and should be one of the top-12 LBs taken in redraft leagues. Benardrick McKinney is a serviceable LB3/4 and will produce 100 tackles for your squad. He's a target in balanced or tackle-heavy formats and he's produced an 11.7% tackle rate over 1,765 snaps the last two seasons.
Green Dot: This could change, but I sitll think It's McKinney.
Indianapolis
Colts
Darius Leonard. Not sure I need to go into more detail. He's elite. Draft him as an LB1. The LB aligning opposite Leonard? It should be Anthony Walker, but the staff really likes Bobby Okereke. It would not shock me to see Walker out there as their three-down guy, but Okereke takes over at some point. It's going to be a position battle to watch, as both are solid in coverage but Okereke is just so fast.
Green Dot: Darius Leonard
Jacksonville
Jaguars
The Jags added Joe Schobert during the offseason to be their new defensive captain. As of now, Jacksonville's defense should continue to run from a base 43 with Schobert lining up the middle. Schobert is an elite LB and has a track record of production over his last three seasons, producing a 12.6% tackle rate over his three seasons and has been on the field for over 3,000 snaps in that span. Myles Jack will anchor Schobert on the outside, which will allow him to run downhill and make plays. I don't have much interest in Jack this season until he shows he can more efficient. Over his last three seasons, he's barely producing a 10% tackle rate.
Green Dot: Joe Schobert
Kansas City
Chiefs
This is one of the few ugly LB situations in IDP. Three linebackers appeared in more than 60% of the snaps - Anthony Hitchens Dorian O'Daniel and Damien Wilson. KC also added Willie Gay in second-round of the draft, which tells me they have plans for him right away. Gay is the only one I'm targeting at the tail-end of the draft.
Green Dot: Something tells me Ben Niemann gets the dot.
Las Vegas
Raiders
This is a duo where I don't mind having both guys on my roster. The Raiders addressed their linebacker woes by signing both Nick Kwiatkoski and Cory Littleton. At this point, I can see Kwaitkoski calling the plays. Over the last two seasons, Littleton has recorded 168 solo tackles, 15 TFLs, 22 defended passes and 7.5 sacks - so he produces stats in multiple areas. Over that span, he's producing a 12.9% tackle rate. Kwiatkoski gets his shot as a full-time role after being a primary back up in Chicago. He's proven he can produce and can handle the usage. Littleton is a top-12 talent and Kwaitkoski is shaping up as a high upside LB2.
Green Dot: Nick Kwiatkoski
Los Angeles
Chargers
The Chargers have had some unpredictable linebacker rotations in the past. Thomas Davis was the only constant - appearing in 83% of the snaps in 2019. He left for Carolina, so he opens up 805 snaps and over 130 tackle attempts. Quite a few Chargers' media feels Drue Tranquil is set for a breakout season and draft capital could thrust Kenneth Murray into a three-down role. Denzel Perryman is Lou Filerman in Seinfeld - he just sidles in at the last minute to ruin things. At this point, I'm comfortable targeting Murray and Tranquill as three-down guys.
Update 08/29/2020: Drue Tranquill has a three-down role nailed down. Kenneth Murray appears to have overtaken Denzel Perryman.
Green Dot: I think with Derwin out, Tranquill gets the dot.
Los Angeles
Rams
The Rams let Cory Littleton go to Vegas and didn't do much to address the position. It's a five-man competition between Micah Kiser, Kenny Young, Leonard Floyd, Troy Reeder and Travin Howard.
Update 08/29/2020: Micah Kiser and Travin Howard are in line for three-down snaps and that's the way it's shaping up for Week 1. During a recent scrimmage, John Johnson was calling the plays and wearing the dot. Kiser will be a target in deep IDP leagues.
Update 09/01/2020: Travin Howard appears to be out for the year with a torn meniscus. Kenny Young appears to be next in line for snaps. I'm just targeting Kiser.
Green Dot: John Johnson
Miami
Dolphins
At this point in draft season, the only LB I'm targeting is Jerome Baker. I'm not buying the Elandon Roberts-speak that he could take over for Baker. Kyle Van Noy is expected to man an edge role, so he'll be a target in big-play scoring formats. I'm expecting a bit of a tackle-regression, but he should still be in the conversation as an LB2/3 as their primary signal-caller. Baker appeared in over 1,000 snaps and recorded an 11.7% tackle rate - resulting in 126 tackles.
Update 08/29/2020: Raekwon McMillan was traded to the Raiders. It doesn't impact Jerome Baker - he's still the LB to own here.
Green Dot: Jerome Baker
Minnesota
Vikings
Eric Kendricks has posted 100+ tackles in four consecutive seasons and has been a model of consistency - and disrespect. In 2019, Kendricks finished as the LB20 in most tackle-heavy formats - producing an 11.6% tackle rate and 0.22 points per snap. Anthony Barr is the play-caller and will continue to be Minnesota's three-down LB.
Green Dot: Anthony Barr
New England
Patriots
Dont'a Hightower has opted out of the 2020 season, while New England lost Elandon Roberts, Jamie Collins and Kyle Van Noy to free agency. This is another LB group I'm avoiding. If you're looking a flier, take a shot on Ja'Whaun Bentley in the late, late rounds. I mean, someone has to play LB, right?
Green Dot: Ja'Whaun Bentley
New Orleans
Saints
Demario Davis has recorded 105+ tackle in five of his last seven seasons Davis will also throw in some big plays - 14 sacks and 35 TFLs over the last three seasons. Over that span, he's produced a 12% tackle rate. Davis is a consistent LB2. Nigel Bradham was brought in recently on a one-year deal and could be the other three-down LB opposite Davis.
Green Dot: Demario Davis
New York
Giants
Blake Martinez should be the only LB you target. He hasn't had fewer than 140 tackles or 90 solos over the last three seasons and has chipped in eight sacks over the last two. He's an elite LB who's posted a 14.5% tackle rate on over 3,000 snaps - so quite the track record of production. He's an elite LB1.
Green Dot: Blake Martinez
New York
Jets
This situation got ugly quick with CJ Mosley opting out for the season. Avery Williamson and Blake Cashman are both coming off injuries - Williamson's was a bit more severe with a torn ACL before the season even started. Neville Hewitt served as their signal-caller, however, with Williamson coming back - even though he's on PUP - he should be one of the three-down LBs this season. The other spot should be a battle between Hewitt and Cashman - Jets' media believe it'll be Cashman. This will be a situation to monitor through training camp (if we get any reports).
Update 08/29/2020: Avery Williamson and Blake Cashman appear to be the starters and three-down guys.
Update 09/04/2020: Throughout the Jets injuries at LB last season, Neville Hewitt wore the dot. Hewitt and Blake Cashman having running with the ones.
Green Dot: Neville Hewitt
Philadelphia
Eagles
Nathan Gerry is entering his fourth year as the projected MIKE and three-down LB. Gerry received the highest workload of his short career - 620 snaps - and recorded a solid 12.6% tackle rate. Even though the Eagles brought in Jatavis Brown which is not anything of significance, and drafted Davion Taylor, I think TJ Edwards gets the job and should play the majority of the snaps opposite Gerry this season.
Green Dot: Nate Gerry
Pittsburgh
Steelers
Devin Bush was as advertised and ended up appearing in 82% of the snaps - resulting in 882 total. Mark Barron acted as their signal-caller, but with him out of town, I believe Bush is ready to assume those responsibilities. The other LB opposite Bush could be Vince Williams. Williams only appeared in 37% of the snaps last season, however, had a 75% and 71% usage in 2017 and 2018, respectively. I think he trends near the 80% usage range, as he's a solid pass rush specialist and isn't a liability in coverage. Williams is a nice depth add in the late rounds. Bush is a high upside LB1 in a potential breakout year.
Green Dot: Devin Bush
San Francisco
49ers
Fred Warner, in a short time period, has established himself as one of the top young LBs in the league. In addition to his 118 tackles, he was all around the ball, recording three sacks, nine defended passes and three forced fumbles. He's already recorded 115+ tackles in his first seasons and his stock is rising. As far as who'll get the job opposite? Kwon Alexander and Dre Greenlaw will battle for the WILL spot - but really, it's the other three-down job. Whoever is the SAM, will come off on subpackages, but whether it's Alexander of Greenlaw, they'll align all over the backfield. I think Alexander will win the job, but in this instance, if you're in a deeper league, it wouldn't hurt to handcuff Greenlaw to him.
Update 08/17/2020: According to Matt Maiocco, Kyle Shanahan doesn't think there's an open competition for the WILL spot and that Kwon Alexander has his job back. Alexander should return solid value as the 35th LB off the board - target him in the 15th round on.
Green Dot: We'll see if Fred Warner is taken off the COVID list before Week 1. Warner should have it this season.
Seattle
Seahawks
Bobby Wagner. Death. Taxes. Three things you can count on. With Luke Kuechly's retirement, Wagner takes the torch as my LB1 this season. This could be KJ Wright's last season as a three-down LB. He was dealing with a shoulder injury that resulted in some minor surgery, however, he could align on the strong-side of the defense, while Jordyn Brooks mans the weak-side. It may not matter if Wright has a three-down role. Wright carries some risk this season.
Update 8/16/2020: According to Rob Rang on Twitter, KJ Wright has been working with the defensive line group, leading to confirmation of the speculation that Wright was play up more on the line as an edge rusher - manning him at the SAM spot. If this turns out to be the case, he'll be off the radar as an IDP option, since the SAM linebacker is typically off the field in subpackages. Seattle ran mostly a base defense, but Wright won't have as many tackle opportunities with this alignment. As of now, it looks like Jordyn Brooks would be the three-down linebacker opposite Bobby Wanger manning the weak-side. Brooks is in the conversation for an LB4/5 in redraft leagues this season.
Green Dot: Bobby Wagner
Tampa Bay
Buccaneers
Much like Bobby Wanger, Lavonte David is entrenched. In redraft leagues, David is still an LB1 and has just one season of fewer than 100 tackles. Over the last three seasons, David has recorded a 12% tackle rate. He's one of the models of consistency in IDP. Some nagging injuries caused Devin White to miss three games, but still appeared in over 800 snaps. He came up short of 100 tackles (91) but still managed to record an 11% tackle rate. As long as he's healthy, he should hit the 110-tackle mark this season and is another potential second-year breakout candidate.
Green Dot: Lavonte David
Tennessee
Titans
Jayon Brown and Rashaan Evans are set to be Tennessee's three-down guys in 2020. Brown and Evans are both values, as they are being drafted as the 30th and 32nd LBs off the board. I really like Rashaan's upside this season. Evans produced an 11.7% tackle rate, while also throwing in 2.5 sacks and 9 TFLs. Both are shaping up to be fine LB2 options.
Green Dot: Jayon Brown
Washington
Football Team
Thomas Davis might be the three-down guy, just because of his relationship with Ron Rivera. As far as the other linebacker, Jon Bostic will probably get the first crack at it. Up until Davis signed, I thought it would've been Bostic and Cole Holcomb. Father time is still tailing Davis, but is bound to catch him at some point. Cole Holcomb has a chance to catch both during camp, he'll need to improve his pass coverage range.
Green Dot: Jon Bostic