K.J. Hamler is the Discount Henry Ruggs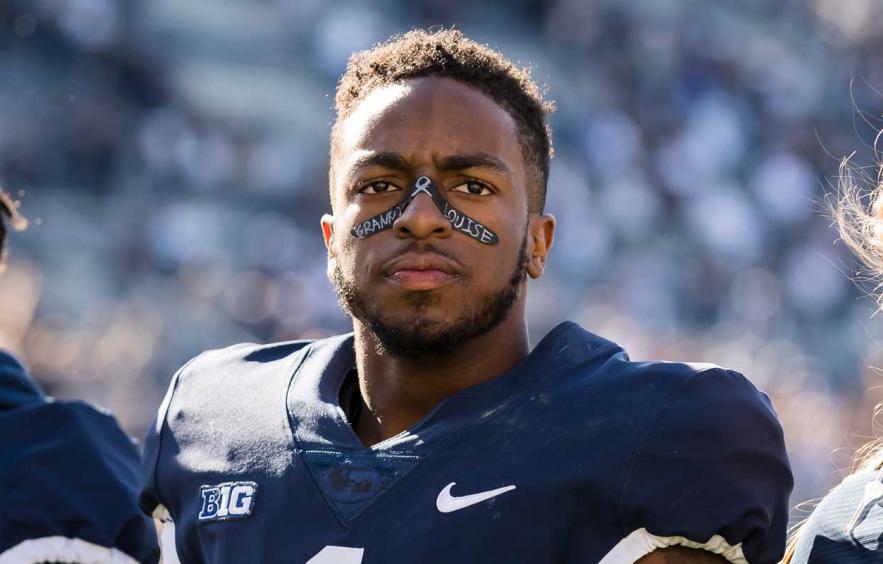 Scott Taetsch/Getty Images
The Broncos are all in on second-year quarterback Drew Lock. Denver's front office has revamped their offense this offseason with the acquisition of Melvin Gordon in free agency and the selection of Alabama wide receiver Jerry Jeudy with the 15th overall pick in the 2020 NFL Draft. Lock is also surrounded by receiver Courtland Sutton, tight end Noah Fant, and running back Phillip Lindsay. Jeudy's selection garnered most of the media attention and rightly so, but the selection of K.J. Hamler 46th overall is a huge value that shouldn't be overlooked.
He is projected to man the slot this season. Hamler had 41 plays of 15 or more yards in the slot since 2018 according to Pro Football Focus. This is the third-most in the FBS. Jeudy and Hamler both finished with the same number of touchdowns (3) on throws of 30 or more yards downfield last season. He's one of the most thrilling receivers in this year's NFL Draft with underrated positional versatility and is going to be difficult for NFL caliber cornerbacks to cover alongside Sutton, Jeudy, and Fant. This article will discuss Hamler's collegiate statistical body of work and his fantasy outlook with the Broncos.
K.J. Hamler

's Statistical Body of Work

Hamler was a two-year letterman at Saint Mary's Preparatory School in Orchard Lake, Michigan and relocated to IMG Academy in Florida for his senior year of high school. He tore his ACL before the start of the season and didn't play, but was still rated as a four-star prospect by ESPN and a three-star prospect by 247Sports. Hamler chose to attend Penn State and redshirted the 2017 season because of the knee injury. His career began to take flight in 2018.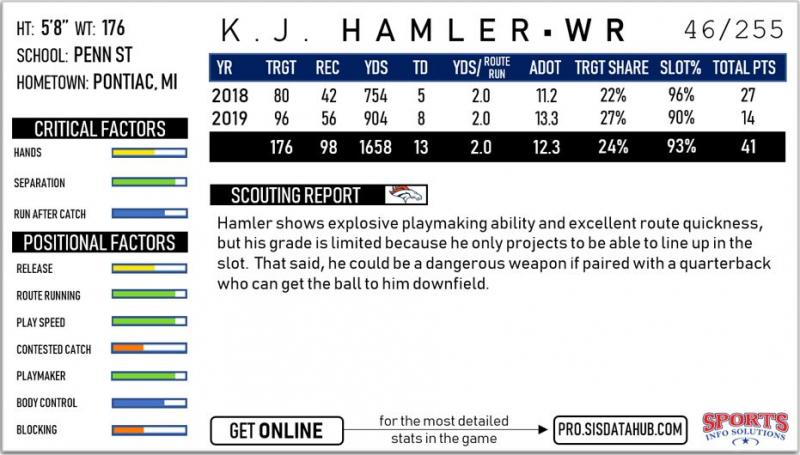 Hamler finished his collegiate career ranked 16th in receiving yards and tied for the 13th most touchdown receptions in Nittany Lion history. He ranks eighth in school history with 1,036 kick return yards. Hamler became the 19th player in Penn State history to exceed 3,000 all-purpose yards. He has 33 receptions of 20 or more receiving yards, 14 of 30 or more yards, eight for 40 or more yards, and four receptions of 50 or more yards. Hamler was at his most effective when Penn State used him in space. He has the athletic ability and speed to turn any touch into a touchdown whether it's a reception, rushing attempt, or kick return.
You may be put off by Hamler's size, but he is tougher than you think. Hamler has contended with some of the most physical defenses in the FBS, started all 26 games during his two seasons at Penn State, and has thrived. One play that demonstrates this perfectly was in the 4th quarter of Penn State's game against Michigan last season. The Nittany Lions needed to first down to run out the clock in order to hold onto a 28-21 lead. Hamler had run circles around the Michigan defense all night and on third and three Penn State called his number once again and provided him a handoff up the gut. Hamler lowered his shoulder and dragged a few defenders for the first down.
Hamler is a unique player and the Broncos are lucky he was unable to participate at the 2020 Scouting Combine because he may not have been in the second round. Let's walk through Hamler's fantasy outlook in Denver.
How
K.J. Hamler

Fits with the

Broncos

Hamler's collegiate statistical body of work and yards after the catch ability make him the perfect slot receiver for the Broncos. His versatility allows him to line up anywhere on the football field. This will translate perfectly to new offensive coordinator Pat Shurmur's scheme which leans heavily on receptions of at least 20 yards and rushing attempts of at least 15. Only five teams had more plays of 20 or more yards than Shurmur's Giants over the last two seasons. The Broncos have a plethora of offensive weapons and Hamler is projected to see a high percentage of man coverage. Hamler's (59%) positive play rates last season against man coverage are eerily similar to Ruggs III (58%) according to Sports Info Solutions.

The Broncos offseason changes suggest they'll lean more on the passing game in 2020. The speed at which this happens will be dictated by Lock's progression from his rookie to sophomore season. Hamler's draft capital suggests he'll beat out former Penn State teammate DaeSean Hamilton for the Broncos No. 3 receiver. One concern is that his fantasy production will be inconsistent on a weekly basis. Hamler will finish the season in all likelihood the third or fourth target in the passing game behind Sutton, Jeudy, and Fant. Backs Gordon and Lindsay will also see targets as receivers out of the backfield. It's a realistic projection that Hamler will be provided four to five targets per game in 2020.
The Bottom Line
Hamler will be the favorite to open the season as the Broncos No. 3 receiver. His second-round pedigree suggests he'll see a steady dose of targets sooner rather than later.
He can be viewed as an upside WR6 in deeper redraft formats
From a dynasty perspective, Hamler is an intriguing consolation prize in rookie drafts if you're bullish on Ruggs and missed out on him earlier in your rookie draft.