Hunter Henry's Fantasy Outlook for 2020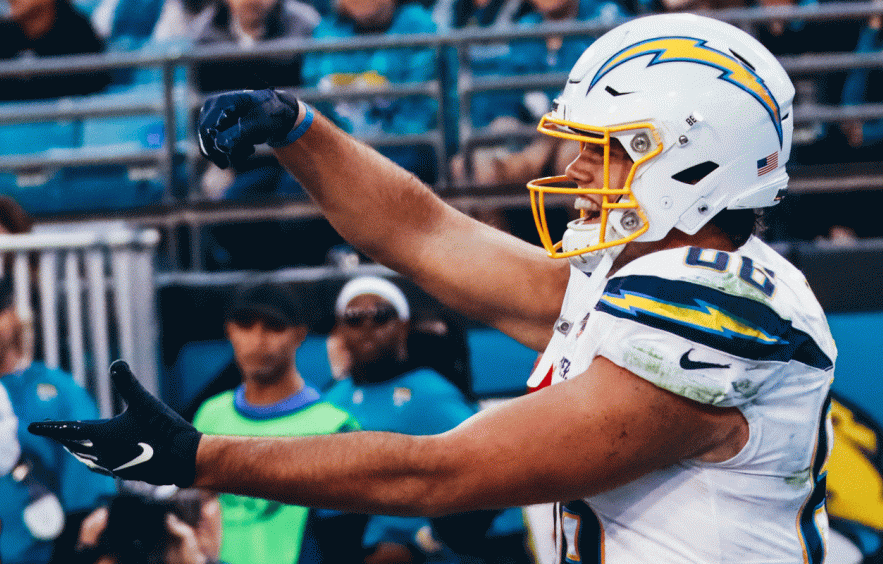 Harry Aaron/Getty Images
In a move that surprised no one, the Chargers placed the franchise tag on tight end Hunter Henry on March 13th, keeping him in a powder blue uniform for at least another season.
With health a legitimate concern, being that the 25-year old sat out 20 contests over the past two seasons, can Henry be trusted as a starting tight end in 2020?
Here's a look at Henry's outlook for this season and where he should be drafted for fantasy purposes.
Hunter Henry

's History

This will be Henry's fifth season in the NFL, and he has yet to play in all 16 games in any of them. As alluded to above, he's only hit the field in 41-of-64 regular-season contests since being drafted into the league, all due to injury.

However, when he's out there, Henry is as productive as any of the top tight ends in the game, boasting a career average of 8.9 yards per target, which was within the top five at his position in both 2016 and 2017 and among the top nine last year. In 2019, the Chargers tight end managed to still put up 652 yards on 55 receptions with five touchdowns in a very down year for Los Angeles, and finished as TE9 in half-PPR points in just 12 games.
Fantasy Outlook for
Hunter Henry

in 2020

If we take health out of the equation for the upcoming season, the biggest factor in Henry's potential output is the guy under center for the Chargers. With Phillip Rivers now in Indianapolis, it appears Tyrod Taylor is set to take the reins in Los Angeles—even if they do draft a quarterback, as expected, Taylor should still be the starter Week 1 barring some sort of drastic occurrence.

Last season, the Chargers threw 597 passes which were the 10th-most in the league. Taylor's career-high in tosses was 436 in 2016, in a 15-game season for him. It's fair to assume the team's passing attempts will likely take a hit from what this offense is used to. Despite being on the other side of 30 by the start of the season, Taylor is considerably more mobile than Rivers has ever been, averaging 6.2 rush attempts per game in his three seasons as a starter. Taylor at the helm could mean a downgrade in target volume for all Chargers' pass-catchers, including Henry.

Henry does have hands that his quarterback can count on though, as he caught 55 of 61 balls deemed catchable by SportsInfoSolutions last season. The 25-year old has been a matchup nightmare since coming into the NFL with his ability to beat out defenders both on deeper routes and short crossing patterns.

Not to be forgotten is Henry's potential role as a solid check-down option with decent YAC ability for Taylor. His red-zone mismatch prowess can also be something the two can exploit in 2020.
Bottom Line
Henry is coming off the board as TE7 somewhere in the mid-to-late sixth round.
Tight end tends to require making a clear decision compared to some of the other deeper positions throughout the draft. Managers either need to pay the price of a top-tier guy leaving plenty of proven points on the board, drop down a few rounds to grab a decent prospect who may not produce, or totally punt and pray you take one who has a breakout season.
Hunter Henry could provide that perfect second option in 2020. Despite the change at quarterback and perceived drop in volume, he's a solid playmaker when healthy. With opportunity to produce, especially in the red zone, Henry could be your guy for those not wanting to punt, especially if he slips down to TE8 or beyond like we've seen in places thus far.
He's currently listed as TE7 in 4for4's rankings.