TJ's #Taek: Week 1 NFL DFS Recap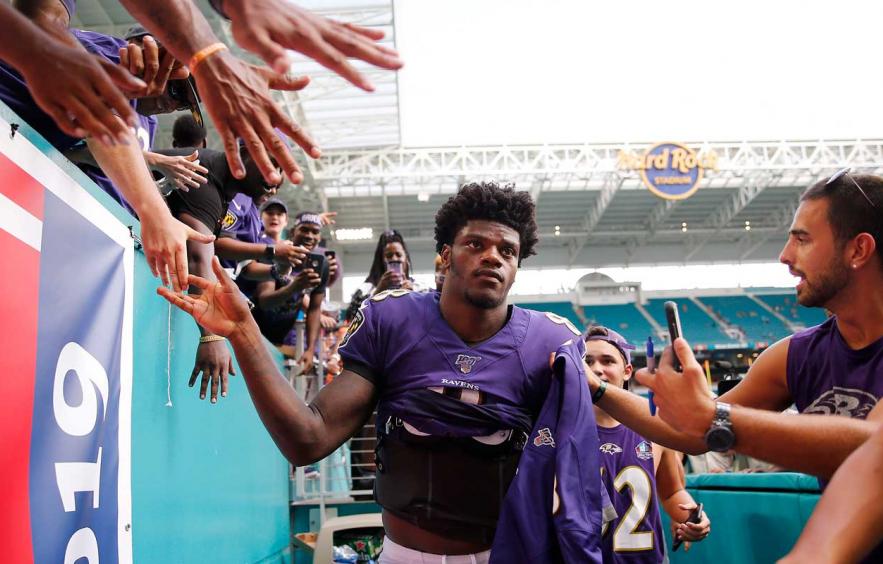 Michael Reaves/Getty Images
Week 1's winning lineups from the biggest contests on FanDuel and DraftKings can be used to tease out lineup-building strategies and offer clues on how you could have landed on a similar team. Reviewing your hits and misses each week is imperative if you want to be a profitable DFS player but examining winning lineups is also a useful exercise in cultivating a winning approach.
DraftKings Week 1 Millionaire Winning Lineup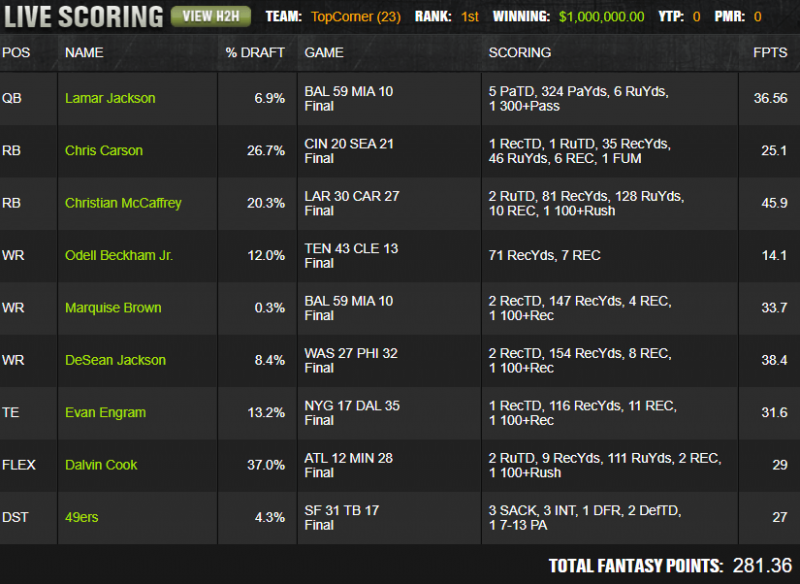 Week 1 is usually one of the more volatile weeks of the season but things went about as expected as possible, with the chalk mostly coming through. That was evidenced in the first Millionaire of the year with TopCorner only using one position player onwed in fewer than 5% of lineups. The execution of this lineup stuck to basic GPP principles—pair a quarterback and pass-catcher in a favorable spot, count on running back predictability and don't go crazy trying to find a bunch of low-owned plays.
What Were the Indicators for the Low-Owned Plays?
When you find the quarterback who throws five touchdowns in a week, you're probably going to have a good day. It was for FanDuel, but I pinpointed Lamar Jackson as a core play this week. The Ravens quarterback will always give you a floor with his rushing ability but opening up his second season against a tanking team and likely the worst defense in the league gave him a ceiling. In an ambiguous receiving corps, it was nearly impossible to predict the target share in Baltimore but that makes it a great time to simply target the player who figures to have the highest average depth of target. "Hollywood" Brown's average target was nearly 19 yards downfield on Sunday and he capitalized without massive volume, though he did command a respectable 19% target share.
San Francisco was one of the most popular low-owned plays at 4for4 last week, featured as a core play by Pat James, a defense to stack by C.D. Carter and a GPP must by me. By simply targeting a bad offensive line on a team expected to throw a lot, we maximize our upside in terms of pressures and ultimately turnover potential.
FanDuel Week 1 Sunday Million Winning Lineup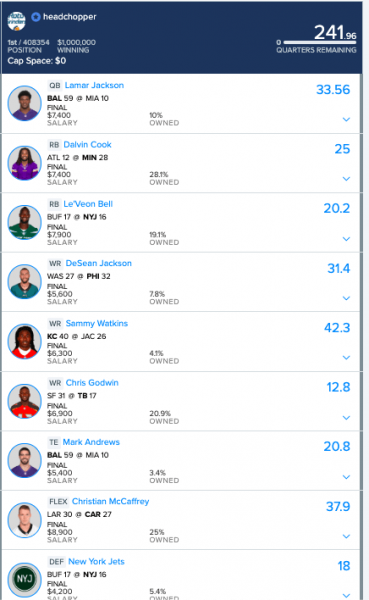 This was a special win, as headchopper is one of the OG's in the industry and one of the nicer dudes I've had the pleasure of meeting. Like TopCorner, 'chop stuck to some basic GPP principles, stacking Jackson with a low-owned pass-catcher while including a RB/DEF stack as well. As we saw in all but one winning Sunday Million lineup in 2018, running back is the way to go at the flex position on FanDuel, as the 0.5 PPR scoring gives workhorse backs the highest ceilings.
What Were the Indicators for the Low-Owned Plays?
One of my favorite ways to find DFS values early in the season is by looking at some of my favorite redraft breakout candidates. Players we pegged for an uptick in volume or efficiency in the upcoming season are generally going to have low salaries early in the year because they haven't been good yet—exactly why they are breakout candidates. It's wise to get exposure to these players before that breakout happens since they will become more popular along with a price hike. Mark Andrews was one of my favorite targets all summer and he carried his late-season chemistry with Jackson into 2018, accounting for 31% of Baltimore's targets.
When an offense is explosive and expected to score a lot of points, virtually every starter is in play. finding the one expected to be the lowest-owned is a great strategy to get exposure to that team, and Sammy Watkins fit that bill. Only one team was expected to carry a higher cumulative team ownership than the Chiefs but Watkins projected for single-digit ownership—it turned out he barely met his floor ownership projection.
TJ's Final #Taek
If you've listened to the DFS MVP podcast or read any theory in the 4for4 Strategy Hub, you know there is much more to being a profitable DFS player than simply building lineups. One of the most important strategies to master is proper game selection and you are simply ruining your potential ROI if you aren't trying to minimize rake or find overlay.
On Sunday, TWO contests that offered prize pools of at least $1-million with no rake failed to fill, namely the main events on Yahoo! and FantasyDraft. A lot of DFS players prefer a specific site, but when these rare opportunities arise, they cannot go ignored. NFL DFS is such a volatile game that you have to scrape any edge you can get. The Nick Foles injury and 49ers defense's last-minute touchdown prevented me from more than doubling my money in Week 1. However, by having action on Yahoo and FantasyDraft in games that were basically giving away free money I was still able to end the week with a respectable ROI near 20%. As the season progresses, these opportunities typically dry up since sites simply cannot afford to keep paying overlay, so take advantage of the small window while you can.