Welcome to the Next Era of 4for4 Fantasy Football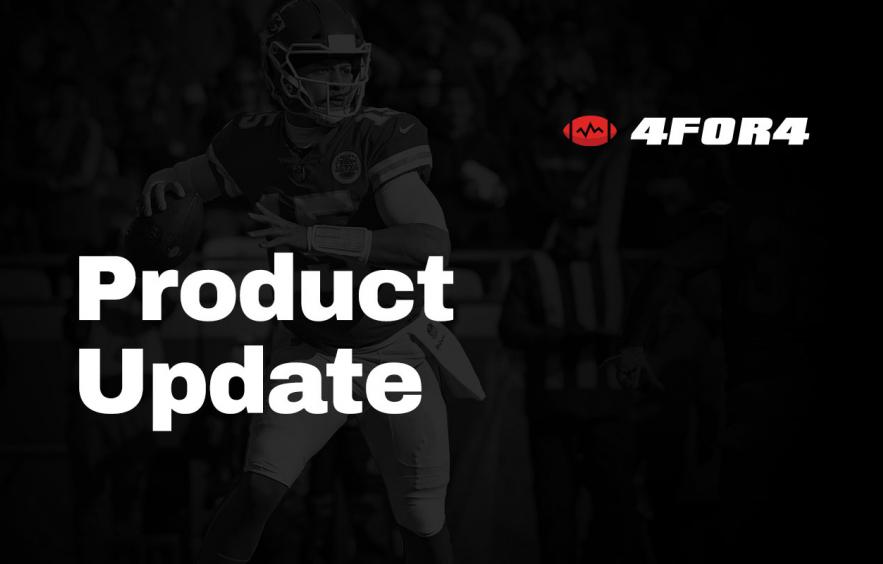 Hi Folks!
Welcome to the new and improved 4for4 Fantasy Football! You may have noticed some changes around here this season. Or, if you haven't logged in this year, you're about to. Our team has been hard at work over the past year improving the look, feel and ultimately your experience at 4for4.
Over the past 20 years, we have dedicated ourselves to delivering you, our subscribers, data-driven analysis, projections, rankings and tools to help you win your fantasy football leagues, DFS contests and generally enjoy the game more. We've heard your success stories from all around the globe, and they inspire us to keep doing what we're doing.
However, we also listen to your complaints, and top of the list over the years has been the usability of 4for4. You've told us we have so many valuable resources, sometimes it can be intimidating and you don't know where to start, or you can't find what you're looking for when you need it.
A year ago we took a deep dive, and re-imagined 4for4 from the ground up. We worked closely with a team of usability and user experience experts with a focus on making it easier for you to find and use the analysis and tools you've come to expect from us, while making the website more intuitive, friendlier on mobile devices, and just plain better looking.
What you see today at 4for4 Fantasy Football is the fruits of our labor, and we hope you like the changes. We've completely overhauled our articles, our rankings pages, our player pages, and our tools to make them easier to use, including LeagueSync and our suite of DFS tools (coming soon). We've added PPR by position (for TE premium, etc.), improved our printable cheat sheets and rolled out a number of other improvements you'll notice throughout the season.
Take a look around and let us know what you think. Subscriber input has been invaluable throughout this process, and it will continue to be invaluable as we move forward from here. We know we wouldn't be anywhere without you guys, and we will continue to serve you proudly moving forward, focusing on what you need to get an edge in your fantasy games.
Onward and upward!
Josh Moore
Owner, 4for4 Fantasy Football