James White: The WR2 with RB Eligibility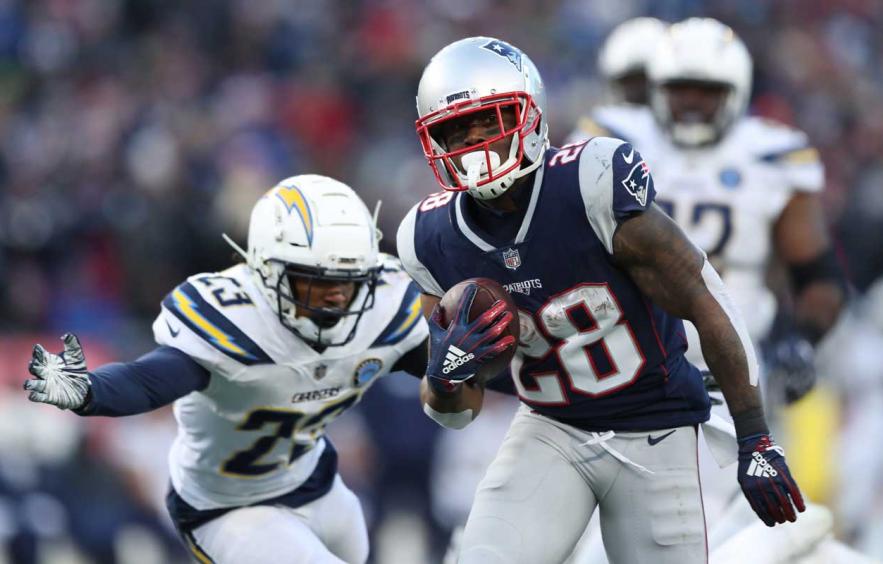 Adam Glanzman/Getty Images
In a recent draft, John Paulsen grabbed James White as his third running back in the early fifth round. Let me explain why John (and I) are so high on him this season.
James White

is Surprisingly Productive

To get a better sense of James White's potential production, here is a comparison of his projection to that of another player, whose production is more familiar:

Stefon Diggs is currently the WR17 in our half-PPR rankings. If White were a WR, he would slot in right behind Diggs as a mid-range WR2.

The table above combines yards and touchdowns from rushing and receiving. We have White projected for 688 yards receiving, which combines with 348 rushing yards for the total yardage shown above.

If those numbers seem outlandish to you, note that this is projecting some regression from White. Last year, he had 87 receptions, 1176 total yards, and 12 touchdowns, all substantially higher than what you see above.

The moral of the story is this: if you'd be willing to start Diggs in your flex spot, then you should be willing to use White there as well, as they project for nearly identical point totals this season.
James White

is Surprisingly Safe

Opportunity is the lifeblood of fantasy production, and for White, like any WR2, opportunity means targets.

White's target volume had a surprisingly high floor: he saw at least five targets in all but three of 16 games. That is only slightly worse than Adam Thielen (two games with fewer than five targets) and much better than Tyler Lockett (seven games), Chris Godwin (six games) and Kenny Golladay (five games).

The receivers just mentioned are WR18, WR16, WR19 and WR20, respectively, in our current rankings. In other words, White has a higher target floor than many of the other mid-range WR2 options.

Of course, White also has rushing volume. He averaged 5.9 carries per game last season, and we have him projected for 5.1 carries per game this season (again, assuming some regression). So even in the (rare) games that White does not see five targets, he is likely to get around five carries to raise his floor up even higher.
James White

is the

Patriots

WR2

With Rob Gronkowski retired and Ben Watson suspended for the first four games, White is the second most trusted pass catcher on the Patriots roster, behind only Julian Edelman. White already saw a lot of targets last year when Gronkowski was still playing, and now there are even more targets up for grabs.

I do expect N'Keal Harry to become a useful part of the offense as the season progesses, but he is a rookie, and the Patriots run a complicated offense. So far, reports out of training camp unsurprisingly suggest he's struggling to keep up. Still, our projections have 731 receiving yards for Harry, which would be a huge year for any rookie, and even in that scenario, we expect the numbers shown above for White.

Others may worry about the crowded backfield in New England, but I see little cause for concern. Sony Michel has not shown himself to be a strong pass catcher. Damien Harris, the new addition, was also not a productive pass catcher in college. The most receptions he ever had in a season was 22. Given that, Harris looks more like competition for Michel than for White. Indeed. Michel's knee condition (similar to Todd Gurley's) is likely to keep him out of a few games this season, opening up more opportunities for both Harris and White.

Finally, it's worth noting that the Patriots put two running backs on the field more than all but one other NFL team last season. They used two RBs and one TE ("21" personnel) on 28% of all plays. So expect to see White and Michel (or Harris) on the field together a lot this season. Those snaps in addition to the ones with White as the only running back on the field will give him plenty of opportunity to get targets and rack up fantasy points.
Where to Draft Him
White looks like a great option for a third RB on your roster. You can play him weekly in the flex spot and use him in a regular RB spot when your first two RBs have bye weeks or injuries.
White is currently being drafted at the end of the fifth round. I'd consider him a good value anywhere in round five.