FanBall Week 8 AAF Breakdown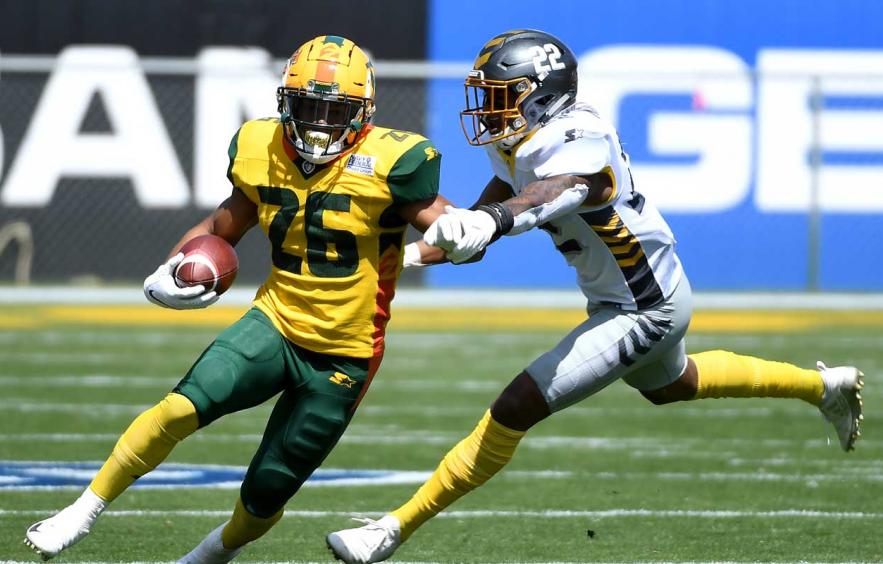 Norm Hall/Getty Images
Note: All stat lines reference the previous week's game, unless otherwise noted. If there is no injury news about a team, the team has not released injury reports to the public/beat writers so be sure to check back for updates as injury news continues to be released closer to lock!
Orlando Apollos (-10) vs Memphis Express; O/U 41
Apollos Running Game
Last week we saw the Apollos dominate the Legends, winning the game 36–6, showcasing their trio of running backs, D'Ernest Johnson (7 car, 54 yds, 7.7 yds/car, 1 2PT), De'Veon Smith (13 car, 40 yds, 31. yds/car, 3 TD, 1 2PT) and Akeem Hunt (9 car, 39 yds, 4.3 yds/car). We saw Hunt's usage increase tremendously but most of this looks came in the fourth quarter. With Johnson receiving over 50% of the passing snaps and running 10 routes, he still provides the highest floor in this backfield. The only thing that could get in the way of Johnson's reign of lead back is Smith's usage at the goal line. Last week Smith received six of seven possible goal-line touches and converted them into three touchdowns. His usage is limited to outside the twenties, so he will be touchdown dependent but rostering Smith is almost no different than rostering Trent Richardson every week.
Apollos Passing Game
Garrett Gilbert gave us what we could consider his floor game last week, completing 19 of 23 passes for 217 yards, and one touchdown—it was hardly because of a lack of efficiency on his part but hyper-efficiency from the running back position, particularly De'Veon Smith. Charles Johnson (5 tgts, 4 rec, 31 yds, 1 TD) and Jalin Marshall (6 tgts, 4 rec, 26 yds) still retained their roles of best one-two combo in the league with Rannell Hall (2 tgts, 2 rec, 60 yds) being about as efficient and explosive as they come as a WR3. Rostering the Apollos receivers is always a smart idea, but the team as a whole is just so hyper-efficient there is always the risk that another part of the offense will see success while the others suffer.
Express Running Game
This Express running game is about as unattractive as they come but for the sake of variance and the ability for anything to happen, this backfield still merits consideration. Zac Stacy (13 car, 14 yds, 1.1 yds/car) dominated the snaps for the Express, playing 76% to Terrence Magee's (3 car, 4 yds, 1 TD) 24%. But it was Magee who led the goal line carries and eventually scored a touchdown. These backs are hardly to blame for their struggles as it has to be put on their lack of an offensive line. This running game could see a boost if Johnny Manziel (2 car, 20 yds) starts as the threat of him running and the ability for proper RPOs should open some things up.
Express Passing Game
Last week we saw the highly awaited debut of Johnny Manziel (3-for-5, 48 yds) albeit he only threw five passes, but we have no idea how much he'll work his way into current starting QB Brandon Silvers's (24/35, 266 yds, 7.6 yds/att, 2 TD) workload this week. Silver on the other hand, finally got things going with the threat of Manziel behind him as he completed 24 of 35 passes for 266 yards, two scores (one of them being the game-winner) and two 2PT conversions. Reece Horn (9 tgts, 7 rec, 113 yds, 1 TD) continues to be the guy in this receiving corps with Daniel Williams (9 tgts, 5 rec, 30 yds, 1 TD, 1 2PT) working in as a strong WR2. The workload should continue for these two if the Apollos get out ahead early and the Express ground game isn't working. It's worth noting that while the Express are expected to start Silvers, if the deficit gets large enough, Manziel should be subbed in for a healthier workload than last week with another week of practices under his belt.
Pat's Thoughts
This game is quite unappealing from a fantasy standpoint as Orlando will be overpriced as usual with Charles Johnson at $7,600 and Garrett Gilbert at $6,700. It's debatable now if they're worth a roster spot at these prices with the inherent risk that their offense is so balanced when it comes to production. If I were to roster a running back from Orlando it would have to be De'Veon Smith just on the basis that he dominates the goal line usage and the price is a lot more palatable at $5,300.
The Express are as unattractive as they get but once again I will be rostering Johnny Manziel ($5,300) on the outside chance that the game gets out of hand and game script forces Singletary's hand in playing the former Heisman winner. One of Reece Horn ($6,500) or Daniel Williams ($5,600) will garner a spot on my roster as well but the final decision between them will be based on who I believe will see CB Keith Reaser the least.
San Diego Fleet vs Salt Lake Stallions (-3); O/U 40.5
Fleet Running Game
The big story of this backfield this week will be the injury that Ja'Quan Gardner (3 car, 2 yds, 0.7 yds/car) sustained. Now the backfield is left to the likes of power back Terrell Watson (10 car, 44 yds, 4.4 yds/car, 1 TD) and former Titan Bishop Sankey (12 car, 54 yds, 4.5 yds/car) who was cut at the beginning of the year by the Fleet before being picked up again a few weeks ago. Once Gardner got injured last game it was Sankey who took control of the backfield, handling 52% of the snaps but it was Watson who inevitably scored and had the more productive day through the air. Sankey also only had one snap at the goal line versus the six that Watson had. This backfield could become the Kamara-Ingram threat it once was with Sankey and Watson now, but Watson undoubtedly carries the higher upside and floor with his goal-line usage.
Fleet Passing Game
Mike Bercovici continues to impress with the chance he's been given and the most impressive thing about his performances week in and week out are his yardage counts. Once again breaking 300 yards while completing 22 of 43 pass attempts, Bercovici's production is proof that Martz is once again running his greatest show on turf offense with the Fleet. With Dontez Ford out, we saw Nelson Spruce (14 tgts, 12 rec, 146 yds) see an absolutely insane 14 targets which was eight more than the next closest target in TE Gavin Escobar (6 tgts, 1 rec, 10 yds). We'll have to see if Ford will be active this week but Spruce once again has the best on-paper matchup for the Fleet going up against Steve Williams in the slot, who's allowing a 62% catch rate and is graded out to a 68.1 per PFF.
Stallions Running Game
This backfield is as messy as they come when it comes to predicting where the production will be coming from but they'll be forcing their way into the article by facing a front seven that allowed 4.85 yds/car last week to the struggling Hotshots backfield. Joel Bouagnon (9 car, 35 yds, 3.9 yds/car) began the season as the "lead back" but last week his snap share decreased to 35%, evening him out with fellow backfield mate Terron Ward (7 car, 15 yds, 2.1 yds/car), with Terrell Newby coming in third at 30% of snaps. What makes this situation even more terrifying from a fantasy perspective is the fact that all three backs had the same amount of red zone snaps and none of them did anything with them. Newby logged one snap at the goal line but they didn't go with him either. In a close game you could just chalk it up to the Stallions being more confident in their passing game, but if this level of usage continues, this backfield is going to be a hard fade.
Stallions Passing Game
It's Pierson-El (8 tgts, 5 rec, 68 yds) week again. Alert. I repeat. It's Pierson-El week once again. De'Mornay Pierson-El led the team once again as QB Josh Woodrum's (22/35, 229 yds, 6.5 yds/att, 1 TD, 1 INT) favorite target and he draws a healthy matchup against Xavier Coleman who's allowing an extraordinary 76% catch rate on the season. After Pierson-El, the Salt Lake TE party in Nick Truesdell (5 tgts, 4 rec, 74 yds) and Anthony Denham (4 tgts, 1 rec, 4 yds) are once again in play and will be threats to score this week.
Pat's Thoughts
Mike Bercovici ($5,900) and Nelson Spruce ($6,200) should be a popular stack and it's well deserved as their chemistry since Berc's return has been unquestioned. Outside of them, I don't mind adding Bishop Sankey ($4,900) or Watson ($5,000) into the mix as I love QB-RB-WR stacks and their correlations.
On the Stallions side, the only pieces I'd be willing to touch are QB Josh Woodrum ($5,700), De'Mornay Pierson-El ($6,100), and the Salt Lake TEs, Nick Truesdell ($5,200) and Anthony Denham ($3,200). Of course, the exposure will have to spread out here but if I had to rank the receivers/tight ends it would be Pierson-El, Truesdell, then Denham.
Atlanta Legends vs Birmingham Iron (-6); O/U 38
Legends Running Game
Getting blown out by the Apollos last week, running the ball was scripted out for the Legends backfield and their lack of production continued, but that should end this week against a struggling Iron team. The backfield is pretty messy, but the prices are much easier to stomach than other committees in the likes of Tarean Folston (8 car, 37 yds, 4.6 yds/car) and Brandon Ratcliff (6 car, 23 yds, 3.8 yds/car) who split backfield duties, receiving 45% and 36% of the snaps, respectively. Folston received five red zone snaps to Ratcliff's four, but Ratcliff received three goal-line snaps as opposed to Folston's one. Production for these two can loom either way as their involvement in the passing game is equal, only receiving two and three targets each.
Legends Passing Game
If there were ever a week to target the Legends passing game it would be this one. Aaron Murray was half decent last week, completing 16 of his 22 pass attempts for 135 yards, one touchdown, and 2 INTs. That lone touchdown came to none other than—probably the Jones bros that you didn't play last week—Malachi Jones (7 tgts, 6 rec, 53 yds, 1 TD). Jones overtook lead receiver duties but it was probably due to matchup as Seantavious Jones(4 tgts, 1 rec, 18 yds) was going up against one of the best corners in the league in Keith Reaser. Outside of the Jones Bros., the only wide receivers worth mentioning would be Bug Howard (4 tgts, 3 rec, 36 yds) or Justin Thomas (3 tgts, 1 rec, 16 yds), though outside of a broken play it'll be hard imagining them being DFS relevant.
Iron Running Game
Again, Trent Richardson (16 car, 56 yds, 3.5 yds/car, 1 TD, 2 2PT) continues to be the man here, sporting an 82% snap share and insane usage in the running and passing game for a back. His lack of efficiency continues to be stifled by his touchdown scoring and conversion ability and this matchup against a paltry at best Legends defense in a game that the Iron have the chance to run away with is just too juicy to ignore, despite the price tag. Play Richardson.
Iron Passing Game
Last week, Luis Perez got the start with Keith Price still hurt and Perez didn't fail to impress. Completing 16 of 37 attempts for 235 yards and two touchdowns it was the story of old for the former DII Heisman QB. Quinton Patton (10 tgts, 5 rec, 46 yds) once again led the team in targets with Trent Richardson (6 tgts, 3 rec, 25 yds) following right behind him. The touchdowns were scored by Wes Saxton Jr (3 tgts, 2 rec, 22 yds, 1 TD) and Braedon Bowman (1 tgt, 1 rec, 11 yds, 1 TD) who otherwise are fantasy irrelevant—even if they score again, they likely won't merit a roster spot. The receiver outside of the big two here worth another look is Amba Etta-Tawo (4 tgts, 3 rec, 71 yds) who has undoubtedly better hands than Patton and will have just as good a matchup on paper.
Pat's Thoughts
From the Atlanta side, I don't particularly mind throwing a dart at either of Malachi Jones or Seantavious Jones, but other than that everything feels quite thin with higher target floors in other players on the slate.
On the Iron side, once again Trent Richardson ($8,000) is almost a must-play regardless of price but Luis Perez ($6,000) is a bit high priced for me if he's going to continue to struggle to throw for over 300 yards. Quinton Patton at $5,500 is a great play on paper, but his inability to hold onto balls has limited the upside that comes with rostering him.
Arizona Hotshots vs San Antonio Commanders (-1.5); O/U 43.5
Hotshots Running Game
While no Hotshots running backs scored touchdowns in Week 7, we saw the usage increase we were hoping for Jhurell Pressley. Receiving a whopping 57% of the snaps and being the only back to touch the ball in the red zone, Pressley is on full alert once again as a blow up candidate like he was at the beginning of the season. He'll definitely have his hands full this week as he'll be going up against a Commanders front seven who over the last two weeks have only allowed 3.15 yds/car to opposing backfields.
Hotshots Passing Game
Last week was not an impressive week overall for the Hotshots passing game outside of QB John Wolford (15/19, 212 yds, 11.2 yds/att, 2 TD, 1 INT). Richard Mullaney (2 tgts, 2 rec, 12 yds) and Rashad Ross (3 tgts, 3 rec, 53 yds) will look to bounce back in a great spot against a Commanders defense that has been susceptible to wide receivers all year. With Freddie Martino (3 tgts, 1 rec, 24 yds) locked up by stud CB Duke Thomas, the other receiving options should be freed up with ease and Ross should continue his tear.
Commanders Running Game
The Commanders are once again one of the many teams in this league that are forced to run a committee approach due to the lack of stability at the position. Led by Kenneth Farrow (8 car, 4 yds, 0.5 yds/car), who led the backfield with a paltry 34% snap share the only thing that provides upside about his usage is the fact that he amassed four snaps at the goal line with two touches but he scored ZERO. After Farrow, Trey Williams (6 car, 19 yds, 3.2 yds/car, 1 rec TD) was next in line with a 29% snap share and with the Hotshots more than likely getting out to a lead here, his scat back passing role could come in handy.
Commanders Passing Game
Logan Woodside (13/19, 164 yds, 8.6 yds/att, 1 TD, 1 INT) was en route to a great game, but it was cut short due to an injury and he's questionable heading into this game. He was replaced by Marquise Williams (2-for-3, 49 yds, 1 TD, 1 2PT, 6 car, 19 yds) who played a great game and ultimately led the Commanders to a win over the Stallions. The receiving corps will be hard to target as always but the one constant that remains steady in this offense is Mekale McKay (4 tgts, 1 rec, 21 yds, 1 TD). Regardless of who is at QB, he and De'Marcus Ayers (2 tgts, 1 rec, 24 yds), to a lesser extent, will be the best floor/ceiling combination of this passing game.
Pat's Thoughts
Jhurell Pressley's ($6,000) usage bump last week has him as one of my top RB plays this week. After the dud last week, Richard Mullaney ($4,500) and Rashad Ross ($6,900) have been priced down despite having a plus matchup and make for great pieces to stack with Pressley and/or John Wolford ($5,800)
We'll have to see where Woodside's injury leaves him, but Marquise Williams ($5,200) is cheaper than Johnny Manziel and has legit rushing upside to go with his arm. He played great when he replaced Woodside last week and gets a plus matchup in a game that should have the Commanders throwing the ball. My favorite stack candidates with Williams are going to be Mekale McKay ($6,300) and De'Marcus Ayers ($3,800). A dark horse candidate to make my rosters from the Commanders would be Trey Williams ($4,000) who has a legit route to getting a ton of passing game work in what should be a high-scoring matchup.