Don't Forget Hunter Henry in 2019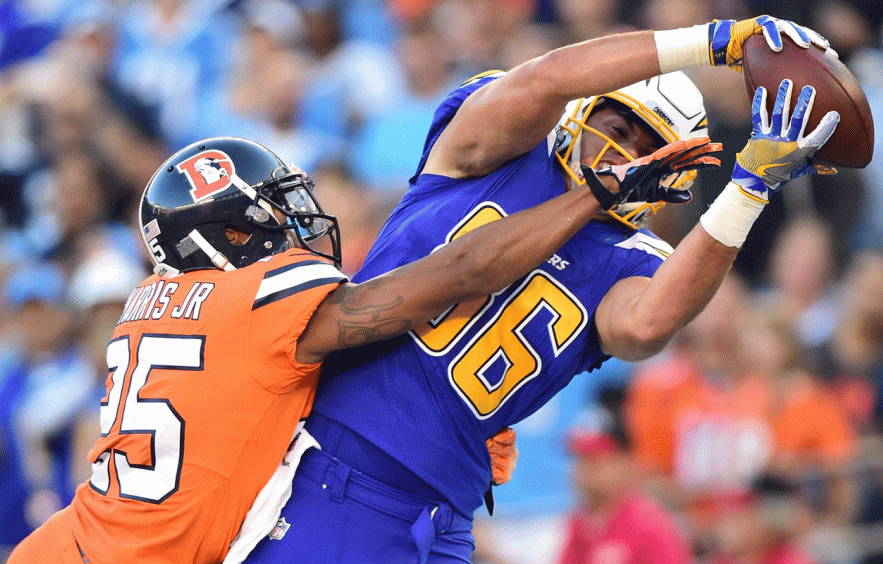 Harry How/Getty Images
Last season we had high hopes for Hunter Henry, but sadly his ACL had other plans. The Chargers TE missed the entire 2018 regular season and he returned for just 14 snaps during their Divisional Playoff contest against New England.
With the TE position as thin as it is in 2019, Henry could be a player to target if you want some solid production at the position, with a less hefty price tag than Travis Kelce, Zach Ertz and George Kittle.
Philip Rivers

to TE has been Successful in the Past

Antonio Gates holds the record among TEs and is tied for sixth across all positions in NFL history in career touchdowns with 116. From 2006–2018, 91 of those end zone dances were courtesy of Rivers. During their long and productive tenure together, Gates was second among tight ends to only Jason Witten in targets with 1163.

Gates's target share was among the top in the Chargers offense through the course of his career, culminating with 18.8% in 2015 and 18.6% in 2016, before father time began to catch up to him after that 2016 season.

In his short two-year stint before being sidelined in 2018, Henry scored eight touchdowns his rookie season and managed to find the end zone four times in 12 games in 2017. He was among the top 10 at his position both seasons in red zone targets, with Gates joining him on that list in 2016.

With Henry at 100% health-wise, Gates may finally be hanging up his cleats this season, passing the torch to the 24-year-old to carry on the Chargers rich TE legacy.
Tons of Vacated Targets
With Tyrell Williams now in Oakland, and Gates no longer on the roster, that leaves 110 targets from 2018 up for grabs. Mike Williams should have an increased role, but Henry is in a perfect spot to step up and produce in this offense in 2019.
He's been a matchup nightmare since coming into the NFL with his ability to beat out defenders both on deeper routes and short crossing patterns. Henry's presence alone will open the field for Rivers, allowing for more offensive effectiveness as a whole.
When to Draft Henry
Henry is experiencing a touch of the forgotten man syndrome, which is a good thing for those wanting to draft him. In redraft leagues, he's currently being selected in the mid-sixth round, as the seventh TE to be chosen. As far as best-ball drafts go, the Chargers TE is a bit more coveted, leaving boards as TE4, somewhere in the mid-fifth round.
TE requires making a clear decision compared to some of the other deeper positions throughout the draft. Managers either need to pay the price of a top-tier guy leaving plenty of proven points on the board, drop down a few rounds to grab a decent prospect that may not produce, or totally punt and pray you take one who has a breakout season.
Henry could provide that perfect second option in 2019. He's a solid playmaker in an offense that has ended the past three seasons with an average ranking of 10th in team offense in the league. With ample opportunity to produce, especially in the red zone, Henry could be your guy for those not wanting to punt, especially if he slips down to TE7 or beyond like we've seen this spring.