The Top DFS Running Back and Defense Stacks: Week 5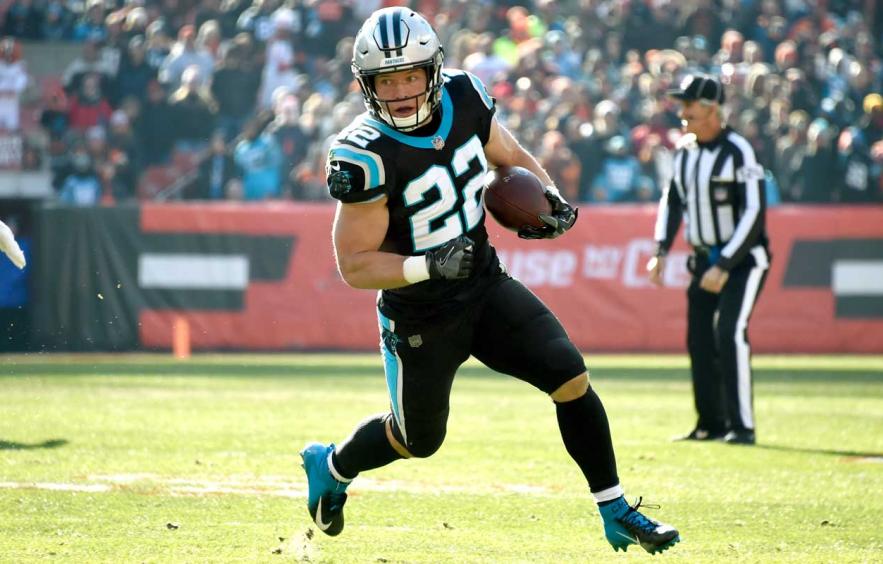 C.D. Carter
These are the Week 5 running back-defense stacks on FanDuel and DraftKings. I'll pinpoint where we might be able to get a solid defensive performance and volume-driven running production.
The good folks at 4for4 have pointed out that one should not base their weekly DFS lineup composition on the RB-DEF stack, as the correlation isn't nearly as strong as the QB-WR1 combo, for example. But considering RB1s—and only RB1s—get a decent bump in production when their team's defense scores at least 15 fantasy points, it's worthwhile to see where this stack might offer upside and differentiation for those who play large-field DFS tournaments.
Running backs and defenses from the same team often face positive circumstances together. It's these conditions, of course, that lead to fantasy points. Sometimes a lot of fantasy points.
Week 4 summary: The Melvin Gordon-Chargers combo worked out OK, producing 35 combined fantasy points despite a lackluster defensive performance; Leonard Fournette's in-game injury sank last week's Jaguars stack, and Jordan Howard was hardly used while the Chicago defense scored 14 points against the Bucs.
We're on to Week 5 options. Let's double dip on that good game script.



Christian McCaffrey

/Carolina

Panthers

Combined percentage of FanDuel salary: 20.8 percent

Combined percentage of DraftKings salary: 22.6 percent

Welcome to this week's priciest RB-DEF stack, but one that could be worth every DFS penny. The proverbial stars align here for Christian McCaffrey ($8,100 FD/$8,000 DK) and the Panthers defense ($4,400 FD/$3,300 DK): New York gives up 26 schedule-adjusted points per game to running backs and the Carolina defense has the second highest projected ceiling of Week 5. McCaffrey has played an absolutely whopping 93 percent of Carolina's offensive snaps this year, seeing at least 17 touches in all three games. He also happens to be on pace for a Matt Forte-like 138 targets. Carolina heads into this one as a seven-point home favorite, setting up for the sort of game script that would ensure a continued workload for CMC and a bad script for Eli Manning, who over the past three seasons has thrown an average of 1.1 interceptions in losses. Only Buffalo has given up more schedule-adjusted points to enemy defenses than the Giants, who allow almost constant pressure on Manning. Probably the best part of this stack is that the running back—McCaffrey—won't be phased out of the game plan is game script goes sideways.
Matt Breida

/San Francisco

49ers

Combined percentage of FanDuel salary: 16.6 percent

Combined percentage of DraftKings salary: 17.4 percent

The Niners' backfield trend is clear to anyone who cares to look: Matt Breida's ($6,200 FD/$5,700 DK) snap rate has spiked from 40 percent three weeks ago to 63 percent last week against the Chargers. He saw 71 percent of the team's backfield touches. Hug your local Alfred Morris truther. Even without overtly positive game script—the 49ers are four-point home favorites here against Arizona—Breida should be the beneficiary of a considerable workload. He's fresh off 22 pass routes against LA. Now for the defensive side of the coin: Josh Rosen may be an upgrade over the empty shell of Sam Bradford, but he remains a target for defensive purposes. He's completing a meager 55.9 percent of his passes through one and a half games, and could very well face negative script in this road contest. The 49ers defense ($3,800 FD/$3,000 DK) has this week's third-highest projected ceiling, behind only the Titans and Panthers. The price point for this combo is most appealing—it's far cheaper than the Carolina stack—though the range of outcomes here is likely more fraught. C.J. Beathard isn't exactly a paragon of reliability and the Niners' defense, at home or away, stinks. This seems like a stack that will make you right alone or wrong alone—which isn't the worst approach to large-field DFS tournaments.
Joe Mixon

/Cincinnati

Bengals

Combined percentage of FanDuel salary: 18.3 percent

Combined percentage of DraftKings salary: 19.2 percent

The Dolphins might be awful, which, for our purposes, is either good or great. We saw last week how generous the Miami defense can be when their weaknesses are exposed—their main weakness, thank the simulation, being run defense. Miami is allowing the second-most scheduled adjusted fantasy points to enemy runners through four weeks, with opponents running the ball 30 times per game against the Dolphins. A mere two teams—the Browns and Cardinals—have seen more rushes tried against them this season. Enter Joe Mixon ($7,100 FD/$6,900 DK). Or Gio Bernard (if Mixon sits). Either Cincinnati runner could be the beneficiary of positive game script; the Bengals head into Week 5 as 6.5 point home favorites. Lest you've forgotten, Mixon saw 24 and 22 touches in the season's first two weeks, respectively. But if we get word of some sort of pitch count for Mixon, I'd suggest fading this stack altogether. Let's not be stubborn. This RB-DEF combo has plenty of upside at a discounted cost if game script is on their side: the Bengals defense ($3,900 FD/$2,700 DK) sports the week's tenth-highest projected ceiling, and Mixon has Week 5's 12th highest ceiling among runners.

Photo by Jason Miller/Getty Images.