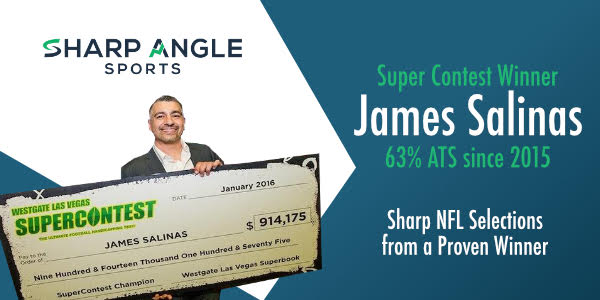 Our objective at Sharp Angle Sports is to identify experts (Sharps) with expertise in a specific sport or conference. Each Sharp will concentrate on only their specific sport or conference. The Sharps we have identified have proven track records of winning including one of the best NFL Sharps around, James Salinas.
Salinas won the 2015 SuperContest, finished 3rd in 2016 and 26th in 2018. Over the course of four years and 340 NFL game selections (five games per week for 17 weeks over 4 NFL seasons), Salinas has compiled an against the spread record of 205-119-16, (63.3% ATS).
Sharp Angle Sports lead College Football Sharp is Brad Feinberg. Brad is a professional sports bettor, who sold his 2018 New Orleans Super Bowl future bet (before the NFC Championship) for $57,500 (on PropSwap) to FOX Sports "Lock It In" hosts Clay Travis and Cousin Sal. The near $50,000 profit, speaks to Brad's innovative approach and sustained ability to make a living as a professional Sharp.
How Sharps make their selections – whether using analytics and technology, historical trends or instinct and experience – is not as important as the "hyper-focus" and commitment to knowing their sports/conference.
We believe strongly in results transparency, and all historical results are available for every Sharp. All records will stand in the form of wins and losses, not by units bet or some other incomplete grading system.
A Letter from SuperContest Winner James Salinas
"As sports betting continues to be legalized across the country, sports fans will be introduced to an entirely different perspective of how they watch games. No longer will the stigma of sports betting be viewed as illegal or immoral. Sports betting is becoming more mainstream and socially acceptable and the public appetite to have success wagering on games is growing, which is why I have decided to start Sharp Angle Sports.
To be clear, I am not a professional sports bettor. I am not dependent upon the outcome of a game to make a living. However, I am not a recreational better either. Sports betting is a competitive endeavor for me. My intent is to beat the bookmakers' lines and my reward for doing so is making money. My motive the past four seasons as a participant in the SuperContest wasn't to achieve sports betting notoriety, it was to cash - which to date is documented at nearly $1.1 million. I am not a salesman or a tout, and my sense of self is not influenced by my sports betting success. My only objective is to win money.
If you become a subscriber to Sharp Angle Sports, the most consistent betting trait you will learn across the site is self-discipline. Our sharps value winning over everything else and to do so they must remain disciplined as a bettor. We don't chase losses or double up on wins. Over the course of each season, we are fully confident you'll be on the right side of games more often than not and that your investment in Shape Angle Sports will be profitable. We are not here to gamble, we are here to win!" - James Salinas
Sign up and get James Salinas' Selections only on Sharp Angle Sports.