It's simple: The most accurate NFL projections by repeat #1 projections accuracy winner John Paulsen + Lineup Generator/Optimizer (now with ceiling and floor projections, Vegas filters & more) + cutting-edge analysis from industry experts such as Chris Raybon, TJ Hernandez and more = a larger DFS bankroll. 
Read on and find out how subscribing to 4for4 Fantasy Football's DFS Subscription will allow you to gain an edge every Sunday!
→ The Most Accurate Projections since 2010
→ Lineup Generator
→ Stack Value Reports
→ Floor & Ceiling Projections
→ Top Picks & Bargains from DFS Experts Chris Raybon & TJ Hernandez
→ Weekly Content to Help You Profit
→ Apps, Tools, & Downloads

What's the #1 Thing 4for4 Offers?
Senior Editor John Paulsen was named the Most Accurate Fantasy Football Expert by FantasyPros in both the 2010 and 2014 seasons, and was the runner-up in 2011. In 2012 and 2015, he finished 4th, so Paulsen has finished in the top 5 in projection accuracy five of the last six seasons!

No one has been more consistently accurate at in-season projections over the past five seasons than John, according to FantasyPros: "[2014's] first place finish makes Paulsen the only expert to win our in-season competition more than once. And, perhaps most impressively, it also gives him the #1 accuracy rating in all multi-year views over the last 5 seasons. In other words, whether you look back at the last 2, 3, 4, or 5 years, the end result is the same: John Paulsen is the most accurate fantasy football expert."

Lineup Generator (now with Floor & Ceiling Projections & Importable CSVs)
Unlike run-of-the-mill lineup optimizers, 4for4's revolutionary Lineup Generator allows you to generate every possible lineup combination from a player pool of your choosing (FanDuel, DraftKings, FantasyAces, DraftDay, and Yahoo!). The Lineup Generator will rank each lineup in order of projected points according to 4for4's industry-leading projections from FantasyPros' repeat accuracy champ, John Paulsen.
But that's not all. We know that you should be making different type of lineups depending on what type of contest you're entering. Trying to win the big bucks in a tournament? You'll need to maximize your ceiling. Want to grind out a steady weekly profit in cash games? You'll need to optimize for safe floors. 4for4's Lineup Generator now includes floor and ceiling projections, which are derived from Paulsen's award-winning projections and a volatility algorithm created by Senior DFS Editor Chris Raybon. In addition, the Lineup Generator comes packed with any time of player filter you can imagine: filter by game, game time, Vegas spread, over/under, implied point total, player $/point value, player salary and more!
The top 500 lineups will be displayed on screen, and you can also save lineups that you will use and adjust player exposure. You can also download all of your generated lineups into one CSV spreadsheet and import the spreadsheet directly into DraftKings or FanDuel. Now you can quickly and effectively generate the most optimal lineups to enter into multi-entry tournaments!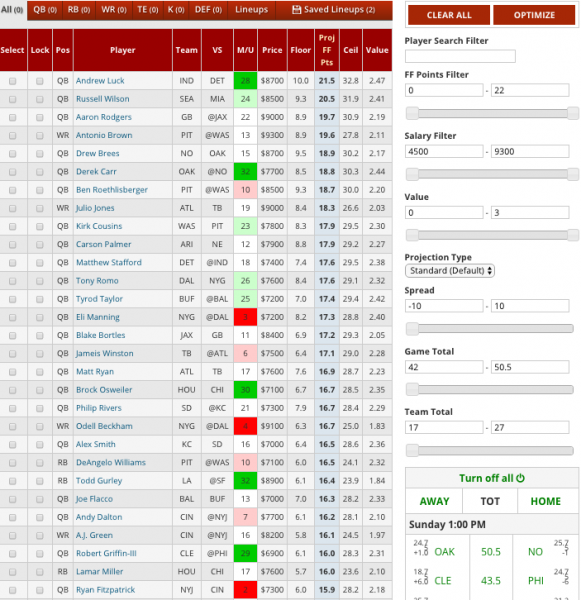 The Lineup Generator also has the capability to "lock" players in, forcing all generated lineups to include whichever players you lock in -- perfect for creating the optimal lineups around stacks. Speaking of stacks...

Stack Value Reports
Our Stack Value Reports rank EVERY possible 2, 3, or 4-man stacking combination according to their projected $/point value. 
Want to splurge on, say, 10 tournament entries this week? Our Stack Value Reports can quickly rank the top-10 stacks of the week. Wondering whether a 3-man stack with Andrew Luck or a 4-man stack with Carson Palmer is a better value? Our Stack Value Reports have you covered!
NEW for 2016: Stack value reports have been updated to include additional stacks (such as QB-RB, QB-RB-WR, and K-DEF), according to game-changing research that can be found in our definitive guides to stacking:


Floor & Ceiling Projections
4for4's award-winning projections have been run through an algorithm created by Chris Raybon that incorporates the volatility of each individual fantasy statistic for each position, outputting floor and ceiling projections.
NEW for 2016: Floor and ceiling projections now account for not only the volatility of each fantasy statistic for each position, but also for how accurately we are able to forecast a particular stat. The more accurate we are at forecasting a given stat, the smaller the projected range of outcomes becomes compared to its inherent level of volatility, and vice-versa.
Floor projections are useful in cash games when you want to maximize your lineup's floor. 
Ceiling projections are useful in tournaments when you want to maximize your lineup's upside.
These projections can also be used to get a sense of the possible range of outcomes for each player.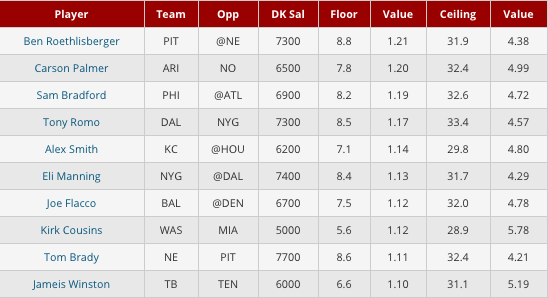 Top Picks from Week 1 through the Playoffs
Chris Raybon, 4for4's Senior DFS Editor, host of the DFS MVP Podcast, is one of the leading minds in the industry and oversees the entire DFS subscription. Raybon is known for his DFS Playbook positional strategy guides as well as his groundbreaking research on stacking, injuries, weekly consistency, coaching tendencies, and more. Raybon will provide all his top picks for the week that he himself uses in lineups. For more on Raybon's DFS work, check out last year's Bankroll Builder series, where Raybon produced an 89% ROI during the regular season.
This season, DFS MVP co-host and Associate Editor TJ Hernandez, another one of the industry's brightest and most influential analysts, will be taking a larger role in the DFS subscription, providing slate breakdowns and picks as well. Hernandez is the creator of metrics such as aRush and red zone expected value, and is also known for his popular DFS Big Game Profiles and work on the impact of new offensive coordinators.
And the best part is that rather than doing generalized write-ups, we'll be breaking down our weekly articles by site AND game type. So you'll get the following articles every week: 
FanDuel Cash Game Picks & Strategy by Chris Raybon
FanDuel GPP Picks & Strategy by TJ Hernandez
DraftKings GPP/Millionaire Maker Picks & Strategy by Chris Raybon
DraftKings Cash Game Picks & Strategy by TJ Hernandez
Niche Site (Yahoo!, FantasyAces, DraftDay, etc.) Cash/GPP Picks & Strategy by Chris Raybon

Weekly Content to Help You Profit
Cornerback Matchups/Schemes/Injuries to Exploit - Daily fantasy is not just about the skill position players. Every week, injuries to offensive lineman and defensive players affect the DFS landscape and provide opportunities for savvy owners to exploit. In addition, a coaching scheme that shuts one offense down may be weak against another. 4for4's IDP (Individual Defensive Player) expert, Mike Woellert, highlights the cornerback matchups and defensive schemes ripe for exploitation each week. We will also be implementing Chris Raybon's innovative research on the effects of injuries on NFL player production!
Ownership Projections & Analysis - To win huge prizes in tournaments, you absolutely need to have a few players in your lineup who are not highly-owned. 4for4's resident quant, Kevin Zatloukal, will project player ownership on both FanDuel and DraftKings to pinpoint who the high-owned and low-owned players each week will be.
Top Stacks of the Week - Want an abbreviated version of our in-depth stack reports? Joe Holka, popular for his Rushing Expectation series, breaks down the top stacks of the week so you can take down those big tournament prizes, of course using the methodology detailed in our revolutionary definitive guide to stacking.
Optimal Lineup Walkthrough - This article will teach you how to construct optimal cash game lineups for FanDuel and DraftKings using our lineup generator and floor projections. You'll start out with a template of the must-play values to lock in and we'll walk you through the best choices to fill out the rest of your lineup.
FanDuel & DraftKings Hindsight: Weekly Takeaways & Analysis: Chris Raybon will take a look back at the past week's DFS action and provide actionable takeaways we can apply going forward.

Apps, Tools & Downloads
Downloadable Spreadsheet with 4for4 Projections & DFS Site Salaries - Finally, you won't have to spend valuable time importing DFS site salaries and projections into a spreadsheet. 4for4's downloadable CSV spreadsheet contains player projections and their salaries on each site all in one place, allowing you to spend more time where it matters: uncovering value and creating lineups.
Player Pricing Report: Many times, DFS sites overreact to recent performance and raise or lower a player's salary too much, creating value to play or situations to fade. 4for4's Player Pricing Report provides all the key details about each DFS site's player pricing. View the salary a player opened at, his current salary, percentage of total cap, change in salary over the season, last week's salary and change in salary since last week.
Vegas Odds App: Our Vegas Odds and Lines app allows you to access all spread and over/under information, as well as public betting trends.
Advanced Stats: Browse DFS points over specific time periods in our Fantasy Points Browser. Check how often players getting valuable opportunities with our Player Snap and Player Targets Apps. We also have data on Red Zone Tendencies, running back market share, receiver market share, player consistency, offensive play selection, and more! And of course you get access to 4for4's schedule-adjusted fantasy points allowed (aFPA), which provides a better indication of true defensive matchup strength versus each position.