7 Differences Between NBA and NFL DFS Daily fantasy football is one of the best things to ever happen to mankind (by "mankind", I mostly mean "me", but whatever). Unfortunately, roughly two-thirds of the calendar year contains no NFL DFS action. If you enjoyed NFL DFS as much as I did when I first started playing, you may want to dabble in NBA DFS as well. Below I've highlighted seven important differences between NBA and NFL DFS that will help ease your transition.
Editor's Note: Early Bird Rates for our 2016 NFL DFS Subscription are available NOW! Sign up HERE.
1. Players Exhibit More Game-by-Game Consistency in NBA
In NFL DFS, touchdowns cause huge swings in fantasy scoring because they're worth 6 points (rushing/receiving/return) or 4 points (passing). As a result, fantasy scoring in the NFL is more volatile on a game-by-game basis than it is in the NBA.
If you've read the Daily Fantasy Playbook's positional primers, you're familiar with CV (coefficient of variation), which is a way to measure volatility -- the higher the percentage, the more volatile the statistic. The CVs (FanDuel scoring) for each NFL position are shown in the table below.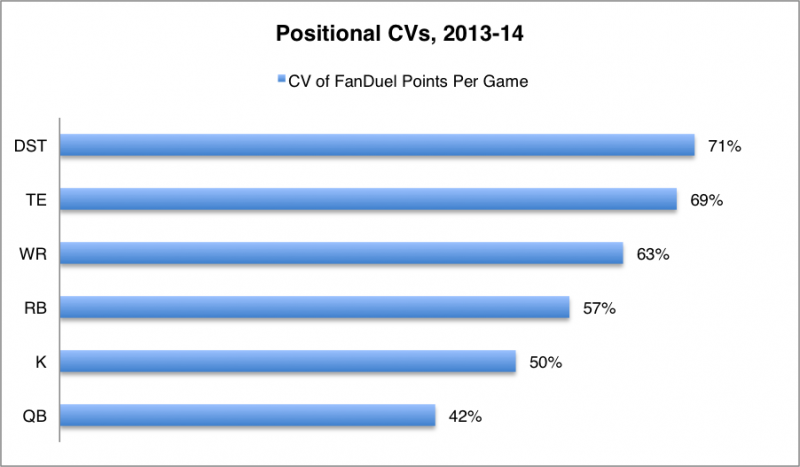 I haven't yet published a formal study of NBA player CVs, but I have calculated them over a full season, and all five NBA positions have CVs under 40%, and there is much less of a difference between positions.
NBA players are much more consistent fantasy-wise because there are no 6-point swings for TD like there are in NFL. The most volatile stats in the NBA -- steals and blocks -- are worth two points each. Furthermore, there is a much larger sample size to draw from in the NBA (an 82-game season in the NBA versus a 16-game season in the NFL), so knowing a player's averages is more valuable in NBA DFS. In a nutshell, it is easier to make accurate projections in NBA DFS than in NFL DFS.
2. Studs are More Reliable in NBA
Because of the aforementioned consistency of NBA players, studs are a lot more reliable in the NBA. Most nights, you can build your lineup around a stud -- even one with a huge price tag -- and be relatively confident he'll be worth the price. Ball-dominant stars like Kevin Durant, Stephen Curry, and Russell Westbrook rarely have an off night statistically. This makes sense, as salaries are reflective of past performance, and due to the larger sample size in the NBA, those salaries more accurately predict future performance. Because NFL Player Pricing isn't as predictive of future performance, you're more likely to find bargains on studs in the NFL than you are in the NBA. (Be sure to look out for additional features -- including weekly player pricing, performance, and value game logs specific to each DFS site -- coming to our NFL Player Pricing page in next season's DFS sub.)
3. Late-Breaking News is More Impactful in NBA
In the NFL, there aren't too many Sunday morning surprises outside of true game-time decisions. By doing some basic research, such as taking a glance at 4for4's Player News section periodically, you'll have a pretty good understanding of which players will be playing come Sunday -- even the questionable ones.
In the NBA, all players are essentially game-time decisions every game. Late scratches are much more common in the NBA due to things as simple as a cold or upset stomach. Because of the 82-game season, each games means less and coaches are much more inclined to sit players. 
What does this all mean for you in NBA DFS? For one, you have to be checking news and ready to edit lineups in the 15-minutes before lineup lock. Many times, a player will sit out and his replacement will be a must-play because he'll be slated for 30-plus minutes at a near minimum salary. If you're playing on DraftKings specifically, you have to be monitoring news until the late games start due to the late swap feature (assuming you have players in the late games).
4. You Should Generally be More Conservative With Your Bankroll in NBA
One of the themes of this article has been the longer season in the NBA, and this plays a factor in bankroll management. In the NFL there are only 17 main slates to play, whereas in the NBA you can play almost daily for the better part of eight months. As a result, you shouldn't be risking as much of a percentage of your bankroll on any one individual slate as you would in NFL, where there is a limited supply of slates and you have a lot more time to research each slate.
5. Recent Play is More Important in NBA
This relates to difference No. 1. Because there is more inherent variance in the NFL than there is in the NBA, you should pay more attention to when a player is "hot" because past performance in the NBA is more indicative of future performance than it is in the NFL.
Just like any sport, flukes will happen, but you shouldn't write off fluky performances in the NBA as fast as you would in the NFL. When a player's shot is falling, he gains more confidence, which in turn helps him perform well. It also causes other players on the team to look to him more and coaches to draw up more plays for that player. When an NBA player gets hot, it is usually due to a true spike in efficiency, as minutes are relatively consistent on a nightly basis (only foul trouble generally causes volatility in minutes played for playable options in NBA DFS).
In the NFL, you're usually looking for spikes in opportunity, as efficiency can be very volatile -- a single big play, touchdown, or in-game injury can cause major spikes in statistics over a short stretch of games. Furthermore, unless a player is truly an elite talent, natural regression in the NFL will occur because the hotter a player gets, the more opposing teams will game-plan to take them away.
6. Vegas Lines are Less Useful in NBA
Vegas has a large incentive to put out accurate lines and is a valuable resource to obtain the most likely outcome of a game, regardless of sport. However, Vegas projections matter a lot more in the NFL than in the NBA for a couple of reasons.
The first reason Vegas lines matter more in the NFL is game script is more important. Whether a team is a favorite or underdog has a high amount of predictive value in terms of projecting RBs -- for example, a RB on the favorite scores 38% more touchdowns than a RB on the underdog. In the NBA, the main game script issue has to do with games with large spreads which could indicate potential blowouts and starters sitting out the fourth quarter. However, this issue is offset by the fact that if a team is on the winning side of a blowout, they probably outpaced their usual fantasy per-minute efficiency while they were in the game.
Another reason why Vegas lines aren't as important in the NBA is because there is still value to be had in games with low totals. If teams score a lot, it's good for scorers, but if teams are missing a lot of shots or turning the ball over, other plays still benefit with rebounds and steals, etc. In the NFL, on the other hand, touchdowns have a high impact on fantasy scoring and there is only one roster slot that benefits from low-scoring games (D/ST).
Also, because of the 82-game season, site salaries are better adjusted to reflect players who commonly play in games with high Vegas totals than they are in the 16-game NFL season.
7. DvP is More Misleading in NBA
Here at 4for4, we understand that raw defense versus position (DvP) statistics can be misleading, which is why we came up with our groundbreaking aFPA metric, which adjusts DvP statistics by strength of schedule. In the NBA, DvP can be even more misleading because player types matter more than positions (the analytics community actually recognizes 13 different player types).
For example, a power forward can be primarily a low-post player -- such as Derrick Favors -- or a floor-stretching 3-point shooter -- such as Dirk Nowitzki. To further complicate things, many players play multiple positions in one game -- many power forwards also play center and many shooting guards also spend time at small forward, etc. Because of these issues, DvP has to be taken with a grain of salt. Many times, it is more useful to know stats allowed on a team level rather than on a positional level. That is, looking at a team's total rebounds allowed rather than rebounds allowed to power forwards, for example.
Editor's Note: Early Bird Rates for our 2016 NFL DFS Subscription are available NOW! Sign up HERE.
Most Popular
There is no data to display.