Bales Goes Deep: Recapping My DraftKings Championship Lineup I could probably write a book on my experiences at live finals because they're amazing. DraftKings goes Bales to the wall with their presentation, and it's seriously a once-in-a-lifetime sort of thing.
I'm not going to go into too much detail about all of festivities around the event, some of which you can check out here. Cliff's notes: Thursday tables at the club (drunk), Friday filming for Contenders and welcome party (drunk), Saturday spa and research (drunk?), Sunday lose my mind watching games (drunk).
Side note: DraftKings gives you a special VIP card to get everything at the restaurant/bar for free. On Friday, three of us ordered, I don't know, maybe 15 plates of food. We ate like 20% of it, so I just wanted to apologize to the waitress who had to take five minutes trying to stack plates on our table with onion rings and chicken fingers and shit falling off the side. But if you aren't legitimately just wasting all kinds of food for no reason whatsoever when some kids are going to bed hungry at night, you aren't trying, right?
So the actual point of this article is to recap my lineup, explain my thought process, and maybe assess what I would have done differently.
My Championship Lineup
First of all, here it is: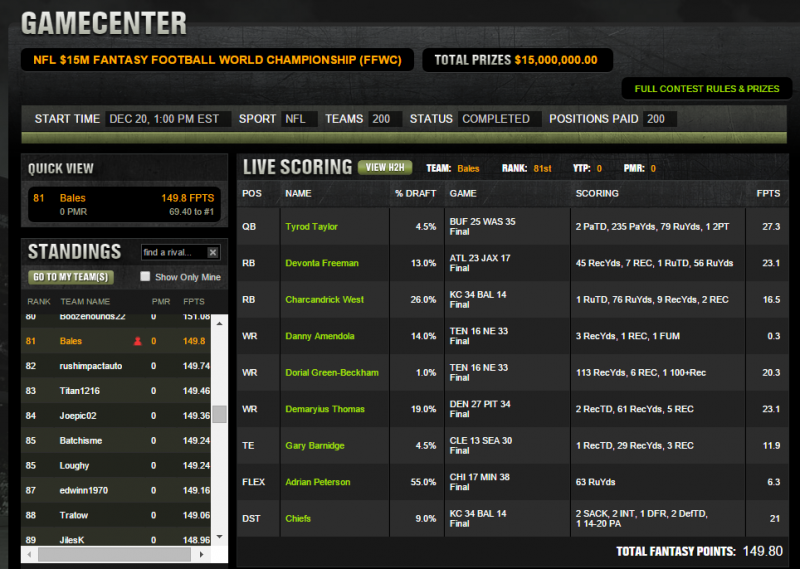 Heading into Saturday night, there was actually only one player on whom I was set: Dorial Green-Beckham. I talked with one of my good friends CSURAM88 about this on Saturday night (I knew he wouldn't leak that info), and he said I needed to have some "major stones" to play DGB.
Yeah, no shit.
Here's what I was thinking on him that made him my favorite play for this tournament:
Talented (I care about that more at wide receiver than any other position)
Size with red-zone scoring ability
Rookie receivers develop like crazy over the second half of the year, especially the final games
Positive game script for a lot of targets
I thought the Pats would try to take out Delanie Walker
Cost only $3800
I thought I might be the only player to roster him; there was one other DGB lineup
Everything was adding up to him, and he did indeed turn in a really nice game for the cost. He had some other shots downfield, too, so I was really happy with that play.
My least favorite play was Danny Amendola, which ended up tilting me like crazy on Sunday since he got injured. However, I'm not going to act totally salty over it since he was part of a swap I made a couple hours before lock to get Charcandrick West in my lineup (after the news came out about Spencer Ware not really playing). At that point, West was an auto-start and I had to downgrade from Alshon Jeffery (who also got injured) to Amendola.
All in all, the injuries to Amendola and AP cost me maybe $50k in equity or so, depending how you look at it. Peterson was in 55% of lineups, so that hurt a lot more people than just me.
Speaking of ownership, I never would have played Peterson had I known he would be in more than half of lineups. My estimate was 35%, which I was fine with since I loved his potential workload. I also will get freaks like him into my lineup whenever possible—and care less about matchup and price—because they can win a league for you. But not at 55% ownership.
The other player whose ownership surprised me was Demaryius Thomas. I still probably would have played him at 19%, but I thought enough amateurs would be off of him that he might be closer to 12% or so.
Other than that, you can see I used my typical contrarian approach. I did consider being chalkier than normal, but decided against it on Saturday. I just did some research on the field and what we might see in terms of ownership, and after considering the payout structure, I decided I needed to take my shot and do things the way I normally do.
And you can see this is the typical Bales sort of lineup, outside of one player—Amendola—which sort of chaps my ass. Otherwise, you see a cheap, mobile quarterback, high-volume running backs, big receivers who can score consistently, and a defense facing a quarterback on whom I thought they'd get pressure and force bad decisions.
You can see I ran Tyrod Taylor out there naked without a Sammy stack. I had some lineups with Watkins in there, but it just didn't fit in this particular one with what I was trying to do, particularly because I was pretty adamant about Demaryius come Sunday morning. That might have been a mistake, but I'm fine with using a mobile quarterback outside of a stack. I also thought Taylor was going to run a lot on Washington, which he did, so that assessment was good.
One thing I did that I normally don't do in GPPs is play a running back in the flex. That was just about getting in three guys I really wanted to use by Sunday morning. Again, I wouldn't have done that had I better predicted AP ownership, but I did want him and West for sure.
Other than DGB, I thought Devonta Freeman was the nuts contrarian play. I actually thought he would be at closer to 7%, and the reason I thought that was the presence of cheap running backs: Brandon Bolden, West, Denard Robinson, etc. When I try to be antifragile in tournaments, I think about what others are going to do in terms of lineup construction, and this looked like a cheap-RB/expensive-WR slate to me. I decided to do the opposite, and Freeman's pass-catching ability made him immune to game script, in my view. So that was a pay-to-be-contrarian situation that made me end up with three running backs.
I guess the only other guy left to assess is Gary Barnidge, who really didn't have a great game outside of an early touchdown. My thinking there was so many people would be scared off by the Seattle D, which has actually been below-average against tight ends in a division with probably the worst tight ends in football.
So that's pretty much it. In hindsight, the only mistake I made was probably Peterson (not because of the injury, obviously, but due to ownership). I thought I created a +EV lineup that was set up well for this championship, so I'm not really too worried about the results.
Congrats to the 10 qualifiers for the Grand Final and good luck in L.A. next month!