Streaming Defenses: Week 17 Targets
For those new to Streaming Defenses (also called Defensive Team By Waiver Wire, or DTBWW), the strategy goes like this: Each week, you target a mediocre defense on the waiver wire, looking for a good matchup (i.e. bad quarterback, suspect offensive line, etc.), preferably at home. You will typically get good defensive production without having to burn a semi-valuable pick on draft day. Or if you do draft a defense and they start to disappoint, you can stream the rest of the way.
Note: For more on selecting a defense each week, read Chris Raybon's excellent piece about what factors go into an attractive defensive matchup. I have come to some of the same conclusions over the years, but he added a few new factors to consider.
I have been writing this streaming feature for five years -- offering readers several available-on-the-waiver-wire defense picks each week -- and they averaged DT5, DT6, DT7, DT10 and DT8 numbers from 2009 to 2013. Generating top 10 DT numbers off the waiver wire allows fantasy owners to basically ignore the position on draft day, instead focusing on more important areas.
Generally, defenses have to be available on the waiver wire in at least 40% of Yahoo fantasy leagues to be eligible. This ensures that we are talking about defenses that are readily available.
Week 16 was a good week for our picks. The Packers (17.5 fantasy points, DT2) posted great numbers, while the Panthers (8.5, DT12), Dolphins (8.0, DT13), Giants (8.0, DT13) and Jaguars (7.5, DT15) were solid. Only the Titans (4.0, DT24) failed to produce top 15 numbers.
On the season, these streaming picks are averaging 9.4 fantasy points, or DT7-type numbers. The top pick has averaged 11.7 FP, or DT2-type numbers.
Here's a look at our initial defensive team rankings for Week 17: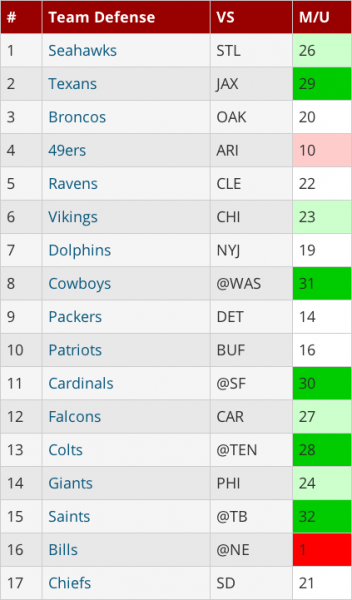 Of the top-ranked teams, one of the Vikings, Dolphins or Cowboys should be available on your waiver wire. Minnesota is at home in a nice matchup against Jay Cutler and the Bears. The Dolphins are also at home, and even though they've been eliminated from the playoffs, they have a tasty matchup with Geno Smith and the Jets. The Cowboys are still (sort of) playing for a bye, but they've been pretty good on the road and they have a great matchup with Robert Griffin III and the Redskins.
The Falcons (vs. CAR), Colts (@ TEN) and Giants (vs. PHI) aren't bad plays, either. Atlanta is motivated and the Panthers have been generous to opposing defenses this season. The Titans and Eagles are pretty good matchups as well.
Be sure to check our defensive rankings throughout the week for updates.
We are your friend's secret weapon.
Get 4 FREE downloads
Receive breaking news alerts & analysis
BONUS: Learn how to play DFS.
Battle-Tested by 40,000+ fantasy football diehards since 1999.