Established in early 2012, DraftKings has already grown into the one of the two biggest players in the daily fantasy industry. DraftKings purchased both DraftStreet and StarStreet in 2014.
These acquisitions along with the site's aggressive pursuit of new users has ramped up the amount of action on the site and also increase the magnitude of prizes they can offer. DraftKings is a very user-friendly offering, with great incentives to sign up for leagues—guaranteed prizes, overlay, freerolls, and other awesome bonuses. They will be having numerous tournaments this year with grand prizes exceeding $1 million!
DraftKings offers the largest amount of sports contests in the industry, including NFL, MLB, NBA, NHL, CFL, PGA, NASCAR, MLS, MMA, and even eSports.
PLAN TO PLAY ON DRAFTKINGS? Ensure you're a profitable player by SUBSCRIBING NOW to 4for4's DFS SUBSCRIPTION!
Incentives
DraftKings' player rewards program allows users to start unlocking access to rewards every time they play. Users get entry to exclusive free contests to win cash prizes and VIP experiences. Plus, users can choose from contest tickets, apparel and merchandise in the DraftKings Store. There's no sign up necessary and if you've been playing, you've already been earning Frequent Player Points, which are offered at the rate of 1 point per $1 spent in entry fees.
DraftKings allows users to profit from referring friends by offering promotions such as $20 every time you refer a friend, although terms rewards are subject to change.
Incentives Rating: 6/10
Usability
DraftKings is a very user-friendly site. Players can go ahead and create and edit lineups before ever committing to enter a contest. Managing multiple lineups is a breeze, and there is a global player swap feature. The site also offers a late-game swap feature, which gives users some more piece of mind about putting their money on the line.
A great thing about the site's lineup building page is it has click-able depth charts for each game. These show each team's current depth chart with salary information (downloadab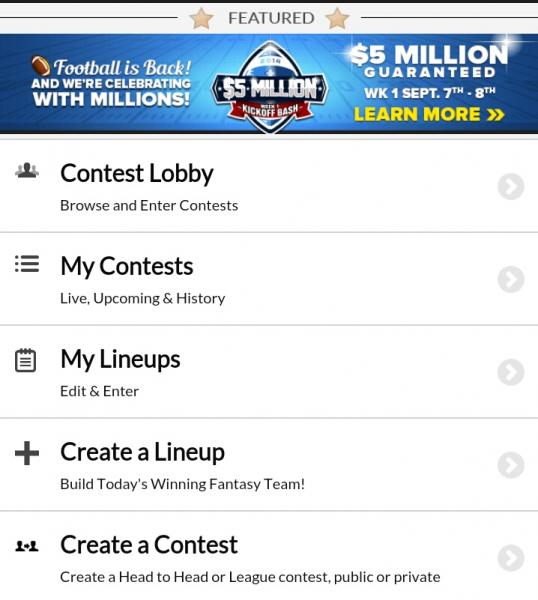 le to CSV), which is very useful when constructing a lineup for searching for a value play.
DraftKings also boasts excellent player pages.. When you click on a player, you'll see a variety of useful information, including player news, splits, game logs, and statistics about the opposing matchup. The game logs even show the players salary for each game, so you can quickly get an idea of whether a player's price is rising or falling without having to do outside research. Player salaries can quickly be exported to a spreadsheet for advanced analysis using the 'export to .csv' button.
The site also has a very informative notifications tab at the top of the page which alerts you whenever you have earned referral revenue, won money in a contest, are eligible to enter a freeroll, etc.
The mobile site is also top notch. It is a very clean, easy to use interface and suffers no drop-off from using it as opposed to a web browser.
Overall, usability is one of DraftKings' greatest strengths.
Usability Rating: 10/10
Action
DraftKings has always done well in terms of action due to its attractive guaranteed prize pool payouts in contest like the Millionaire Maker. DraftKings also offers the widest range of sports in the industry, including NFL, MLB, NBA, NHL, CFL, PGA, NASCAR, MLS, MMA, and even eSports
Besides the amount of action on the site, a great thing about DraftKings is the different price points at which you can enter gam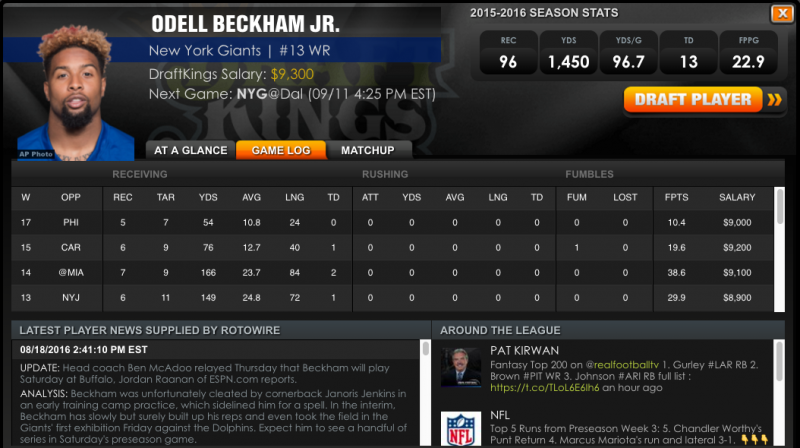 es. Most sites have minimal different entry fee amounts in each price range, but check out what DraftKings offers: $0.25, $1, $2, $3, $5, $7, $10, $12, $20, $22, $25, $27, $50, $55, $88, $100, $109, $130, $162, $200, $215, $270, $530, $1,060, and $5,300 games. There's something in there for everyone, regardless of bankroll size. They also have a good amount of contestants in each contest.
The marketing efforts of DraftKings looks to be based around acquiring casual players, and seems to lend itself to newer players having a good experience.
To prevent users from getting "sharked" by more experienced players, DraftKings has a matchup blockers, where you can set the amount of times a user can take your head-to-head games, or block them completely.
Action Rating: 10/10
Rake
DraftKings' rake is tiered based on your buy-in. The rake is 10 percent for players who play in leagues of $22 or less, but decreases considerably once you make your way into the higher stakes games..
The site has a great tournament payout structure. While most sites pay out roughly 10 percent of entrants in the bigger tournaments, many DraftKings tournaments have a flatter payout structure in the 15-20 percent range. This means that you can enter more tournaments with less risk on DraftKings, if that is your preferred daily fantasy investment strategy.
Rake Rating: 9/10
Cashier and Support
DraftKings offers the standard deposit methods such as Visa, Mastercard, American Express, Discover, PayPal, or Dwolla. Withdrawals can be made via PayPal or check.
While you can contact DraftKings via email, it is disappointing that they don't have a phone number. They have a live chat, but it is sometimes offline. Rather than offering 24/7 support, DraftKings lists normal support hours on the site, which are from 6AM -12AM EST. DraftKings does respond quickly through email, and I have never personally had any issue receiving the support I needed.
Cashier and Support Rating: 8/10
Bottom Line
DraftKings has a lot going in it's favor. It offers a great opportunity to be profitable via incentives, and is recruiting a lot of newer players, and already has a good amount of action that is likely to see an even bigger increase. The variety of contests is excellent and so is the tournament structure. Additionally, the interface makes using the site a breeze. DraftKings is one of the best daily fantasy sites to play on.
Overall Rating: 43/50
PLAN TO PLAY ON DRAFTKINGS? Ensure you're a profitable player by SUBSCRIBING NOW to 4for4's DFS SUBSCRIPTION!
Other Details
Lineup Requirements
1 QB, 2 RB, 3 WR, 1 TE, 1 FLEX, 1 D
DraftKings' starting requirements are pretty standard, emphasizing running backs over the other positions since you can start three.
Scoring
| Offense | Bonuses | Defense |
| --- | --- | --- |
| RushYd = .1 pts | QB > 300 Pass Yds = 3 points | Sack = 1pt |
| Rush TD = 6 pts | RB > 100 Rush Yds = 3 points | Opponent-fumble recovered = 2pts |
| Pass Yd = .04pts | WR > 100 Rec. Yds = 3 points | Return touchdown = 6pts |
| Pass TD = 4 pts | – | Fumble return touchdown = 6pts |
| INT = (-1)pts | – | Safety = 2pts |
| Rec. Yd = .1 pts | – | Blocked kick = 2pts |
| Rec. TD = 6 pts | – | Interception = 2pts |
| Reception = 1 pt | – | 0 points allowed = 10pts |
| Kick-return touchdown = 6pts | – | 1-6 points allowed = 7pts |
| Punt-return touchdown = 6pts | – | 7-13 points allowed = 4pts |
| Fumble lost = -1 pts | – | 14-20 points allowed = 1pt |
| 2-pt Conversion = 2 pts | – | 28-34 points allowed = -1pt |
| – | – | 35+ points allowed = -4pts |
DraftKings' scoring leaves something to be desired for the astute daily fantasy player. Great fantasy football owners want to minimize randomness as much as possible, so they never want to see bonuses or extra points for long field goals. DraftKings has both, rewarding bonus points for players who cross 300 yards passing, 100 yards rushing, or 100 yards receiving. They also reward up to five points for field goals, which creates a lot of variance. DraftKings uses full PPR scoring.