Daily Fantasy Football Site Review: DraftDay

DraftDay is an up and coming daily fantasy site offering games ranging from free to $1,060 buy-ins for the NFL, NBA, MLB, NHL, and PGA. It is founded by former professional poker players, including Taylor Caby and Andrew Wiggins of CardRunners.com fame. DraftDay ensures the safety of your money by safeguarding player funds in a segregated bank account.
Get started playing at DraftDay today.
Incentives
DraftDay has one of the coolest incentives in the industry: the $1 Million Perfect Lineup. If you are able to pick the highest-scoring player at every position in an NFL lineup, you win a million dollars. You need to hit on nine positions, including QB, 2 RB, 2 WR, TE, 2 FLEX, and D. While the odds of hitting all nine are low (about one-in-one-billion), the upside is still great since it's free to enter. Additionally, the top lineups get cash bonuses.
The site also offers a rake-back program. Depending on your monthly buy-ins, you get a percentage of your rake back. Those are outstanding incentives for both novices and high-rollers, as $1,000 comes out to only $33 in action per day to receive back one-fifth of your rake.
DraftDay also offers generous 100% deposit bonuses on all amounts up to $600. The bonus gets released at a rate of four percent of entry fees, i.e. if you play $100 in total action, $4 of your bonus will be unlocked.
The site is somewhat lacking in its referral system. They offer two programs: a referral program, and an affiliate program. The referral program simply gives you and your referral free entry into a $3.30 contest, so each referral is only worth $3.30 plus the potential winnings from the contest ($6). The affiliate program operates like the more traditional referral programs do on other sites, offering a flat 20% commission on the rake of all your referrals. This 20% rate pales in comparison to the rest of the industry, where commission rates can go as high as 35% of rake. What's worse, details on the affiliate program aren't very clear on the site, and signing up requires you to disclose an excessive amount of personal information (company, Skype, Twitter, website, and phone number).
Incentive Rating: 8/10

Usability
DraftDay has an excellent interface. The minimalistic design resembles that of an online poker layout. The main lobby is easy to use, allowing users sort and filter by sport, amount of contestants, buy-in, payout structure, and start time. Icons with hover-over text provide additional details about each game.
The site makes filling out your lineup as easy as possible. Once you fill a position, the site automatically auto-tabs you to the next position you need to fill. The player pages are also very informative, including stats and news along with full season game logs, rather than just the last ten games' worth. Another cool feature is the the "export to spreadsheet" option for player salaries, which is a helpful time saver for users to utilize spreadsheets to arrive at player values based on projections and salaries.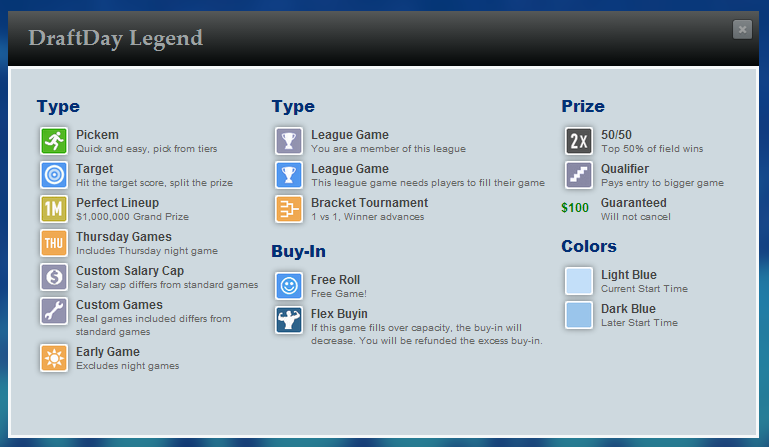 Another strength of DraftDay is that it has very good import/export lineup features. You can easily import a single lineup into multiple leagues at once. After you enter one league, you have the option of clicking "Enter Additional Games" to submit the same lineup into as many additional leagues as you would like. DraftDay also offers a "Rapid Replace" button to quickly swap a player out of all lineups. The mobile site-like the website-is lacking in the aesthetics department but works just fine.
DraftDay's interface might be the easiest to use in all of daily fantasy sports. The sleek, modern design is minimalistic and self-explanatory. The main draft room is easy to use; you can sort by name, buy-in, total entrants, or prize. You can also customize the layout as you'd like, using a light or dark theme in a compact or full style.
Usability Rating: 10/10
Action
DraftDay offers a very cool game type called 'Pick 'Em', where users are presented fiwith players in each tier, and have to choose who will score the most points.
However, DraftDay lags behind Fanduel and DraftKings in terms of total action on the site. While all of the standard game types and entry fee price points are available, there are less total games available, and generally less contestants per game than the industry leaders. For this reason, DraftDay is not a great choice if you only want to play on one site. High-rollers will find it very tough to get as much total action as they need.
Action Rating: 5/10
Rake
DraftDay issues the standard 10 percent rake for $1 games, but offers a reasonable 9.1 percent rake for games in the $2.20-$55 range. They cater even more to big spenders, with rakes as low as 5.7 percent for entry fees of $530 and up.
Rake Rating: 8/10
Cashier and Support
Users can deposit money into DraftDay via Visa, Mastercard, American Express, or PayPal. The minimum payout is $20 and can be sent via PayPal or check.
Getting support from DraftDay is not a problem. While they don't have a telephone number posted, you can post a message through a live chat or send an email via the site, both of which are responded to promptly.
Cashier and Support Rating: 9/10
Bottom Line
DraftDay has a lot going for it: a very good interface, good rakes, solid incentives, and a variety of game types. The only thing holding it back is a relative lack of action compared to the industry-leading sites. It is a great site to play on, but if you seek heavy volume, it probably cannot be the only site you play on.
Overall Rating: 40/50
Get started playing at DraftDay today with a 100% deposit bonus.
---
Other Details
Lineup Requirements
1 QB, 2 RB, 2 WR, 1 TE, 2 FLEX, 1 D
DraftDay's starting requirements are standard, and slightly receiver-heavy.
Scoring
| | |
| --- | --- |
| Stat | Points |
| Pass TD | 4 |
| 1 Pass Yard | 0.04 |
| Interception | -1 |
| 1 Rush Yard | 0.1 |
| Rush TD | 6 |
| 1 Receiving Yard | 0.1 |
| Reception TD | 6 |
| Reception | 1 |
| Return TD | 6 |
| 2 pt Conversion | 2 |
| Sack | 1 |
| Interception | 2 |
| Fumble Recovery | 2 |
| Def Touchdown | 6 |
| Safety | 2 |
| Blocked Kick | 2 |
| Kickoff/PR Touchdown | 6 |
| Points allowed - 0 | 10 |
| Points allowed - 1-6 | 7 |
| Points allowed - 7-13 | 4 |
| Points allowed - 14-20 | 1 |
| Points allowed - 21-27 | 0 |
| Points allowed - 28-34 | -1 |
| Points allowed - 35+ | -4 |
The big thing to notice here is that DraftDay allows two flexes, which makes finding the best dollar-for-dollar values (which can be found using 4for4's DraftDay value reports) important, regardless of position.