BetMGM Illinois Promo Code: Bonus $1000 Risk-Free Bet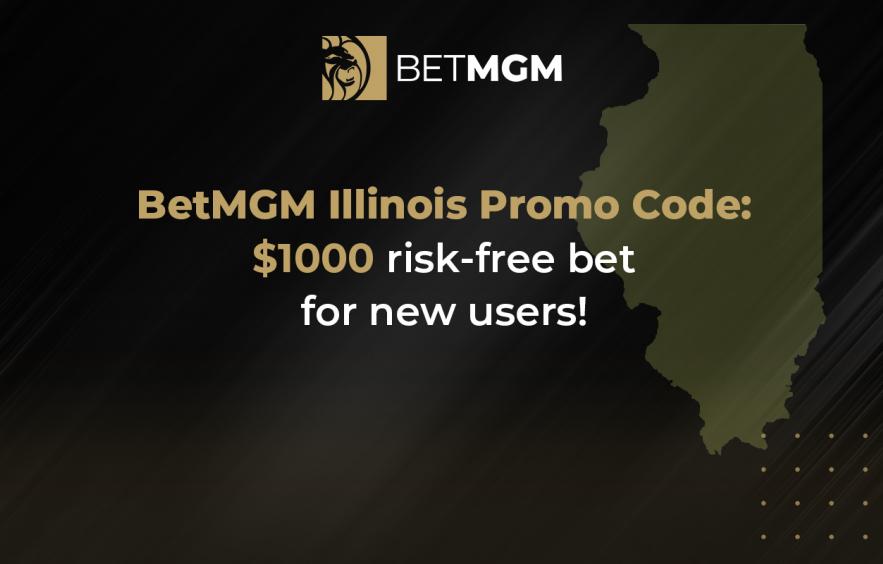 Gambling on sports is finally legal in the Land of Lincoln and BetMGM has an incredibly rewarding offer available to all first-time users, just in time for NFL Football, the World Cup and conference championship weekend in college football. With the app now accessible, new users can get a risk free $1000 wager! Let's quickly look at the specifics and guide you on your way to profiting from this new welcome bonus now that Illinois sports betting is up and running.
BetMGM Illinois Bonus Code: $1000 Risk Free Bet
Really simple offer, just get your new account set up and funded, place your first bet and if it were to lose, you will receive the entirety of your wager returned to you in the form of Free Bets.
How to take advantage of BetMGM Illinois Bonus Code and get your Risk Free Bet
Create a BetMGM account and deposit into it.
Download the BetMGM Sports app on iOS or Android, or visit betmgm.com
Place your first bet and if it loses, you will get up to $1,000 back in Free Bets, you don't need to do anything to use the bonus.
The Free Bets will be available once the initial bet is settled.
FreeBets are credits that allow participants to place another bet with BetMGM Sports; such credits cannot be withdrawn or cashed out by participants, are forfeited when used to place a bet, and are subject to loss if the bet(s) placed with such credits do not win. FreeBets must be used within a week of being credited to your account. FreeBets do not count towards qualifying for any other promotional offers, unless specifically stated in the terms & conditions of such promotional offer.
BETMGM Illinois PROMO CODE FAQ
Can I place bets directly on the BetMGM website?
You can of course use the BetMGM online sportsbook on your desktop and the sportsbook bonus code will also get you the same results as if you were to sign up for a BetMGM account on your smartphone or mobile device. Bets at BetMGM can be placed either way and the free bets on launch day that are still being offered can be garnered via phone or computer.
What is a risk-free play sportsbook bonus?
The Risk-Free play promos at BetMGM NY are simply a way for you to take all the risk out of bet first sports bet at MGM. With this BetMGM NY bonus code, you can login to your new sports betting app and know that the first bet slip can't be a loser. If they don't win, Illinois residents will be given their initial stake back in the form of Free Bets so you don't have to turn around and make a deposit again. Illinois + the BetMGM promo code = you can't lose your first bet!
Does BetMGM have a Mobile App for Sports Betting?
Yes, Illinois residents can go to the Play Store on their Android device or the App Store for Apple to download the BetMGM sportsbook app. If you live in Illinois and plan to use BetMGM the betting app is a must for your online sports betting. You can still use the BetMGM website as well, BetMGM also offers the desktop product to users, but the BetMGM app is obviously more convenient when it comes to your sports betting.
What can I bet on at BetMGM Sportsbook Illinois?
BetMGM Illinois provides its customers with many options for betting on sports and other events. There are various types of bets available, including point spreads, money lines, parlays, same-game parlays, teasers live bets, and more. Customers can also use the BetMGM Illinois app to place bets and track their account balances. So, now that we've finally reached November 2022 and the launch in Illinois, the sign-up bonus offer is ready and available for Illinois Bettors who sign up for the BetMGM Illinois Sportsbook.
Do I have to be a resident to use the Illinois Sportsbook BetMGM Bonus Code?
No. The requirement to be located in Illinois is not the same as requiring residents to be from Illinois. BetMGM offers are available to anyone located in Illinois. However, if you have already registered for a welcome bonus in another state, you may not be able to take advantage of the BetMGM offers.
Why Should I Sign up with the BetMGM Illinois Promo Code?
If you're interested in sports betting and online sportsbooks, it's definitely worth it to sign up and register with a top-rated sportsbook. You'll be able to claim extra bonus cash this way.
This latest BetMGM Sportsbook Illinois promo code is no exception. By signing up and registering with this special promotion, new users can unlock $1000 in risk free bets! Make the King of Sportsbooks your go to Illinois Sportsbook and get your risk-free bet today!