2023 Redraft Weekly Content Schedule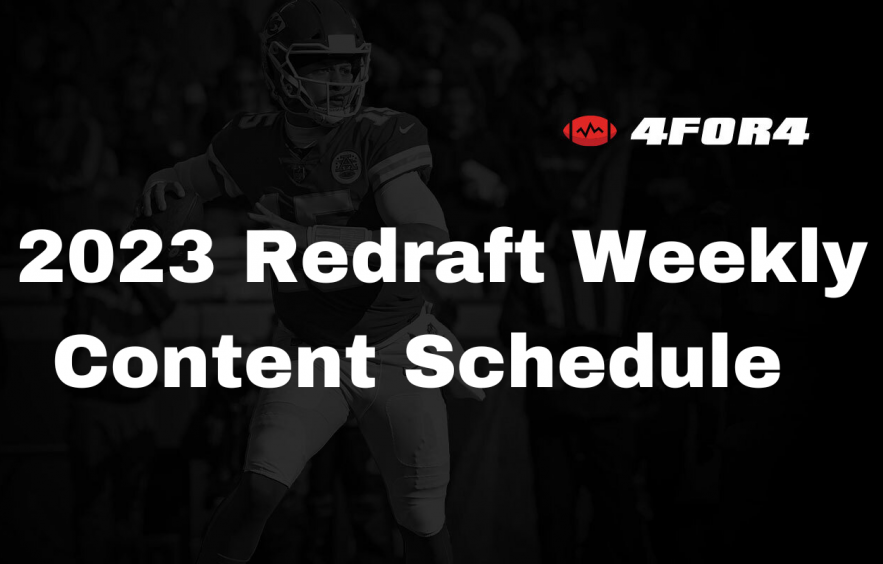 Our goal every season at 4for4 is to give you the best, most actionable fantasy football content around in hopes of helping you be the best fantasy managers possible, rather than simply telling you who to play each week. Here's a look at our weekly schedule across all platforms including the 4for4 site, YouTube channel, and subscriber-only shows on our Discord server.
---
Not a subscriber yet? Sign up here and use code Jen10 for 10% off any plan!
---
Monday
The Training Room: Injury Report (Free) - Jeff Mueller gives us the key injuries from the weekend's contests and how they impact the fantasy football world.
Fantasy Football Weekly Recap (Free) - Dave Stewart recaps the biggest fantasy-relevant storylines from the weekend's games in one convenient place.
Waiver Wire Watch - John Daigle shares the best players to snatch off the waiver wire in various formats, with write-ups and priorities for each position.
Three-Down Linebackers to Plug-In (Free) - This article is constantly updated by Mike Woellert throughout the week with players to start at the LB position.
The Most Accurate Podcast (YouTube) - John Daigle: 7 PM ET (Waivers)
Tuesday
Dead Weight Report (Free) - Jennifer Eakins gives her take on droppable players in order to make room for some waiver wire heroes.
Stash Candidates - These are players Jennifer Eakins thinks are stash-worthy for the weeks ahead based on various factors such as matchups, usage, and injuries.
Streaming Quarterbacks - You'll get recommendations from Justin Edwards on quarterbacks to stream for that week in standard-sized and deeper leagues.
Streaming Tight Ends - We could all use some help at the TE position and Justin Edwards provides some quality streaming candidates each week.
Streaming Kickers - Kicker is not as random as it seems to most people and Jennifer Eakins gives us her best kickers to plug in each week to maximize scoring output.
Streaming Defenses - Matt Jones provides the best options at team defense each week based on matchups and other metrics.
IDP Waiver Wire - Mike Woellert dishes out all the great pickups for the week for those of you grinding in IDP leagues.
Discord AMA: John Daigle: 5 PM ET (waivers)
The Most Accurate Podcast (YouTube) - Brandon Niles & Jennifer Eakins: 6:30 PM ET (Streamers & Stashes)
Wednesday
Pick'em and Survivor Pool Picks (Free) - With the help of our friends at PoolGenius, Jennifer Eakins gives out her favorite picks for Survivor Pools and Pick 'em contests each week.
Sneaky Starts & Sleepers - Get all the info on some of the best plays of the week from John Paulsen.
O-Line Rankings and Mismatches (Free) - Justin Edwards gives us an edge by looking at the best mismatches of the week for o-lines and their opposing defenses.
Trader's Alley - Find out who to buy, sell, and hold with this fantasy football trade article written by Pranav Rajaram.
Breakout Receiver Model - *STARTING IN WEEK 5, Matt Savoca will utilize historical data and recent player performance to help determine players who have received an opportunity that is typically more valuable than their recent production would indicate.
Gearing Up for the Playoffs - TBD on when it will start
Thursday
Discord AMA - Jennifer Eakins: 12PM ET (all topics)
The Most Accurate Podcast (YouTube) - John Paulsen & John Daigle: 2 PM ET (Matchups Preview)
Discord AMA - John Paulsen 5 PM ET (start/sit)
The Most Accurate Podcast (YouTube) - Hutchinson Brown: 10 PM ET (The Hangout)
Friday
The Most Accurate Podcast (YouTube) - John Paulsen & Addison Hayes: 12 PM ET (Start/Sit Super Chat)