Fantasy Football Multiverse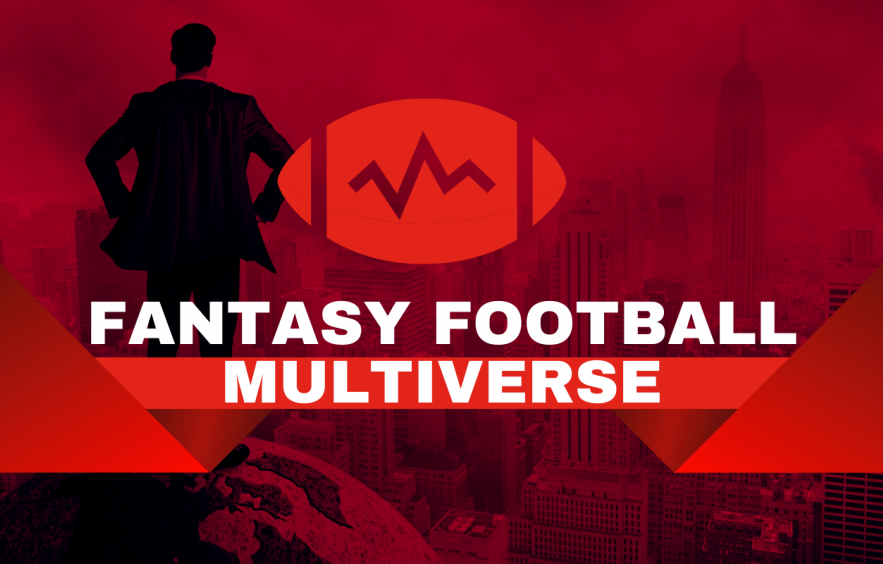 The concept of the multiverse, where even a small change can have far-reaching consequences, is truly fascinating. In works of fiction, it can be explored in various ways and has resulted in blockbuster series.
In the fantasy football space, it's a way to examine a range of outcomes for each specific team. Throughout the summer, Matt Jones will take a "Multiverse" look at each of the 32 teams using 4for4's various tools and resources, to analyze possible scenarios for fantasy-relevant players. He'll go team by team and take you through a scenario that could drastically change the outcome of your fantasy league on your quest for a championship in 2023.
Be sure to check back all summer long as new teams will be added up until draft time!
FF Multiverse 2023
NFC West
July 15 - Arizona Cardinals
July 17 - Los Angeles Rams
July 19 - San Francisco 49ers
July 21 - Seattle Seahawks
AFC West
July 22 - Denver Broncos
July 24 - Kansas City Chiefs
July 26 - Las Vegas Raiders
July 28 - Los Angeles Chargers
NFC North
July 29 - Chicago Bears
July 31 - Detroit Lions
August 2 - Green Bay Packers
August 4 - Minnesota Vikings
AFC North
August 5 - Baltimore Ravens
August 7 - Cincinnati Bengals
August 9 - Cleveland Browns
August 11 - Pittsburgh Steelers

NFC South
August 12 - Atlanta Falcons
August 14 - Carolina Panthers
August 16 - New Orleans Saints
August 18 - Tampa Bay Buccaneers
AFC South
August 19 - Houston Texans
August 21 - Indianapolis Colts
August 23 - Jacksonville Jaguars
August 25 - Tennessee Titans
NFC East
August 26 - Dallas Cowboys
August 28 - New York Giants
August 30 - Philadelphia Eagles
Sept 1 - Washington Commanders
AFC East
Sept 2 - Buffalo Bills
Sept 4 - Miami Dolphins
Sept 6 - New England Patriots
Sept 6 - New York Jets