Jahan Dotson is a Late-Round Redraft Flier in Washington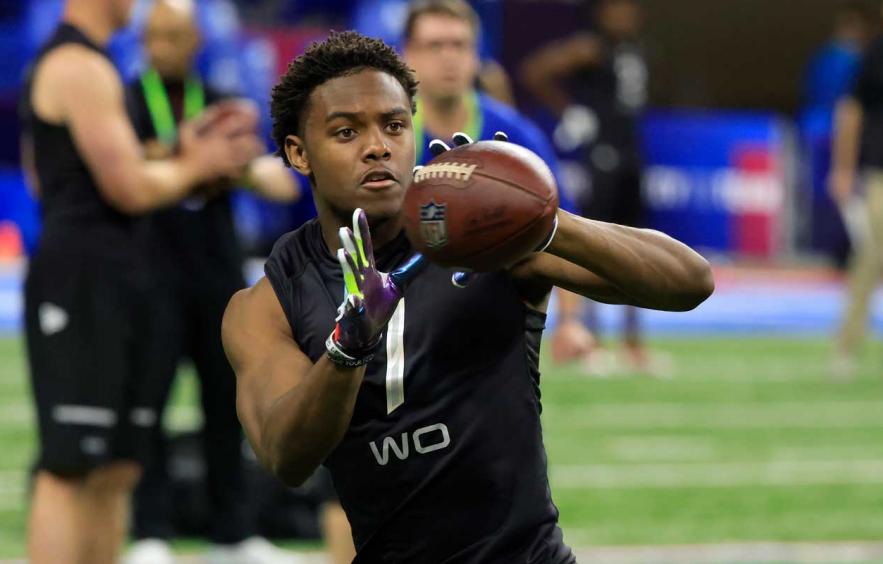 Photo by Justin Casterline/Getty Images
The first round of the NFL Draft saw six wide receivers go off the board between picks 8 and 18 with Jahan Dotson as the fifth player to be drafted at his position. Washington's selection of Dotson with the 16th pick suggests they intend for him to start contributing in Week 1 and the rookie has a skill set that fits in with the rest of the Commanders' pass-catchers.
---
Click here for more 2022 Player Profiles!
---
Jahan Dotson

's College Profile

A four-year player at Penn State, Dotson didn't break out as early as some other elite-level receivers but once he did, he was spectacular. Despite his modest stature (5-foot-11, 181 pounds), Dotson finished his college career with an excellent dominator rating, commanding over 28% of team targets in each of his last two seasons, with a tremendous 91-catch season in 2021.

Dotson's physical profile is reminiscent of Tyler Lockett and his production profile aligns with that of Lockett's former teammate, Doug Baldwin. Matt Harmon's Reception Perception paints the picture of a prototypical slot receiver—Dotson is a zone-beater that dominates the short and intermediate game but shows clear limitations against press coverage.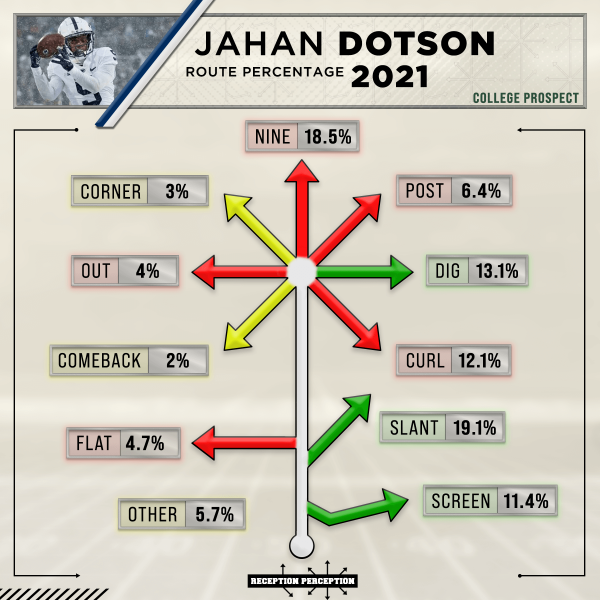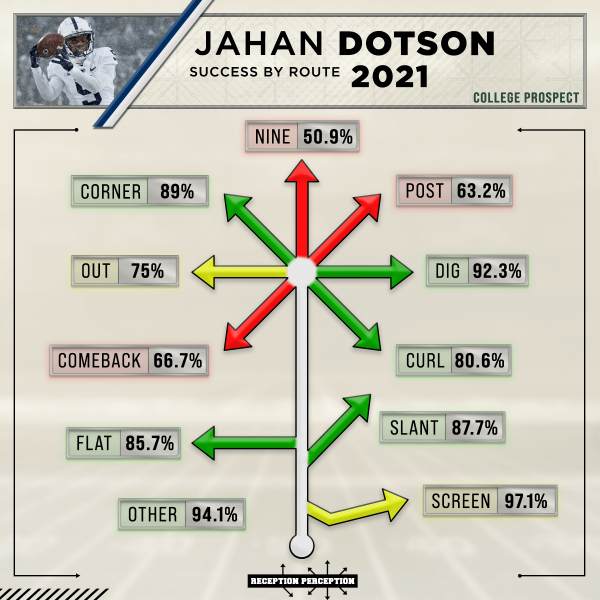 The new Commanders receiver has arguably the best hands in this class and is surprisingly good at coming down with contested catches, two attributes he'll need early in his career in order to have fantasy success in Washington's limited passing attack.
How Dotson Fits in the
Commanders

' Passing Game

Last season, Washington was a passing game devoid of weapons beyond Terry McLaurin, who attracted 24% of targets—only one other player was given at least 10% of targets, with Adam Humphries seeing an 11.6% share. Given their struggles last year, the assumption is that Curtis Samuel—who played just 84 snaps last season—will start on the outside opposite McLaurin, with Dotson manning the slot in three-receiver sets.

There's no questioning McLaurin can win at any level, but there could be some ambiguity in Samuel's role. Prior to his mostly absent 2021 season, Samuel saw a major role change in 2020 under then-new coach Joe Brady. While Samuel had mostly been used as an outside deep-threat during his first three years in Carolina, Brady transformed him into an underneath player who even contributed in the run game. Those first three years, however, were under Ron Rivera, Washington's current head coach. Given the selection of Dotson, it's reasonable that Rivera would use Samuel mostly on the outside this season in Washington as he did in Carolina.

If the wide receiver corps plays out as expected, Dotson should be on the field most of the time. Last season, Washington had three or more wide receivers on the field for 81.6% of their dropbacks, the seventh-highest rate in the league. Even with starter snaps and a wide-open competition for targets after McLaurin, the two biggest roadblocks to fantasy success in Dotson's rookie season are volume and quarterback play.

Despite winning just seven games last season, Washington finished 20th in dropbacks and 21st in neutral passing rate (54.8%). While Rivera's offense did rank ninth in neutral passing two seasons ago and Samuel and Dotson make this year's receiving corps much better than 2021's, signs point to the conservative offense that Rivera and OC Scott Turner ran last year.

The biggest indicator of that was the acquisition of stop-gap quarterback Carson Wentz. Wentz ran a similarly slow-paced, run-friendly offense in Indianapolis last season and has done little to ever boost up one fantasy-relevant receiver, let alone two or three. Furthermore, Washington spent a third-round pick on running back Brian Robinson, who Rivera hopes can form a DeAngelo Williams/Jonathan Stewart-like backfield duo with Antonio Gibson. In those prime Williams/Stewart years, Carolina averaged the 10th-lowest neutral passing rate in football.

Dotson profiles as a very good slot player who can start immediately but for 2022 redraft purposes, his best-case scenario is a high-floor, low-ceiling PPR flex option.
The Bottom Line