4for4 Betting Recap: Week 7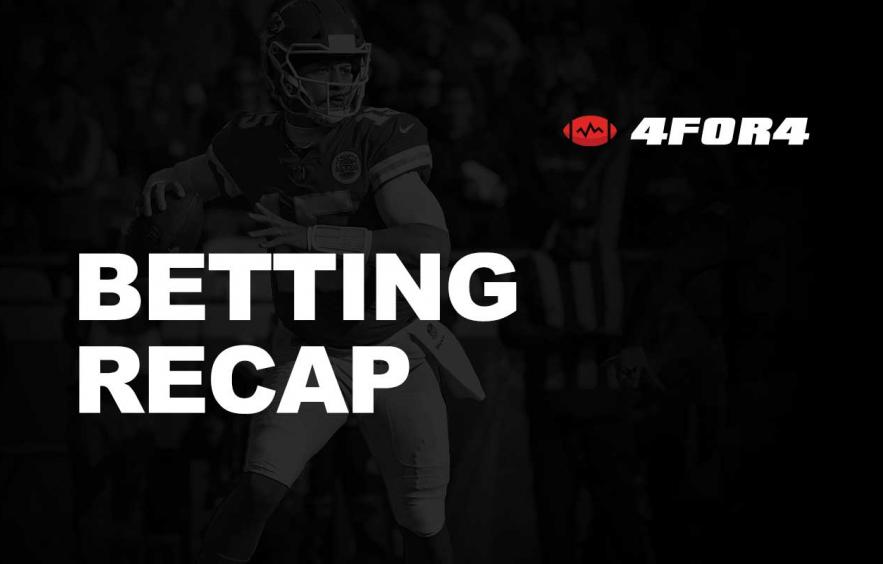 4for4 Illustrations/Doug Houvener
Welcome to the 4for4 football gambling recap! My name is Dan Rivera and I am in charge of tracking bets from Connor Allen, Ryan Noonan, Sam Hoppen and Greg Smith. Each week, I track these four and provide feedback after the Monday Night Football game ends. If you have not found it, I track them all here in this 4for4 Tracker. Make sure you switch to the right person and sport.
When you look at anyone in the 2021 NFL, you will see some yellow blocks. There are two points you need to know:
You will see a weekly tracker; this just lets you look at anyone on any given week. This is what I like to call the micro tracker.
The big yellow box has most of the plays broken down by position, prop type, totals, spreads, etc. The total units won or lost will differ from this deep dive version because certain plays didn't fit into the deep dive. For example, Ryan Noonan bet the Patriots to make the playoffs. It doesn't fit into any of the weekly bets during the NFL season.
Why do I do this? When tracking NFL bets, 99% of all bets anyone makes are working juice (meaning you have to lay more money down than you would win). This tracker is far superior compared to other trackers. Other trackers don't have bets broken down by type, it is just simply a tracker. To me, that isn't helpful. I want the data (picks) to tell a story so I can help whoever is making the picks win more. With the juice, you are better off avoiding losers than you are winning. My goal is to help anyone I track to avoid losers or have them attack successful areas. When you look at the deep dive table, be careful if one area looks good or bad. The sample size is key to that deep dive table and a small sample can get very skewed in one direction.
Ninety-nine percent of all plays tracked are to win 1 unit or 0.5 units. You will get maybe one, max two plays from any one bet to win more than 1 unit.
With that being said, let's look at Week 7!
Ryan Noonan
Week 7: 11-2, 84.62%, 9.99 units
YTD: 81-59, 57.86%, 21.52 units
Ryan's Analysis: I definitely won't stop betting game totals. I have years of success but definitely on the wrong side of it. Just like I'm not going to continue hitting 90%+ on team totals.
I feel good about my process for props and I'll stay with it. From a team level, things get easer as the season progresses because strength-of-schedule starts to even out a bit and we get more data points to evaluate these teams.
Dan's Analysis: Ryan doing this well at mid-season is phenomenal! He is spot on in regards to being realistic about expectations. Ryan going 1-8 on games totals is something that will see positive regression and will most likely finish closer to 50% for the season. Same for team totals, going nearly 86% is completely unrealistic to sustain rest of the year. Ryan's record includes his poor start for RBs props and you are starting see him get it close to 50%.
For the deep dive, like I stated above, Ryan's RB props are slowly evening out and I wouldn't be surprised if that category finishes between 53-55% for the year. If you take out the receiving yards, Ryan is 10-7 on RB props for 58.82%. Ryan is 26-12 (68.42%) on the year for WR props.
Connor Allen
Week 7: 13-4, 76.47%, 8.72 units
YTD: 67-57, 54.03%, 6.9 units
Connor's Analysis: Trust the process! Find exploitable spots.
Dan's Analysis: I made a prediction in early October that Connor would be back in positive territory by the end of October. He beat that expectation with a week to spare. Connor had a fantastic week that got him not only out of negative territory, it even game him some cushion going forward.
For the deep dive, Connor is doing well in QB and WR props. He is 14-5 on QB props (73.68%) and is 25-15 on WR props (62.5%). You're starting to see Connor slowly even out his RB props after that abysmal start. Connor is 17-26 on RB props but, like Ryan, Connor has done poorly in receiving yards and receptions to really bring his record down. If you throw those two categories out, Connor is 13-13 in RB props.
You might be wondering why I look at the good and bad for everyone each week. It is to keep expectations real; it is to keep them honest and to check their edge. I love seeing people do well but when you go 60%+ over a large sample size, it is just unrealistic to sustain that type of winning. Same for losing, seeing a really bad prop category because of a bad start really brings down the results and both categories will be much closer to 50% by the end of the year.

Sam Hoppen
Week 7: 2-2, 50%, 0.1 units
YTD: 19-14, 57.58%, 5 units
Dan's Analysis: I am going to sound like a broken record on Sam for the next few weeks, but he is tough to give a deep dive on because of the small sample size. I don't encourage him, or anyone, to be betting large volume if that isn't your thing just because you want some results. That spells long-term disaster and I expect Sam to slowly grind it out.
Light week for Sam as he only had four picks totals but profit is profit. Sam is 7-2 on QB props and 13-9 (59.09%) on overs. Not much for Sam outside of that, my guess is he will have a big enough sample size by week 10 or 11 so I can start deep diving him more.
Greg Smith
Week 7: 6-2, 75%, 3.85 units
YTD: 37-32, 53.62%, 2.7 units
Dan's Analysis: Another guy I will sound like a broken record on, Greg is working in some of the most efficient gambling markets out there. What I mean is that a half-point to a full point is the difference between having a winning weekend versus a losing weekend. With totals, you will see 1- or 2-point swings, but both of these markets are by far the hardest to win in the long term. For example, in Week 3, Greg had such bad beats on Raiders -3.5 and under 45.5. If the Raiders do their job and don't allow Dolphins to score in the end, he goes 4-4 instead of 2-6. That series had a net swing of 4.2 units that cost him 2.2 units.
This is back-to-back strong weeks from Greg, who is now 15-11 (57.69%) on totals this year and counting. This has been where Greg has excelled all year and I expect him to continue to do well. The downside is his against the spreads are only 51.61%. Since Greg's flowbotics is based off DVOA, I think he closes the year at 54% or higher with betting spreads. The downside to some stats is sample size. Some teams only have played six games this year. As teams play more games, I expect the flowbotics to get better.