2021-22 NBA Win Totals Betting Preview: Odds, Projections & Best Bets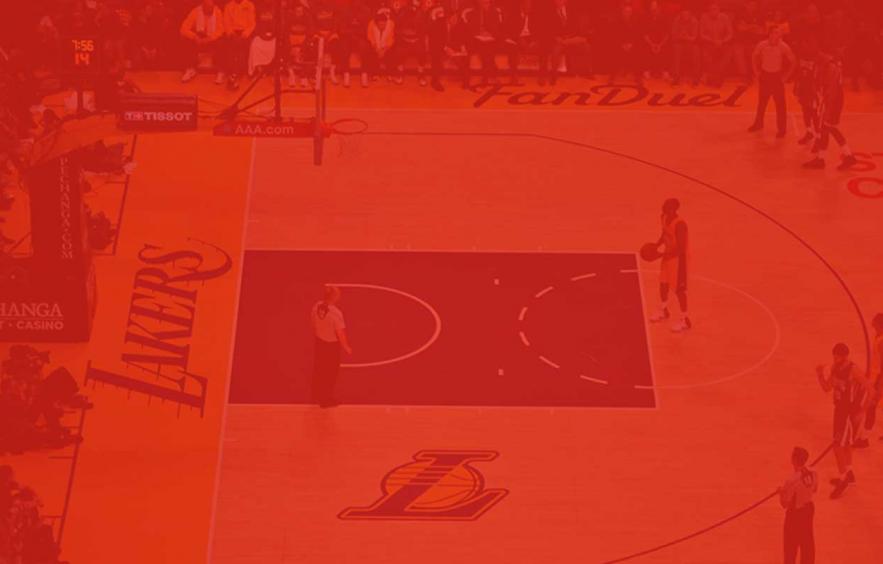 4for4 Illustrations
What do all NBA teams want? To Win! Okay, maybe a few teams don't want to win later in the season in the race for more draft lottery ping pong balls, but at this point of the year, every organization feels optimistic about their offseason moves and chances to succeed. The season is almost here, so the betting markets are open and packed with offerings for us to attack like regular-season win totals, odds to win each conference and division, plus some other interesting ways for us to lock in value before the first game tips off.
Jump to: Rest/Travel Disadvantages | Schedule Difficulty | Eastern Conference Projections & Bets | Western Conference Projections & Bets + Awards Futures Bets & Odds
---
---
Editor's Note: This is a free preview of our Betting Package. Sign up for full access to our premium betting content and tools.
Assessing Rest Disadvantages and Schedule Difficulty
One of the key aspects of handicapping the NBA is the schedule—82 games squeezed into just under six months. This means teams are forced to play long stretches of games without enough rest to recover or time to plan for their opponents. The NBA also spans across the country and even into Canada, which means travel is their life. Let's take a look at how each team performed last season in terms of rest and travel: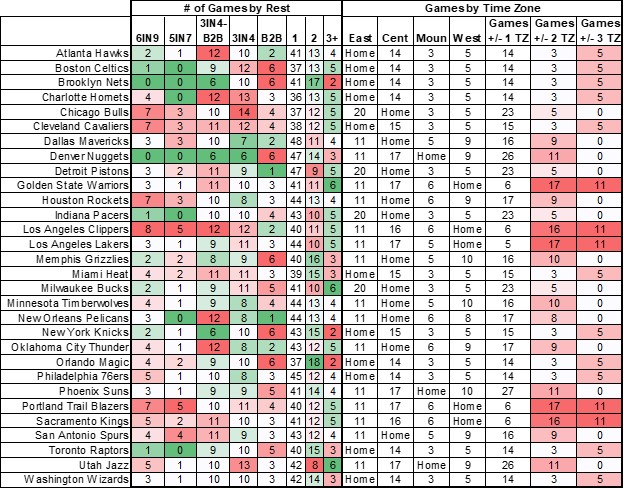 LEGEND
6IN9 – Games played as the team's sixth game in nine nights.
5IN7 – Games played as the team's fifth game in seven nights.
3IN4-B2B – Games played as the team's third game in four nights and having played a game the night before.
3IN4 - Games played as the team's third game in four nights.
B2B – Games played on the second night of back-to-back nights.
1,2, 3+
–

Games played on 1, 2 or 3+ nights rest.
East, Cent, Moun, West – Games played in the Eastern, Central, Mountain and Western time zones.
Games +/- 1/2/3 TZ – Games played 1, 2 or 3 time zones away from the team's home arena.
Teams With Rest & Travel Disadvantages
Los Angeles Clippers: They have the most 6 in 9s, 5 in 7s and 3 in 4s on a back-to-back night. The Clippers also have the third-most stretches of three games in four nights. They're a west coast team, so it comes as no surprise they're tied for the most games three time zones away and the second-most games two time zones away.
Portland Trail Blazers: They have the second most 6 in 9s, the most 5 in 7s, the fourth-most 3 in 4s and the third-most games on back-to-back nights. They're a west coast team, so they're tied for the most games three time zones away and the most games two time zones away.
Cleveland Cavaliers: They have the second most 6 in 9s, third-most 5 in 7s, second-most 3 in 4s on a back-to-back, second-most 3 in 4s, and the third-most back to backs. East coast teams have it a little easier as more teams are in that time zone, but they are tied for the second-most games three time zones away from home.
Chicago Bulls: They have the second-most 6 in 9s, third-most 5 in 7s, the most 3 in 4s and the third-most games on back-to-back nights. As a team in the Central time zone, they do catch a break without any games three time zones away, but they do have the ninth-most games in a different time zone.
Teams with Rest & Travel Advantages
Denver Nuggets: They have zero 6 in 9s and no 5 in 7s, the fewest 3 in 4s on a back-to-back and the least amount of 3 in 4s. They are tied for the most games on back-to-back nights, but that hardly outweighs the rest. Denver plays the second-most games out of their time zone, but the lion's share of those are just one time zone away from home.
Brooklyn Nets: No 6 in 9s, no 5 in 7s and the fewest 3 in 4s on a back-to-back. They are also tied for the most games on a back-to-back, but the good still beats the bad for Brooklyn. They're on the east coast so they have the second-most games three time zones away, but they are tied for the fewest games overall outside of their home time zone.
Toronto Raptors: Just one 6 in 9, no 5 in 7s and the third-least amount of 3 in 4s on a back-to-back. They are tied for the fewest games outside of their time zone and they will finally be playing in Toronto for the first time since February 28, 2020.
Boston Celtics: Only one 6 in 9, no 5 in 7s, the third-fewest 3 in 4s on a back-to-back. They are also among the teams tied with the fewest number of games outside of their time zone.
Schedule Difficulty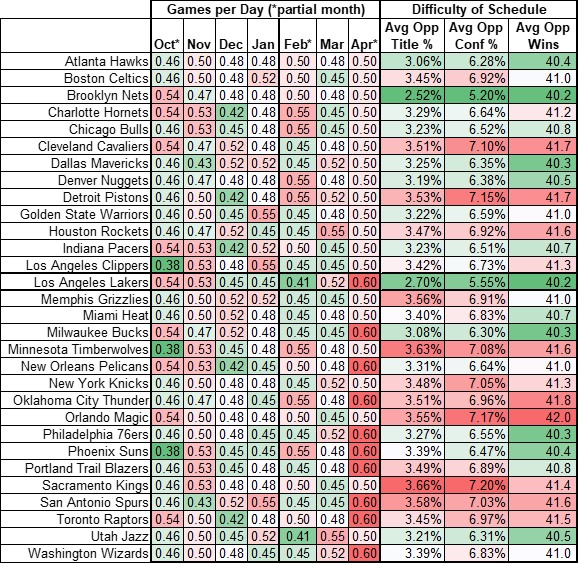 The table above is designed to help us understand a few things. Let's start with the "Games per Day" side of the chart. The NBA schedule has so many layers, but one of the ones I find valuable to look into is how each team's schedule is loaded month by month. Teams like the Hornets, Pacers and Pelicans will be a few games ahead of everyone else by December. Is it better to get in as many games as possible early while players are fresh and healthy? Or will these teams suffer from having so many games before they have time to gel? On the other side of the coin, you have the Lakers, 76ers and Wizards, who play more games than most teams in March and April. Will this hamper teams looking to rest up before the postseason? Or will it be a chance for an underperforming team to make up some ground in the standings? This will be a tool I refer to periodically throughout the season to remind myself of tough months coming up for certain teams. It's also helpful when evaluating futures midseason to know how much of the season is left for each team.
The section on the right—"Difficulty of Schedule"—gives us an idea of how good the opponents for each team are throughout the season. NBA teams play four games against teams in their division, four games against six teams out of the division, three games against the remaining teams in their conference and two games against every team out of conference. This means teams in stronger divisions and the stronger conference play tougher schedules. The "Avg Opp Title %" column tells us the implied title odds of each team's average opponent, while "Avg Opp Conf %" is the same metric except it looks at odds for each team to win their conference. The "Avg Opp Wins" column shows the average regular-season win (RSW) total of each team's opponents. These, of course, lean heavily against bad teams and towards good teams because bad teams don't get to play themselves and good teams don't have to play themselves. This is part of why the Nets have one of the easiest schedules and the Magic have one of the toughest. Despite that, there are always things that stick out like the Knicks and the Celtics. Life in the Atlantic division is rough, folks. Things look better for the Pacers and Bulls, who have things a little easier in the Central division. It's important to look at a team's full 82-game schedule before making a wager, but this can be a good compass to help you get started.
Eastern Conference Projections

Best Current Odds to Win the Eastern Conference
Bets to Place
Brooklyn Nets - Over 56.5 Wins and to Win the Eastern Conference (+110)
I think this is the Nets' year. It's certainly championship or bust, but I don't see another team in the conference or the league that has the top-end talent or overall talent to compete with this roster. That assumes Kyrie Irving is involved, but even without him, it goes from being the best roster in the league to one of the best rosters in the league. Their success in the draft and free agency improved the team, James Harden should be in better shape this season and we saw how good Kevin Durant looked in the Olympics. On top of all that, you already saw how easy of a schedule they have in terms of rest, travel and quality of competition. I played over 56.5 wins and Nets to win the Eastern Conference at +110. That is one of my favorite RSW total bets and this might be the last time we see that price to win the conference at +money.
Atlanta Hawks - Over 47.5 Wins and Seed Under 5.5
My projections only show them 1.5 games over their RSW total, but these are the "most likely scenario" projections. As I tweak things and look at less likely scenarios, the "tails" if you will, they are hardly ever below this number of wins. They have tremendous depth and will be even better than last year with a full season of Nate McMillan and De'Andre Hunter. The Hawks are one of the best-equipped teams to weather injury nonsense storms. Their roster is full of players who can play multiple positions and assume different roles. I played over 47.5 wins and also found another interesting market. DraftKings is offering a market for "conference seeding"—I played the Hawks under 5.5 at -120. This means the Hawks would have to be the No. 5 seed or better. You can see above, I have them projected for the fifth seed, but four games better than the two teams behind them.
Indiana Pacers - Over 42.5 Wins
This team had as many injury issues as any team and a coach that lost the locker room during the season. They've had a few months to recover and replaced that coach with Rick Carlisle. The former is nice, but the latter is one of the most impactful moves any team made during the offseason. To go from a bad coach to a good coach is worth several wins. I'm a little nervous that Caris LeVert may never be healthy for long stretches and that maybe they finally trade Myles Turner. Outside of those two things, everything is pointing to a better season in Indiana. Bet the over on 42.5 wins.
Toronto Raptors - Over 36.5 Wins and to Make the Playoffs (+250)
Remember how I said the Raptors haven't played in Toronto since February of 2020? Canadian COVID-19 restrictions forced them to set up shop in Tampa Bay, of all places. That's where they played all of their "home" games last season. General manager Masai Ujiri took advantage of Toronto's slow start by firing up the tank. Anyone who was even remotely injured was rushed to the bench for as long as possible. Several players were shut down for the season just after the All-Star break. They're back in Toronto, which is one of the biggest positive regressions for any team in the league. Historically, it's one of the better homecourt advantages and we should see everyone's shooting numbers improve in more friendly confines. It's a talented roster with a great coach and I'm happy to bet the over on 36.5 wins. You should also place half a unit on the Raptors to make the playoffs at +250 or better.
Washington Wizards - Over 34.5 Wins
The Wizards had the best offseason of any team. Russell Westbrook turned into Kyle Kuzma, Kentavious Caldwell-Pope and Montrezl Harrell—better defensive, shooting and offensive talent. The Wizards signed Spencer Dinwiddie, who is a plus player on both ends of the floor, and who should thrive next to Bradley Beal. Scott Brooks is no longer the head coach. Short of Beal being traded before the All-Star break, this team not only has a good shot to go over its RSW total, but they could even flirt with being a .500 team. Play the over on 34.5 wins.
Charlotte Hornets - Under 38.5 Wins
This team started out well last season but the Charlotte Hornets ended it poorly. I think this year's roster is worse than last year's squad. They added James Bouknight and Kai Jones in the draft but lost Devonte' Graham and Cody Zeller, who are both more underrated than I believe the market estimates. Graham was a big part of the team's success on both ends for 30+ minutes per game. Zeller isn't anything special, but what he provided at the rim on defense and setting screens on offense will be sorely missed. Perhaps LaMelo Bell takes a big step forward and Gordon Hayward is healthy all season, making everything hunk dory. I'm betting under 38.5 regular-season wins, though, and so should you.
Detroit Pistons - Under 25.5 Wins
Detroit has arguably the worst roster in the entire NBA. Even with No. 1 pick Cade Cunningham on the roster it's a bad starting five with an even worse bench unit. For them to go over this win total they would have to win more than 30% of their games. I can't see how that is possible. Two-to-three teams win fewer than 30% of their games, and the Pistons are one of the top picks for that spot. Play the under on 25.5 wins.
Bets to Avoid
Milwaukee Bucks - Under 54.5 Wins
The schedule didn't do the defending champions a lot of favors and my projections have them 2.5 games under their RSW total. I haven't placed that wager for two reasons. First, there is some pessimism built into the number because of a post-championship swoon. I would be shocked if Giannis Antetokounmpo and this team allowed themselves to get soft and lazy from all the praise. The loss of P.J. Tucker is going to be impactful against the best teams and in the playoffs, but the additions of Rodney Hood, George Hill and Grayson Allen could matter more. It gives the Bucks depth and additional ball-handlers they lacked last season. The under bet is likely the right side, but I'm passing.
Miami Heat - Over 48.5 Wins
Kyle Lowry is a perfect addition to this team, not only because of who he is as a player, but also because it sends Tyler Herro to the bench. The roster is better and my projections are bullish about their chances, but I wonder how an older roster focused on winning a title manages its players every night. I expect lots of rest and load management, which may drive a few more losses than my model sees. Skip the over bet.
Orlando Magic - Under 22.5 Wins
It's not one of the biggest differences, but my projections show Orlando 1.5 games worse than the RSW total at most books right now. It's a very young roster with a first-year coach and those types of teams rarely do well. However, this is a deep team with some talent despite their young ages. Markelle Fultz and Cole Anthony should be healthy to start the season and although a lot of people think adding Jalen Suggs is a problem, I see it as a strength. The more the NBA changes, the more we see the importance of having multiple ball-handlers who can create offense. Overall, it's a team of talented young players with a chance to get minutes in the NBA. This could turn into a competitive environment that breeds a team deep enough to surprise other teams suffering injuries. They might be terrible, but I don't think they will be.
Western Conference Projections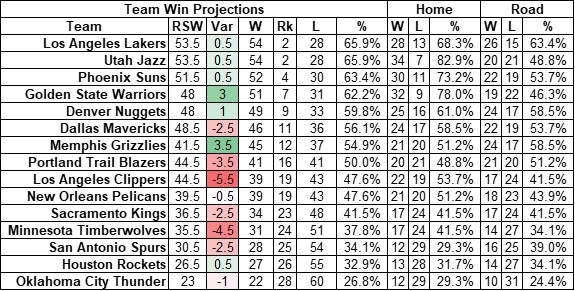 Best Current Odds to Win the Western Conference
Bets to Place
Dallas Mavericks - Seed Over 4.5 and to Miss the Playoffs (+150)
Luka Doncic is the favorite to win the MVP and might just be so good that Dallas wins a ton of games and locks in a home playoff series, if not two. While that is possible, there is also a scenario in which Jason Kidd hasn't been lying to us and really does make this team shot fewer three-pointers and get the ball to Kristaps Porzingis in the post more often. I'm not saying that's the least optimal strategy, but it's not much better than trying Doncic off the bench. Oh, and what if he gets injured for even a few weeks? Things could get ugly for this team. My projection does like the under for the RSW total, but I think there's much more value in a few other markets. First, you should play Dallas over 4.5 seed (-130 at DraftKings) and also play them to miss the playoffs (+450). Doncic might be good enough to get this team to 49 wins, but if things go poorly, it's likely to be very bad.
Memphis Grizzlies - Over 41.5 Wins, to Make the Playoffs (+125) & to Win the Southwest Division (+400)
This team is projected to take a step back, according to their RSW total and other pricing in the futures markets. I'm perplexed by this. The loss of Jonas Valanciunas is one that can be hard to value. He was the team's leader in win shares the last two seasons and a steadying force on offense all season. Most teams would suffer in a significant way from this loss, but what about a team that features Jaren Jackson Jr., Brandon Clarke and Xavier Tillman? Shouldn't that team be trying to get as many minutes as possible for those dynamic, younger players? That was the only roster change of note. On top of that, Ja Morant should be healthy after playing through an injury last season and prime to take another step towards stardom. It's a deep roster that will beat teams' benches and feast on teams with injuries, much like they did last year. I have them 3.5 games over their RSW total. I'm playing that over, as well as for them to make the playoffs at +125 or better and to win the Southwest division at +400 for half a unit.
Portland Trail Blazers - Under 44.5 Wins
Terry Stotts was one of the winningest and most positively impactful coaches in the league for years. He was unceremoniously fired this offseason as the organization bent over backward to make Damian Lillard happy because he may or may not have requested to be traded. It's never great when teams start doing things like that. I do expect Lillard to be there all season, but it's largely the same team, consisting of veterans with another year's worth of miles on their odometers and a new coach whose never been a head coach in the NBA. I'm happy to bet the under on 44.5 wins.
Los Angeles Clippers - Under 44.5 Wins, Over 6.5 Seed & to Miss the Playoffs (+225)
This is one of the more confusing RSW totals in the market. Kawhi Leonard is likely out, especially after signing a four-year contract that keeps him out of free agency and focused on his long-term health. That leaves Paul George and not a whole lot else in my estimation. Their second-leading scorer will likely be Eric Bledsoe or Reggie Jackson. Marcus Morris and Ivica Zubac round out an above-average, at best, starting five. Waiting in relief is Terance Mann, Nicolas Batum, Serge Ibaka, Justice Winslow and Luke Kennard. If Paul George is out, this becomes one of the worst rosters in the league. How on Earth do they win 40 games, let alone 45 games? Bet the under on 44.5 wins, for them to miss the playoffs (+225) and the over 6.5 in "conference seeding" on DraftKings.
Bets to Avoid
Golden State Warriors - Over 47.5 Wins
My projections love this team and have them three games over their RSW total. The roster is better with the additions of Otto Porter, Jonathan Kuminga, Moses Moody, Andre Iguodala and Nemanja Bjelica. The eventual return of Klay Thompson makes this a formidable roster. They're deep, have a lot of shooting and have as much continuity and strong infrastructure as any team. My hesitation is that it is a team that understands the value of rest and load management during the season to be better prepared for the more important postseason. There will also be a few games with chemistry issues as they transition Thompson back into the lineup. I wouldn't mind bets on them in other markets, but don't take the over on their RSW total.
Sacramento Kings - Under 36.5 Wins
This is a team with some interesting pieces. De'Aaron Fox, Tyrese Haliburton and rookie Davion Mitchell allow them to have at least one strong ball-handler on the floor at all times to create shots for others. Richaun Holmes is one of the most underrated big men in the league. Buddy Hield and Harrison Barnes are solid veterans who make a positive impact every night. Ultimately, they have a terrible coach and lack a star. I'm not betting the under because a small part of me thinks they might be able to put it together this season and be competitive. An even bigger part of me thinks they might be able to turn one of those guards, a veteran and some picks into an All-Star. Betting the under isn't the worst idea I've ever heard, but you'll be sweating trade rumors all season long.
Minnesota Timberwolves - Under 35.5 Wins
This is one of the largest variances in my model. A big reason for that difference is that someone has been out there hammering their RSW total over. It opened at 33.5 and is now at 35.5 in most places with the price on the over increasing. Someone knows something I don't know. The team in its current state has an interesting starting lineup, but unless there is trade in the works, Josh Okogie, Jaden McDaniels, and Jarred Vanderbilt will be combining to average 20+ minutes per game. I just don't see how this team wins 36 games as things stand. Let's respect the market and pass on this under.
San Antonio Spurs - Under 28.5 Wins
My projections have this team 2.5 games under their current RSW total. San Antonio has had a losing record for two seasons in a row, Gregg Popovich hasn't looked sharp, and there were no major additions this offseason. I wonder if this team can be an example of addition by subtraction. DeMar DeRozan, Rudy Gay, Patty Mills and LaMarcus Aldridge are no longer on the team taking up minutes that could be used for some of the team's younger players. We should see more Dejounte Murray, Derrick White and Lonnie Walker IV. Keldon Johnson comes off an Olympic gold medal performance as a clear starter and possibly the best player on the team. They added more shooting with Doug McDermott and Bryn Forbes. Thaddeus Young and Al-Farouq Aminu bring flexibility and versatility on defense. Maybe Popovich continues his pre-retirement wine tasting tour, but, maybe, hopefully, even, he sees the potential for this team as a small ball, fast-paced team. Use Young and Aminu as your big men. Johnson and Devin Vassell can play at the 3 or 4 and you can rotate guards. The slight potential that one of the best coaches of all time might give us one last glance at his genius is keeping me away from this under.
For the most up-to-date picks check out my Twitter or subscribe to our Discord. This sheet from Dan Rivera tracks all my betting picks (and those from the rest of the betting staff) on the year. Just click on the tab with my name on it for the results.
---
This article is intended for entertainment purposes and adult users only. Call 1-800-GAMBLER if you have a gambling problem.